Computing, Business Students Share Top Honor
The Love Family Foundation Award is one of the highest awards Georgia Tech gives to a student each year.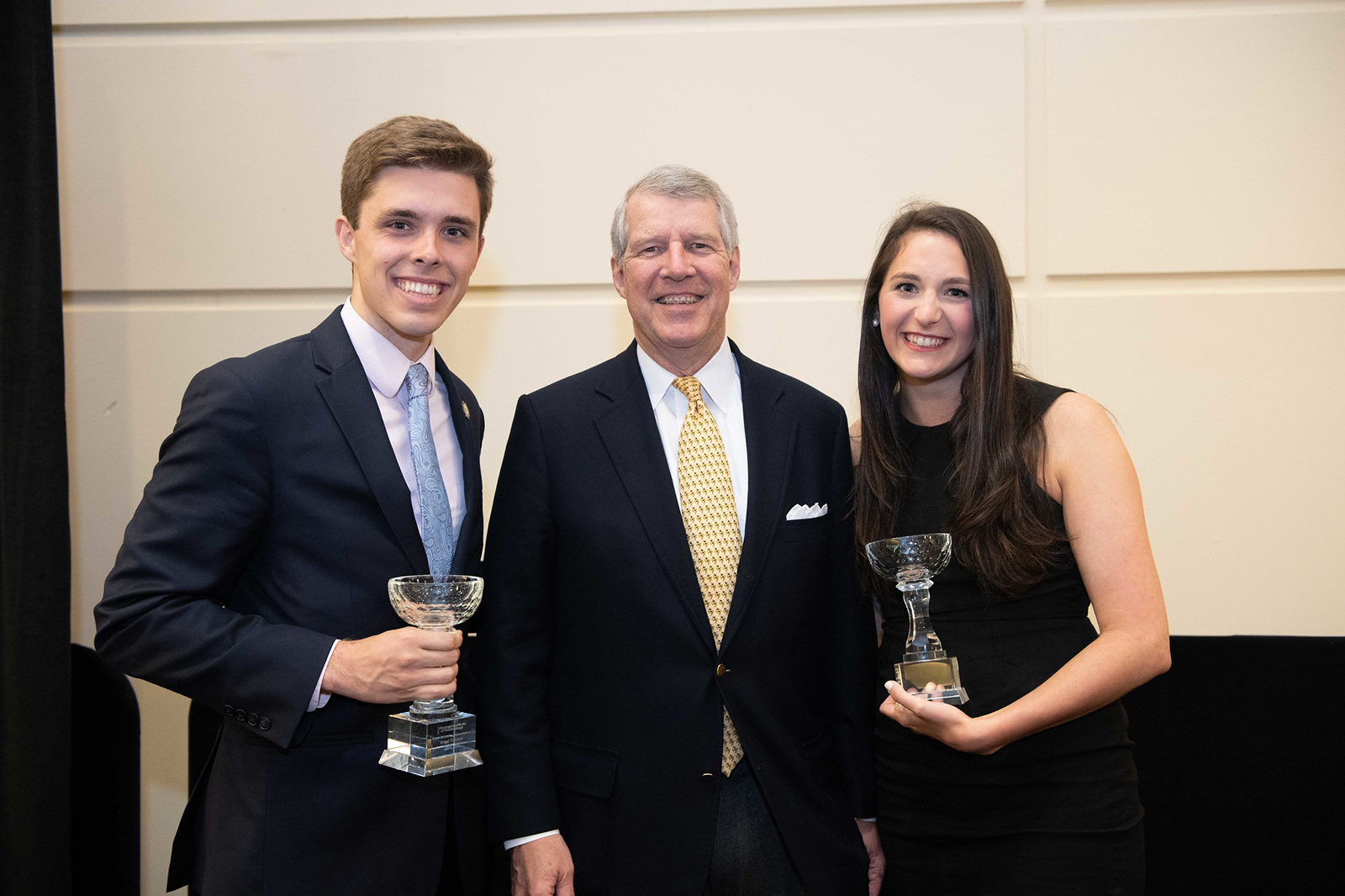 Alex Cabrera (left) and Meredith Wolpert (right), 2019 Love Family Foundation Award Winners, with Jimmy Love.
Apr 22, 2019 — Atlanta, GA
The Love Family Foundation Award is one of the highest awards Georgia Tech gives to a student each year. The award of $10,000 is given to a graduating senior who has the "most outstanding scholastic record of all members of the class." Winners are selected by the associate and assistant deans of all six colleges.
This year, the award is shared by two recipients: Ángel (Alex) Cabrera, a computer science major, and Meredith Wolpert, a business administration major.
Cabrera is a Stamps President's Scholar and has been a campus leader, dedicated student, and ambitious researcher with an eye for practical problems. He also was recently awarded the 2019 National Science Foundation Graduate Research Fellowship.
In his first years, he led the software team for the PROX-1 satellite, a student project scheduled to launch on the SpaceX Falcon Heavy. He also worked as a campus tour guide and helped organize the 2017 Stamps Scholars National Convention, which was hosted by Georgia Tech.
Cabrera pursued his interest in computer science outside of the classroom by interning at Google the past three summers. The internships gave him the opportunity to work on difficult real-world problems, such as building an analytics dashboard to monitor errors in Google Maps, designing an anomaly detection system for Google's data processing pipelines, and working on new car features for the next generation of Android Auto.
"I really enjoyed working on this huge data system that improves the map millions of people use every day," he said.
Throughout his internships and projects, Cabrera has maintained a 4.0 GPA and worked as a teaching assistant for CS1332 – Data Structures and Algorithms during three semesters.
"Alex does an amazing job as a TA. He has exceptional knowledge of the course content and programming in Java," said Mary Hudachek-Buswell, College of Computing lecturer and Cabrera's supervisor. "He's highly regarded by all and is a wonderful mentor to many of the students."
Wolpert came to Tech from Boston and is pursuing a concentration in Information Technology Management with a certificate in Business Analytics.
"Meredith couldn't be more deserving of this prestigious award," said Craig Womack, associate dean and senior director of Undergraduate Programs in the Scheller College of Business. "From the moment we met her at the Dean's Scholarships interviews in February 2015, throughout her four years on campus, she has been a superstar — in the classroom, on campus, and in the community."
Wolpert held summer internships at Red Bull in Atlanta, and at PwC in Chicago and Amsterdam. At PwC, she was one of 15 interns out of 4,000 applicants for the company's International Program, and was named to Way Up's Top 100 Interns of the Year 2018.
She also participated in the Institute's Oxford Study Abroad Program during the summer of 2016. "This 12-week European experience challenged me to grow into an incredibly independent, resourceful, and adaptive individual," she said. "After traveling to a different city every few days, I became comfortable with immersing myself in different cultures, and I learned the value of keeping an open mind."
Following graduation, she will head to Chicago to work at LinkedIn as an associate in the company's Business Leadership Program.