GTPD Offers Training, Smartphone App to Help Campus Prepare for Active Shooter Scenario
Police encourage everyone to think about their response ahead of time and follow the run, hide, fight approach.
Aug 22, 2019 — Atlanta, GA
Recent national events have demonstrated that violence can happen anywhere, at any time. The Georgia Tech Police Department (GTPD) can provide resources to help students, faculty and staff prepare for an active shooter situation so anyone is ready to respond.
"We are confident that GTPD is providing the best possible training to prepare for this kind of scenario," said Police Chief Rob Connolly. "Training is just as important for the community as it is for our officers."
GTPD offers a one-hour training course on basic active shooter response using the "run, hide, fight" approach. Campus departments and student organizations can request training for their entire group, or individuals can sign up for a class on the GTPD website.
"In light of the frequency of these incidents in our world today, it's important to consider what you would do if a situation occurred here on campus, or really anywhere you go," said Deputy Chief Frank Trammer. "We hope it never happens, but if you prepare yourself ahead of time, you can maximize your ability to protect yourself."
Trammer said a good first step is to watch the Run. Hide. Fight. video at the top of this page. He also suggested downloading the LiveSafe smartphone app, which includes resources for all kinds of emergencies. The app generates safety alerts and notifications and allows users to anonymously report suspicious activity with text, photos and videos. In an emergency, users can call police or send discreet messages, including their location, through the app.
Over the past four years, GTPD has delivered roughly three training courses a month across campus and conducted several table top exercises and full-scale active shooter scenarios.
All GTPD officers undergo a 16-hour advanced training program for active shooter response, plus at least eight hours of training every year, so they're ready to respond. Connolly said the department is developing a program to offer additional tactical training to several officers on each shift so they can lead the response to an active shooter incident.
"Our goal is the safety and security of our entire campus community, and the best way we can do that is working together," Connolly said. "I encourage everyone to download LiveSafe, watch the Run. Hide. Fight. video, and then invite us to talk to your group about how you can prepare for an active shooter and other emergencies."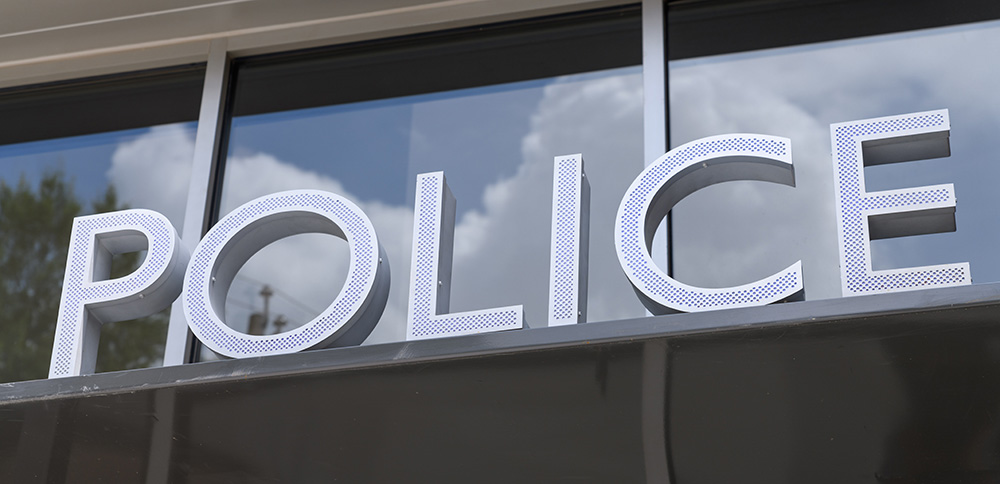 Police sign at Georgia Tech's Campus Safety Building. (Photo: Rob Felt)