Office of the Arts: Introducing New Director Aaron Shackelford
Georgia Tech's Office of the Arts is excited to announce the arrival of its new director, Aaron Shackelford.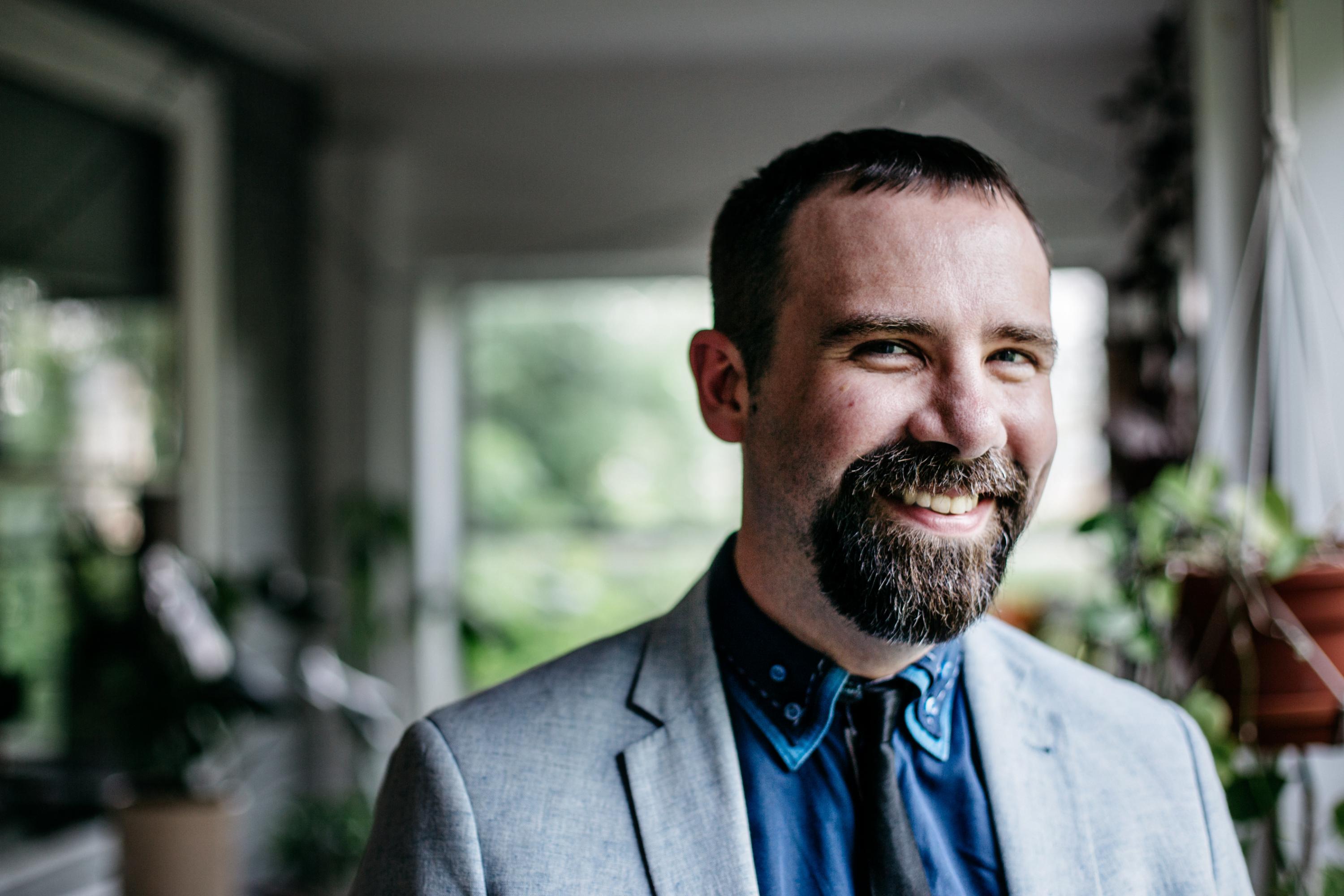 Aug 30, 2019 — Atlanta, GA
Georgia Tech's Office of the Arts is excited to announce the arrival of its new director, Aaron Shackelford, who joins the Tech community from the University of Massachusetts at Amherst. His arrival coincides with the start of a new season of Arts@Tech performances in the newly renovated Ferst Center for the Arts, which kicks off during Family Weekend on Friday, Oct. 4, 2019, at 8 p.m.
Promoting student voices and connecting with the greater campus community
Shackelford sees the Office of the Arts as "a hub of arts integration, a community of art lovers who believe in the impact of art on the world and individuals here at Georgia Tech." Beyond bringing in professional artists of the highest caliber working at the intersection of art, technology, design, and engineering, he and his team will focus on promoting students' creative voices and connecting performances with the work happening in classrooms across campus.
"The arts enhance the same qualities we strive to instill in students across the Institute: creative, global perspectives, ideation, curiosity. Artists are asking the same important questions as our students and faculty, and arts experiences can open up new ways of thinking and approaching these problems," Shackelford said.
Increasing accessibility and fostering greater inclusivity
Before moving to Atlanta in July, Shackelford was the director of programming for the Fine Arts Center at the University of Massachusetts at Amherst, where he curated multidisciplinary performing arts series and oversaw programs with an emphasis on both academic integration and community engagement.
He also supported an environment of inclusivity and accessibility, which he plans to foster at Georgia Tech by providing more open access to the Ferst Center for the Arts and the wide array of Office of the Arts programming. These efforts include plans for future seasons, where it will be a core priority for him to invite artists representing "many different voices and bodies in our spaces and on the stage, particularly those that have been historically excluded from institutional spaces," he says.
Before his time at UMass, Shackelford served at the University of North Carolina at Chapel Hill as the director of engagement and as a Mellon postdoctoral fellow at Carolina Performing Arts. He holds a Ph.D. and M.A. from UNC in English and Comparative Literature.
A Midwest native, Shackleford spends much of his spare time traveling — across the country and the globe. He is also an amateur photographer; one of his favorite weekend spots in New England was the darkroom at the Vermont Center for Photography.
Arts@Tech 2019-20 season delivers cutting-edge programming and Georgia Tech community discounts
The Arts@Tech series remains affordable to the community with $10 tickets for students and up to a 20% discount (ranging from $15 to $25) for faculty and staff. Stop by the Ferst Center for the Arts Box Office, Monday to Friday between 11 a.m. and 5 p.m., or call 404-894-9600 for assistance with discounted tickets.
Faculty are invited to meet Aaron Shackelford on Thursday, Sept. 12, from 11 a.m. to noon in the Ferst Center Galleries to discuss the upcoming season and opportunities for collaboration. Lunch will be provided. Please RSVP here [hyperlink: https://forms.gle/9iaE7fEXeNb7gBX9A].
Visit arts.gatech.edu to learn more about a season that balances music and dance with cutting-edge technologies, heightening the experience of the performance. Themes of disability/mobility design, interconnectivity, LGBTQ lives, and cultural celebration take their place amid breathtaking artistry.
Dökk by fuse*
Friday, Oct. 4, 2019, 8 p.m.
Witness a dizzying and masterful multimedia performance of light, sound, and aerial dance movement with Dökk, the Icelandic word for "dark," produced by the Italian studio and production company fuse*. The piece moves through a sequence of 10 otherworldly environments created by software that synthesizes the emotional tone of social media in real time, a sound score informed by the dancer's heartbeat, and the performer's graceful, suspended movements.
Four Seasons Double Concerto
Friday, Nov. 15, 2019, 8 p.m., and Sunday, Nov. 17, 2019, 3 p.m.
November features a Georgia Tech School of Music world premiere titled Four Seasons Double Concerto with the Georgia Tech Symphony Orchestra under the direction of Chaowen Ting, featuring high-tech production elements and guest artists performing an original score inspired by Vivaldi.
DESCENT by Kinetic Light
Friday, Nov. 23, 2019, 8 p.m.
DESCENT obliterates preconceived perceptions of dance, beauty, and disability as it reimagines the Rodin sculpture of Greek mythological figures Venus and Andromeda as a love story between two women. Kinetic Light dancers Alice Sheppard and Laurel Lawson traverse a stage built with hills and curves that acts as a partner in the choreography and storytelling. The duo claim their desire as their specially designed wheelchairs fly within inches of the ramp's edges, moving together and apart in a lushly lit landscape.
Kid Koala's Satellite Turntable Orchestra
Friday, Feb. 15, 2020, 7 p.m. and 9:30 p.m.
The Arts@Tech season continues in 2020 with the return of Kid Koala, the renowned DJ and musician whose Nufonia Must Fall was a hit at Georgia Tech in 2018. Join the performance by playing your own mini-turntable and melding with the dreamy, atmospheric tracks.
enra: Dreams
Friday, March 28, 2020, 8 p.m.
Tokyo-based enra entwines dance, juggling, and martial arts with brilliant, animated computer graphics that synchronize with the performers' movements.
Scrap Arts Music: Children of Metropolis
Friday, April 17, 2020, 8 p.m.
Scrap Arts Music rounds out the season with Children of Metropolis – a percussive extravaganza with more than 100 unusual and original sculptural instruments.