Georgia Tech's 100,000th Living Engineering Graduate
Chemical Engineering Major Reaches Milestone With her Degree
Dec 16, 2019 — Atlanta, GA
A stroke of luck changed Oluwaferanmi Adeyemo's entire life trajectory.
"My mother applied for the visa lottery system in Nigeria," Adeyemo said. "She'd done it on a whim and ended up winning."
Known to friends and family as Feranmi, she says she was only 5 years old when her family packed up and moved to Illinois.
As a student in Chicago, she excelled in math and science.
"I particularly loved chemistry," she said.
When it came time to apply to colleges, a teacher suggested that Adeyemo check out chemical engineering programs.
She applied to two top programs after an online search: MIT and Georgia Tech. She ended up being accepted to Tech and has not looked back.
"These past four years have been phenomenal," Adeyemo said.
She undertook research as an undergraduate with Associate Professor Corey Wilson's research lab that focuses on establishing a computational framework to translate understanding of the fundamental principles of biophysics and biochemistry. Through her research, Adeyemo worked with Harvard Medical School.
"It was so cool to see what we've worked on and how it could be applied to actual patients," she said.
And during her years on campus, Adeyemo experienced firsthand the power of a Georgia Tech education.
"I had people reach out to me and ask me to interview for positions when they saw that I studied at Georgia Tech," she explained.
Now, having met the requirements for earning her bachelor's degree, Adeyemo has become Georgia Tech's 100,000th living engineering graduate.
"That's so cool!" she exclaimed. "I'm really proud that I was able to stay here and make it through four years."
Adeyemo will now move to Maryland and work in the Johns Hopkins University Applied Physics Lab. She says Georgia Tech has more than prepared her for the road ahead.
"When you see a challenge, you don't get scared, you take it head on," she explained. "I've learned at Georgia Tech that I'm capable — and can do that!"
Adeyemo also stands in awe of her classmates.
"Each and every graduate is going to go on and do incredible things," Adeyemo said. "There are so many of us now, and we're out there changing the world."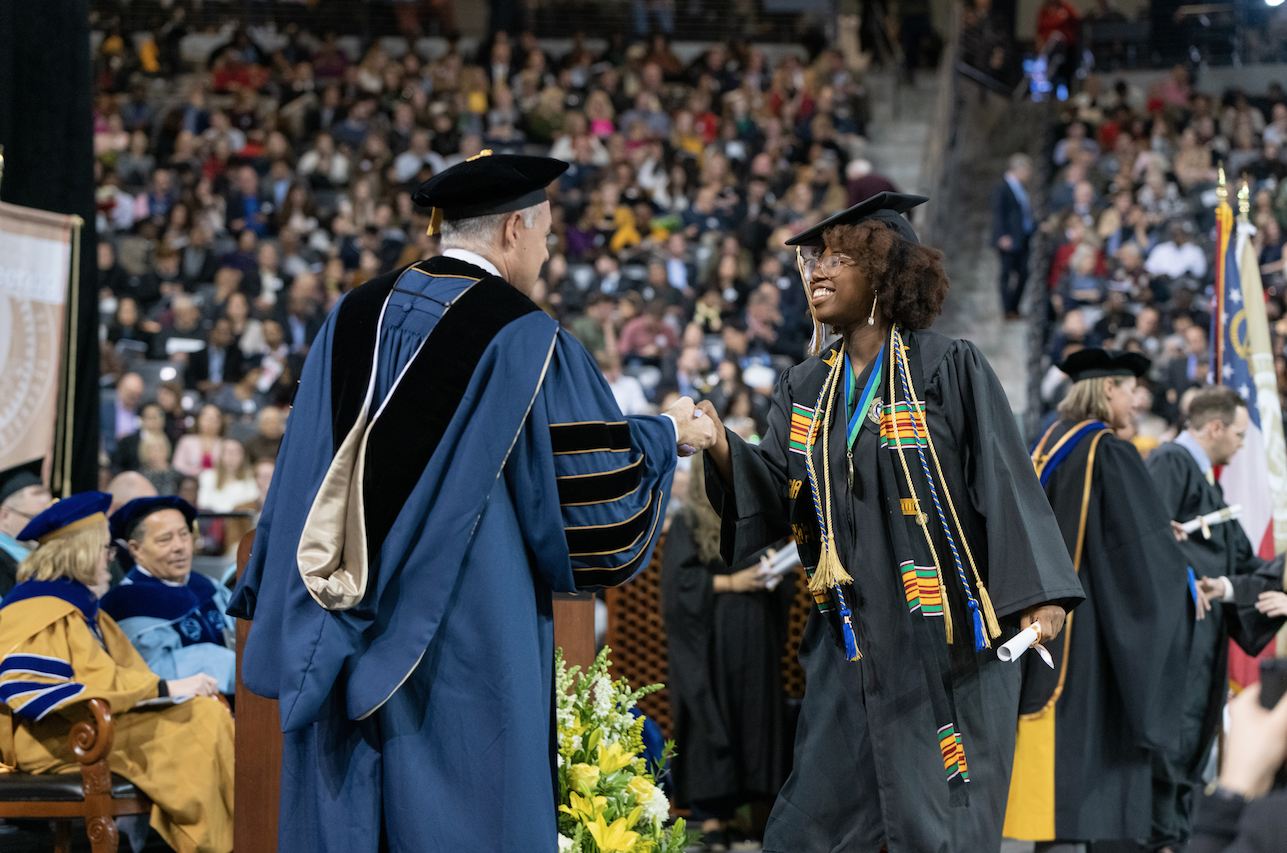 Feranmi Adeyemo came to Georgia Tech after a teacher encouraged her to explore chemical engineering. Now she's set a milestone as our 100,000th living engineering graduate.