Georgia Tech's Technology Square Phase III to Include George Tower
George Tower approved to house the H. Milton Stewart School of Industrial and Systems Engineering in Tech Square Phase III.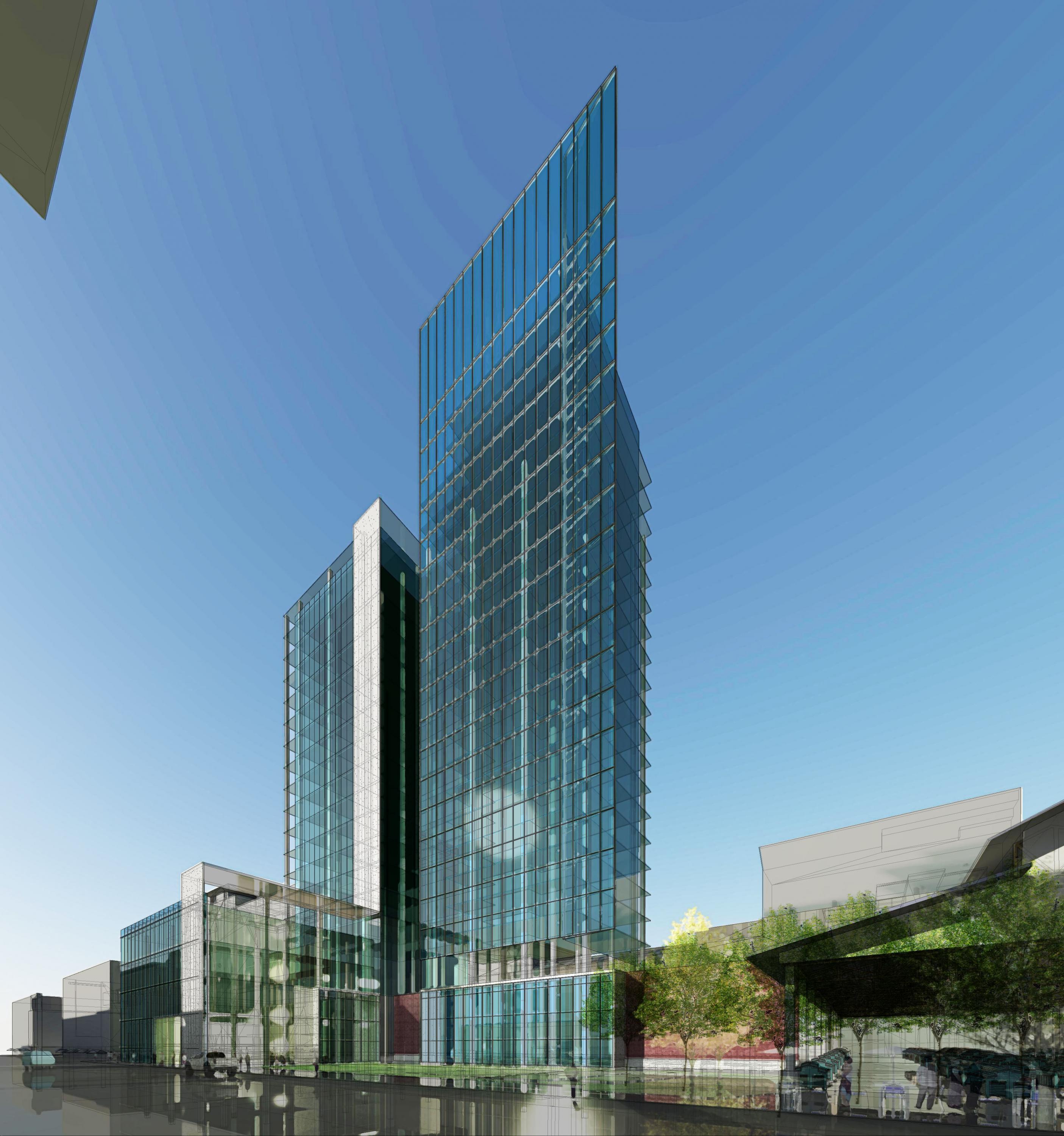 Technology Square Phase III (artist rendering, subject to final design)
Feb 11, 2020 — Atlanta, GA
Momentum for Technology Square Phase III continues to grow with the naming of its second tower in honor of longtime supporters of Georgia Tech. The Board of Regents of the University System of Georgia approved the naming of George Tower at its meeting Feb. 11 in recognition of philanthropists William "Bill" and Penny George.
George Tower will be home to the nation's No. 1-ranked H. Milton Stewart School of Industrial and Systems Engineering, as well other programs. George Tower will complement Scheller Tower, also planned on the site, to house the graduate and executive education programs of the Scheller College of Business.  Both new towers in Tech Square Phase III are expected to open by the end of 2022. 
"We are incredibly grateful to Bill and Penny George for their long-standing support of Georgia Tech," said Georgia Tech's President Ángel Cabrera. "The George family legacy of support can be seen and felt in the experiences of our students who benefit from various scholarships and fellowships, and through the impact of our faculty, made possible because of the generosity of Bill and Penny George. We are honored to affix the George name to this transformative next step in Tech Square and our campus."
Bill George graduated from Georgia Tech in 1964 with a degree in industrial engineering. He also received an honorary doctoral degree from Georgia Tech, awarded in 2008.  He began his career at the U.S. Department of Defense. He had been an executive at Honeywell and Litton Industries before joining Medtronic as president and chief operating officer. He became chief executive officer of Medtronic in 1991 and chairman of the board in 1996. George is currently a professor of management practice at the Harvard Business School.
Tech Square Phase III will be a 400,000 square foot multi-building complex in Midtown Atlanta, located on the northwest corner of West Peachtree and Fifth streets. The project received $4.3 million in general obligation bonds for planning and design in the FY 2020 state budget; the governor recommended $30.7 million in construction funding in his FY 2021 budget recommendation, and the project is now under consideration by the General Assembly. A total of $75 million in private philanthropy will be included toward the $200 million estimated cost of construction.
Georgia Tech opened Technology Square in 2003. One of the area's guiding principles is to foster a better connection between the Institute and the business community. Today the area is a thriving innovation ecosystem thanks to a growing network of students, faculty members, researchers, startup entrepreneurs, and global corporations.
About the Georgia Institute of Technology
Georgia Tech provides a focused, technologically based education to more than 36,000 undergraduate and graduate students. Georgia Tech has many nationally recognized programs, all top-ranked by peers and publications alike, and is ranked in the nation's top five public universities by U.S. News & World Report. It offers degrees through the Colleges of Computing, Design, Engineering, Sciences, the Scheller College of Business, and the Ivan Allen College of Liberal Arts. As a leading technological university, Georgia Tech has more than 100 centers focused on interdisciplinary research that consistently contribute vital research and innovation to American government, industry, and business.
About Tech Square
Founded: 2003
Location: 10 blocks on Georgia Tech's campus in Midtown Atlanta. Comprised of more than 1.5 million square feet of office, research, retail, residential, and hotel space, including the Technology Square Research Building, the Biltmore, the Global Learning Center and the Scheller College of Business.
Companies: More than 100
Corporate Presence: More than 35 major companies with corporate offices or innovation centers, including Anthem, AT&T, Delta Air Lines, The Home Depot, NCR, Siemens, ThyssenKrupp Elevator and UCB.