DeMillo to Step Down at C21U to Return to Georgia Tech's Faculty
Rich DeMillo will step down from C21U and return to a faculty position.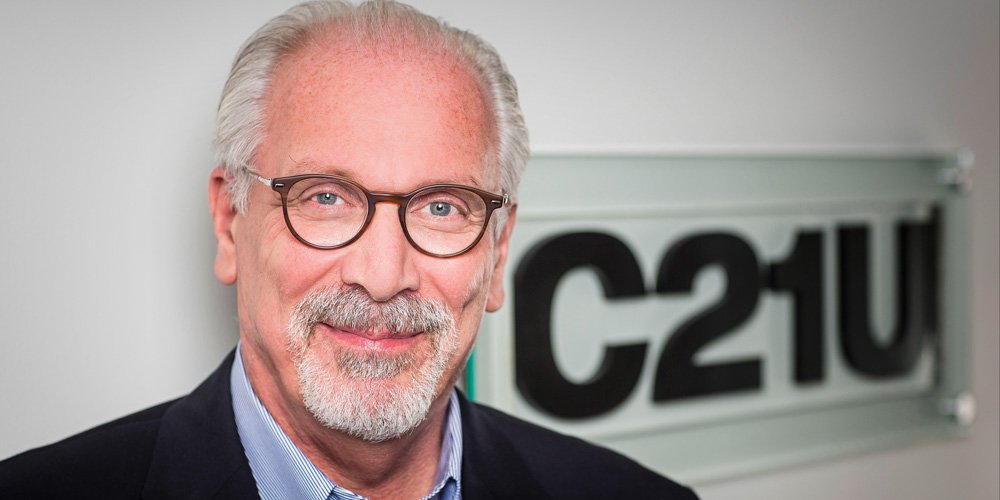 Feb 27, 2020
— Atlanta, GA
Rich DeMillo, executive director of Georgia Tech's Center for 21st Century Universities (C21U) will step down from the role, effective June 30, and return to a faculty position.
DeMillo, who is the Charlotte B. and Roger C. Warren Chair of Computer Science and Professor of Management, has served as C21U's founding director since its launch in 2010 as Tech's living laboratory for fundamental change in higher education.
Chairing the Institute's Educational Innovation Council, DeMillo served as a leading voice for innovation including blended learning, massive open online courses, the groundbreaking Online Master of Science in Computer Science program, and digital credentials, among others. He served as co-chair of the Institute's Commission on Creating the Next in Education (CNE), culminating in the 2018 release of the widely lauded report Deliberate Innovation, Lifetime Education. The CNE won the Annual Achievement Award of the Association for Educational Communications and Technology in 2019.
"Rich has been a true champion of educational innovation at Georgia Tech for years and leaves an indelible mark on the Institute," said Rafael L. Bras, provost and executive vice president for Academic Affairs and K. Harrison Brown Family Chair. "His vision and leadership have helped shepherd and shape some of Tech's most groundbreaking innovations."
DeMillo was named as a Fellow of the Lumina Foundation "for creating C21U, a unique institution." His first book, Abelard to Apple: The Fate of American Colleges and Universities, helped spark a national conversation about innovation in Higher Education. DeMillo's second book, Revolution in Higher Education: How a Small Band of Innovators Will Make College Accessible and Affordable, was named as a best education book of 2016 by the Association of American Publishers.
DeMillo has a long history with Georgia Tech. He received his Ph.D. in information and computer science from Georgia Tech in 1972. He then taught as a member of the faculty from 1976 to 1987, before departing for roles in business, academia, and government, including the National Science Foundation and HP. He returned to Georgia Tech in 2002 and served as the John P. Imlay Dean of Computing in the College of Computing until 2009. Under his tenure as dean, the College achieved top-10 ranking status and launched the Threads Curriculum, which drew international acclaim for its dynamic, new approach to undergraduate education.
"After 18 years of university administration — first as director of Georgia Tech Information Security Center (GTISC), then dean, then founder and executive director of C21U — I've decided that it's time to get back to teaching and research as a professor," said DeMillo. "I will spend a substantial amount of my remaining years at Georgia Tech finishing long-delayed writing and research projects in computer science and cybersecurity. The opportunity to help lead educational innovation at my alma mater has been one of the highlights of my career."
Effective immediately, Steve Harmon, who serves as C21U's director of educational innovation and associate dean of research at Georgia Tech Professional Education (GTPE) has been appointed deputy director of C21U, and will assist with operational objectives through the end of June.
A plan for the future leadership of C21U will be determined in the coming months.