How Long's the Line? Queues App Wins 2020 InVenture Prize
Queues tracks up-to-the-minute wait times at campus dining locations, an idea that won the student inventors $20,000 and a spot in CREATE-X's Startup Launch this summer.
Mar 11, 2020
— Atlanta, GA
An app that helps students find the shortest route to their next meal on campus has taken top prize at the 2020 InVenture Prize at Georgia Tech.
The inventors of Queues won $20,000 in prize money sponsored by TDK, help filing a patent, and a spot this summer in the CREATE-X Startup Launch program. Through a partnership with food service vendor Aramark, the app provides up-to-the-minute wait times at Georgia Tech restaurants.
"We are so grateful to all of our fans, to CREATE-X, to InVenture Prize. We've had so much support along the way," said co-founder Samuel Porta. "We are so honored to be this year's winners."
Queues was created by computer science majors Sohan Choudhury, Jarod Schneider, Michael Verges, and Porta, plus industrial and systems engineering major Akshay Patel. They comprised one of the bigger teams among the finalists, but Porta said the budding startup needs to grow — fast: They're on the verge of expanding to three other college campuses in the southeast served by Aramark. That expansion will mean almost 100,000 additional students with access to the Queues app.
"It's a great milestone. Everyone has been putting in so much effort. Everyone is so committed to this," Porta said. "I'm so grateful to have such a great team, because really, without this team, [Queues] wouldn't be a thing."
Queues asks users to share how long they waited to order at campus restaurants, through a smartphone app or through tablets at the end of lines. Already, the team is processing more than 5,000 responses per month from dining spots across Georgia Tech.
For the restaurants, Queues' custom algorithm promises a clearer picture of the ebbs and flows of customer demand, allowing them to have the right number of employees and to prep the right amount of food at the right times.
Second place in this year's competition and $10,000 went to Aerodyme, a self-deploying attachment for tractor-trailers that cuts drag and boosts fuel economy by 5%.
"This is just the beginning for us," said Tyler Boone, co-founder of Aerodyme and a mechanical engineering major. "We've made so much progress. We're going to continue that momentum and get this thing tested, validated, and on every truck in America."
The $5,000 People's Choice Award, chosen by the live audience and viewers at home and sponsored by the Georgia Center of Innovation for Manufacturing, went to Canary. They created a review site for internships and co-op placements.
"We're a platform that's made possible by people talking about their internships to other people, so the fact that we got the People's Choice Award, we find very fitting," said Sims Pettway, the mechanical engineering major who created Canary alongside computer engineering major Stephen Ralph Jr. and computer science major Noah Waldron.
The televised competition is the culmination of months of preparations and winnowing the field of dozens to six final teams. They each faced a panel of three entrepreneurs — all Georgia Tech alumni — live on Georgia Public Broadcasting to make their pitch.
"This past month, we've put countless hours into InVenture — as have all the other teams — but we wouldn't be here without Georgia Tech's guidance and all the services they provided us," said Queues' Choudhury. "We're just super happy to be here and have the opportunity to be part of this."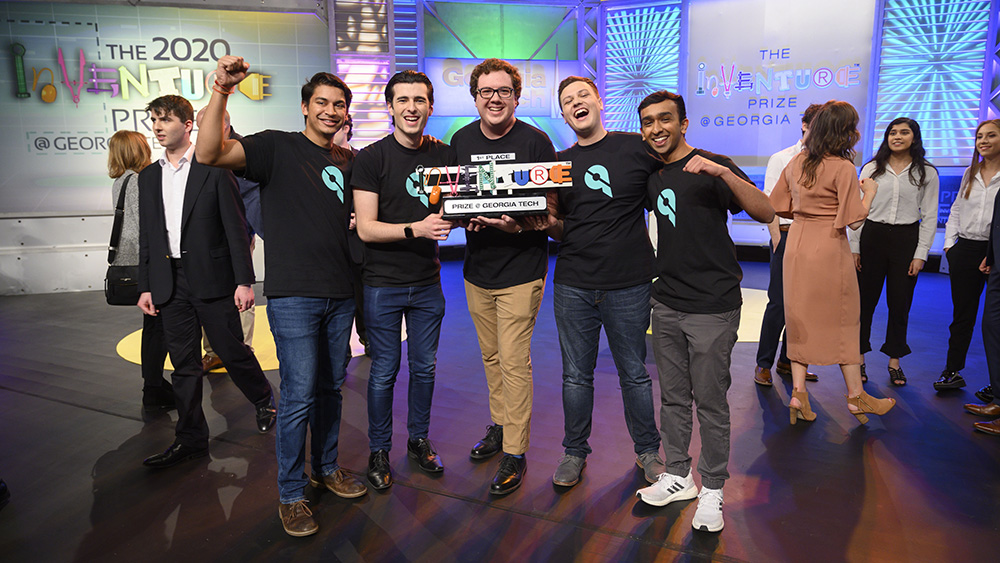 Team Queues with the first-place trophy after winning the 2020 InVenture Prize competition. (Photo: Christopher Moore)