Emergency Fund Helps Students in Need
Emergency fund supports Tech students who have a demonstrated financial need related to the COVID-19 crisis and campus closures.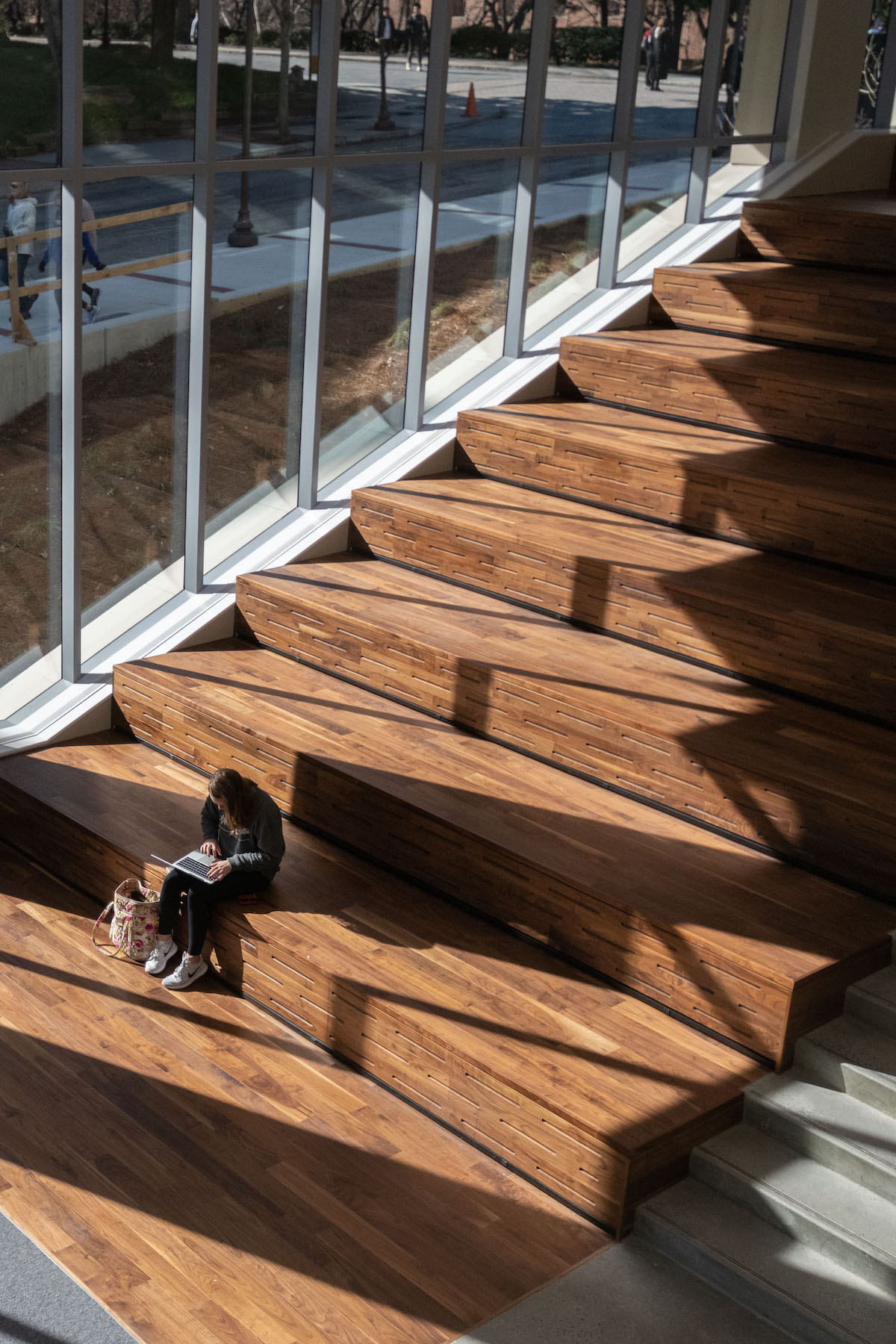 A student with her laptop on the steps of Crosland Tower.
Apr 21, 2020 — Atlanta, GA
The COVID-19 crisis turned everything upside down in just a few weeks. Students had to quickly make housing arrangements for the rest of the semester. And their plans for study abroad or summer internships vanished, leaving many in a financial bind. That's when Georgia Tech's Student Relief Fund came to the rescue, providing more than $700,000 to 1,024 students.  
To support students in need the Division of Student Life and the Alumni Association are partnering with the Office of Development to raise and distribute emergency funding through the Georgia Tech Parents Fund and Roll Call. The fund supports Tech students who have a demonstrated financial need related to the COVID-19 crisis and campus closures. Funding is available to all enrolled Georgia Tech students and can be used to alleviate financial challenges resulting from the current public health crisis, including travel assistance, housing assistance, medical expenses, moving costs, financial support, food insecurity, and much more. 
"I found myself unexpectedly out of quite a bit of money after Georgia Tech made the responsible decision to cancel our international trips," said Abby Brenller, first-year MBA student at the Scheller College of Business. "Unfortunately the airlines were unwilling to refund the money, as they were still operating at the time."
The following week Brenller learned that the summer internship she had been counting on was gone; the company decided to rescind all summer offers. She applied for and received support from the emergency fund.
"This has been a huge relief to me and I know it has to others, and it has really inspired me to pay it forward one day," she said. "So, thank you to everyone contributing to the Student Emergency Fund."
Fourth-year biology major Jenia Molotkova found herself in a similar situation.
"After losing my on-campus jobs and having to resign from my off-campus job due to campus closure and the pandemic, I had no means of saving money to apply to medical school this May. But now, after receiving funding, I can safely apply to medical school, and I am very thankful for that," she said.
Students in need of financial assistance should complete the application form, and Student Life will contact them to coordinate the assistance through the Office of Financial Aid. The maximum amount of each grant is $1,000.
Funds are limited, but more are being raised. Parents looking to support this fund can make a gift through the Georgia Tech Parents Fund. Alumni, faculty, and staff can do so through Roll Call.
"I am so appreciative to all who have contributed to the Emergency Fund either through the Parents Fund, Roll Call, or the Office of Development, said John Stein, vice president for Student Life and the Brandt-Fritz Dean of Students Chair. "Their generous donations have allowed us to help many students who are in need of some extra assistance due to COVID-19."
If you have any questions, contact Parent Fund Coordinator Will McKenna, at 404.385.2369 or william.mckenna@gatech.edu.