Georgia Tech Releases Full Statement About Eva Lee
Statement provides more background about recent media reports on Lee's requests for computer access.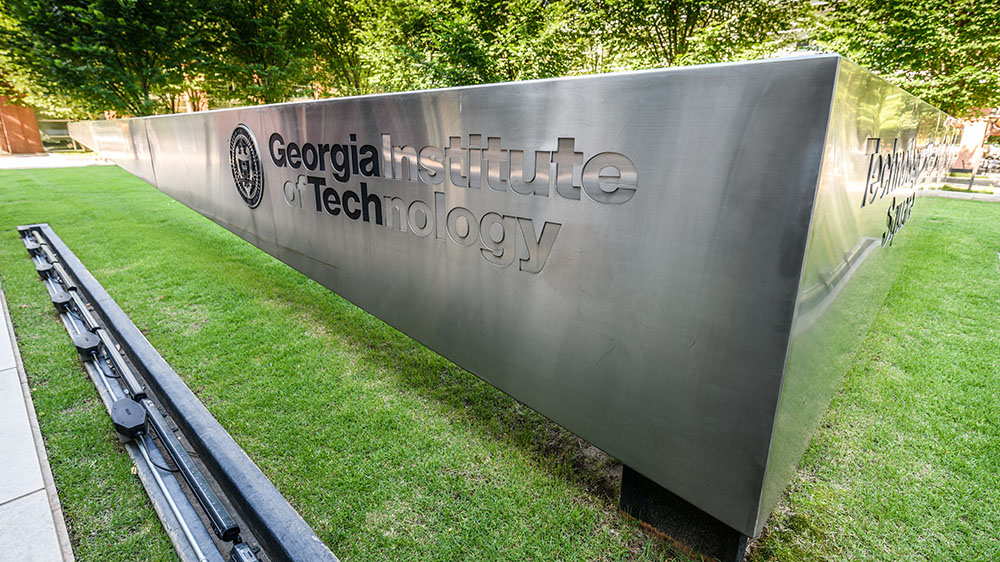 The Georgia Tech sign at 5th Street and West Peachtree Street. (Photo: Rob Felt)
Apr 23, 2020 — Atlanta, GA
COVID-19 is a serious global health crisis and it is important that the brightest minds are lending their support. To that end, we are proud to have a number of faculty who have been formally engaged by both federal and state agencies, and we have made Georgia Tech resources available to those agencies as part of the Institute's efforts to combat the COVID-19 virus.
We are aware of media reports about Dr. Eva Lee's involvement in COVID-19 and have received inquiries about her request to restore her access to Georgia Tech's network and resources. By way of background, Dr. Lee pleaded guilty in December 2019 to two felonies relating to false statements and is scheduled to be sentenced by the U.S. District Court for the Northern District of Georgia next month. She is currently on administrative leave. Employees on administrative leave are not allowed access to Georgia Tech resources. 
In late January, Dr. Lee's attorney requested that Georgia Tech restore her access to its network and resources so that she could perform research work on COVID-19 that she claimed was requested by the U.S. Government. While Georgia Tech offered Dr. Lee to identify specific files that it could then make available to her, her attorney advised that Dr. Lee needed access to the system itself.
Given her current status and the charges that she admitted to, Georgia Tech asked that Dr. Lee authenticate her involvement in the U.S. Government's official efforts by providing a written request from a senior government official that specifically requests her participation in those efforts so that Georgia Tech could confirm she was being engaged in the official manner that other Georgia Tech faculty had been called upon by federal and state government agencies to contribute their expertise.
Although Georgia Tech has received letters of support from esteemed federal government employees that highlight her expertise and the insight she has been providing to an ad hoc consortium of researchers via e-mail, these letters fall short of specifically requesting or calling for Dr. Lee's participation in an official government effort.
Georgia Tech has no objection to Dr. Lee's continued involvement with the ad hoc research group but is unable to restore privileges to its network and resources at this time, having not received the requested authentication to review and consider in making a final determination on this matter. Given the circumstances, it would not be appropriate for Georgia Tech to expend state resources to attempt to obtain the authentication it has asked Dr. Lee to provide to support her own request to restore network privileges. Georgia Tech remains open to receiving and reviewing such a request.
Learn more about the many ways the Georgia Tech community continues to work with federal and state agencies in the fight against COVID-19.