Town Hall Helps Educators Foster Academic Integrity
A panel of leaders and experts from across the Institute spoke and answered questions on how best to foster and strengthen academic integrity in both residential and remote educational environments.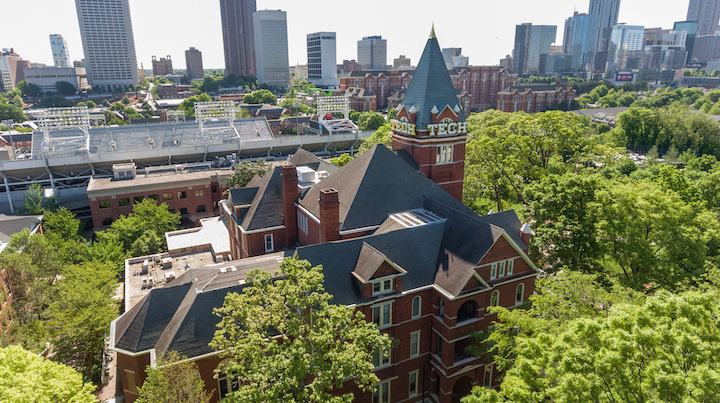 Georgia Tech Campus Aerial 
May 18, 2020 — Atlanta, GA
On Monday, May 11, more than 175 Georgia Tech faculty and staff attended a virtual town hall on Supporting Integrity in Education. A panel of leaders and experts from across the Institute spoke and answered questions on how to foster and strengthen academic integrity in both residential and remote educational environments. They also discussed the Summer Remote Teaching Academy, a resource for faculty learning to teach remote courses or wanting to access tools and training to support those courses.   
The panel, moderated by Michael Toney, director of Academic Administration, included Nelson Baker, dean of Georgia Tech Professional Education (GTPE); Charles Isbell, dean of the College of Computing; Yakut Gazi, associate dean of Learning Systems at GTPE; David Joyner, executive director of Online Education and OMSCS; Andrew Lawrence, assistant director of the Office of Student Integrity; Kyla Ross, assistant vice provost for Advocacy and Conflict Resolution; Thad Starner, professor in the School of Interactive Computing; and Joyce Weinsheimer, director of the Center for Teaching and Learning.
 "At Georgia Tech, we are emerging from a very difficult time," said Baker. "We need to have open and honest conversations about what we've learned and how we can move forward."
The spring semester's unprecedented and rapid transition to remote learning left many professors and instructors facing questions, not the least of which was how to ensure adherence to Georgia Tech's Honor Code fairly, and from a distance. For many, remote teaching is unfamiliar territory. The impossibility of physical oversight of students, the specter of answer-sharing and homework-for-hire sites, and an array of unfamiliar detection and deterrence technologies have given rise to concerns about academic misconduct.
 Academic Integrity: The National and Local Landscapes
"Transitioning to remote instruction started this conversation, but we need to see that this is not only an online problem," said Isbell. "The issue of integrity in education is too important for us not to be clear-eyed about what is happening and address it, in whatever ways will improve the education we offer and our reputation in the world."
David Joyner and Thad Starner opened the discussion on the national landscape of academic integrity. Though the educational environment has undergone a major shift over the past two months, Joyner reflected, the reasons misconduct happens — largely stress and pressure — are essentially the same. "Misconduct is mostly either opportunistic or due to desperation, rather than an advanced intention," Joyner said.
Andrew Lawrence added that for many residential Georgia Tech students, this was their first experience taking a remote exam or completing an online project — all while most were relocating off campus and finding the resources necessary to finish the semester at home. Even online students who already had experience in the virtual learning environment were grappling with the stresses of illness, job loss, and other issues related to the pandemic. Stressors were high for all students in the spring.
Academic dishonesty can range from small steps to gain an unfair advantage, such as giving a fellow student who hasn't yet taken the test a tip on one of the questions, to systematic efforts to earn credit with little to no effort. Tutoring or homework-help websites, many of which were originally designed with good intentions, are now multimillion-dollar industries with easily misused services. From answer repositories to assignment sharing to paying a professional to complete a student assignment, cheating is big business.
Combating Academic Dishonesty
Even so, Joyner says that a free-for-all environment isn't, in his observation, what students want. "Students largely want integrity measures, as long as they do not punish honest students through extra hurdles or false suspicion," he said. "They want the reputation of their degree and institution to be preserved." This in turn preserves students' sense that their hard work will be of value.
There are many ways to prevent and deter academic dishonesty — beginning with intentional pedagogy and course design. New tools and technologies monitor online assignment-sharing sites, detect plagiarism and exam question sharing, and even intervene when students are engaging in potentially risky behavior. They can be used as teaching tools to foster a classroom environment that promotes academic integrity, as preventive mechanisms, and as detectors of potential violations.
Preventing the Problem – Deterrence by Design
Kyla Ross and Joyce Weinsheimer noted that summer courses give faculty the opportunity to proceed much more intentionally than in the spring, laying the groundwork for academic integrity in the first week or two of class.
"Students and faculty both want a positive, respectful, and engaging educational environment," Ross said. "When setting up your courses, have clear course objectives, evaluation criteria, and any other requirements outlined in your syllabus from day one. Consider what the expectations and boundaries are for your assignments and assessments. Clearly outline everything so there are no surprises."
Weinsheimer suggested establishing a norm of partnership in your syllabus. Academic dishonesty can be the result of desperation. If students know that you (and your TAs) are available as a resource, they might be less likely to see dishonesty as the only option. "Highlight academic integrity in your syllabus and throughout the term so that it is real to students," she said. "For example, when exams are taken, have students see and sign the honor code."
Another way to stave off desperation is to have multiple lower-stakes assessments, either in addition to or instead of a few high-stakes assessments. This gives students opportunities to get feedback on their learning and helps instructors identify gaps in understanding. It also conveys the instructor's investment in student learning. "When students know we want to help them improve their mastery of the course content, they tend to put their energy into learning," Weinsheimer said. "Low-stakes assessments become tools that benefit students rather than punish them for not knowing everything yet."  
Thad Starner recommended having an honor code quiz early in the course, both to outline course expectations and to establish students' understanding of the parameters of acceptable behavior as they complete assignments and turn in assessments.
Finally, assessments and assignments can be designed so that they are easiest to complete using a working knowledge of the material, and very difficult to complete while referencing only a set of notes or answers. Joyner's tips for designing this kind of assessment can be found here.
Deterrence by Prevention and Detection
Academic integrity can also be fostered by making detection and deterrence technologies visible throughout the course. If instructors let students know that they are using dishonesty prevention and detection technologies, Joyner said, the perception that "anyone can get away with anything" diminishes and students are less likely to violate the honor code.
Starner identified three tools currently available to instructors: TurnItIn, MOSS, and Gradescope. TurnItIn, a plagiarism detector, can also be used as a teaching tool if students are allowed to see it demonstrated in a lesson. MOSS (Measure of Software Similarity) is a similar tool for programmers. Gradescope is a grading tool with an analytics feature for instructors. Instructors should make it known to students that these tools exist and are in use in their courses.
Respondus Monitor, or digital proctoring, is also available in Summer 2020, though instructors are cautioned that the technology makes certain assumptions about "normal" behaviors and capabilities in students and should therefore be used with care. The Summer Remote Teaching Academy (see below) will cover Respondus, as well as other exam tools and technologies available to faculty.
Starner is also working on new tools, some only available in beta and some still in development — including Examinator 2.0, BELT (BlueJeans codE Leak deTection), and Jack Reacher Watson.
Summary of Strategies and Tips for Supporting an Environment of Integrity:
Outline clear expectations of conduct in the syllabus. Reinforce these with discussion and/or an honor code quiz in the first week of class.
Openly discuss expectations for student conduct on assignments and assessments, and highlight the honor code throughout the semester.
Have students see and sign the honor code before taking exams.
Encourage students to view you and your TAs as resources and as partners with them in learning.
Employ more lower-stakes assessments throughout the course, either in addition to or in place of a few high-stakes assessments.
Design assignments and assessments that are easiest to complete using a working knowledge of the material. For David Joyner's tips on how to do this, go to https://bit.ly/examtrust.
Visibly employ deterrence and detection technologies such as Gradescope, MOSS, and TurnItIn in your classroom. Where appropriate, use these technologies as teaching tools.
Use digital proctoring with care and only when appropriate.
For Faculty: Summer Remote Teaching Academy
The panel also introduced the Summer Remote Teaching Academy, which is now available to all faculty members through Canvas. Yakut Gazi said that about 450 instructors scheduled to teach this summer were automatically enrolled in the academy, and an additional 130 faculty members signed up for the course independently.
The purpose of the course is to support faculty as they rethink their course delivery for an online environment," Gazi said. "We can assist by matching course needs with the technologies and tools that Georgia Tech has in its online learning ecosystem." The asynchronous course is available in Canvas to all faculty. To register for the course (if it does not show up in Canvas), request to be added at this website.
The 2020 GT Remote Teaching Academy is a collaborative effort offered by Professional Education, the Center for Teaching and Learning, the Office of Information Technology, the Center for 21st Century Universities, the Library, and the Summer Programs unit of the Office of Undergraduate Education. They have held 10 synchronous sessions and plan to offer more throughout the summer. Registration links for upcoming sessions are below.