AWARE Recycling Program Expands Campuswide
The AWARE program (Actively Working to Achieve Resource Efficiency) increases the amount of recycled material collected from office and desk spaces by having faculty and staff members sort their recyclables and landfill items into larger bins located with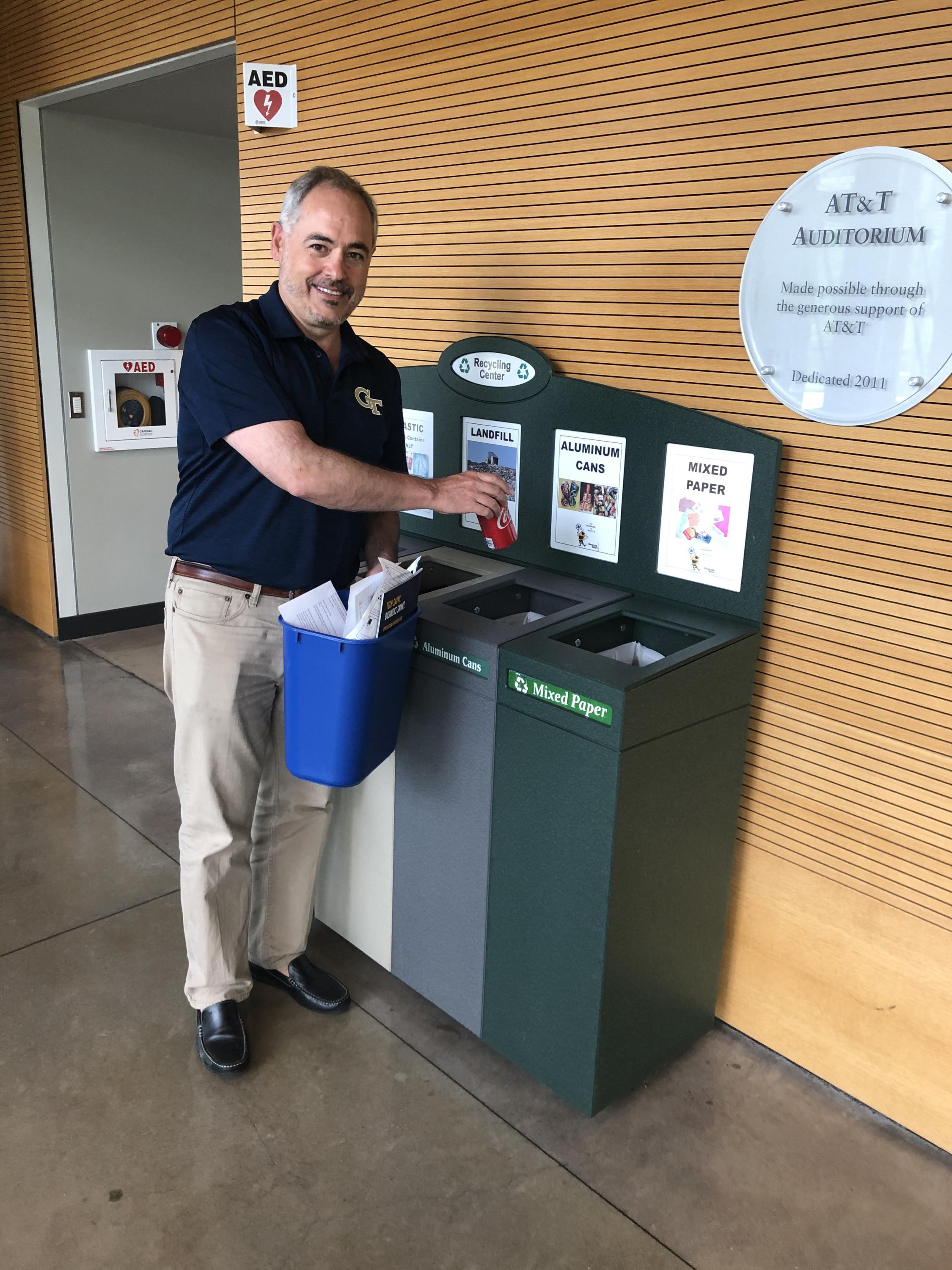 President Cabrera Sorts Recycling in Clough Commons [Note: This photo was taken prior to the Covid-19 pandemic.]
Jul 31, 2020
— Atlanta, GA
This summer, a program that could increase recycling rates at Tech by as much as 60% is expanding. The AWARE program (Actively Working to Achieve Resource Efficiency) increases the amount of recycled material collected from office and desk spaces by having faculty and staff members sort their recyclables and landfill items into larger bins located within their respective buildings.
"Georgia Tech is committed to developing leaders who understand the importance of a healthy planet to improve the human condition and who are ready to make a difference. We carry out that mission not only through education and research, but very importantly, by being an example of sustainability in our own operations," said Georgia Tech President Ángel Cabrera. "The AWARE program helps the environment and it serves as a daily reminder to all of us that we can make a difference."
The program began in 2009 in the Carnegie Building, which houses the Office of the President and other campus leadership, before growing to include 18 other buildings. Now it is being incorporated into all campus buildings. AWARE allows occupants to get a personal understanding of their waste footprint, sort their materials as recycling or landfill, and alleviate the burden on custodial staff.
"This transition will allow our custodial teams to reallocate time and focus on disinfecting tasks related to Covid-19," said Emma Brodzik, campus recycling coordinator. "It will also help advance Georgia Tech's sustainability goals related to waste diversion."
During regular operations, the campus produces an estimated 400 tons of landfill waste each month and almost 200 tons of recycling or compost that is diverted from the landfill. Having office occupants further sort their material has historically shown to increase diversion from landfills.
Effective June 18, research buildings that are part of the summer ramp-up transitioned to the AWARE program. Each ramp-up phase will include more campus facilities; the whole campus will have the capacity to participate by Aug. 1. As each building adopts AWARE, custodians in those buildings will no longer service deskside or individual office waste containers. The AWARE Program will be the campus standard moving forward, even after the effects of the current pandemic have dissipated.
The Office of Solid Waste Management and Recycling will be sharing information to building managers and the Office of Emergency Preparedness to get occupants ready for the transition. For an overview, visit the Recycling website. Questions can be directed to Steve Place at steve.place@facilities.gatech.edu.