U.S. Department of Energy Undersecretary Dabbar Visits Georgia Tech
Paul M. Dabbar, undersecretary for science at the U.S. Department of Energy, toured several of Georgia Tech's energy-related labs on Sept. 25.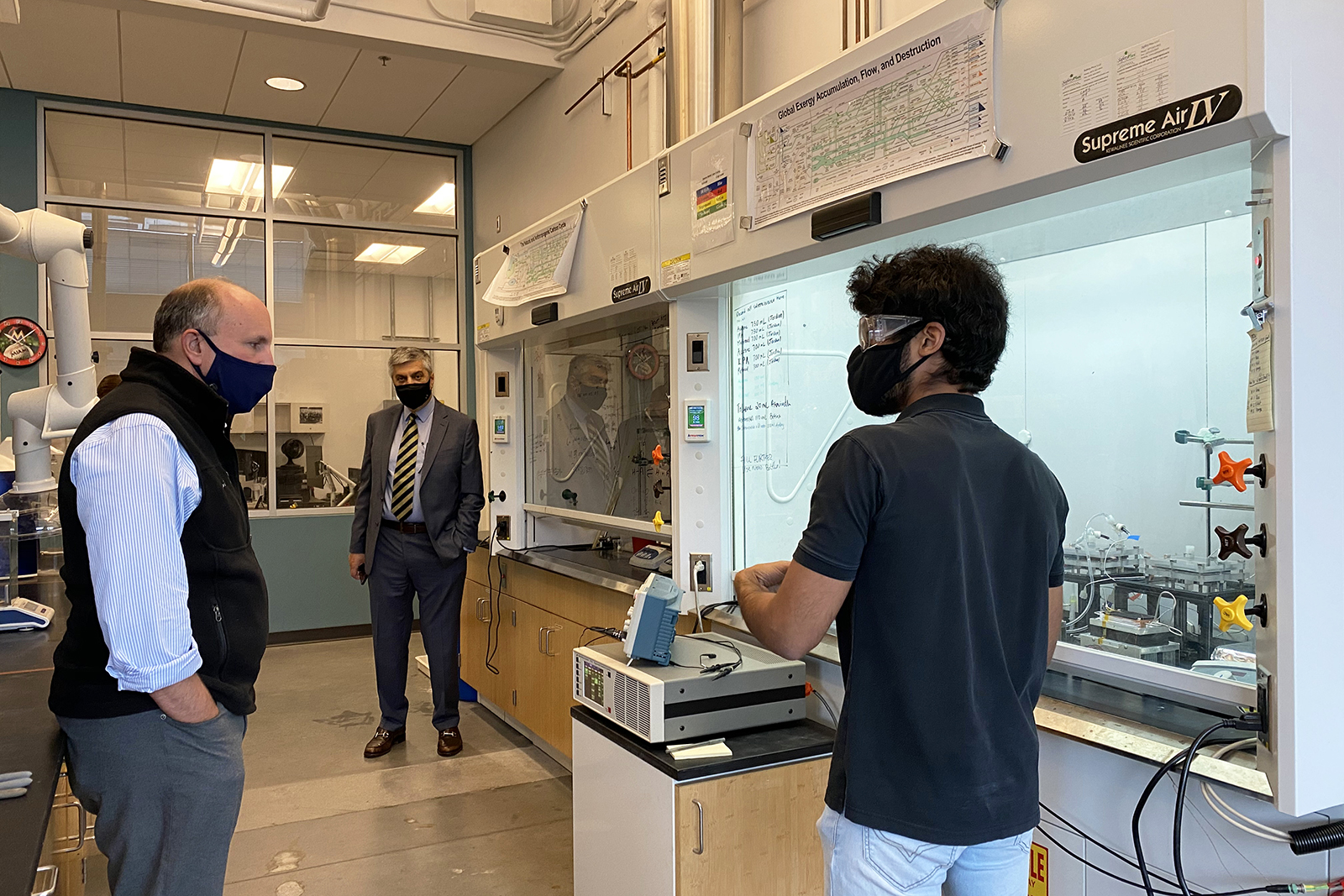 Ph.D. student Aravindh Rajan explains how the world's first continuous thermoelectrochemical cooler prototype works as Paul M. Dabbar tours the Scalable Thermal Energy Engineering Lab (STEEL). The lab is located within the Carbon Neutral Energy Solutions (CNES) building and is under the direction of Associate Professor Shannon Yee. Photo by Ashley Ritchie
Sep 30, 2020 — Atlanta, GA
Paul M. Dabbar, undersecretary for science at the U.S. Department of Energy, toured several of Georgia Tech's energy related labs on Friday, Sept. 25. The tour was organized by College of Sciences Associate Dean Julia Kubanek and Regents Professor Tim Lieuwen, executive director of the Strategic Energy Institute. The itinerary included visits to the Georgia Tech Research Institute (GTRI), the Carbon Neutral Energy Solutions Building, chemistry labs in the Bunger Henry Building, and the National Electric Energy Testing, Research, and Applications Center (NEETRAC).
"In putting together Undersecretary Dabbar's visit, we attempted to demonstrate the full range of Georgia Tech's energy research portfolio, from basic science to industry scale testing, and our deep understanding of national security, national lab partnerships, corporate partnerships, and company startups," Lieuwen said. "We think the tour achieved this very effectively." All aspects of Undersecretary Dabbar's tour were arranged with special considerations for maintaining full compliance with safety and health guidelines.
Topics of discussion included cybersecurity and energy infrastructure, carbon capture and synthetic fuels, and microgrids and electric infrastructure. At each stop along the tour, Dabbar engaged with researchers and experts to discuss their work and to see Georgia Tech's facilities. He met with about a dozen researchers including Alexa Harter from GTRI's Cybersecurity, Information Protection, and Hardware Evaluation Research Laboratory; Devesh Ranjan from the George W. Woodruff School of Mechanical Engineering; Krista Walton from the School of Chemical and Biomolecular Engineering; and Salvador Palafox from NEETRAC.
In his role as undersecretary, Dabbar is the lead for technology commercialization activities for the department and its 17 national labs, as well as the Department of Energy's principal advisor on fundamental energy research, energy technologies, and science. He also serves on the department's Environmental Management Advisory Board. Before his appointment as undersecretary in 2017, he was the managing director for mergers and acquisitions at J.P. Morgan, where he focused on operations, finance, and strategy in the energy sector. Dabbar holds a B.S. from the U.S. Naval Academy and an MBA from Columbia Business School.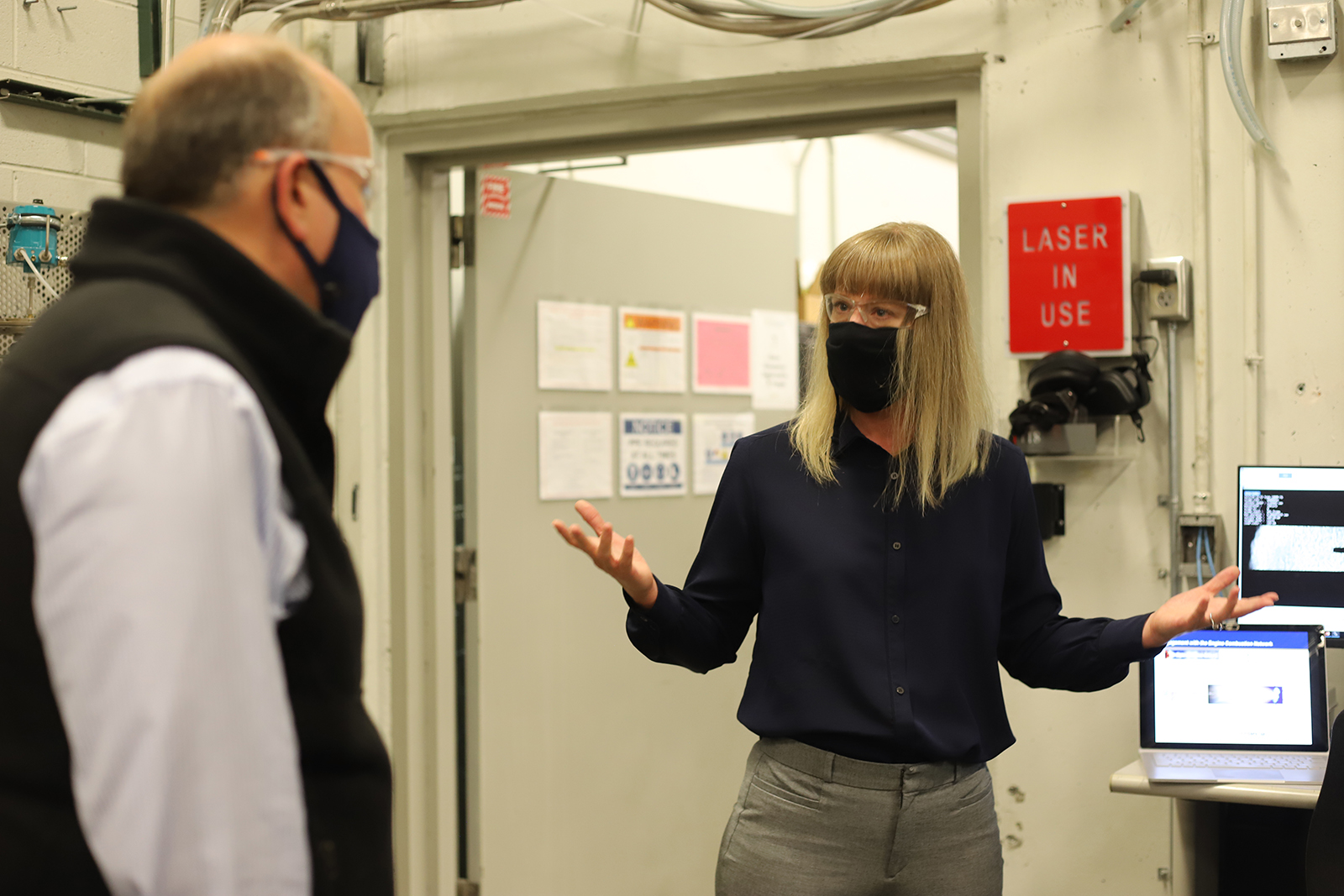 Associate Professor Caroline L. Genzale talks with Paul M. Dabbar during a visit to campus Sept. 25, 2020. Photo by Ashley Ritchie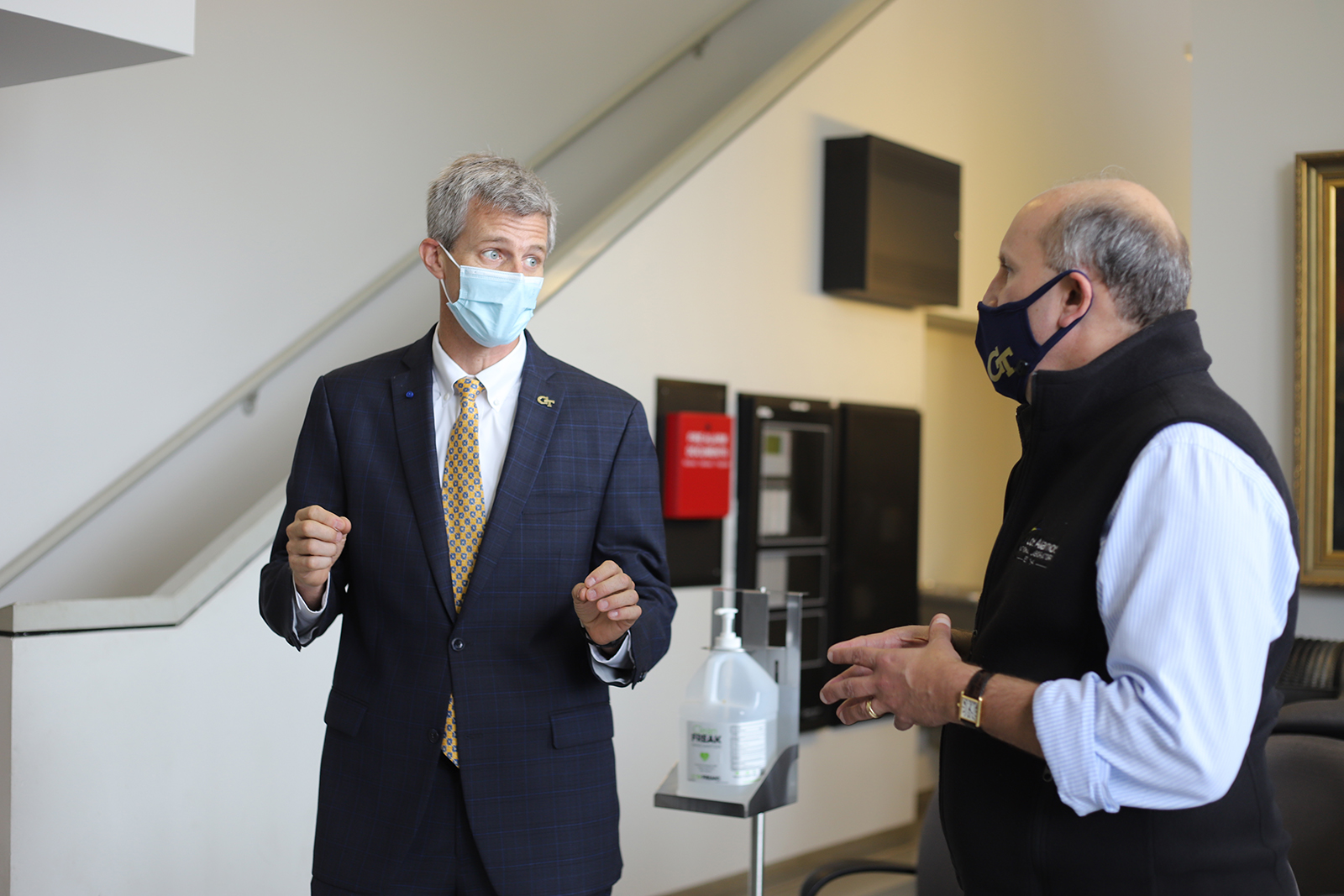 Tim Lieuwen, Regents Professor and David S. Lewis Jr. Chair and executive director of the Strategic Energy Institute, and Paul M. Dabbar engage in discussion before a tour of the Zinn Combustion Laboratory. Photo by Ashley Ritchie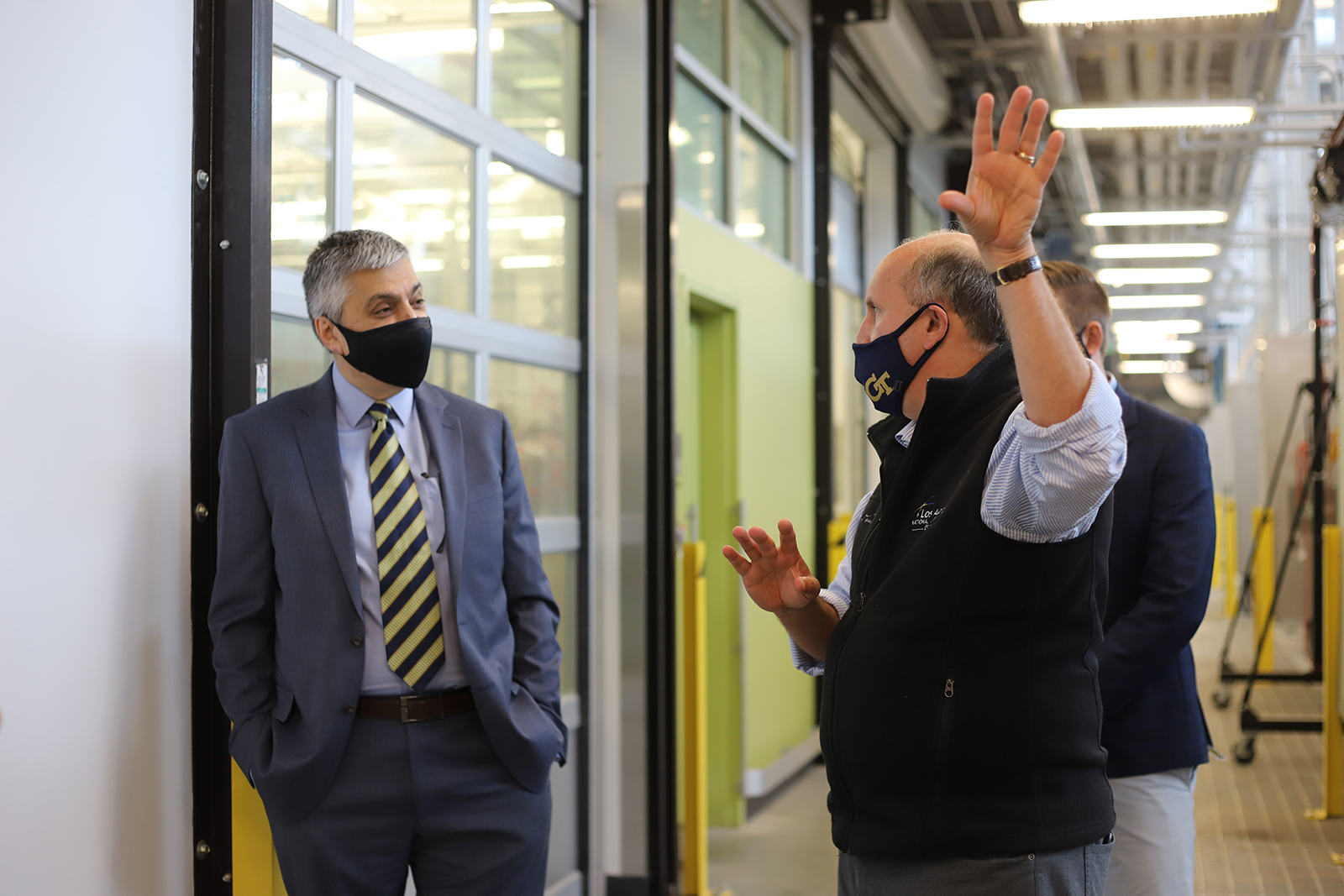 Chaouki Abdallah, executive vice president for Research, and Paul M. Dabbar, undersecretary for science at the U.S. Department of Energy, engage in discussion during a tour of the Carbon Neutral Energy Solutions Laboratory on Sept. 25, 2020. Photo by Ashley Ritchie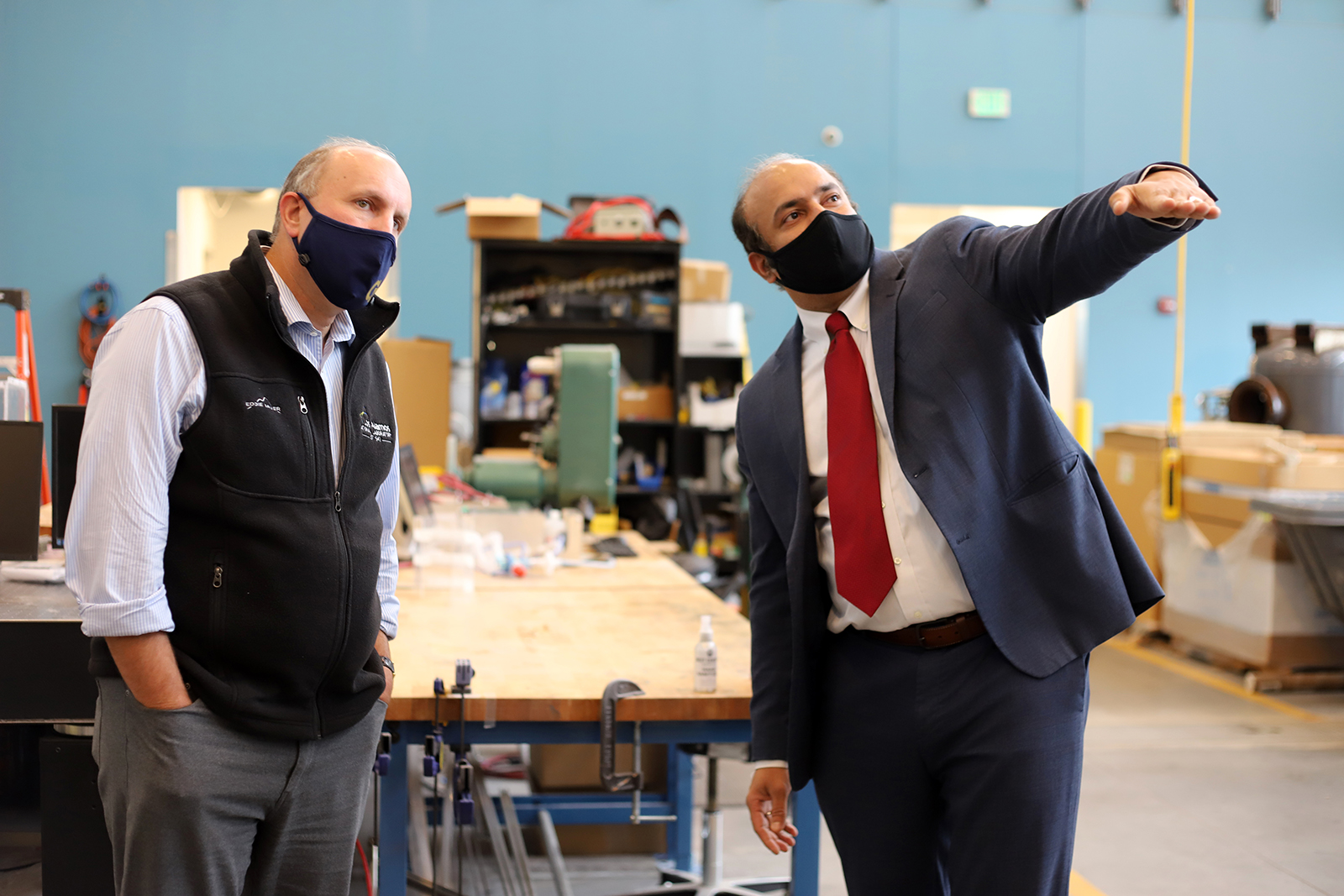 Paul M. Dabbar, undersecretary for science at the U.S. Department of Energy, and Devesh Ranjan, associate chair for Research in the George W. Woodruff School of Mechanical Engineering, tour the Carbon Neutral Energy Solutions Laboratory on Sept. 25, 2020. Photo by Ashley Ritchie