Anthony Fauci Receives Ivan Allen Prize
Devoted Public Servant Honored For His Commitment to Guiding Public Health
Mar 16, 2021 — Atlanta, GA
For decades now, Dr. Anthony Fauci has been a steadfast source of health guidance rooted in science. As the federal government's top infectious disease expert, Fauci has advised seven presidents from both political parties. As a public servant, Fauci's role was thrust into the national spotlight as our country has faced one the most significant public health crises since the Spanish flu a century ago. For his unwavering commitment to sharing the facts and figures that have helped Americans navigate this pandemic, Fauci has been honored with Georgia Tech's 2021 Ivan Allen Jr. Prize for Social Courage.
"I'm deeply honored to accept this award, with gratitude and profound humility," said Fauci.
For Fauci, social courage — and specifically bravery in the field of science — means sticking to the principles of what data and evidence provide. In accepting the prize, Fauci said that also means never compromising integrity however inconvenient or uncomfortable the truth may be. The Ivan Allen Jr. Prize for Social Courage, named for Atlanta's mayor at the height of the civil rights movement in America, honors those who have made a positive impact defending moral principles at the risk of their own careers and even well-being.
"The wrenching events that our country has witnessed lately remind us that we have much work to do as individuals, and as a country, to overcome social injustices. As made plain by the Covid-19 pandemic, the adverse effects of health disparities most profoundly affect people of color," said Fauci. "As a physician, scientist, and public health official, my main goal is to preserve and protect the health and welfare of all Americans."
During the Covid-19 pandemic, Fauci has been subject to criticism as he shared guidance intended to help the public protect themselves and each other from this highly contagious virus. He and his family have had to have a security detail at times during the past year due to threats they received. Despite those trials, Fauci says he has continued to share information and science with the public.
"If you're a scientist and you're communicating with the public, the goal is not to show people how smart you are. The goal is for them to understand what you're talking about," said Fauci.
The trophy that accompanies the annual prize was shipped to Washington D.C. and was given to Dr. Fauci by staff members at the National Institutes of Health, where Fauci has served as director of the National Institute of Allergy and Infectious Diseases (NIAID) since 1984.
In a virtual celebration, Fauci joined Georgia Tech President Ángel Cabrera for a conversation about the intersection of social courage and his role in public health.
"Dr. Fauci has shown an unwavering commitment to science-based guidance, and his voice has become one of the most trusted across the country," said Cabrera.
Also joining the conversation was Fauci's colleague, Dr. Rochelle Walensky, director of the Centers for Disease Control and Prevention in Atlanta, who said her mentor and hero has been a rock of principle through incredibly challenging circumstances.
"He's done something bold and audacious," said Walensky. "He's told the American people the truth even when it was inconvenient to do so."
Fauci, now 80 years old, will continue to serve the public in his role at NIAID and as the chief medical advisor to the White House. Responding to a question from Georgia Tech biomedical engineering major Kyra Halbert-Elliott, Dr. Fauci explained where he finds his inspiration to keep working.
"What keeps me on course and not burned out is focusing like a laser beam on the importance of the problem you're trying to tackle," said Fauci. "It could be a sick patient or a particular problem that needs a solution. Understand the enormity of what you do."
Fauci joins former President Jimmy Carter and the late Congressman John Lewis among the prestigious list of recipients to receive the Ivan Allen Jr. Prize for Social Courage.
To see Dr. Fauci's acceptance speech and conversation with President Cabrera learn more about the Ivan Allen Jr. Prize for Social Courage, visit ivanallenprize.gatech.edu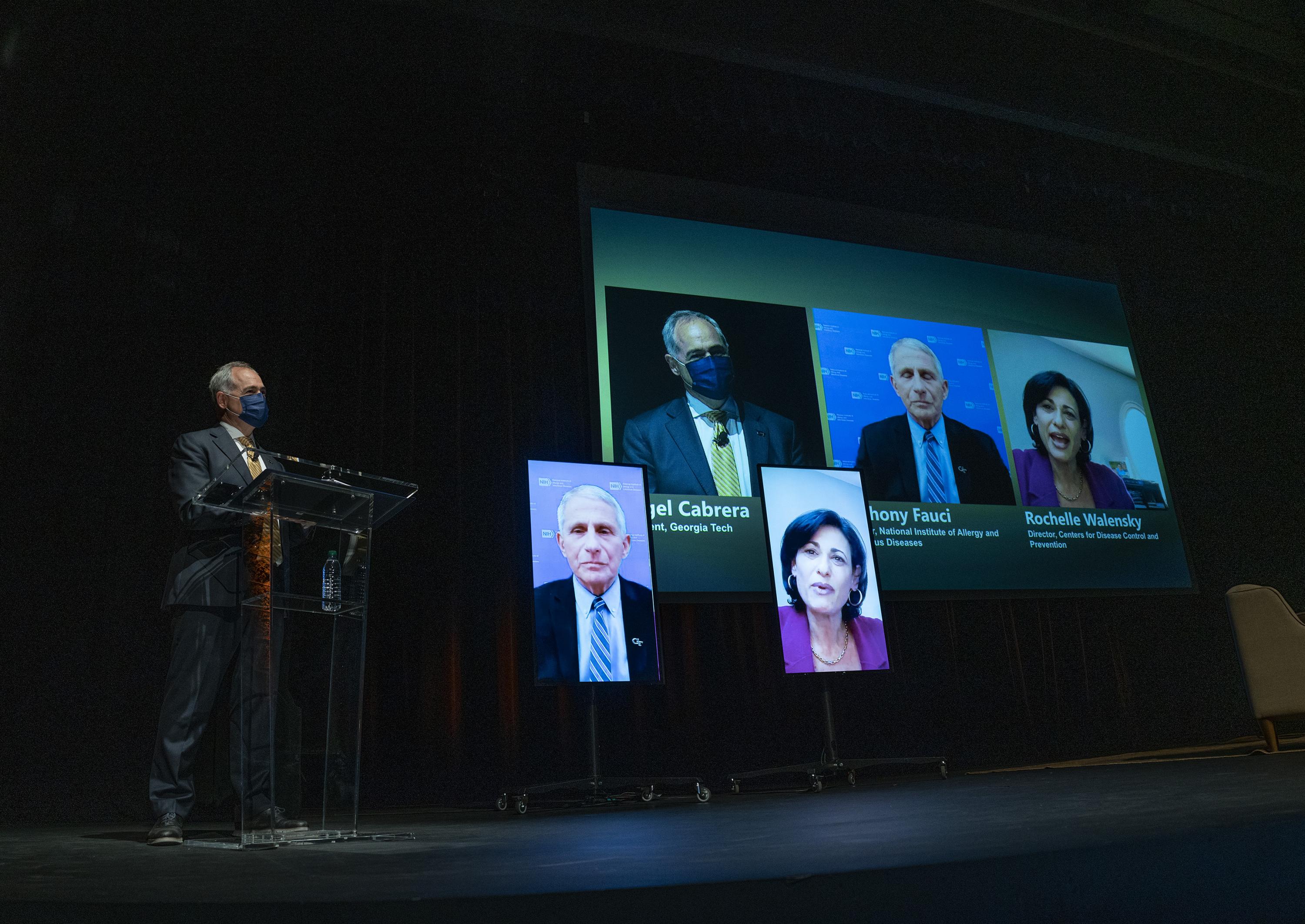 CDC Director Rochelle Walensky congratulates Dr. Anthony Fauci, recipient of the 2021 Ivan Allen Prize.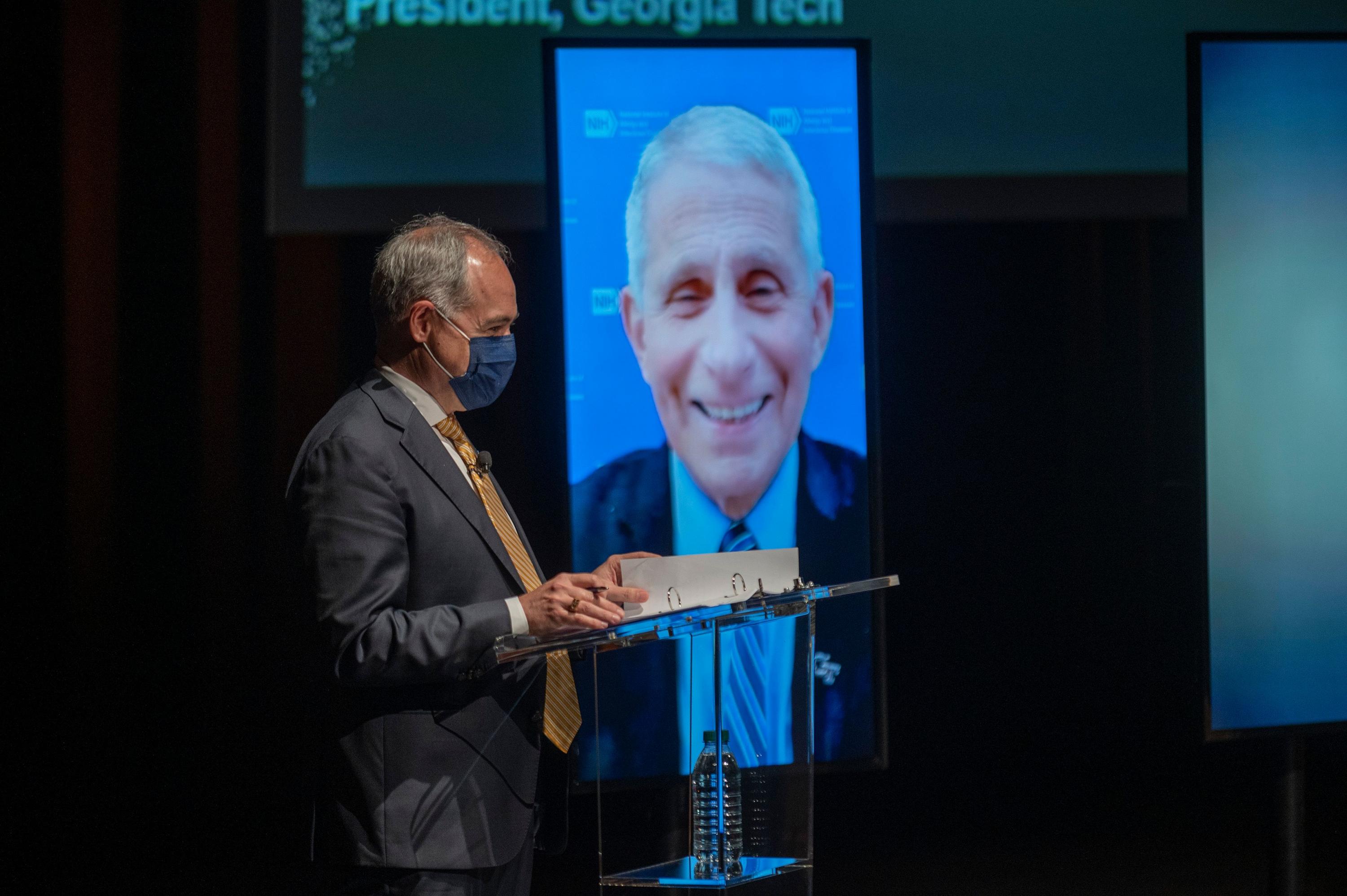 "I'm deeply honored to accept this award, with gratitude and profound humility," said Fauci.