Georgia Tech Earns STARS Silver Rating for Its Campuswide Contributions to Sustainability
Georgia Tech recently achieved a STARS silver rating by the Association for the Advancement of Sustainability in Higher Education (AASHE).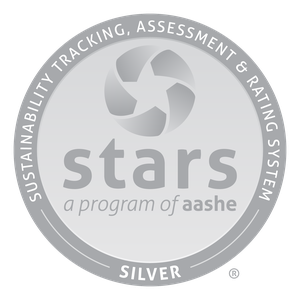 Jul 02, 2021 — Atlanta, GA
Georgia Tech recently achieved a STARS silver rating by the Association for the Advancement of Sustainability in Higher Education (AASHE). STARS stands for Sustainability Tracking, Assessment, and Rating System and is awarded based upon measured success in five key areas of sustainability in higher education – Academics, Engagement, Operations, Planning and Administration, and Innovation and Leadership. The rating system helps benchmark achievements and identify opportunities where faculty, administrators, staff, and students can be effective change agents. 
"The STARS report represents the cumulative work of sustainability performance and leadership across Georgia Tech's academics, research, engagement, and business operations," said Anne Rogers, project lead and associate director of Campus Sustainability. "Our silver rating is an important milestone as we continue to demonstrate strategic leadership in sustainability and alignment with the Institute's strategic plan."
Sustainability is a common theme throughout the strategic plan, which demonstrates a shared commitment to being thoughtful stewards of our resources – social, environmental, and economic. It is one of many ways Georgia Tech will lead by example in how we deliver on our educational and research mission. STARS will help inform and guide decisions on where to invest resources to achieve our sustainability goals.    
Georgia Tech's recent silver rating is the result of a 22-month effort, led by the Office of Campus Sustainability in partnership with Serve-Learn-Sustain, Facilities Analytics and Communications, and Institute Research Planning, to compile more than 1,300 unique information or data inputs about our sustainability-related actions. More than 150 people were engaged across 100 departments, demonstrating how sustainability is truly interwoven throughout Georgia Tech's operations, research, and educational functions.  
Summary of results from the STARS report:
Academics 
The Academics category includes both curriculum and research offerings. Georgia Tech scored with 89% of academic departments offering courses in sustainability and 73% of departments conducting research related to sustainability.  
Engagement 
Engagement includes both campus and public outreach. Georgia Tech has a robust student programming portfolio of sustainability groups and numerous activities centered around gardening, farming, urban agriculture, and wilderness programs. These exist alongside opportunities for students to learn life skills through sustainable employment practices, workshops, conferences, speaker series, and cultural arts events. Staff professional development and training also contributes, with such efforts as the Sustainable Facilities Forum produced each year by Facilities employees. The forum highlights innovative projects and practices Georgia Tech uses to maintain its built environment. 
Operations 
Measuring sustainability within Operations involves energy usage, food and dining, procurement, commuting modes, fleet, waste, and water. Data in these categories is easily trackable and used regularly by the Institute to make operational decisions. Report data includes the following: 
12% reduction in total source energy consumption per unit of floor area from a baseline from fiscal year 2010.   
41.44% of total annual food and beverage expenditures are on plant-based foods.   

62.43% of expenditures are on cleaning and janitorial products that are third-party certified. 

29.75% of materials are diverted from the landfill by recycling, composting, donating, or reselling. 

25% of campus fleet vehicles are electric.  
Planning and Administration 
Sustainability within Planning and Administration includes the categories of diversity/affordability, investment/finance, and work/well-being. Georgia Tech's graduation rate for low-income students is 84%. Work/Well-being ratings range from employees receiving a living wage to educational resources related to healthy eating, stress relief, and mental health.
Innovation and Leadership 
The Innovation and Leadership categories in which Georgia Tech scores high include sustainability standards such as: 
Bicycle-friendly campus status.  

Availability of a campus food bank. 

Green cleaning practices.  

Grounds certification.
"The Institute's strategic plan clearly outlines that Georgia Tech be a leader in sustainability. STARS is one framework to measure and track continuous improvement, and to motivate us to achieve more," Rogers added.
The STARS silver rating will help define the future actions and resources needed to achieve even higher ratings in the years to come. The goal is to revisit this rating system every two years. To read the full report, click here.