Back to Campus: Tips for Re-engaging
Psychologists and wellness experts give tips on managing anxiety.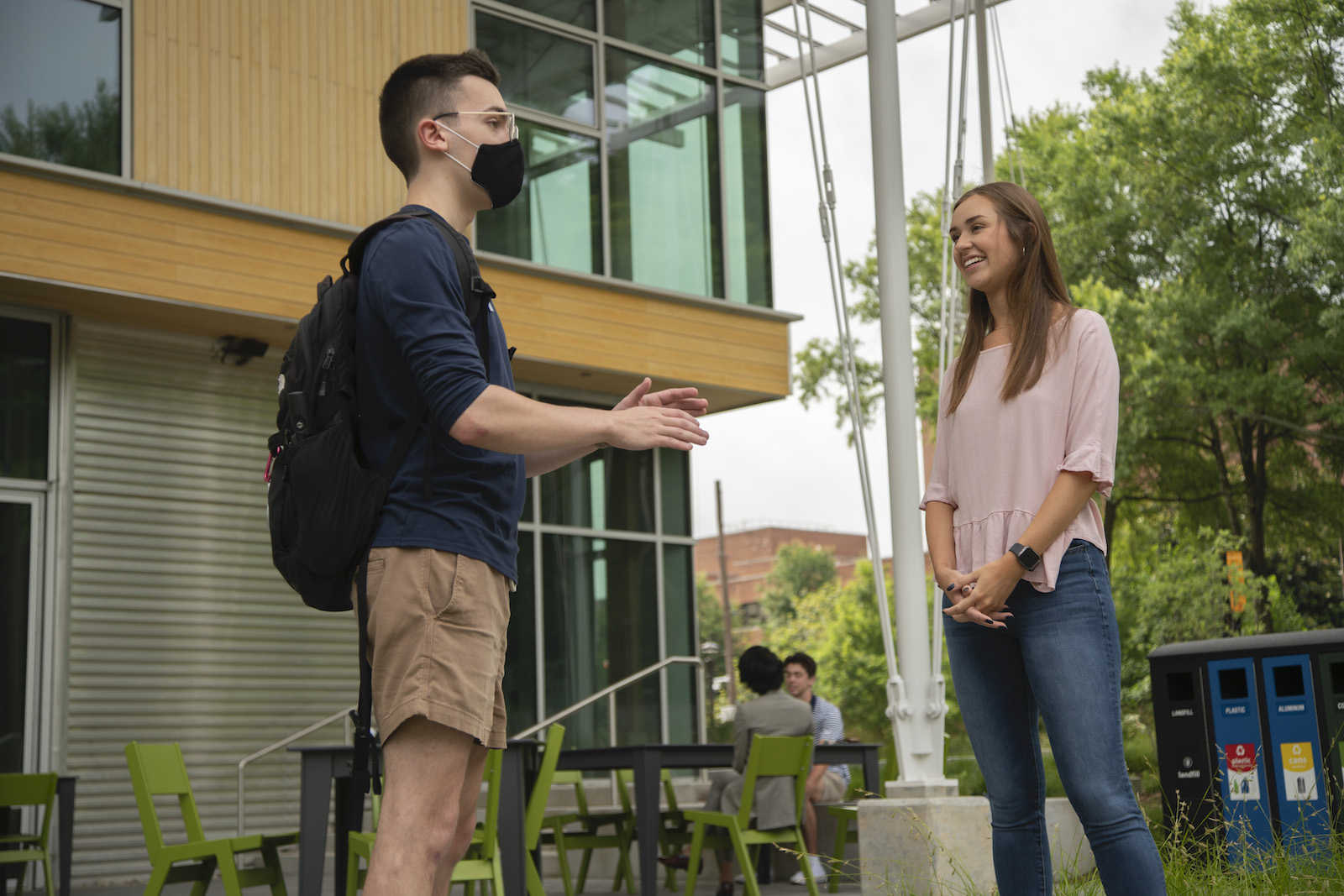 Individuals who have been fully vaccinated do not need to wear a face covering on campus. Individuals who are not fully vaccinated are strongly encouraged to wear a face covering while inside campus facilities.
Jul 08, 2021 — Atlanta, GA
In the coming weeks, many more students and employees will be physically coming to campus again — some of them for the first time since last spring. For some, the change won't be much of a concern. For others, re-engaging in person may cause anxiety or even fear.
"Many people have concerns about returning to more in-person interactions and the life they had before the pandemic," said Tiffiny Hughes-Troutman, director of the Center for Assessment, Referral, and Education (CARE). "Keep in mind that we have all become more accustomed to interacting with fewer people. Therefore, some in-person meetings and events could feel extremely overwhelming and anxiety-provoking."
On the other hand, many have experienced video fatigue and will be excited about re-engaging socially and reconnecting with others.
"Many students experienced loneliness and isolation during the pandemic," Hughes-Troutman said. "We are social creatures and need human interaction to survive. Health researchers point out that people who are chronically lacking in social contact are more likely to experience elevated levels of stress."   
Some employees, like Savannah Torrance, reservations and event coordinator with the Student Center, have been working on campus during most of the pandemic. In the spring of 2020 she worked online for two months before coming back.
"I was nervous because at the time we were going through the second surge of cases in the country, but more specifically Atlanta," said Torrance, who works on campus three to four days a week. "I overcame my fear by coming in and following the preventive measures recommended by our campus experts. Even while our department shifted operations from the Student Center to the Exhibition Hall, we upheld and enforced all of Georgia Tech's Covid-19 health and safety policies."
Hughes-Troutman believes it is important to recognize the range of post-pandemic responses and understand that every individual will have their own approach.  
"Leaders and managers should carve out time to execute a plan that acknowledges the unique response that employees will have, and not expect things to be exactly as they were before," she said, noting that living and working through a pandemic have provided an opportunity to closely examine health and well-being in new ways.
"Despite the challenges of the pandemic, many have benefited from the opportunity to connect with family and friends, to focus on holistic health, and to adopt new routines and rituals," Hughes-Troutman said. "The ability to work in comfortable clothes, being at home more with family, and having more time to get some sun or fit in some physical activity between meetings has been an upside for many. As we adjust our schedules for more time on campus, make note of the healthy lifestyle habits and practices that you wish to retain."
For Torrance, whose job includes processing and corresponding with more than 15,000 annual client reservation requests, working remotely forced her to change the way she carries out daily tasks and procedures.
"We previously did a lot of our work with tangible items and have now been able to shift a lot of our work to a digital format," she said. "But being in person allows me to better explain and convey our spaces and their capabilities. With a brand new space, the Exhibition Hall, it can often be difficult to conceptualize how to host in the space. Being in person can only make event planning go better."
Tips for Managing Anxiety 
Hughes-Troutman; Chris Wiese, assistant professor in the Department of Psychology; and Joi Alexander, director of Health Initiatives, give these tips on managing anxiety and adjusting to the return:                                    
Self-soothe and practice self-care. Journal or engage in creative, healthy self-expression when you feel worried; practice mindfulness, meditation, and aromatherapy; get adequate sleep and nutrition.
Take cognitive control. Try to control your thoughts, keep a positive health attitude, and engage in healthy coping behaviors. This pandemic is temporary, even though it may not seem that way to you.
Practice self-kindness instead of judging and criticizing yourself if you feel anxious and overwhelmed. It's OK to react negatively to a stressor. Try to recognize and accept that you are feeling a certain way.
Incorporate physical activity. Engage in physical activity by exercising with friends or family. Get outdoors, use online fitness resources, take a virtual fitness class, and set exercise goals. In addition to physical activity, passive and social activity can help individuals recover from a stressful experience.