Georgia Tech Passes SACSCOC Fifth-Year Interim Report, Receives Commendation for Serve-Learn-Sustain
The Southern Association of Colleges and Schools Commission on Colleges (SACSCOC) accepted Georgia Tech's Fifth-Year Interim Report and commended the Institute for the success of the Serve-Learn-Sustain program.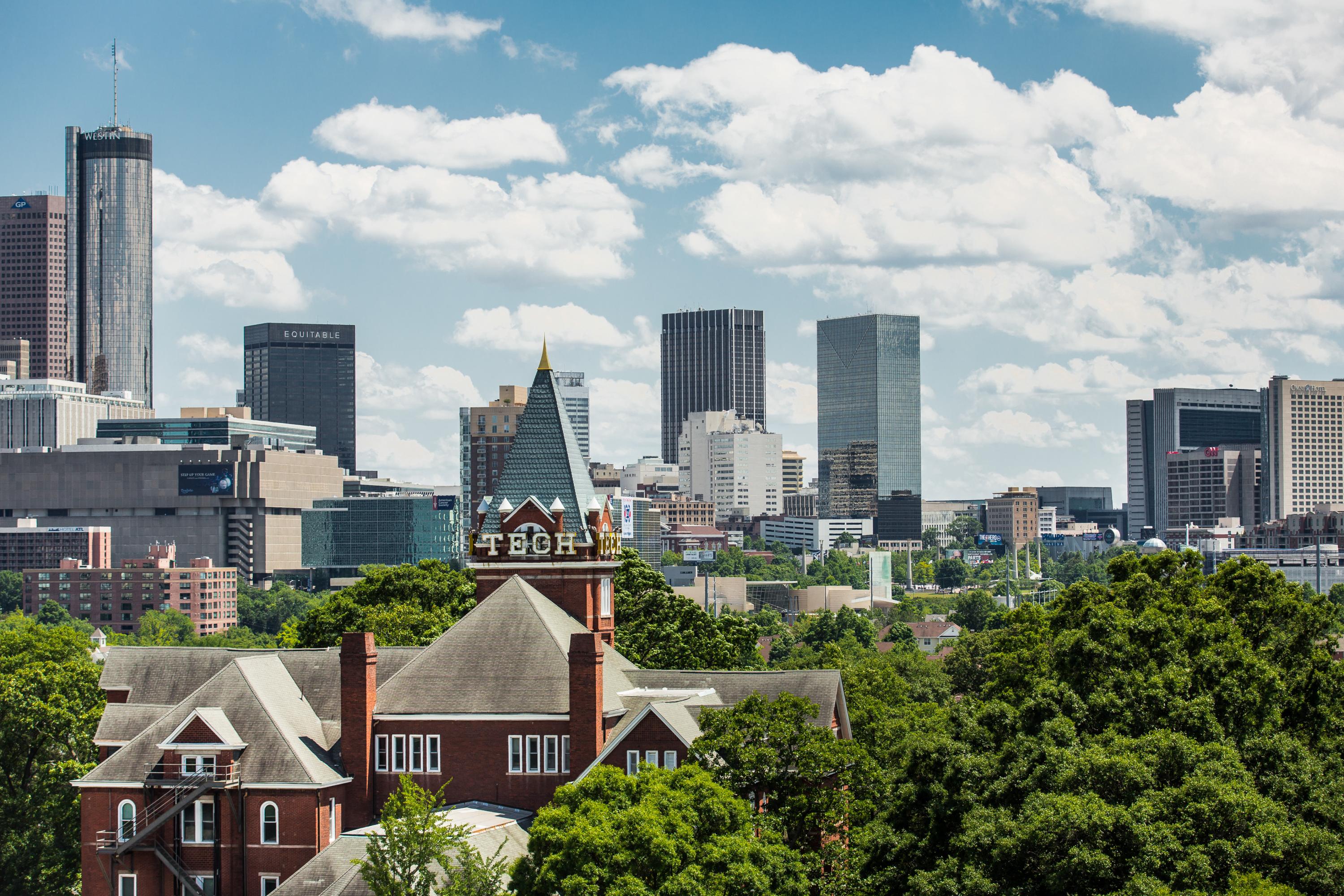 Sep 16, 2021 — Atlanta, GA
Georgia Tech received notification in July from the Southern Association of Colleges and Schools Commission on Colleges (SACSCOC), the accrediting body for degree-granting institutions of higher education in the southern states, that the Institute's Fifth-Year Interim Report has been accepted with no additional reporting requested.
The Institute also received a commendation from the accreditation body "for the exceptional execution" of its Quality Enhancement Plan (QEP), known on campus as Serve-Learn-Sustain (SLS). In her letter to Georgia Tech President Ángel Cabrera, SACSCOC President Belle S. Wheelan commended SLS as "an ambitious integration of inspirational aspects of institutional mission with a complex and yet thoughtfully designed implementation to reach as many students as possible," further noting that the program "inspired a closer dialogue among faculty regarding research and instructional practices, and thus serves as a model of how a QEP can transform an academic culture."
"Accreditation, assessment, and quality enhancement efforts are not only necessary processes; they are key to our ability to achieve the goals set forth in our strategic plan," Cabrera said. "Students are our top priority, and we are committed to a culture of innovation, assessment, and continuous improvement across the Institute, from learning outcomes and educational programs to academic support services and campus facilities."
Full accreditation by SACSCOC takes place once every 10 years, with an interim review at the five-year mark. Georgia Tech was reaffirmed by SACSCOC in 2015 and the Fifth-Year Interim Report was submitted in March.
"The Interim Report was a collaborative, multi-year effort coordinated across the Institute," said Loraine Phillips, associate provost for Academic Effectiveness. "I'm grateful to everyone in the Office of Academic Effectiveness and the cooperating units for their commitment and dedication to the project. I am particularly grateful to Director of Assessment Franz Reneau and Academic Assessment Manager Sarah Wu, who led the effort to ensure quality assessment of student outcomes and educational best practices in over 140 educational programs and the QEP, as well as Accreditation Manager Jennifer McCormick, who coordinated our efforts across all units, Schools, and Colleges."
As part of the reaffirmation process, SACSCOC accreditation requires a Quality Enhancement Plan focused on improving student success. The Serve-Learn-Sustain program at Georgia Tech began in 2016 as the Institute's QEP, offering students across all six Colleges opportunities inside and outside the classroom to collaborate with diverse partners across the community, nonprofit, government, academic, and business sectors on key sustainability challenges, including community health, green infrastructure, equitable and sustainable development, climate change and energy, and social innovation. QEP assessment was a joint effort between SLS and Academic Effectiveness.
In her commendation of the program, Wheelan said that SLS "incorporates a global vision of ecological, social, and economic systems, but connects these goals with deep learning experiences for individual students."
"It has been an honor and a privilege to launch and grow the SLS program over the past six years. Everything we have achieved has been through partnerships – with centers, institutes, and colleagues across Georgia Tech; with community partners across Atlanta; and with other partners across the country and the world, via the exciting sustainability education network that we co-founded, RCE Greater Atlanta," said SLS Director Jennifer Hirsch. "I am incredibly grateful to the SLS staff, including Program and Operations Manager Kristina Chatfield, Industry Engagement Manager Sr. David Eady, Administrative Professional Sr. Jamie Jones, and Service Learning and Partnership Specialists Rebecca Watts Hull and Ruth Yow, for their hard work, commitment to our mission, and innovative approaches. Now that the QEP is complete, we are all excited to see how this work will become institutionalized to support Georgia Tech's new strategic plan. "
Under Hirsch's leadership and with a staff of six, the SLS program has grown from 300 enrolled students at its 2016 launch to approximately 5,200 students in 2020, representing 33% of the undergraduate population. The program now offers six Signature Programs that allow students to delve deeper into sustainable communities education and experiences and stay involved over multiple years. SLS and its affiliated faculty have won a number of awards and distinctions, including the national 2020 AASHE Campus Sustainability Achievement Award from the Association for the Advancement of Sustainability in Higher Education.