Georgia Tech Admission Delivers Early Action 1 Decisions
The Institute continues to expand access to more students from communities across Georgia.
Dec 13, 2021
— Atlanta, GA
Nearly 6,100 Georgia students who applied to Georgia Tech in Early Action 1 received their admission decisions on Saturday.
A total of 2,399 Georgia students were admitted, for an overall admit rate of 39%. Admitted students hail from 95 counties and 353 high schools (80% public schools and 20% private schools) around the state. Of the Early Action 1 admit pool 52% are women and 48% are men, 13% come from rural areas of Georgia, and 22% identify as Black or Hispanic. Through the Georgia Tech Scholars program, Tech offers admission to valedictorians and salutatorians who apply from any accredited Georgia high school with more than 50 graduates, and 11% of the admitted students are predicted to be honored as such.
"Georgia Tech is committed to serving our state by continuing to expand access to more students from communities across Georgia. In fact, this year 1,000 more residents are studying at Tech than just five years ago," said Rick Clark, director of Undergraduate Admission. "We are hopeful these newly admitted students will choose to become Yellow Jackets, since they are not only academically talented, but have also had a tremendous impact and influence in their schools and communities.
"I'm particularly excited about the number of women who continue to apply, enroll, and thrive at Tech. Companies recruit here because of the diverse talent pool we provide — and the female voice and perspective, particularly when it comes to policy and product creation, is essential."
On Friday Undergraduate Admission staff members virtually surprised students with their acceptances at several high schools across the state: Warner Robins High School and Northside High School in Warner Robins, West Hall High School in Oakwood, Habersham Central High School in Mount Airy, Commerce High School in Commerce, Lamar County Comprehensive High School in Barnesville, North Murray High School in Chatsworth, Cook High School in Adel, Crisp County High School in Cordele, and Atlanta Girls School.
Beginning with last year's admission cycle, first-year applicants could select from one of three admission plans: Early Action1, Early Action 2, and Regular Decision.
The first cycle of admission is reserved specifically for Georgia students, including Georgia residents attending high school out of state. The application deadline for Early Action 1 was Oct. 15. 
Early Action 2 will be announced in late January. Students still interested in applying to Tech as first-year students have until Jan. 5 to meet the Regular Decision application deadline. Those decisions will be announced in late March.
In the weeks and months ahead, the admission team will not only continue to review applications, but will also work with students who were deferred admission and discuss transfer pathways for students considering another college before completing their undergraduate degree at Georgia Tech. They will also be hosting in-person and virtual "yield" programs to convince early admits to choose Tech.
"The students we admit are also being accepted and awarded scholarships from other amazing universities," Clark said. "Our team, along with campus partners, current students, and Tech alumni, will be focused on hosting students on campus and virtually to tell them about the incredible opportunities, experiences, network, and return on investment Tech provides."
Link to full EA-1 profile.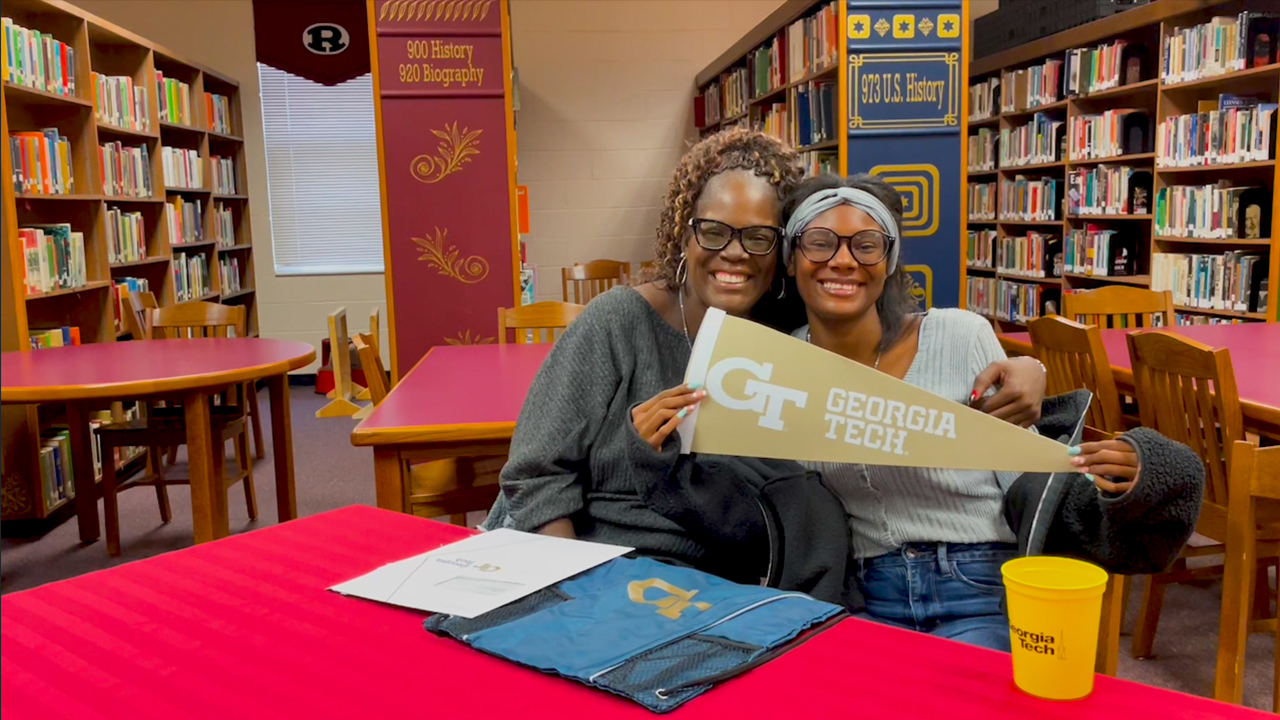 Christa May, pictured with her mother at Warner Robins High School, received early admission to Georgia Tech. (Photo by Evan Atkinson)