Georgia Tech Leads Effort to Strengthen State's Defense Manufacturing Industry
Department of Defense grant enables collaboration with Spelman College, Technical College System of Georgia, and the Georgia Department of Economic Development in pilot project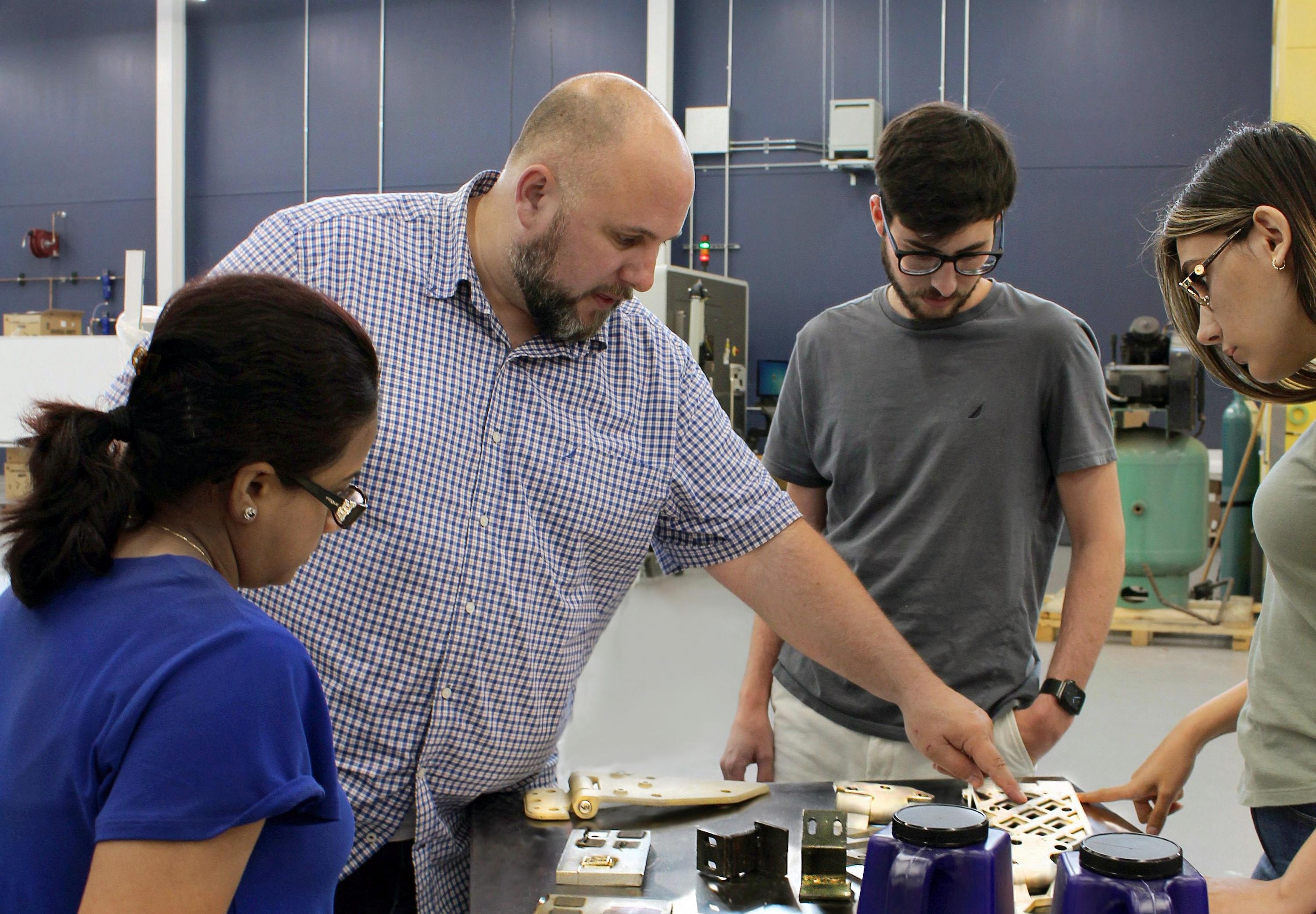 Aaron Stebner (second from left), associate professor in the College of Engineering, leads a lab session with students in the Delta Air Lines Advanced Manufacturing Pilot Facility at Georgia Tech. (Photo: Christa M. Ernst)
Dec 16, 2021
— Atlanta, GA
The global supply chain has been rocked by disruptions triggered largely by the coronavirus pandemic, resulting in a cascade of shortages on a host of products ranging from computer chips to medications.  
But supply chain disruptions also highlight the potential vulnerabilities in the U.S. manufacturing sector's critical segments like defense.
To help manufacturers across the state, the Georgia Institute of Technology has launched the Georgia Manufacturing 4.0 Consortium to work with those businesses in defense and related industries become more resilient and less susceptible to supply chain disruptions. The Consortium, which will begin accepting members in April 2022, will work with Georgia defense manufacturers to incorporate cybersecurity protocols, smart technologies such as sensor packs, machine learning, artificial intelligence, and other best practices under Industry 4.0 technology standards.
Led by Aaron Stebner, associate professor in the George W. Woodruff School of Mechanical Engineering and the School of Materials Science and Engineering, the Consortium is an 18-month pilot funded by a Department of Defense Office of Local Defense Community Cooperation (OLDCC) grant of nearly $1 million. Georgia Tech is working in partnership with Spelman College, the Technical College System of Georgia, and the Georgia Department of Economic Development, under the grant to develop workforce, training manuals, a curriculum, and to support businesses in adapting to economic and technological changes that emerge at a much more rapid pace today.
"It's a cooperative effort that's really focused on helping to get modern technologies to these Georgia manufacturers. This is about establishing a community of manufacturers who all want to move forward but don't have the bandwidth or capabilities do it individually," Stebner said.
The Consortium has three goals. The first is to increase the manufacturing defense supply chain's resilience and diversification. That will allow those companies to pivot quickly in response to demand and let non-defense-related industries enter the supply chain at critical junctures. The second goal is to work with Georgia manufacturers in adopting new technologies and address challenges that put those businesses at risk.
Lastly, the Consortium is to be a conduit that helps small- and medium-sized manufacturers test out innovations using Georgia Tech resources such as the Advanced Manufacturing Pilot Facility, connect manufacturers with each other, and potentially unlock new markets and collaboration opportunities.
While the focus is on defense manufacturing, the Consortium is open to all manufacturers.
"We want to help as many manufacturers as we can, to grow a bigger pie that helps everybody, lowers risk, and allows companies to be part of building innovative solutions" Stebner said.
Manufacturing Supports Georgia Economy
National Association of Manufacturers data show that manufacturing accounts for $61.1 billion in economic activity, roughly 10% of Georgia's total output. The industry includes more than 6,600 firms that employ nearly 400,000.
At $14 billion a year, Georgia is ranked 13th in federal defense spending. Roughly 1,200 manufacturers in the state are in defense or related industries. Those include information technology companies that support cybersecurity, wireless communications, and other innovations that are critically essential to Industry 4.0 in defense manufacturing.
University partners from the Technical College System of Georgia and Spelman College will look to take the Consortium findings and data from the work they do with member companies to create educational programming and workforce training. 
Today, there is a need for more workers in machine learning and other aspects of advanced manufacturing, as well as a need to change perceptions of manufacturing, especially in rural parts of the state, Stebner explained.
To that end, the Technical College System of Georgia could develop programming for students within its two-year education curriculum. It also has a mobile manufacturing unit that could be taken to rural parts of the state and used as a tool to highlight opportunities in manufacturing and dispel misconceptions about the industry.
The all-women's Spelman College, one of the nation's premier historically black colleges and universities, launched an extended reality program in the fall of 2020. That program aims to integrate art, technology, and narrative on a gaming platform which is familiar and engaging for students. Those students will develop the technical skills to develop games, create immersive virtual experiences, and develop visual simulations for research, education, and training.
For Consortium members, Spelman's extended reality program can be used to help turn research data gathered from them into workforce training and development modules.
"Spelman has a long history of graduating women in the natural sciences, and that history has recently led the Department of Defense to distinguish the College as a Center of Excellence for educating women in STEM," said Jerry Volcy, a Spelman professor and co-director of the Spelman Innovation Lab.
The extended reality program furthers Spelman's goal to increase the technological readiness of its graduates.
"Spelman has a long record of forging pathways for women of color into new spaces. Today, these spaces include extended reality, defense and, to some extent, manufacturing research," Volcy said. "From the College's perspective, participation in the Consortium has the dual potential of creating and discovering new pathways into these industries while immediately providing real-world applications laboratory for the developing extended reality program."
Fulfilling Georgia Tech's Mission 
Within Georgia Tech, the Georgia Manufacturing Extension Partnership and the Georgia Tech Manufacturing Institute will support Consortium efforts.
The Consortium reflects Georgia Tech's broader mission to further its Advanced Manufacturing Initiative, said George White, Georgia Tech's interim vice president of Industry Collaboration.
"The anticipated research impact envisioned through the Defense Manufacturing Consortium will strengthen Georgia Tech's positioning in enabling major public private collaborations," White said. "The advent of the Consortium represents the opportunity to convene key stakeholders from government, academics, and industry to innovate and solve the most challenging problems in manufacturing."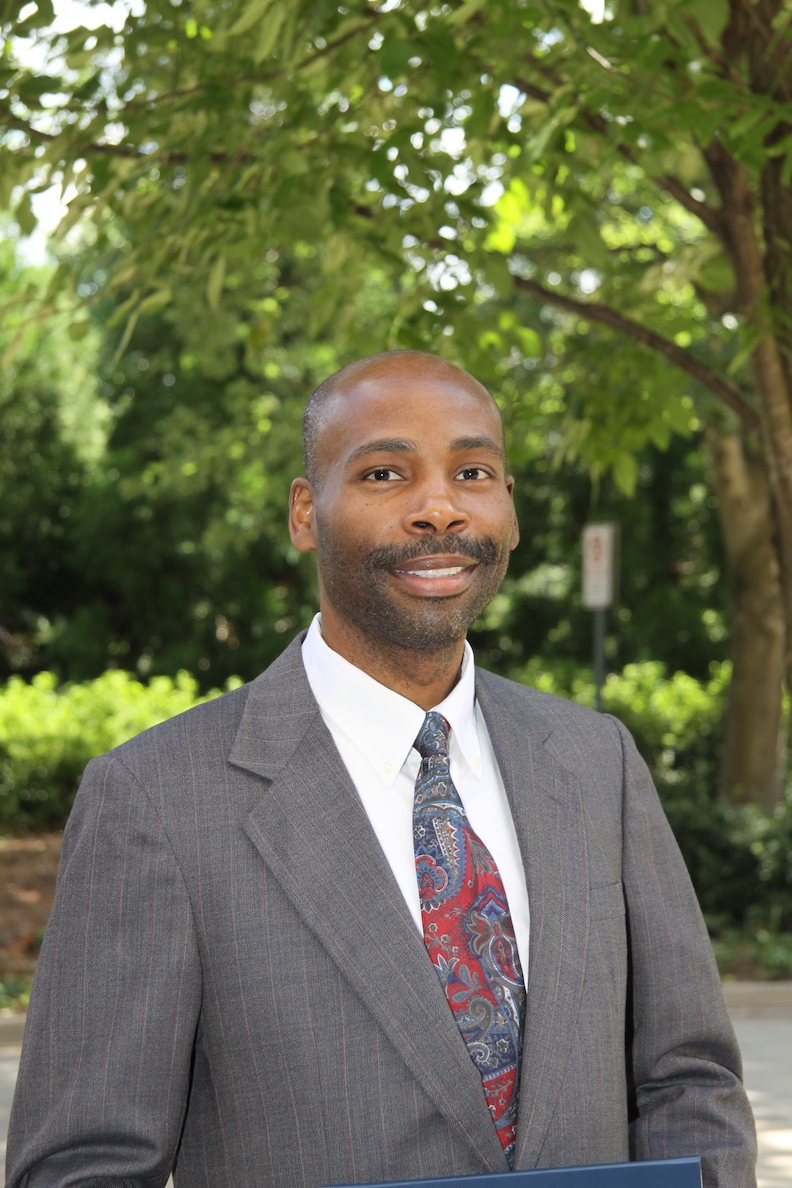 Jerry Volcy is a Brown-Simmons professor at Spelman College and co-director of the Spelman Innovation Lab. Spelman is a key partner in the Georgia Manufacturing 4.0 Consortium pilot project with Georgia Tech. (Photo: Courtesy Spelman College)