Georgia Tech Admission Announces Decisions
The institute continues to expand access to more students from a variety of backgrounds.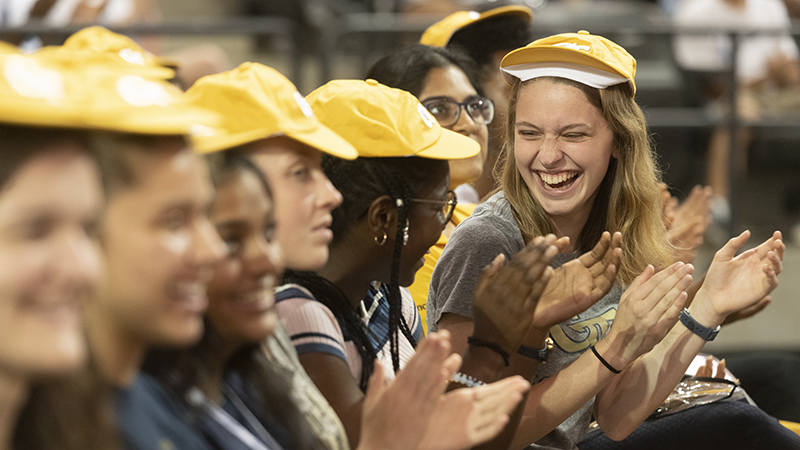 New Student Convocation
Mar 29, 2022
— Atlanta, GA
This year, 50,601 students applied to become part of the 2022 first-year class at Georgia Tech. Of those applicants, 17% were offered admission.
The admitted class is comprised of 11% first-generation college students (neither parent graduated from college); 21% identify as Black or Hispanic; and 56% are men and 44% are women. The admission goal for the new first-year class is 3,575 students.
"In a year when many colleges around the country are experiencing enrollment and application declines, Georgia Tech is thriving," said Rick Clark, director of Undergraduate Admission. "Expanding access to more students from a variety of backgrounds is core to our mission and strategic plan. As a result, this year we will enroll our largest first-year class in Institute history — 500 larger than it was three years ago when President Cabrera began his tenure on campus." 
Admitted students hail from 102 nations, all 50 states (plus the District of Columbia and Puerto Rico), and 112 Georgia counties. The admit rate for Georgia students is 35%; for non-Georgia students the admit rate is 13%.
"These students are incredibly talented academically and have had a significant impact and influence on their high schools and local communities," Clark said. "At this point, most of them are weighing admission offers and generous financial aid packages from some of the very best colleges in the U.S. In the weeks ahead, many admitted students will be on campus for tours or information sessions. Ultimately, enrolling a new class of Yellow Jackets is a community effort, and I'm thankful we have invested partners across our amazing campus to accomplish that collective goal. If you have the opportunity to speak with an admitted student leading up to the May 1 national deposit deadline, my hope is you will share your Tech experience, answer their individual questions, and help them make meaningful connections."