Who's Down for Earth Day?
A few events have opened registration or are already collecting items — so get a head start on your Earth Day plans.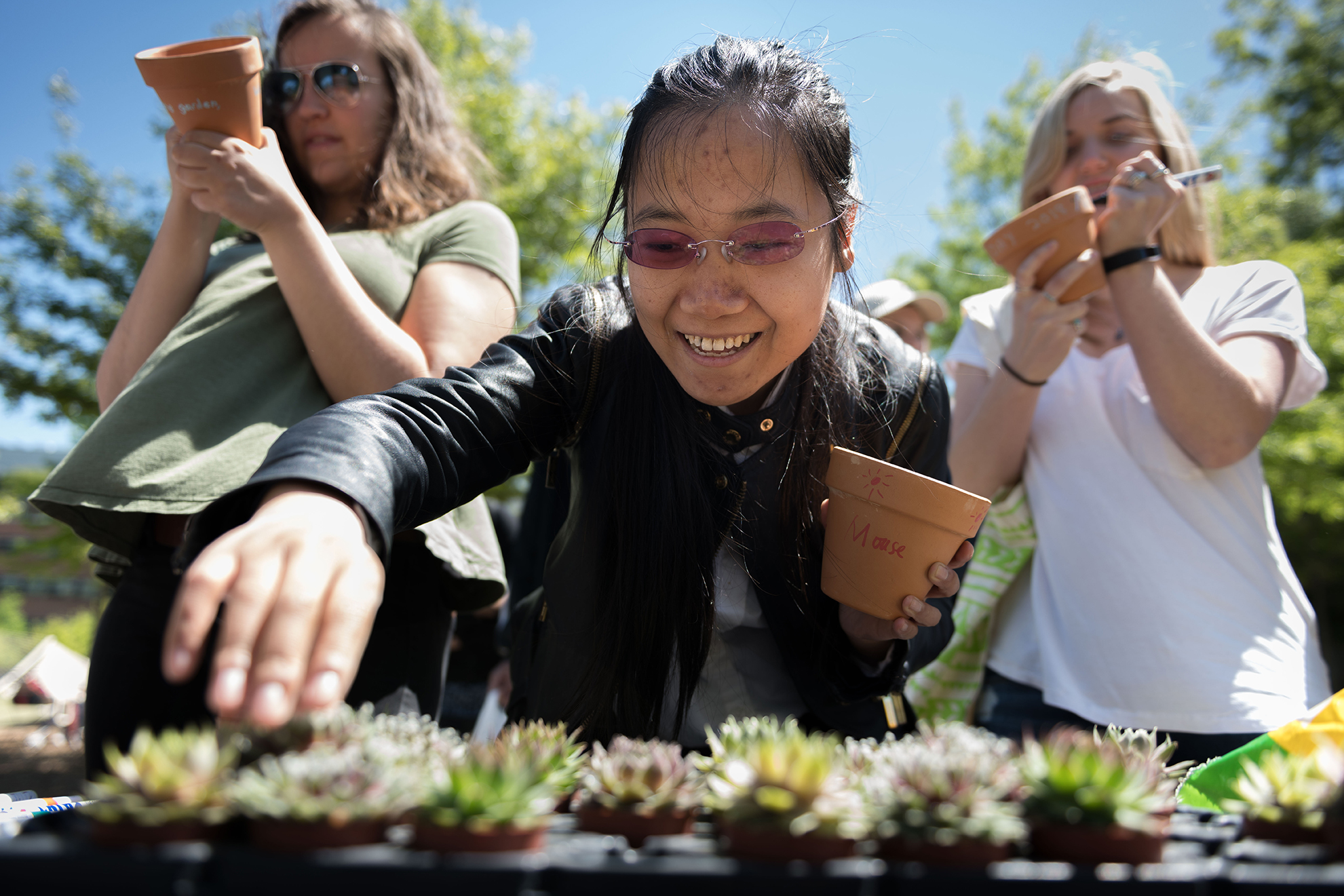 Students select succulents at a 2018 Earth Day event. Photo by Allison Carter
Apr 06, 2022
— Atlanta, GA
This year marks the 25th anniversary of celebrating Earth Day at Georgia Tech. A four-day schedule of events is planned for this campuswide program to celebrate nature, the preservation of our planet, and the Georgia Tech community's contributions to campus sustainability. A few events are already collecting items or have opened registration — so get a head start on your Earth Day plans.
The keynote event on Monday, April 18, features Maria Cimilluca, vice president of Infrastructure and Sustainability, who will share the path forward for sustainability at Georgia Tech. The event will also feature the presentation of the Student Sustainability Champion Award. Register here.
If sustainable transportation is your thing, you can join a Group Bike Ride led by President Ángel Cabrera on Tuesday, April 19. The 4.75 mile ride requires registration and will begin in front of the Campus Recreation Center. 
If you are more tuned in to understanding campus waste streams, join the Student Government Association's Sustainability Committee and the Office of Solid Waste Management and Recycling on Tuesday, April 19, to assist with conducting a waste audit of the Clough Undergraduate Learning Commons. You will see firsthand how recycling and composting services support Georgia Tech's goals to achieve zero waste.
If understanding and protecting nature fits more with your passions, register for a bird walk led by a subject matter expert and learn about which birds prefer to make their homes on campus. In partnership with Georgia Audubon and The Kendeda Building for Innovative Sustainable Design, the walk begins at 9 a.m. on Wednesday, April 20.
The week rounds out with the Sustainability Fair, which showcases student groups and campus departments such as Tech Dining, Landscape Services, and Building Services, highlighting the ways campus operations support sustainable initiatives. The Urban HoneyBee Project and the Georgia Tech Global Change Program will offer opportunities to get involved and be a part of the climate solution. Table registration for the Fair closes Friday, so register for a spot to showcase your organization's work supporting campus sustainability.
The Hard to Recycle Materials Dropoff and the Clothing Swap will take place on the lower level of The Kendeda Building from 10 a.m. to 4 p.m. each day. Clothing can be donated for the swap at Housing locations through Monday, April 11.
Most importantly, the Earth Day planning committee would love your help. Volunteer to help make this 25th anniversary event a success.