Reflection Speakers to Share Lessons Learned
The students selected as reflection speakers have the honor of talking about their Georgia Tech experience.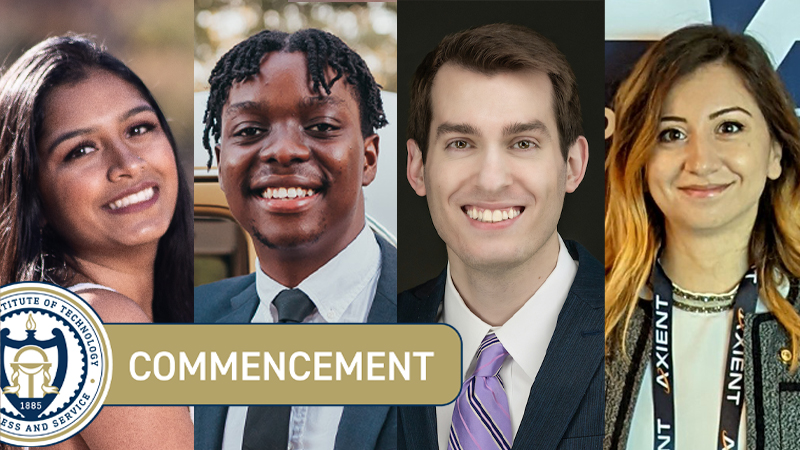 Daivi Patel, Enyinda Boms, Nicholas Ohl, and Ruxandra Duca
May 02, 2022
— Atlanta, GA
Commencement is one of the happiest days of the year for Georgia Tech graduates. For the four students selected as reflection speakers, it presents an opportunity to address their fellow graduates, professors, and family members.
At each of Georgia Tech's Spring Commencement ceremonies (master's, Ph.D., and two bachelor's), a graduating student is given three minutes to deliver an inspiring message. The bachelor's speakers are Daivi Patel, a computer science major, and Enyinda Boms, a chemical and biomolecular engineering major. The master's speaker is Nicholas Ohl, who is earning a degree in computer science. And the Ph.D. speaker is Ruxandra Duca in aerospace engineering.  
Students must apply to become a reflection speaker. A panel of faculty, staff, and students selects a group of finalists who present a full version of their speech to the committee. The reflection speakers are required to work with Tech's Communication Center in preparation for the ceremony.
Daivi Patel
Daivi Patel applied to be a reflection speaker because she thought it would be a unique opportunity to express herself and share her Georgia Tech experience.
"The bigger aspect was that I thought it would make my parents proud," she said. "It did end up annoying my younger sister because she doesn't want to watch me speak. It's a sibling rivalry thing, but she is actually excited."
Patel will speak about how resilient the class has been during the pandemic.
"I asked my peers and professors to describe us, and a lot of them mentioned how we've persevered through these difficult times. When I reflected on my own experience, I felt so proud of how I got through college during such a huge change in everyone's lives," she said. "We all did that."  
Patel will work as a software engineer at Microsoft in Seattle beginning in August. Her parents and her sister, Aishvi, are coming from Denver for Commencement. Two of her friend groups, Beyblades and Hibmos, also will be there.
"I would like to thank the members of Alpha Kappa Psi, the business fraternity, who taught me to speak well enough to be given this honor, and the members of Ramblin' Raas, a competitive team for dance and Indian culture, who gave me the confidence and courage to do this."
Enyinda Boms
Since attending New Student Convocation, Enyinda Boms has known he wanted to be the reflection speaker at Commencement. He dreamed of sharing the memories gained and inspiring his fellow graduates as they transition into the next phase of life.
"Being a speaker will be one of the few ways I can pour back into the Institute, hoping to have the same effect Georgia Tech has had on me," he said. The theme of his speech is how resiliency can be an important factor in life beyond college.
"I believe resiliency is one of the key traits we should possess as we progress through life," he said. "From relationships, to work, to passion projects, resiliency can wear many hats, but it does not change the impact it can have in one's life."
Boms was born in Port Harcourt, Nigeria and grew up in Nolensville, Tennessee. He will work with Capital One beginning this fall, and he plans to go back for a master's in computer science or MBA.
He will celebrate Commencement with his family, close friends, and supporters. "Without them, I would not be who I am today," he said. "I want to thank every single person who has been here along the journey with me. It has not been easy, and it does not stop here."
Nicholas Ohl
Nicholas Ohl enjoys public speaking. So, he thought being a speaker at Commencement was a good way to reflect on his two years as a student in the Online Master of Science in Computer Science (OMSCS) program and cap off the program in a meaningful way.
"I think that being selected as the graduation speaker substantiates the value of the online program, and I hope to represent my fellow master's graduates and OMSCS community well," he said.
"As an online student, my master's program was inherently different from the traditional picture we have of higher education. I approached writing my speech from this lens, wanting to acknowledge that each graduate had their own unique master's experience while emphasizing the commonalities that we share," Ohl said.
The main theme of his speech is leveraging the knowledge gained in graduate school to make a difference in our communities, and to pursue lifelong learning beyond formal education. 
"I am incredibly thankful to have had the opportunity to earn a master's degree from Georgia Tech. I do not think that I would have pursued one without a non-traditional option like the OMSCS program, and am proud to be a new alumnus of Tech."
His parents, sister, and partner will celebrate Commencement with him. "My family does not know that I am speaking yet, so that will be a nice surprise for them once they arrive in Atlanta," he said.
Ruxandra Duca
For Ruxandra Duca, the Ph.D. experience has been different from any other student experience she has had. She has thought about it a lot over the last couple of years, trying to get to the root of her emotions.
"My friends seemed inspired by ideas I shared in random conversations, and we had a few 'aha' moments. I thought it would be cool to share them further," Duca said, and she wrote and submitted a speech to be the student speaker.
"​The first part of my speech is a reflection on the Ph.D. journey, while the second focuses on the future and on the duality of wanting to achieve grand things while understanding the importance of stillness and everyday joy," she said.  
Duca will be a systems engineer at Wisk Aero, a company working on autonomous, electrical air taxis aiming to reduce urban congestion and emissions.
Her parents will travel from Romania for Commencement, joining her partner and friends for the celebration.