Campus Commemorates Juneteenth
Juneteenth, now a federal holiday, marks the effective end of slavery in the United States.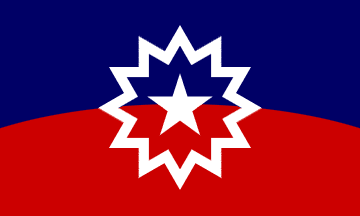 Juneteenth Flag
Jun 14, 2022 — Atlanta, GA
For the first time, Juneteenth National Independence Day, or "Juneteenth," is an Institute-wide holiday. The date of the holiday, June 19, falls on a Sunday this year, so it will be observed on Monday, June 20.
Juneteenth marks the effective end of slavery in the United States at the end of the Civil War — when enslaved people in Galveston, Texas, were made aware that slavery had been abolished by executive order two and a half years earlier with the signing of the Emancipation Proclamation. On June 19, 1865, federal troops led by Major General Gordon Granger arrived in Galveston to take control of the state and ensure that all enslaved people be freed.
Last June the federal government established a national holiday commemorating Juneteenth. Earlier this year, Georgia Governor Brian Kemp signed legislation to expand the number of annual paid holidays for state employees from 12 to 13. Following the change by the state, the University System of Georgia's Board of Regents voted to update its policy to align with the state code.
African American communities across the country observed Juneteenth for more than 150 years before it became a federal holiday. The name "Juneteenth" refers to the date of the holiday, June 19, combining the words "June" and "nineteenth."
Atlanta Juneteenth events:
Emory University School of Medicine's Third Annual Juneteenth Program, in partnership with the Woodruff Health Sciences Center and Grady Health System, presents a panel discussion on the documentary Power to Heal on Thursday, June 16, from noon to 1:30 p.m. The online program (via Zoom) will be hosted by Dr. Sheryl Heron and moderated by physicians Nate Spell and Nancy DeSousa. Register here.
The 2022 Juneteenth Celebration at Georgia Tech will take place Friday, June 17, from 11 a.m. to 3 p.m. at the Clough Undergraduate Learning Commons. Join OMED for the second annual Georgia Tech Juneteenth celebration featuring a keynote address from Damon P. Williams followed by a festival at the Georgia Tech Connector with music, dance, food, and games.
The Juneteenth Atlanta Black History Parade on Saturday, June 18, begins at noon at 228 Capitol Ave. SW at Liberty Plaza across from the State Capitol Building. The parade route goes up Capitol Avenue to Decatur Street (which turns into Marietta Street) and continues down Marietta to Baker Street, then to Centennial Olympic Park Drive and concludes at Centennial Olympic Park. After the parade there will be music, family activities, and games in the park.
The Juneteenth Ice Cream Social at Georgia Tech is open to all in the bio-community (while supplies last), and will be held Wednesday, June 22, at 1 p.m. in the Petit Biotech Building atrium. It is hosted annually by IBB's diversity, equity, and inclusion committee.