New Computing Approach May Save At-Risk Carnival Costume Making Tradition
Costumes in the annual Trinidad and Tobago Carnival often inspire awe because of their extravagance, flamboyancy, and — for some dancing sculptures — their size.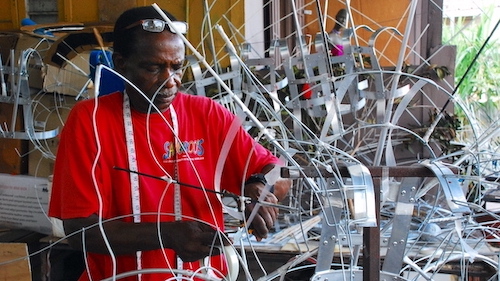 An artisan from Trinidad and Tobago uses traditional skills to build an intricate wire frame that will support a large, elaborate Carnival costume. 
Nov 29, 2022
— Atlanta, GA
Some costumes are so large and expansive, it makes the person wearing them appear as if they are carrying an unbelievably heavy load on their shoulders. Built on techniques in the traditional craft of wire-bending, these costumes and dancing sculptures are dynamic and performative and decorated with painted textiles, feathers, and beads.
Wire-bending has been a traditional method of constructing costumes for the Trinidad and Tobago Carnival since the 1930s, but Vernelle A.A. Noel, a joint professor with the School of Interactive Computing in the College of Computing and School of Architecture in the College of Design, has been conducting research on this at-risk practice.