Paul Joseph Brings Nanotechnology Expertise to India
This summer Joseph spent two weeks at the Indian Institute of Information Technology to help develop their nanotechnology offerings.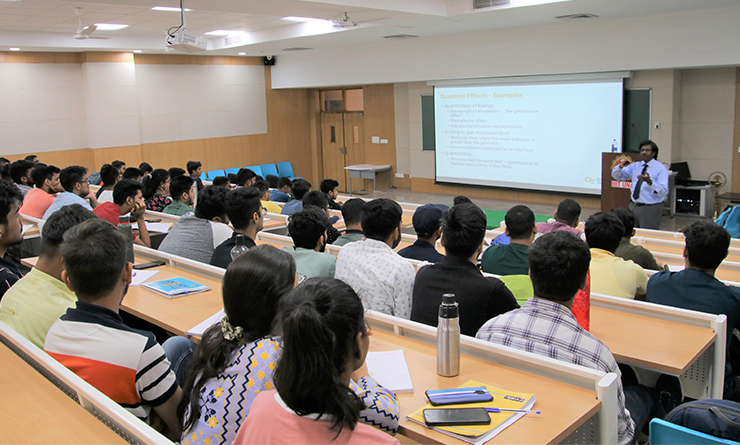 Dec 05, 2022 — Atlanta, GA
The global demand for nanotechnologists is growing, and universities around the world are creating and expanding programs to educate the workforce of the future. This summer, Paul Joseph, a principal research scientist at the Georgia Tech Institute for Electronics and Nanotechnology (IEN), spent two weeks at the Indian Institute of Information Technology (IIIT) to help develop their nanotechnology offerings.
"Indian Industries realize the importance of nanotechnology and its day-to-day applications in various products, so the goal is for them to train their own student community," Joseph explained. "It's about developing knowledgeable students in this emerging technology so that they can prepare them for the future workforce and meet the demands of the country."
Joseph, who also serves as director of external user programs for the Southeastern Nanotechnology Infrastructure Corridor, has more than 25 years of experience in research and teaching. He received a prestigious Fulbright Specialist Award to share his expertise with the students and faculty at IIIT.
The Fulbright Specialist Program "pairs highly qualified U.S. academics and professionals with host institutions abroad to share their expertise, strengthen institutional linkages, hone their skills, gain international experience, and learn about other cultures while building capacity at their overseas host institutions." During his visit, Joseph focused on student, faculty, and curriculum development in addition to high school outreach. He also taught a one-day course.
For the student development portion of the program, Joseph gave a series of 10 "Introduction to Nanotechnology" lectures to approximately 90 B.Tech students. Following the lectures, he hosted office hours where he held small group mentoring sessions. Joseph met with approximately 40 students during his short visit, which furthered their interest in nanotechnology.
"The students would ask questions related to my lecture, and many of them wanted to learn more about pursuing higher education in the United States," Joseph said. "As a result, six students are very interested in applying for graduate school at Georgia Tech."
In the afternoons, Joseph led sessions with 25 members of the IIIT faculty to share his knowledge in outcome-based education, mentoring students, student assessment and methodologies, and technology commercialization. He also worked with the IIIT team to develop the curriculum for a three-credit course titled "Introduction to Nanoscience and Nanotechnology" and participated in a brainstorming session for the establishment of the Institute Center of Excellence in Nanotechnology (CENT) at IIIT.
He also ran "Introduction to Micro- and Nanotechnology and Microfabrication Techniques," a one-day workshop for faculty and students at IIIT in addition to other universities in the area. The successful workshop was attended by roughly 135 individuals interested in learning more about nanotechnology.
"I was very impressed by the enthusiasm of both students and faculty to learn new technologies," Joseph said.
And finally, Joseph assisted with high school outreach in the area and visited two local high schools during his visit. He gave expert lectures on the applications of nanotechnology to approximately 140 11th and 12th graders during these visits.
"For many of these students, this was the first time that they heard the word nanotechnology, and they were very excited," Joseph recalled with a smile. "I was so impressed with how quickly they grasped what I was saying and the depth of knowledge they had on the topic. They were able to answer any questions that I asked them."
Since each of his modules reached a different audience, Joseph believes he reached approximately 400 individuals during his two-week stay at the university, and the relationship between IIIT and IEN is growing. As a result of his visit, IIIT is working to send some of its faculty members to IEN to learn more about nanotechnology and use its core facilities.
At the culmination of this visit, IIIT hosted a valedictory ceremony for Joseph to thank him for his contributions. "I would like to thank Doctor Joseph for conducting this successful program," said one of the students who attended Joseph's lectures. "We have moved a bit further by not only exposing our peers to the world of nanotech, but also gained a lot of insights along the way … I am impressed by how such a vast course has been delivered in such a short time."
Joseph would like to thank Institute Director Selvakumar Subramanian, Fulbright Program Coordinator Nitish Katal, Dean of Academics Nishtha Hooda, and all other IIIT faculty and students for their support to serve as a successful and productive Fulbright Specialist at his host institution. He would also like to thank the Fulbright Foreign Scholarship Board for the award.