Georgia Tech Experts Weigh In on Massive Turkey-Syria Earthquake
Faculty with ties to Turkey and earthquake research are closely monitoring the situation.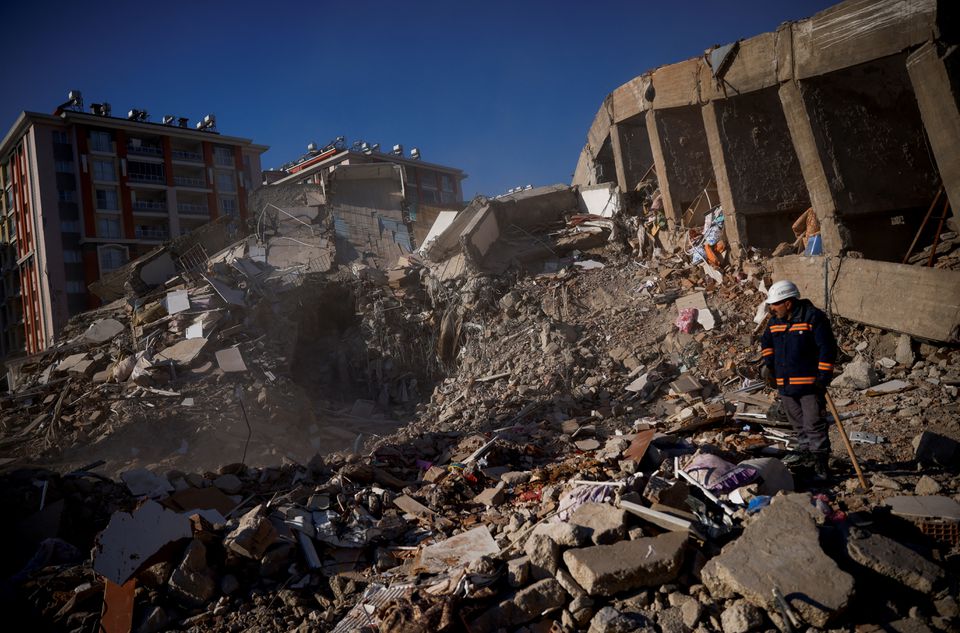 The sheer scale of the disaster has left many questions and concerns as crews continue sorting through piles of rubble. Georgia Tech experts have been watching the situation.
Feb 14, 2023
— Atlanta, GA
The president of Turkey has called it the "disaster of the century." The death toll is believed to have topped more than 30,000  after a 7.8-magnitude earthquake devastated south-central Turkey and northwestern Syria. The disaster zone is home to more than 13 million people in Turkey and an unknown number in a region of Syria torn by civil war. It's an area that stretches beyond the distance from Atlanta to Kentucky.
The sheer scale of the disaster has left many questions and concerns as crews continue sorting through piles of rubble. Georgia Tech experts have been watching the situation.
Karl Lang, a geologist in Georgia Tech's School of Earth and Atmospheric Sciences, understands the seismic activity of this region of the world well.
"This area is referred to as the East Anatolian Fault Zone, and this fault zone accommodates northward collision of the Arabian plate into the Anatolian and Eurasian plates," he said.
Lang says when the Arabian plate moves northward, it pushes the Anatolian plate westward along the fault zone. He says you can envision it almost like pushing a pumpkin seed from between your fingers.
What Lang says is particularly remarkable about this earthquake — and likely what caused so much damage — is the long rupture length and the relatively shallow depth of the rupture. The earthquake rattled along a fault line close to many populated cities, and, because that rattling was so close to the surface, massive amounts of seismic energy were transmitted without much reduction in strength.
Georgia Tech's Andy Newman is a geophysicist who monitors data from across the world for near real-time earthquake activity, measuring the radiated energy.
Newman says the main 7.8-magnitude quake was followed by an aftershock almost as strong as the original tremor, tracking at 7.5-magnitude.
"This is likely because the smaller aftershock occurred along a nearby fault that was triggered by the main event," Newman said.
Newman describes that second nearby fault as much less mature and says such faults tend to be more "sticky," meaning they are more likely to generate more friction, more energy, and more damage in an earthquake.
Georgia Tech's Zhigang Peng also knows this part of the world very well. While completing his Ph.D. in geological sciences, Peng studied two earthquakes in Turkey separated by a few months and less than 65 miles: an August 1999 7.4-magnitude quake in Izmit and a November 1999 tremor in Düzce with a magnitude of 7.1.
Peng says, unfortunately, the window for concern is not yet closed.
"For rescue efforts, one needs to watch out for large aftershocks, especially in regions further to the northeast section that have not been broken yet," he said.
Peng is in contact with colleagues in Turkey, and they may deploy additional seismic sensors to track ongoing aftershock activities.
Many types of buildings and structures have collapsed in the wake of the disaster, for a variety of different reasons.  As rescue and recovery crews survey the damage, some have raised questions about whether or not engineering codes –intended for safety in a highly active seismic region– have been strictly enforced. In the week following the quake, Turkish officials launched investigations and arrested contractors tied to the more than 12,000 reported buildings that have crumbled.
Georgia Tech's Professor and Chair of the School of City and Regional Planning Gulsah Akar, who has a background in civil engineering, says that unplanned development coupled with population density and nonadherence to building codes have significantly contributed to these unfortunate outcomes. Akar was born and raised in Turkey.
"We are now realizing as a country that we have not done much for disaster preparation — even after all the large-scale earthquakes we have experienced over the last few decades," Akar said.
Ece Erdogmus is professor and chair of the School of Building Construction at Georgia Tech, and, like Akar, has close personal and professional ties to Turkey.
Erdogmus explained why seeing this as a single earthquake event is inaccurate. She describes the situation as a "collection of multiple design-exceedance level events."
Typically, aftershocks are smaller in magnitude, but the size of the subsequent tremors puts damaged infrastructure at even greater risk. 
"A structure that has already been damaged and lost integrity   has no time to find new equilibrium and is much more vulnerable in the second event. This is often colloquially referred to as the 'softening' of the building," said Erdogmus.
Erdogmus and Akar are partnering with colleagues in Turkey who are already gathering data from the disaster zone.
"One answer most of us are hoping to find out is, controlling for the pattern and the distance from the epicenter, what percentage of the collapsed buildings are the ones that did not adhere to the building code earthquake regulations," said Akar.
And based on that data, how can this type of disaster be prevented in the future? Together, Erdogmus and Akar will work to help develop a monitoring and rebuilding plan for the region.
Also responding is Georgia Tech's Elizabeth and Bill Higginbotham Professor of Civil Engineering David Frost, who works with the U.S. National Science Foundation to coordinate the response of geo-engineers to major disasters worldwide, through a group called the Geotechnical Extreme Events Reconnaissance, or GEER, Association.
GEER gathers important data from damaged areas that is considered "perishable," so that the more specific and timely details they gather, the more likely they'll be able to understand what occurred during the events and can develop many of the empirical procedures used in geoengineering practices to protect buildings and communities.
Frost worked over the weekend to help deploy the first scout team in Turkey. He expects three or four more teams to gather data over the next month.
These Georgia Tech earthquake experts continue to monitor the situation in hopes of better understanding what happened to cause the size and scale of this tragedy, and what data they may be able to help provide to assist in the recovery and rebuilding efforts.