If You're Staying in Atlanta for Spring Break 
While many will head home or out of town, for fun or for service projects, others will stay close to campus. If that's you, there's plenty to do.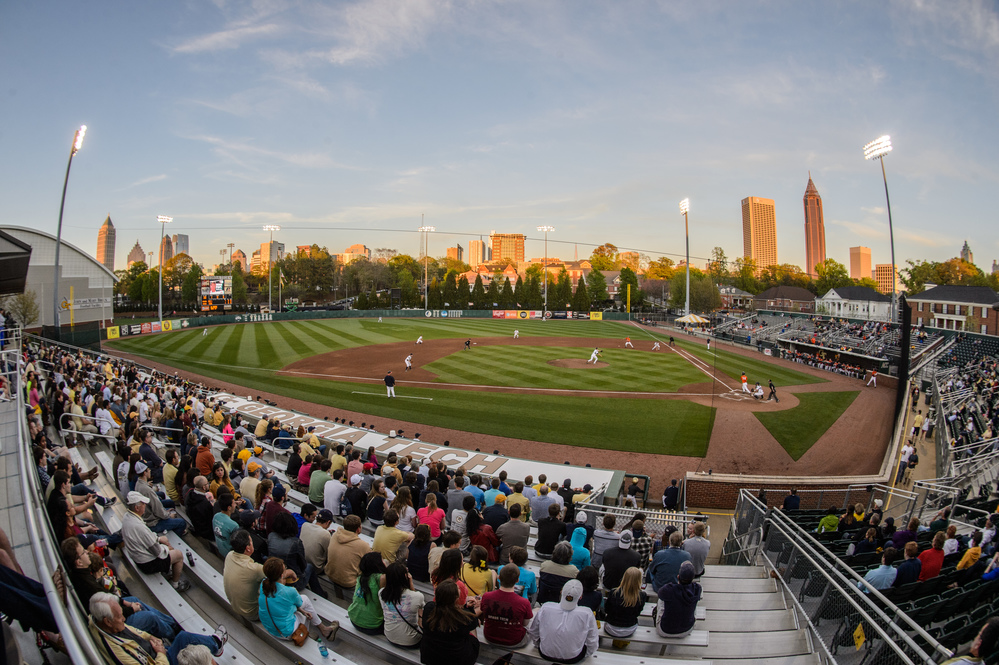 Courtesy of Georgia Tech Athletics
Mar 10, 2023
Next week, students will get a much-welcomed reprieve from classes with spring break from March 20 to 24. While many will head home or out of town, for fun or for service projects, others will stay close to campus. If that's you, there's plenty to do.
Whether you want to enjoy a sporting event or experience art, Georgia Tech and the surrounding area offer several options for enjoying a fun and affordable staycation.
Through March 25 
Occurring annually since 2014, the Atlanta Science Festival is a "celebration of the world-class learning and STEM career opportunities in metro Atlanta, featuring 150 engaging events for curious kids and adults at venues all across the region." As a founding sponsor, Georgia Tech has been an intricate part of the Festival since its inception. It culminates with the Exploration Expo on March 25 in Piedmont Park. (Read more about this year's events.)
Through March 26 
The Atlanta Preservation Center hosts the annual Phoenix Flies series, which celebrates Atlanta's historical sites. Events during the break include a Midtown walking tour on March 18, a tour of the Ponce de Leon corridor on March 25, and a session on "The Rap Map" hosted by the Atlanta Studies Center, of which Georgia Tech is a part, on March 21. Most events are free. Learn more and register to attend an event.
Through March 30  
Take a free, self-guided tour through the thousands of daffodils at Historic Oakland Cemetery. While you're there, you can visit the graves of many famous Atlantans, including Tech alumnus and golfer Bobby Jones.
March 19 
The Atlanta Contemporary is a free art museum located just west of campus. An artist talk on March 19 will highlight the work of one artist on display, but the museum is open every day from noon to 5 p.m.
If you're looking for an easy day trip, take a drive out to Providence Canyon in Lumpkin. Also known as "Georgia's Little Grand Canyon," the 1,000-acre state park is a picturesque hidden gem with hiking trails overlooking the gullies of the canyon, which reach 150 feet. Those seeking an additional outdoor adventure can backpack through the trail and camp out at one of the park's backcountry campsites. For more information, visit gastateparks.org.
Through April 16 
Recently extending its run in downtown Atlanta, the touring exhibit is a magical way to spend a Spring Break day for fans of the Harry Potter franchise. The exhibit brings the Wizard World to life through innovative and interactive technology and features props and costumes from the iconic film series. On Friday, March 24, the exhibit's 'After Hours Night' will be open only to those 18 and older from 6 to 10 p.m.
Weekends between March 18 – April 2
Spring has sprung at the second annual Yule Forest Tulip Festival, where you'll find over 60,000 vibrant tulips along with an artisan market showcasing local art, food vendors, and a petting zoo with llamas, goats, and more. You won't leave empty-handed as you'll have the chance to pick your own tulips to bring home. Tickets must be purchased in advance on the festival's website.
March 23 – 26
Held at the Georgia World Congress Center, the Atlanta Auto Show will take place next weekend. Automakers from around the globe will showcase their latest models in what has become the largest and longest-running consumer event held inside the venue each year, encompassing 500,000 square feet. Tickets are on sale now.
Softball vs. Virginia Tech – Friday, March 17 – 6 p.m. – Shirley Clements Mewborn Field
Women's Tennis vs. Boston College – Friday, March 17 – 4 p.m. – Ken Byers Tennis Complex
Men's Track and Field Yellow Jacket Invitational – March 17-18 – George C. Griffin Track and Field Facility
Softball vs. Virginia Tech – Saturday, March 18 – 3 p.m. – Shirley Clements Mewborn Field
Softball vs. Virginia Tech – Sunday, March 19 – 1 p.m. – Shirley Clements Mewborn Field
Women's Tennis vs. Syracuse – Sunday, March 19 – Noon – Ken Byers Tennis Complex
Baseball vs. Wofford – Tuesday, March 21 – 6 p.m. – Russ Chandler Stadium 
Baseball vs. Clemson – Friday, March 24 – 6 p.m. – Russ Chandler Stadium
Softball vs. Clemson – Friday, March 24 – 6 p.m. – Shirley Clements Mewborn Field
Men's Tennis vs. UNC – Friday, March 24 – 4 p.m. - Ken Byers Tennis Complex
Baseball vs. Clemson – Saturday, March 25 – 4 p.m. – Russ Chandler Stadium
Softball vs. Clemson – Saturday, March 25 – 6 p.m. – Shirley Clements Mewborn Field
Baseball vs. Clemson – Sunday, March 26 – 1 p.m. – Russ Chandler Stadium
Softball vs. Clemson – Sunday, March 26 – 1 p.m. – Shirley Clements Mewborn Field
Men's Tennis vs. Duke – Sunday, March 26 – Noon – Ken Byers Tennis Complex