Driving Change: Georgia Tech Experts Lead in Electrification of America's Roads
Electric vehicles are becoming increasingly popular, and with economic and environmental impacts colliding, Georgia Tech experts are leading the way in the development of next-generation solutions.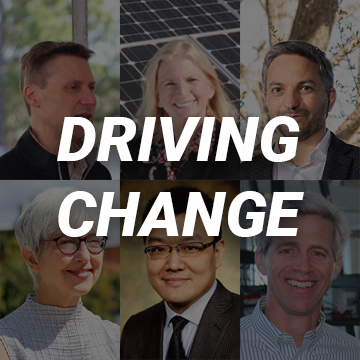 Top: Rich Simmons, Marilyn Brown, Gleb Yushin  Bottom: Valerie Thomas, Hailong Chen, Tim Lieuwen
Mar 21, 2023
Idling at a crossroads no longer, the automotive industry is embracing electrification like never before. With more electric vehicles purchased in 2022 than any year prior, consumers are beginning to follow their lead. Yet, while opportunity abounds, new challenges will require an innovative approach to ensure a sustainable and accessible electric future for all.
With historic investments from major players in the EV space, including Rivian, Kia, and Hyundai, the state of Georgia is uniquely positioned to serve as a leader in this effort. As the state's leading research institute, Georgia Tech is on the cutting edge of the movement. 
The transportation sector is the largest greenhouse gas emitter in the U.S. at nearly 30%, with passenger vehicles accounting for around 80% of the sector's total output1 as of 2019. Electric vehicles are widely regarded as a budding solution to reduce emissions, but even as both demand and production continue to increase, EVs currently account for around 1% of the cars on America's roadways. 
From the supply chain to the infrastructure needed to support alternative-fuel vehicles alongside consumer hesitancy, achieving the goals set by both the public and private sectors — including the Biden Administration's target of EVs making up at least 50% of new car sales by 2030 — will not be easy. Through research and development, policy, and collaboration, Tech experts are working toward finding solutions that will serve as catalysts during this transitionary period for the environment and the way Americans drive.