Georgia Tech Earth Month Events to Mark on Your Calendar
Earth Day is April 22, but Georgia Tech is celebrating Earth Month with events throughout April highlighting sustainability efforts across campus.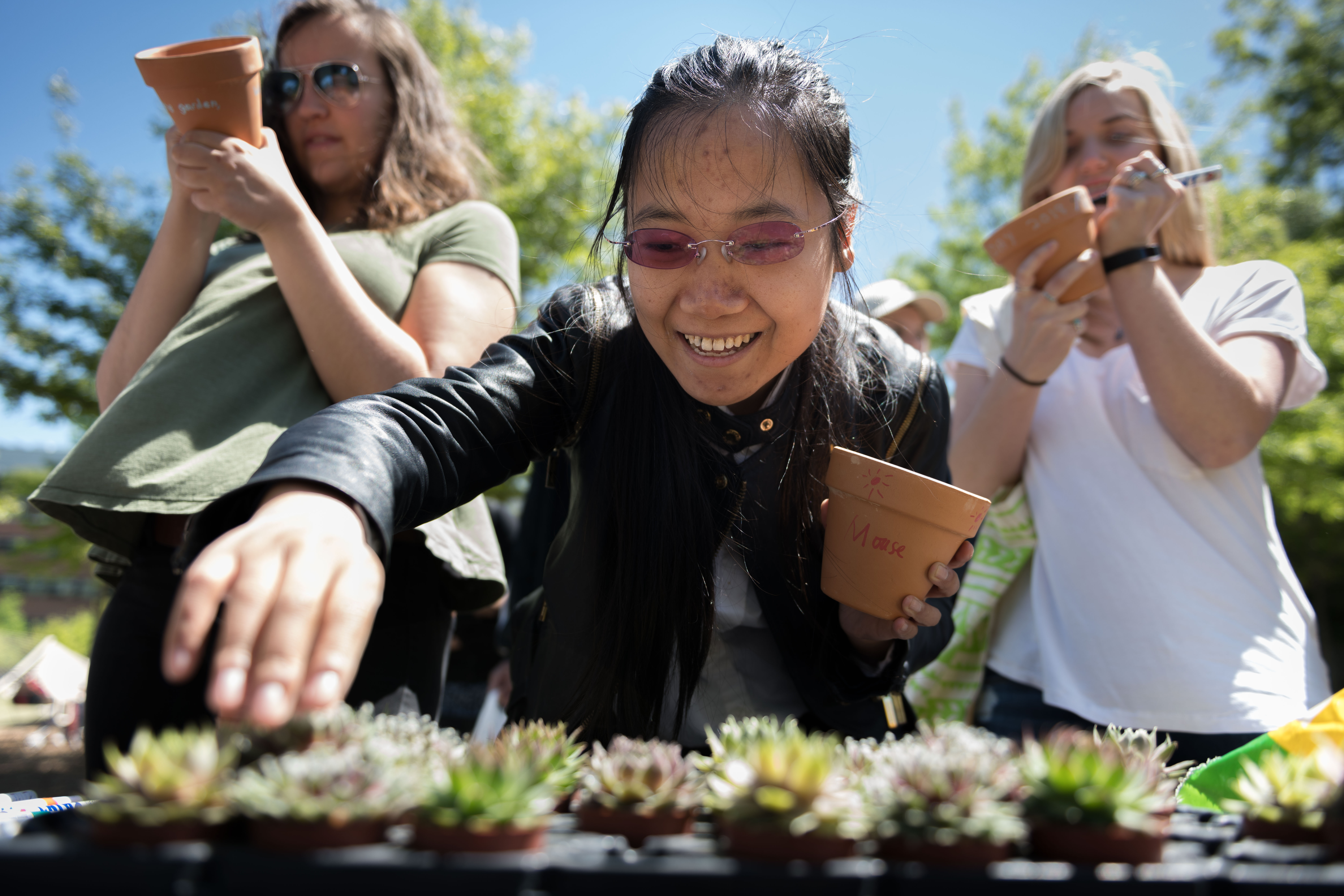 Mar 31, 2023
On April 22, communities across the U.S. and countries around the globe will come together in observance of Earth Day. Georgia Tech takes the opportunity to educate and celebrate the importance of protecting the environment a step further with Earth Month.
Events throughout the month allow students, faculty, and staff to familiarize themselves with sustainability efforts being put forward by the Institute and practices they can incorporate into their daily routines.
The global theme for Earth Day 2023 — the 53rd iteration of the event — and Tech's month-long rendition is "invest in our planet."
"The Earth Month lineup highlights the numerous ways that community members can embrace this theme,'" said Abby Bower, sustainability program support coordinator. "Today, the planet faces daunting challenges, but we all have the opportunity to pitch in to solve them. Georgia Tech has many great organizations, departments, and individuals dedicating their time and resources to making a better world, and we are excited to highlight them all month long."
During Earth Month, you can participate in service opportunities, attend educational events, weigh in on ways Georgia Tech can meet our climate goals, and more.
April 1, 8:30 a.m. – 12:30 p.m., The Kendeda Building for Innovative Sustainable Design
The kickoff event for Earth Month, organized by the undergraduate Student Government Association and Georgia Tech Greek Week, will see hundreds of volunteers completing projects all over campus. After a welcome breakfast, groups of eight to 10 will be assigned a task with the goal of keeping the Georgia Tech campus as picturesque as ever. With assistance from Georgia Tech Landscaping, projects include planting flowers, trees, and shrubs; pulling weeds; and spreading pine straw. A primary goal of this year's event is to plant 200 native azaleas.
For registration and additional information, click here.
April 3 -7, 9 a.m. – 4 p.m., Basement of The Kendeda Building
Sustainable fashion is a pillar of this year's global event. According to earthday.org, 87% of the 150 billion garments produced by the fashion industry each year eventually end up in landfills, and just 1% of discarded clothing is recycled. This weeklong event is a chance to donate gently used, clean clothes and recycle torn clothes and textiles.
April 5, 8:30 a.m. – 10 a.m., The Kendeda Building
The 400-acre Tech campus is home to diverse wildlife populations, including many species of birds. Learn more about the region's birds from an expert guide during the Bird Walk organized by The Kendeda Building and Georgia Audubon Society. The reintroduction of native plants around Kendeda has created a habitat for birds, and the adjoining EcoCommons is part of a wildlife sanctuary certified by the Georgia Audubon, making Tech the first main campus in the state to receive the designation.
For registration and additional information, click here.
April 7, 9:30 a.m. – 2 p.m., Bill Moore Student Success Center
With the theme of "building blocks for a zero-carbon future," the Energy Club will host the conference featuring keynote speakers, company demos, and panels discussing the technology and economics behind the future of the energy sector. Students are invited to compete in the Energy Research Poster Competition with cash prizes on the line.
For registration and additional information, click here.
April 11, 1 – 3 p.m., West Village Dining Commons
Hosted by the 2022-23 EcoReps, this event is a celebration of all things sustainability in Housing and Residence Life, highlighting recent successes such as the Energy Competition, the ECGO app, and its growing composting program.
For additional information, click here.
April 11, 4:30 – 6 p.m., Meet on the Front Lawn of the Campus Recreation Center (CRC)
Hosted by the CRC, the leisurely 7-mile, no-drop ride promotes an alternate form of transportation and a healthy lifestyle. The ride will begin with a welcome from noted bike enthusiast President Ángel Cabrera and provide an overview of infrastructure projects that are making campus increasingly rider-friendly from Institute Landscape Architect Jason Gregory.
Registration and completion of a waiver are required. Riders are strongly encouraged to wear a helmet. Tech students, faculty, and staff can get a free helmet by completing the online Ride Smart Bike/Scooter Safety class.
For registration information, click here.
April 13, 4 – 5 p.m.
Propel Atlanta invites the Georgia Tech community to learn the rules of cycling during this instructional group ride. Participants will practice skills in a safe and supportive environment.
After getting the hang of the basics with a few drills, the 45-minute ride of 3 to 4 gentle miles will begin. Riders will experience Atlanta's existing bicycle facilities, such as two-directional protected and single-directional bike lanes and sharrows, and learn to ride safely on streets without bike lanes by exercising their legal right to "take the lane."
For registration information, click here.
April 13, 3 – 4 p.m., Economic Development Building (BBISS Suite 118)/Online
In the first of two seminars in this series, Anjali Thomas, associate professor and director of the Nunn School Program in Global Development, explores how "bureaucratic hurdles and identity politics shape water access in urban India."
For additional information, click here.
April 18, 11 a.m. – 1 p.m., The Kendeda Building
Student organizations, academic departments, and groups around Atlanta will have tables set up in The Kendeda Building atrium and patio to promote a sustainable and environmentally conscious community. Enjoy free King of Pops, and bring a t-shirt, tote bag, or other item to be screen-printed with Earth Day designs. The Office of Sustainability will also have recovered shirts that can be used.
For additional information, click here.
April 20, 5 – 6 p.m., Room 102, Clough Undergraduate Learning Commons
With a goal of reaching carbon neutrality by 2050, Georgia Tech is developing and implementing a comprehensive, cross-cutting Climate Action Plan. Students are invited to learn more about the plan and offer their thoughts on how the Institute can meet its climate goals during this engaging workshop hosted by the Office of Sustainability.
For additional information, click here.
April 21, 2 – 3 p.m., Community Garden (Instructional Center Lawn)
Located along the Experiential Walkway, this event invites the Georgia Tech community to check out the newly renovated Community Garden and learn how to get involved.
For additional information, click here. 
April 23, 2 – 5 p.m., John Lewis Student Center
The French department in the School of Modern Languages will host a screening of Making Pandemics, a film that "seeks to understand the causes of this epidemic of pandemics" over the past four decades. The screening is free and open to the public.
Following the film, a panel of guest speakers will discuss its findings.
For more information, click here.
Sustainable-X Hangout
April 26, 3 – 4 p.m., Center for Sustainable Business Suite/Online
A partnership between the Ray C. Anderson Center for Sustainable Business and CREATE-X, Sustainable-X is a Sustainability Next Institute Strategic Plan project. With events occurring on the fourth Wednesday of every month, this session will examine social and environmental entrepreneurship and how to access resources for projects.
April 27, 3 – 4 p.m., Economic Development Building (BBISS Suite 118)/Online
Continuing the series hosted by the Brook Byers Institute for Sustainable Systems, Jenny McGuire, an associate professor in the School of Earth and Atmospheric Sciences, will host a seminar focused on "conserving the fabric of life given the complexities of global change."
 For additional information, click here.
Explore the Earth Month calendar for a comprehensive event lineup and updates. Campus groups, departments, and organizations interested in adding their sustainability-focused event to the Earth Month Calendar can submit this form or email Abby Bower.