Buzz Takes First Place at 2023 NCA Collegiate National Championship
At the 2023 NCA and NDA Collegiate National Cheer and Dance Championship in Daytona Beach, the judges confirmed what the Georgia Tech community already knew. Buzz is the top mascot in the country.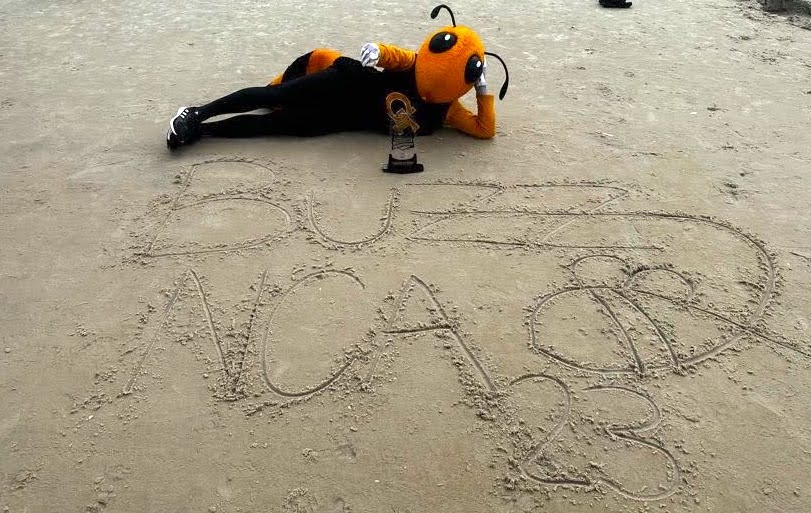 Buzz on the beach after taking first place at the 2023 NCA Championship.
Apr 11, 2023
Competing in the 2023 NCA and NDA Collegiate National Cheer and Dance Championship, the famous yellow jacket was awarded first place in the mascot category, edging out Texas Tech's Raider Red and Missouri's Truman the Tiger. 
Perhaps inspired by the weekend release of The Super Mario Bros. Movie, Buzz worked the crowd into a frenzy, dancing his way through a level of the classic video game and earning an overall score of 53.7 out of 60.
"I didn't come this far just to come this far," the notoriously energetic mascot tweeted following the victory.
Buzz soaked in the moment after winning the title by grabbing the trophy and running straight into the Atlantic Ocean.
For Buzz, the hard work doesn't start on stage. As head cheerleading coach Shana Spann points out, the work that goes on behind the scenes made this championship possible, including raising money to travel to the NCAs.
"Buzz is the 2023 NCA College Mascot National Champion, and we could not be prouder! The Buzz team is comprised of a select group of student-athletes who work tirelessly building all of their props by hand, creating their own skits, and doing countless appearances on and off campus each week. They are truly a team and work together on every aspect of Buzz, from character development to prop building in Freshman Gym," Spann said. "They are truly the hardest working group of kids on campus, and it was a joy to coach them this year and take them to the championship."
Next time you see Buzz on campus, make sure to congratulate the national champion.
Tech's White squad competed at the NCAs as well in the large coed D1A intermediate division, finishing 8th in the country, while the Gold squad competed at the UCA College Nationals in January.