Community Garden Unveils Expansion
First opened in 2012, the Community Garden has undergone a complete transformation. The latest expansion has doubled its square footage, converted the garden to full ADA accessibility, and increased the number of beds to expand access to sustainable produ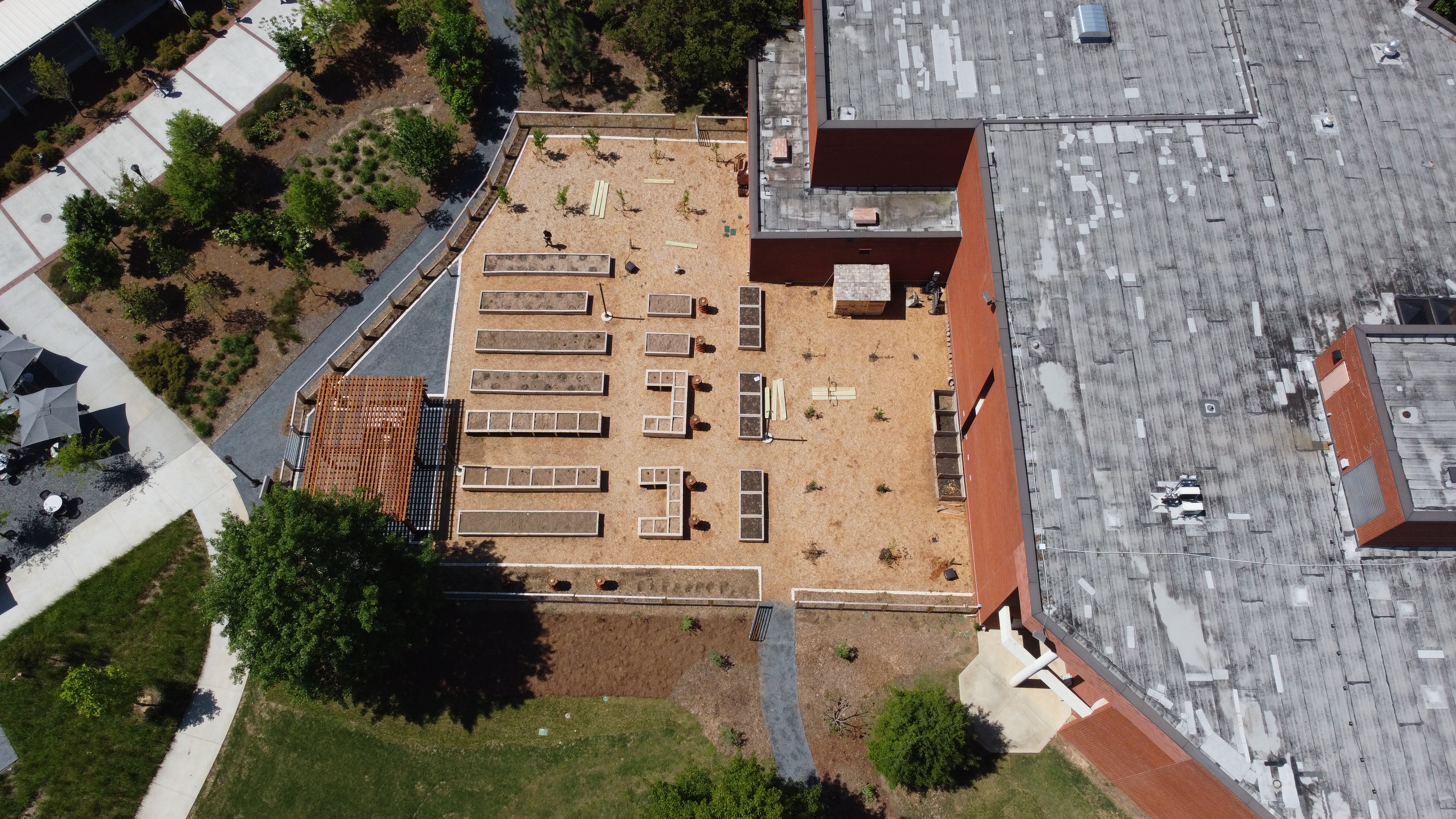 Apr 20, 2023
As Georgia Tech continues to celebrate Earth Month, Friday's ribbon-cutting ceremony for the newly expanded Community Garden represents another step in the Institute's commitment to a sustainable future.
First opened in 2012 with six small planting beds, the garden has received a complete transformation over the past decade. With the latest project, which began in July 2022, essentially doubling its square footage, the garden now touts 21 fruit trees and nine large beds that are free and open to students. Two additional medium and nine small beds are available for lease for the Tech community. A new shed for gardening tools has been constructed alongside a brand-new demo kitchen to feature the garden's produce in healthy recipes. With the inclusion of slate-chip pathways and high-density mulch, the garden is now fully ADA accessible — a primary goal of the expansion effort.
Elias Winterscheidt was drawn to the garden while touring the Tech campus in 2019. With prior planting experience, he immediately got involved with Students Organizing for Sustainability (SOS), taking over as the Community Garden director in April 2021. Over the past three semesters before construction began, the garden donated 50 pounds of produce to Klemis Kitchen — Georgia Tech's on-campus food bank — in addition to the produce harvested by 500 volunteers during that time.
Winterscheidt anticipates the growth of the garden community continuing, with hopes of doubling both donations to Klemis Kitchen and the number of volunteers.
SOS got a head start on its goal at the outset of Earth Month, when Winterscheidt and a group of volunteers planted the first seeds in the expanded garden during a pair of community workdays. Sweet potatoes, tomatoes, strawberries, and various seeds are already in the ground, but plenty more fruits, vegetables, and herbs will be added soon.
In addition to a passion for gardening, Winterscheidt arrived at Tech at a time when many students were seeking ways to get outside during the pandemic. A lasting effect of the interruption has been an increase in the number of virtual events, but the garden provides the perfect opportunity to interact with nature and with other people. 
"We're trying to get people to come outside. Our goal is to get Georgia Tech students away from their computers, away from their homework, and to de-stress and get their hands in the soil," he said, adding that the workdays give students a chance to interact with others from different majors and backgrounds. "Come for a few hours, chat with people, and after two hours, you feel refreshed. It's a kind of group therapy."
Community workdays in the garden are typically held on Saturday mornings, depending on the weather.
Beginning with summer programming, SOS will partner with the Wellness Empowerment Center to highlight the mental and physical health benefits of gardening. They will also be emphasizing sustainability. The Community Garden is entirely permaculture friendly, meaning it's a pesticide-free environment, and seeds are planted with purpose.
"We're mimicking nature in how we plant things," Winterscheidt explained. "Rather than spraying with pesticide, I can plant a basil plant that will deter hornworms from our tomatoes. Rather than spraying with herbicides, we can pluck all the weeds off individually. It takes a lot longer, but it's much better for our soil. Rather than growing for maximum output, we're growing in a way that benefits our soil the most."
While largely student-run, the garden does require constant upkeep, so in years past, the summer months could be challenging. However, with the expansion, Tamsin Leavy has been brought on as staff member to support the garden year-round.
"Like any garden or farm space, you don't want to lose all your hard work to the elements or other pests that can quickly annihilate a crop. We have put a lot of effort into this space and are looking forward to watching it grow. No pun intended," Leavy said. "It would be devastating to lose it to the harsh Georgia summer sun, so we will all be working together to keep our garden growing."
Volunteer opportunities remain plentiful over the summer, and in the absence of a large contingent of students, Malte Weiland, senior sustainability project manager for Campus Services, welcomes Tech faculty and staff to lend a hand. He encouraged all Tech employees to reach out to assist the team in maintaining the space and even urges entire departments to inquire about outings that can serve as wellness and team-building exercises.
For those looking to get involved with the garden or learn more about its expansion, Friday's ribbon-cutting ceremony will begin at 2 p.m.
"We all hope that the garden will continue to be a community gathering space where not just horticultural and agricultural education can happen, but anything adjacent to it — discussion on composting, urban gardens, or food justice issues. And day-to-day, for Tech students, I hope it can be a space where they are comfortable, where they can come to smell the flowers, put their hands in the dirt — even if it's just for a few minutes between classes to de-stress and reconnect to the earth," Leavy said.
The Community Market is another resource that brings sustainably sourced food to the Tech community every Wednesday from 10 a.m. to 2 p.m. along Tech Walkway. The Office of Sustainability will wrap up the spring semester market at the end of April, but selective summer dates will be announced soon. When the market returns in the fall, Weiland said that vendors and patrons can expect several updates, including a market map, and students will be able to make purchases using dining dollars on their BuzzCards.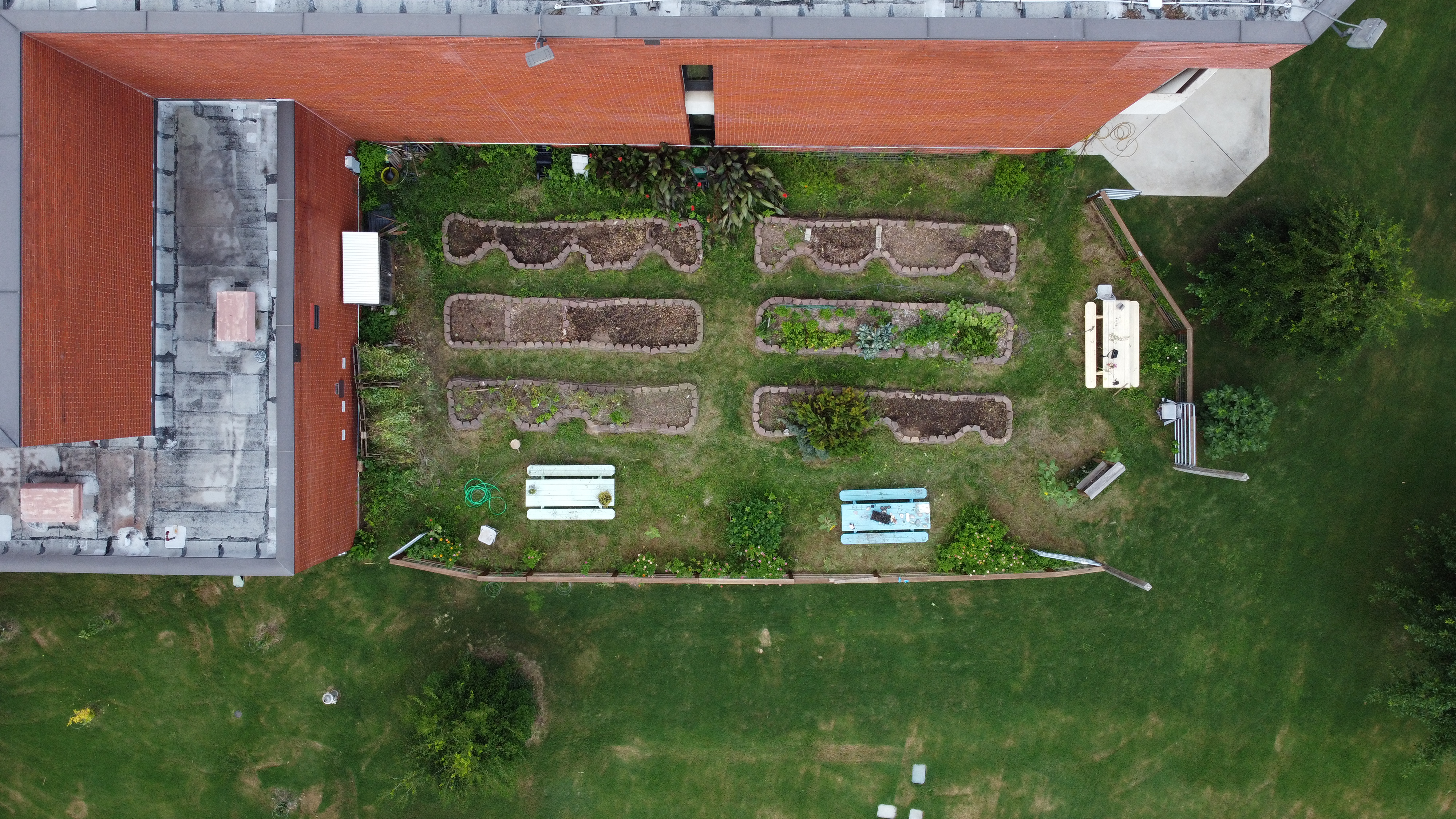 The Community Garden prior to its expansion.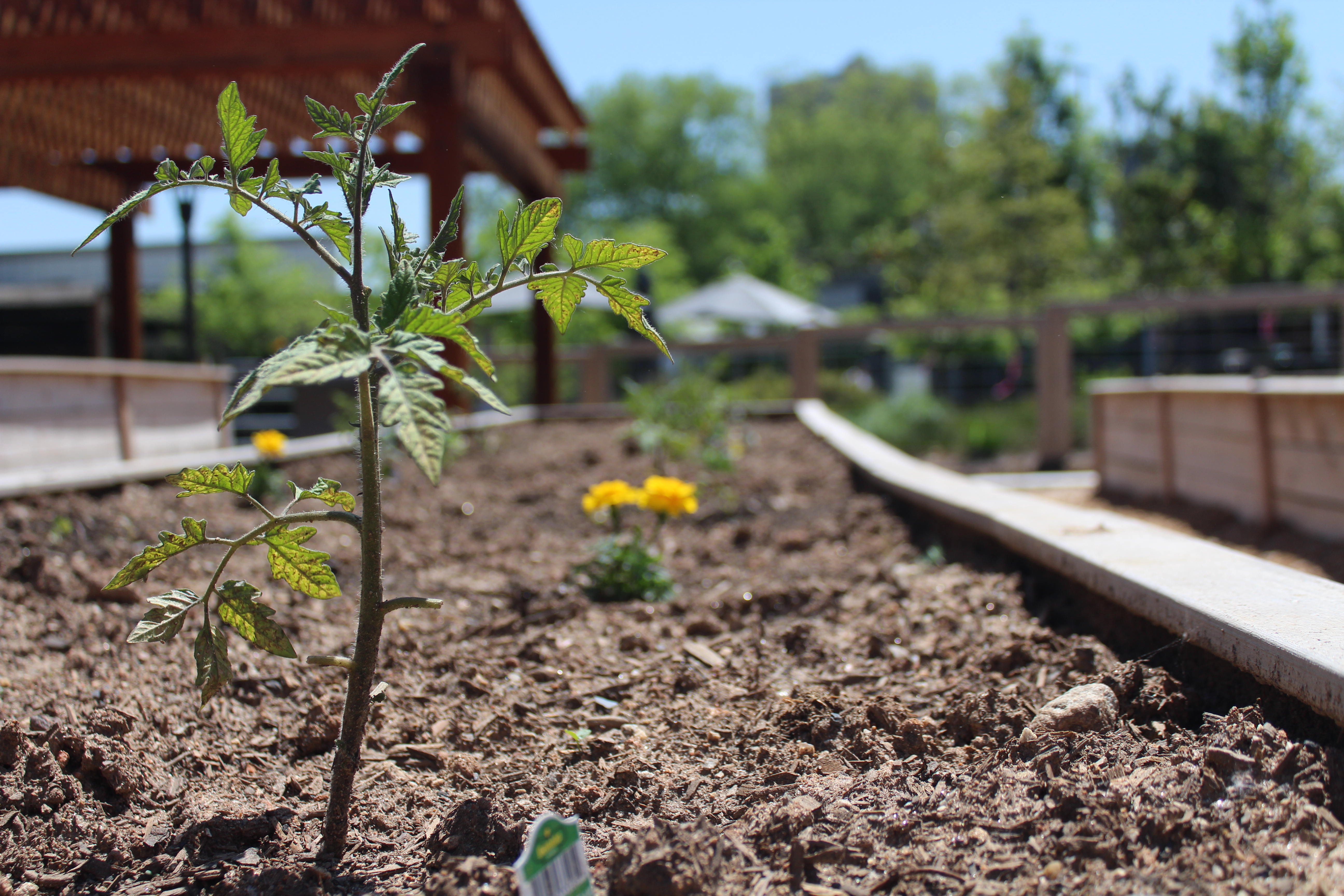 Tomato plants in the new community garden.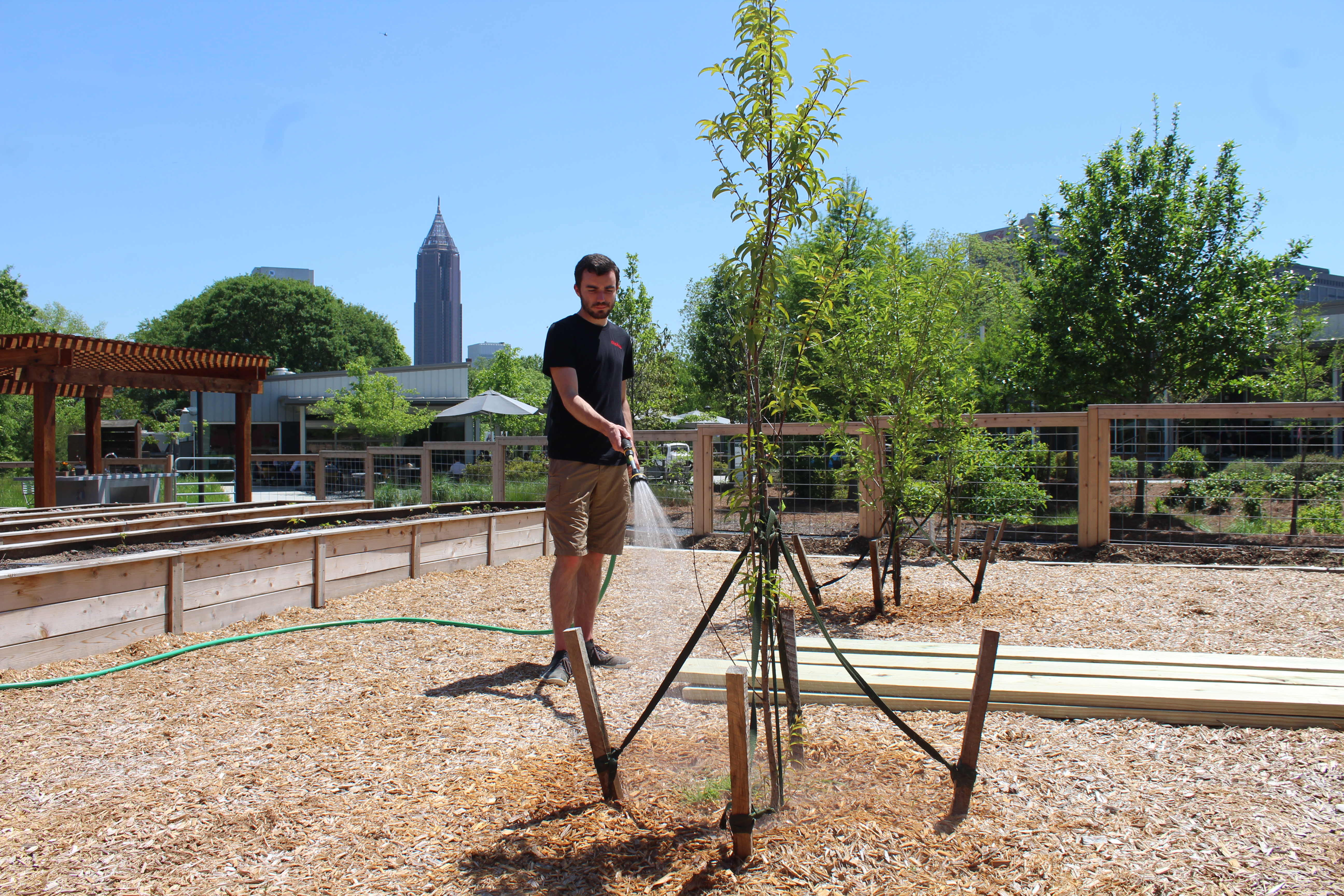 Elias Winterscheidt waters trees in the Community Garden.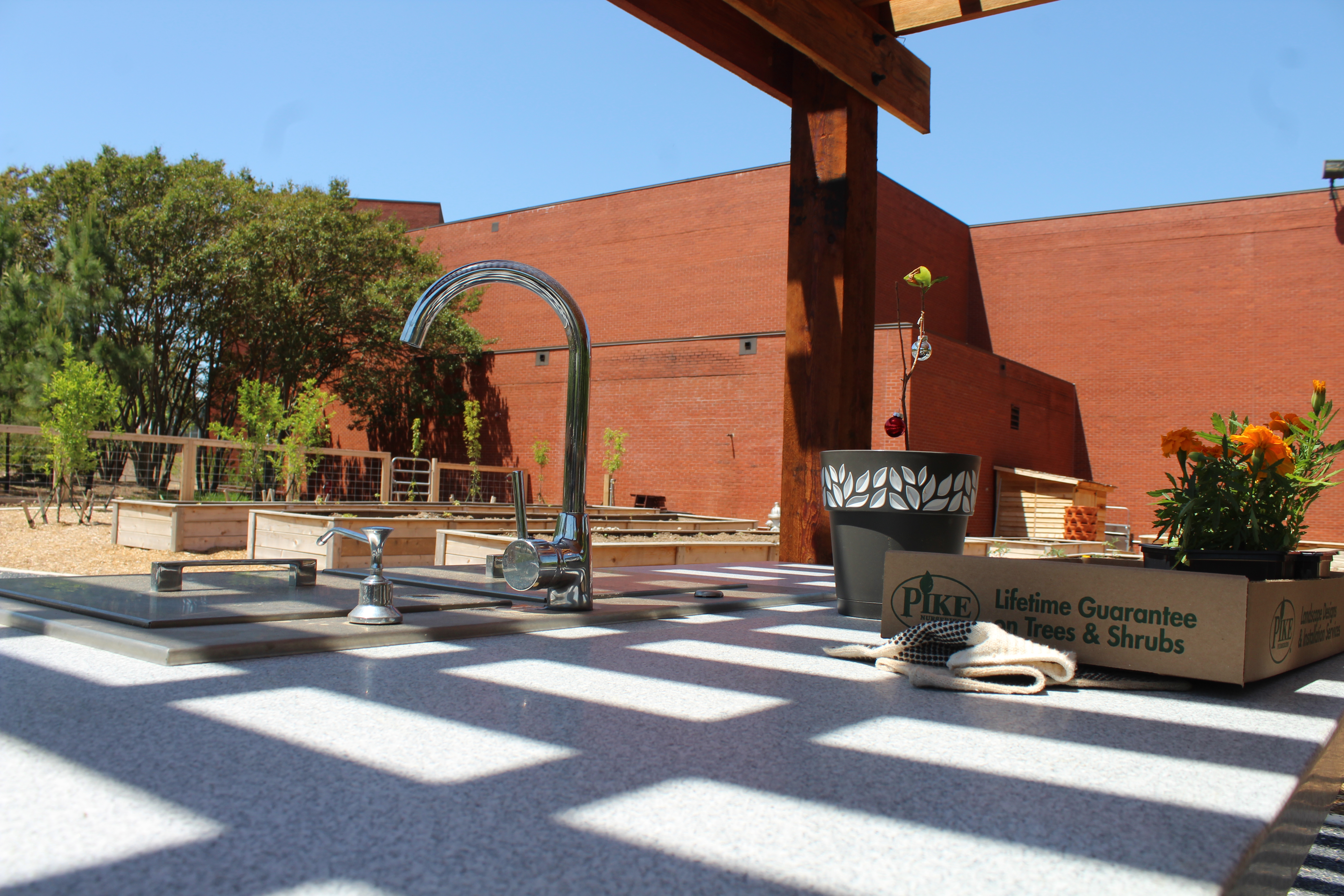 Demo kitchen inside the Community Garden.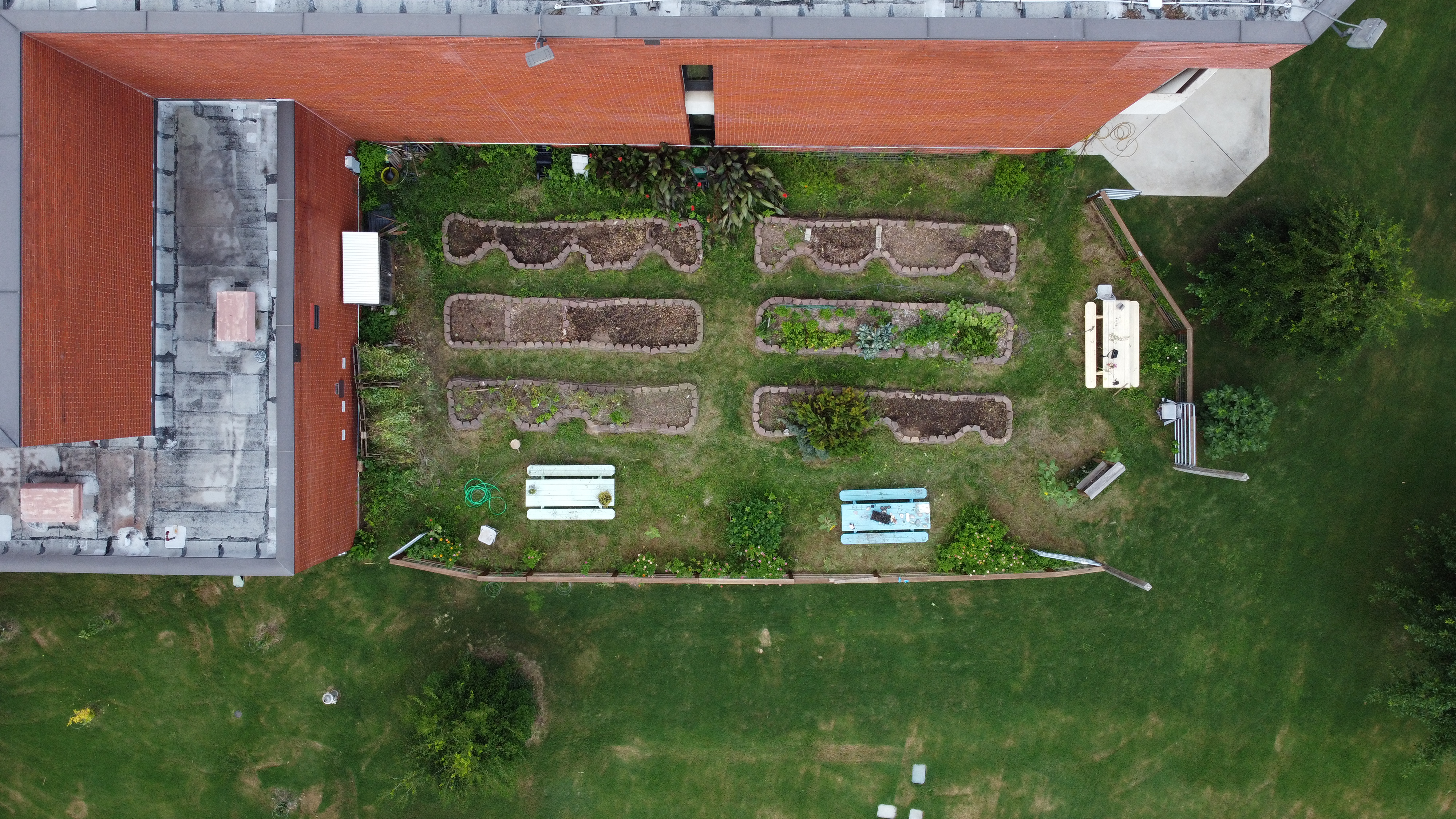 The Community Garden prior to its expansion. Photo courtesty of Elias Winterscheidt.