We asked a few avid readers for book recommendations.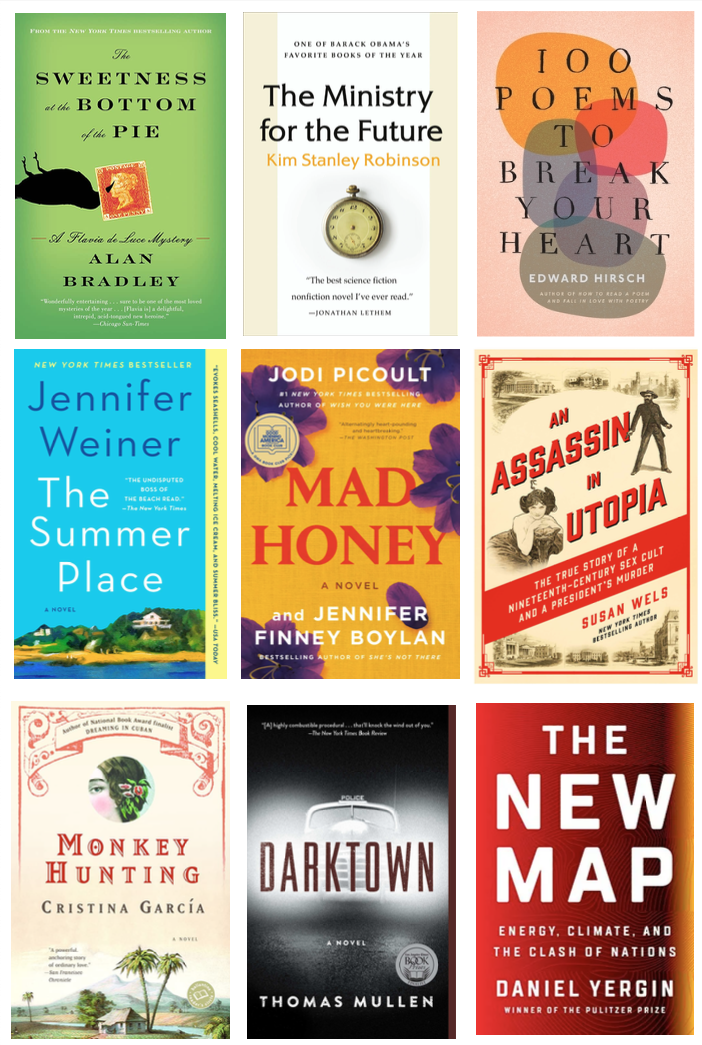 Book jackets for What to Read, Summer 2023
May 19, 2023
Memorial Day — the unofficial start of summer — is a good time to relax and dive into the books on your reading list or select a book you had not considered. We asked several readers for recommendations. The books range from an anthology of poems with commentary by Edward Hirsch, a top poetry critic, to a climate fiction novel set in the near future.
The Sweetness at the Bottom of the Pie: A Flavia de Luce Mystery
By Alan Bradley, Bantam Books, 2010
"If you are a fan of precocious, nerdy children and British murder mysteries, you'll love amateur chemist/detective Flavia de Luce. The Sweetness at the Bottom of the Pie is the first in a mystery series driven by Flavia's unrelenting curiosity and resourcefulness. She is a 10-year-old MacGyver studying poisons in her crumbling English ancestral home in the 1950s, freely ranging around the countryside, stalking alleged murderers, and narrowly avoiding scrapes. If you like this one, you'll be pleased to know there are several more in the series and they just get better."
—Kelley Broome, corporate relations manager, Jones MBA Center, Scheller College of Business
By Kim Stanley Robinson, Orbit Books, 2020
 "The Ministry for the Future, a climate fiction — or "cli-fi" — novel, is relevant to today's landscape of record-breaking droughts and heat waves, record breaking precipitation and flooding, wildfires and powerful storms — clear reminders that climate challenges are real. Set in the near future, the story places you in the center of an organization created by the Paris Climate Agreement to work on behalf of future generations. A thriller, social science commentary, and detailed scientific case study, The Ministry for the Future is an engaging and satisfying work of science fiction sure to broaden readers' understanding of the effects of climate change and the options available to us to today to alter its impact."
—Daren Hubbard, vice president of Information Technology and chief information officer
By Edward Hirsch, Houghton Mifflin Harcourt, 2021
"Edward Hirsch's 100 Poems to Break Your Heart is an anthology of selected poems that span from the 19th century to the present and includes poems originally written in English, as well as translations of poems from many other languages, such as Greek, French, Spanish, Russian, Yiddish, and German. Each poem is accompanied by Hirsch's accessible commentary. He is among our top thinkers and critics of poetry, and his insights into the poems get right to the emotional core of each piece. Don't let the title of the book fool you — while many of the poems in this collection might deal with grief or sadness, this book is anything but a downer. These 100 essential poems, as Hirsch says, 'make us feel less alone and more connected.' That's what good poems do."
—Travis Denton, associate director, Poetry@Tech, and editor, Terminus Magazine
By Jennifer Weiner, Simon and Schuster, 2022
"There is a house with feelings and memories held by its family. There is a global pandemic, as well as uncomfortable family arrangements, an engagement, and lots of 'Wait, what?' Find a nice seat out in the sun or a comfy chair to read this joy by Jennifer Weiner. She wrote this book after reading an article about houses having feelings and holding our memories. She took that article and brought it to life. One of the main characters in this novel is the house which wants to protect the family. Grab a comfortable spot and a notebook, because you will definitely need it. Enjoy one of my favorite novels of the last three years."
—Lauren Morton, academic program manager, Clark Scholars and Dean's Scholars Program, College of Engineering
By Jodi Picoult and Jennifer Finney Boylan, Ballantine Books, 2022
"This novel follows Olivia McAfee and Lily Campanello on their life journey of starting over. Through a series of suspenseful events and stories, the two find themselves connected as Lily falls in love with Olivia's son, Asher. One day, Olivia's world is rocked when she receives a phone call that Lily is dead and Asher is being questioned. The story follows both of their lived experiences, uncovering secrets and stories untold, an unforgettable love story, and the power of family. I could not put this book down and loved the emotions that it led me through as I learned what their stories held."
—Tim Edmonds-King, learning consultant, Workplace Learning and Professional Development, Georgia Tech Professional Education
An Assassin in Utopia: The True Story of a Nineteenth-Century Sex Cult and a President's Murder
By Susan Wels, Pegasus Crime, 2023
"Susan Wels tells a gripping story about the assassination of President James A. Garfield in 1881, but the book is about so much more. It is a sweeping exploration of Victorian America, including major intellectual currents, the minutiae of political parties and schemes, and colorful, larger than life characters. Wels examines one of many 19th-century utopian settlements — Oneida, in upstate New York, which was organized around principles of free love and gender equality, but in practice would prove disturbing to both Victorian and modern eyes — and a delusional resident who sought to save the Republican Party by killing a president. It's every bit as engrossing as a novel."
—Stacy Braukman, senior writer and editor, Institute Communications
By Cristina Garcia, Knopf, 2003
"This novel follows a family through four generations, but it is not a wealthy family, not one of the privileged elites. It is an ordinary family — or 'ordinary' for each time period, just people like millions of their contemporaries. The story spans from the mid-19th century to the late 20th century, and it begins with a man being duped into enslavement. While a portion of the story takes place in the United States, most of it is set in Cuba and in China. The book is detailed, yet moves quickly, showing some of the ways humans hurt each other and some of the ways we help each other. It can be a bit depressing to notice the ties to human depravity, but the strands of common human goodness and the demonstrations of resilience are what I am left with at the end of this lyrical and slightly magical book."
—Amy Bass Henry, executive director, Office of International Education
By Thomas Mullen, 37INK/ATRIA, 2016
"This is a murder mystery that tells the story of two of the first eight black police officers hired, due to political pressure, by the Atlanta Police Department in the sweltering heat of the summer of 1948. The two are investigating the murder of a woman, and they suspect a fellow officer may be the culprit. This work of historical fiction is a must-read for those living in the city. Mullen takes you back in time with his vivid imagery and attention to detail, to a world that was not so long ago."
—DeMarco Williams, digital project manager, Georgia Tech Professional Education
The New Map: Energy, Climate, and the Clash of Nations
By Daniel Yergin, Penguin Random House, 2020
"If you're looking for the best roundup yet of the critical factors weighing on the international energy industry but don't want to feel like you're slogging through an oil company's earnings report, consider Daniel Yergin's The New Map: Energy, Climate, and the Clash of Nations. The book is a very accessible update to his 1991 best-seller The Prize, which won its own prize, a Pulitzer. The New Map gives economist-historian Yergin a chance to check in on the U.S., China, Russia, and the Middle East, and how the rise of shale oil production, a climate crisis, a pandemic, and volatile geopolitics have caused tectonic shifts within the industry, which Yergin has tracked since the mid-1970s. He uses the latest data, science, and technological advances to help readers navigate The New Map for oil and gas in the 21st century."
—Renay San Miguel, communications officer, College of Sciences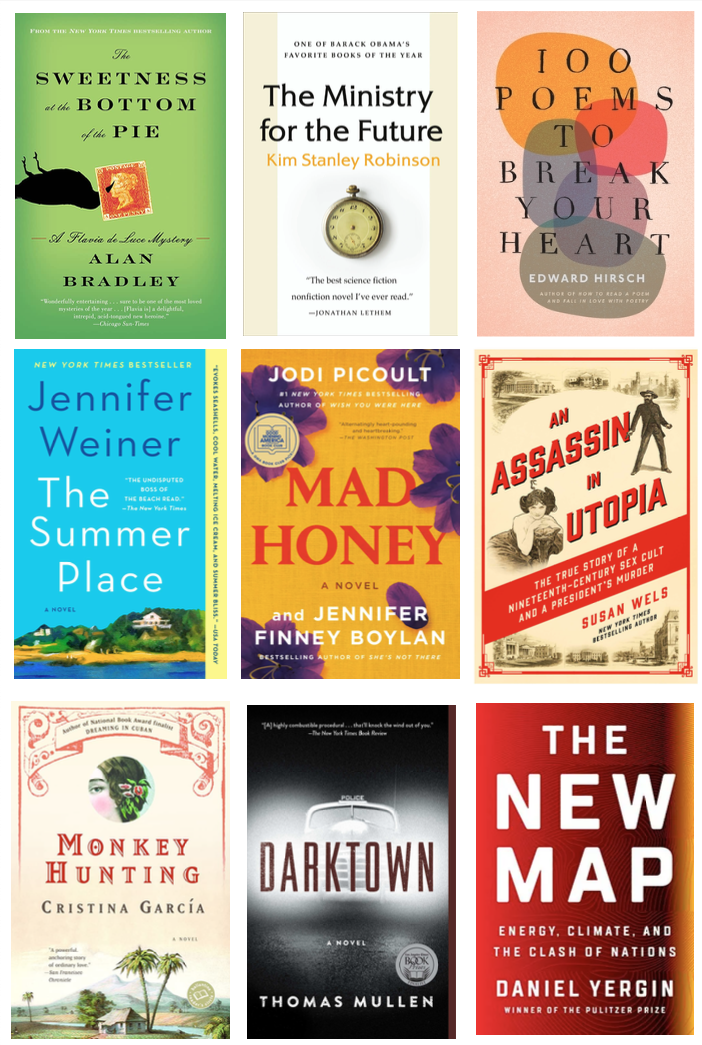 Book jackets for What to Read, Summer 2023