Georgia Tech and Hyundai Announce Multi-Decade Partnership
The partnership includes field-naming recognition at Bobby Dodd Stadium, which will now be known as Bobby Dodd Stadium at Hyundai Field.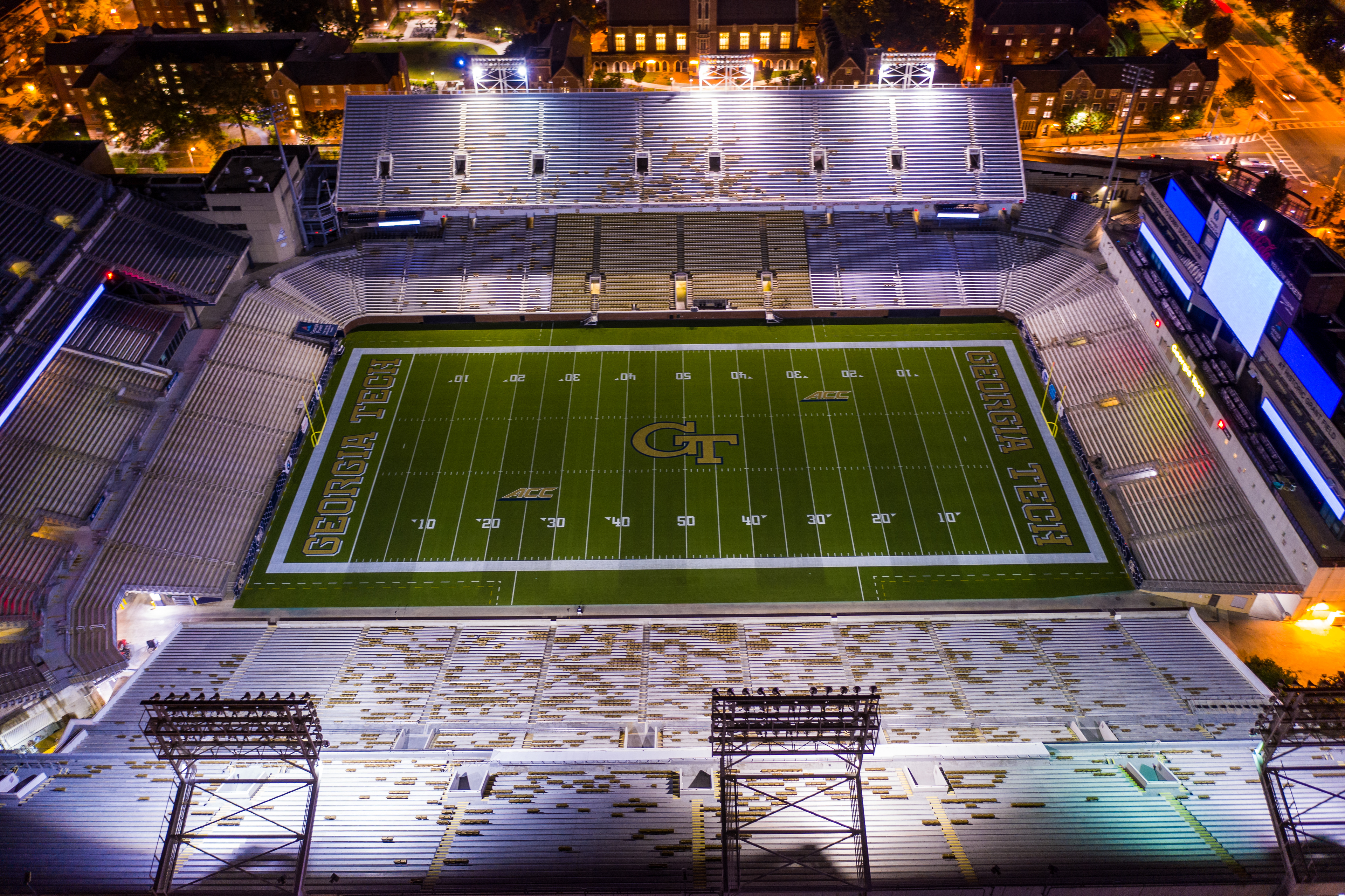 Aug 08, 2023
Georgia Tech and Hyundai Motor Company today announced a multi-decade partnership as part of Hyundai's investments in the state of Georgia. The vision for the partnership includes research and applications to support the future of sustainable mobility, hydrogen economy, workforce development, and smart cities, among many other areas of cooperation. More details will be announced in the coming months.
Hyundai is investing $5.54 billion to develop the Hyundai Motor Group Metaplant America, a new dedicated electric vehicle and battery plant in Bryan County, Georgia, which will create more than 8,100 direct jobs. Hyundai created a $120,000 STEM scholarship at Georgia Tech when it broke ground on the site in October 2022.
The partnership also includes field-naming recognition at Bobby Dodd Stadium, which will now be known as Bobby Dodd Stadium at Hyundai Field, and sponsorship elements that feature enhancements to boost the experience on gamedays for fans in and around the home of Georgia Tech football.
"Like Georgia Tech, Hyundai is a global brand that is synonymous with quality, innovation, and a commitment to advancing technology to make a positive difference in the world. The more we have gotten to know each other, the more obvious the alignment of our values has become," said Georgia Tech President Ángel Cabrera. "I am grateful for the transformative investments Hyundai is making in our state, and I am proud that the Hyundai brand will feature prominently on our campus. I look forward to working with Hyundai leaders to deepen our partnership as we work to develop exceptional leaders and produce new ideas that will shape the automotive industry and advance mobility in the future."
"Georgia Tech is known around the world for having some of the best and brightest graduates as well as a storied athletics program," said José Muñoz, president and global COO of Hyundai Motor Company, and president and CEO of Hyundai and Genesis Motor North America. "Proximity to institutions like Georgia Tech was one of the many reasons Hyundai selected Georgia for our new EV manufacturing facility. We are thrilled to expand our relationship with Georgia Tech, which will include opportunities for student professional development and cooperative work programs in addition to athletic engagements."
"Georgia Tech Athletics is proud to partner with Hyundai as it invests in Georgia Tech and the state of Georgia. This partnership will be truly transformative for Georgia Tech Athletics, both now and for years to come," said J Batt, director of Athletics, Georgia Tech. "I want to express our sincere appreciation to José Muñoz and his team for their genuine interest in aligning with Georgia Tech. We are thrilled to join forces with Hyundai and look forward to a long-lasting, mutually beneficial partnership."
The benefits of the partnership are wide-ranging and substantial for Georgia Tech and the state of Georgia. They include:
A vital pathway for Georgia Tech to meet its stated goal of expanding its stature as a leading research entity in the electrification of the automotive industry through its world-class hydrogen research.

An opportunity for Georgia Tech to more broadly contribute to the state of Georgia's commitment as a hub for the production of electric vehicles.

New revenue for Georgia Tech Athletics, which, within the ever-changing landscape of intercollegiate athletics, will be vital in providing student-athletes and teams with the resources needed to compete at the highest levels, both athletically and academically. The new revenue will also allow Georgia Tech Athletics to continue to provide Tech students, alumni, and fans with a world-class experience as supporters of the Yellow Jackets.
Bobby Dodd Stadium at Hyundai Field is the oldest on-campus stadium in NCAA Division I's Football Bowl Subdivision and one of the nation's most unique and historic settings for college football. It opened in 1913 as Grant Field, then was renamed, in honor of legendary Georgia Tech Coach and Athletics Director Bobby Dodd, in 1988. The historic Grant Field name will continue to be memorialized with a display at the stadium.
Legends, which has managed corporate partnerships and multimedia rights for Georgia Tech Athletics since 2021, helped facilitate the athletics partnership with Hyundai.
ABOUT GEORGIA TECH ATHLETICS
With 400-plus student-athletes across 17 varsity sports, Georgia Tech competes at the highest level of intercollegiate athletics as a member of NCAA Division I and the Atlantic Coast Conference (ACC), while also developing young people who will change the world. Georgia Tech has long been a leader in innovation in college athletics with the NCAA CHAMPS/Life Skills Program (known as the Total Person Program at GT), commitments to athletics scholarships until student-athletes graduate, and the use of virtual reality in recruiting among the many concepts that originated on The Flats. The Yellow Jackets have won five national championships during their illustrious history (four in football – 1917, 1928, 1952, and 1990; one in women's tennis – 2007) and appeared in two Final Fours in men's basketball (1990 and 2004) and three College World Series in baseball (1994, 2002, and 2006). Combining world-class education with top-notch athletics, Georgia Tech has produced 90 Academic All-Americans. For more on Georgia Tech Athletics, visit ramblinwreck.com.
ABOUT HYUNDAI MOTOR COMPANY
Established in 1967, Hyundai Motor Company is present in over 200 countries with more than 120,000 employees dedicated to tackling real-world mobility challenges around the globe. Based on the brand vision 'Progress for Humanity,' Hyundai Motor Company is accelerating its transformation into a Smart Mobility Solution Provider. The company invests in advanced technologies such as robotics and Advanced Air Mobility (AAM) to bring about revolutionary mobility solutions, while pursuing open innovation to introduce future mobility services. In pursuit of a sustainable future for the world, Hyundai will continue its efforts to introduce zero emission vehicles equipped with industry-leading hydrogen fuel cell and EV technologies.
ABOUT LEGENDS
Founded in 2008, Legends is a premium experiences company with six divisions operating worldwide — Global Planning, Global Sales, Hospitality, Global Partnerships, Global Merchandise, and Global Technology Solutions — offering clients and partners a 360-degree data-and-analytics-fueled service solution platform to elevate their brand and execute their vision. Currently, Legends works with marquee clients across business verticals including professional sports, collegiate, attractions, entertainment, conventions, and leisure. They are the industry leaders in designing, planning, and realizing exceptional experiences in sports and entertainment. For more information, visit Legends.net and follow Legends on Facebook, Twitter, and Instagram @TheLegendsWay.