Georgia Tech Soars in 2023-2024 U.S. News & World Report Best Colleges Rankings
Georgia Tech's notable performance across multiple categories underscores its dedication to fostering innovation and providing accessible education for diverse student backgrounds.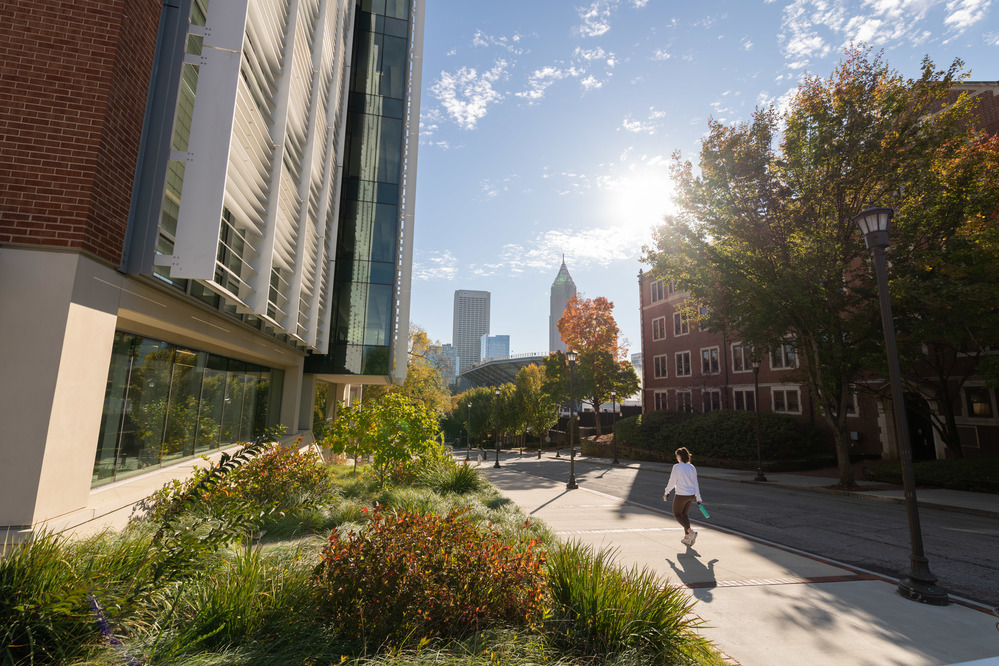 Sep 18, 2023
— Atlanta, GA
Georgia Tech has much to celebrate in the 2023-2024 U.S. News & World Report Best Colleges Rankings. The Institute's impressive performance in various categories reflects its strategic commitment to champion innovation and access to education for students from all walks of life.
Overall Rankings
Georgia Tech has catapulted 11 places to claim the No. 33 spot overall in the nation. Georgia Tech ascended five places in the Top Public Schools ranking, securing a top 10 position.
Innovation and Educational Value
Georgia Tech has also been acknowledged for innovation. The Institute was recognized as No. 5 on the list of the Most Innovative Universities in America, underlining Georgia Tech's commitment to creating new models of education, applying new technologies, pioneering research, and fostering entrepreneurship.
Georgia Tech also jumped 47 spots on the list of Best Value Schools in the U.S.
"I'm delighted to see Georgia Tech recognized once again among the best universities in America," said President Ángel Cabrera. "Our students pay less here than they would at most other leading research universities. They graduate at one of the highest rates among public universities, and they land some of the best-paying jobs in the nation. The result is one of the highest returns on investment anywhere."
Academic Excellence
Additionally, Georgia Tech undergraduate engineering programs are all ranked in the top 10 nationally. The overall undergraduate engineering program stands out at No. 3 nationally, and No. 1 among public universities.
The Institute has also claimed the top spot in the nation for studying biomedical engineering and maintains its reign as No. 1 in industrial engineering — a spot it has claimed since 2002. In addition, Georgia Tech tops the undergraduate rankings for public school major-specific engineering programs of study including aerospace, mechanical, civil, and chemical engineering at public universities.
In the realm of computer science and cybersecurity, Tech also received several program-specific top 10 rankings, including in artificial intelligence, game development, and mobile/web application research.
The Scheller College of Business at Georgia Tech has also secured five top 10 program rankings in the areas of analytics, management information systems, operations management, quantitative analysis, and supply chain management.
And several programs at Georgia Tech made their debut in the national rankings, including Economics from the Ivan Allen College of Liberal Arts, Psychology from the College of Sciences, and Marketing and Accounting from the College of Business.
College Experience
Georgia Tech continues to excel in providing valuable college experiences, ranking in the top five nationally for undergraduate co-op and internship opportunities. It also jumped 10 places to claim the No. 7 spot in undergraduate research opportunities. The Institute also ranks 12th in the area of the senior capstone experience, the culmination of the educational journey for college students.
"Part of Georgia Tech's mission to develop leaders who advance technology and improve the human condition is making sure that students are not just good problem-solvers but also great problem-finders, and that particular skill shows up in many ways during their time here," said Steven McLaughlin, provost and executive vice president for Academic Affairs. "The Institute is honored to be recognized once again for our efforts to promote Progress and Service, which testify to the value we create for our graduates and their communities."
Recognizing the importance of supporting service members, Georgia Tech has climbed six spots to secure the 17th position on the list of Best Colleges for Veterans.
In recent weeks, other rankings also placed Georgia Tech among the best 10 public universities in the nation, including rankings from the Wall Street Journal (No. 7) and Niche.com (No. 3). Georgia Tech was also listed recently by the Chronicle of Higher Education as having the third highest selectivity rate and the highest yield among public universities.
For a comprehensive look at Georgia Tech's rankings, visit the Institute's website here, keeping in mind it is highly recommended that high school students and their parents perform an independent search of rankings, always checking check multiple sources. Every ranking measures various classifications, based on different criteria; therefore, assessments should be made according to individual preferences after having researched the range of rankings information available.