Lawrance Foster Retires After 30 Years on Patrol
Institute Retirement Celebration 2023 is Oct. 10.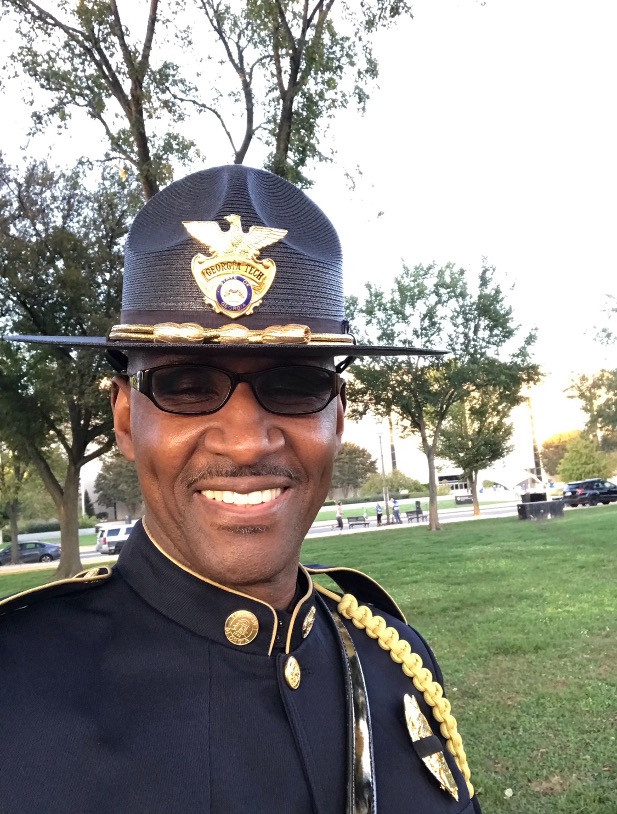 Officer Foster retires after 30 years on patrol with the Georgia Tech Police Department.
Oct 10, 2023
Officer Lawrance "Tim" Foster's picture of retirement does not include sitting in a rocker on the porch. After officially retiring in 2022 from the Georgia Tech Police Department as a patrol officer, he quickly realized he needed to keep busy. He talked to Chief Rob Connolly, who asked him if he would like to be a recruiter. Now Foster works two days a week as a recruiter for the department.
"I review resumes and applications, and I interview applicants," he said. "It's very different from being on patrol, but I'm loving it."
For 30 years Foster patrolled the campus, and he was a training officer. "Training new officers was something I just loved doing. I enjoyed showing them the ropes at the start of their career. I'm still in contact with a lot of my trainees who moved on to other departments."
Foster's law enforcement career began in his hometown, Spartanburg, South Carolina. He worked for the Spartanburg County Sheriff's Office for seven years before joining Georgia Tech in 1992, as Atlanta was preparing to host the 1996 Summer Olympics with Georgia Tech as the home of the Olympic Village. "At the time, there were abandoned houses and properties along the edge of campus. That was cleaned up, and the campus later expanded across the Fifth Street Bridge, creating Tech Square."
Foster received the Officer of the Year Award in 2012 and the Chief's Choice Award for Special Recognition in 2021. He has had a front row seat to the highs and lows of campus life, from seeing the campus come together to celebrate the Olympics or to mourn after 9/11. "I have met people from all around the world — foreign dignitaries, U.S. presidents, governors, mayors, athletes, and entertainers," he said. "What I will miss most is the training and interaction with new officers and the interaction with students, faculty, and staff on campus. Georgia Tech is a good place to work."
Now that he works part-time, Foster plans to spend more time with his young adult children, two daughters and a son. He also has a dream vacation in mind. "I want to go to Egypt to see the pyramids, and I want to cruise the Nile River. That's number one on my bucket list."
Faculty and staff who retired between March 1, 2022 and June 30, 2023, will be honored at this year's Retirement Celebration on Tuesday, Oct. 10, beginning at 4 p.m. at the Biltmore Ballrooms.