Veterans Walk of Honor Commemorates Georgia Tech's Military History
The walkway in front of the Veterans Resource Center is a tribute to the thousands of Yellow Jackets who have served or are currently serving in the U.S. military.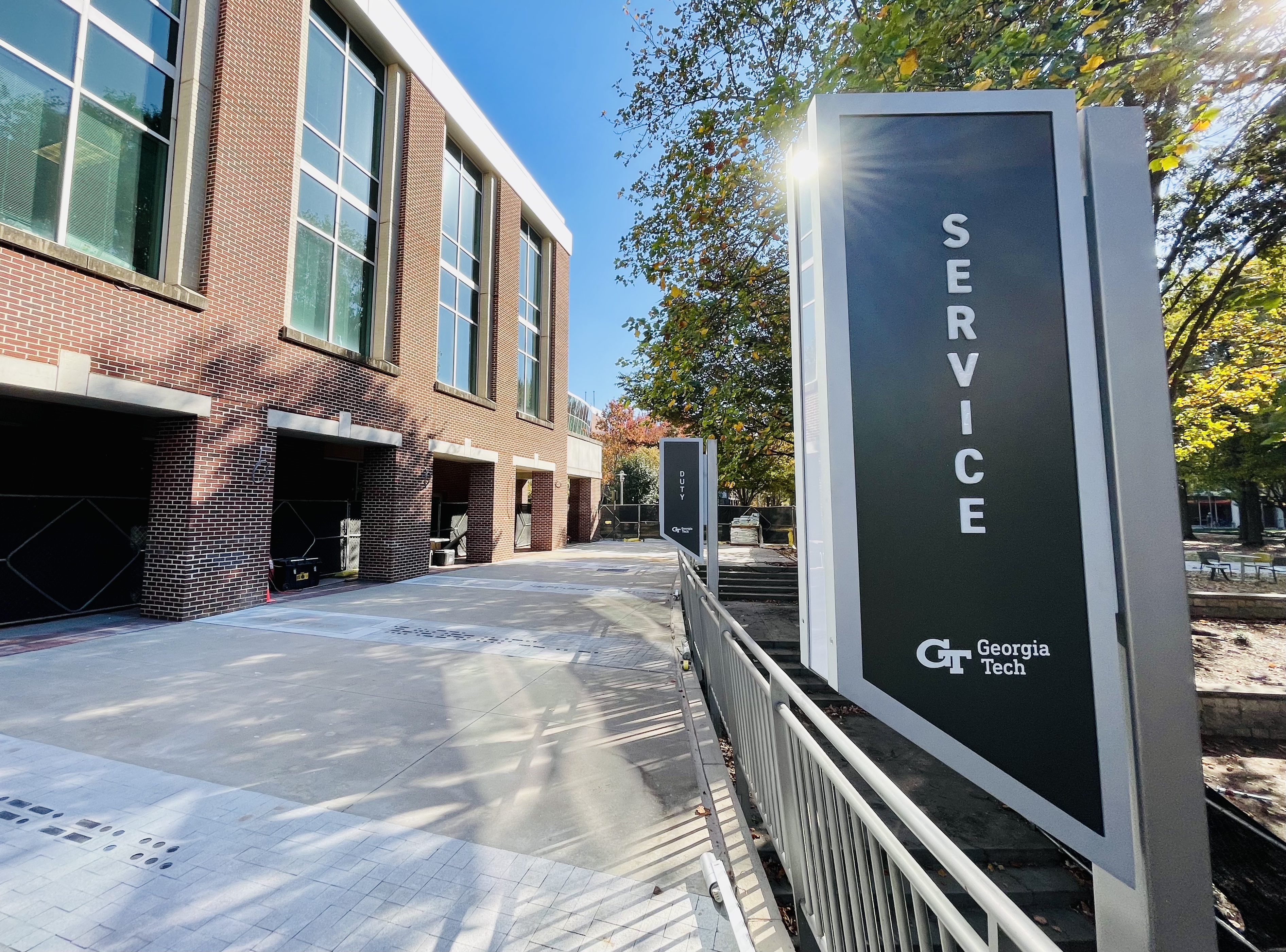 Nov 10, 2023
As the Tech community prepares to honor U.S. armed forces members on Veterans Day with this weekend's luncheon and parade, the Georgia Tech community celebrates the completion of the Veterans Walk of Honor, located in the Biotech Quad.  
The walkway leading up to the Veterans Resource Center (VRC), which recently celebrated its 10th anniversary, is now adorned with granite inlay markers representing each branch of the military and the branch's motto written in Morse code. Lining the walkway are plaques that have been relocated from various campus locations dedicated to Tech's veterans and military history.  
"The Veterans Walk of Honor will be a dynamic space honoring those who have served and recognizing their commitment, service, and sacrifice for our country, as well as recognizing Tech's long history with the military. The space is designed to honor our past military members, encourage our current students, and inspire our future leaders," David Ross, VRC director, said. 
Announced last year, the project embodies the thousands of Yellow Jackets who have served or are currently serving in the U.S. military, including five Medal of Honor recipients — the military's highest award for valor.   
As the VRC commemorates its decade of service to Georgia Tech's veteran community, the center will host its annual Veterans Day luncheon today at the Ferst Center for the Arts with guest speaker Major General (Retired) Larry Taylor, a 1962 industrial management graduate and a United States Marine Corps Reserve veteran.  
Saturday, the VRC, with the Wreck leading the way, will participate in the 42nd annual Georgia Veterans Day parade in Midtown at 11 a.m. Open to the public, the parade route will stretch from 15th Street to Fifth Street along Peachtree Street. Anyone interested in joining the parade can email Ross at dross35@gatech.edu. 
Additionally, Georgia Tech will honor all active-duty military members and veterans on Heroes Day when the Yellow Jackets host the Syracuse Orange at Bobby Dodd Stadium at Hyundai Field on Saturday, Nov. 18.