Removal of Large Oak Tree Near Tech Lawn
A post oak near the drive between Tech Lawn and the adjacent hill will be removed during Thanksgiving break.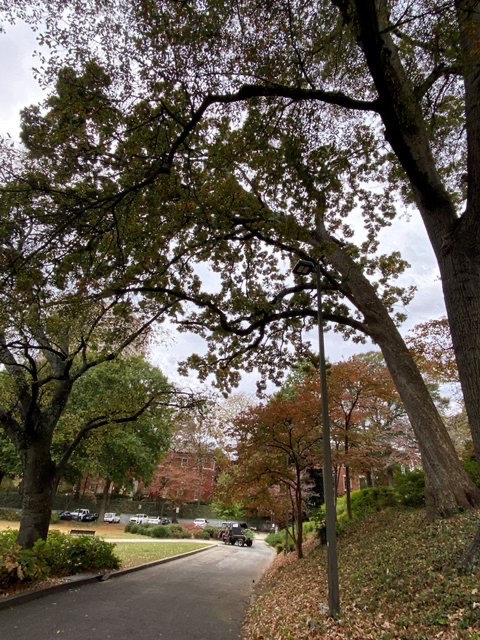 The large post oak scheduled to be removed November 2023.
Nov 16, 2023
After years of careful monitoring, the post oak, or Quercus stellata, near Tech Lawn has been deemed hazardous and must be removed due to the risk of falling. For safety reasons, plans are to remove the tree during the Thanksgiving break.  
"Before removing a tree, we have an outside vendor evaluate the tree to ensure our assessment is correct," said Quentin Holden, campus tree surgeon. "While we have done everything possible to help the tree survive, the tree is leaning heavily, and a structural issue has been recently discovered at the tree's base putting it at severe risk of failure. It must be removed for campus safety." 
The wood from this tree will not be reused as lumber due to the curvature of the tree trunk. Wood harvested for lumber needs to have straight trunks to minimize warping and checking (separating or cracking). With the removal of the oak, multiple trees will be planted on campus, or funds equivalent to the replacement will be provided to the tree bank, in accordance with the Campus Landscape Master Plan and the Tree Care Replacement Policy. Locations for replacement trees will be identified and the trees planted in the appropriate season. Currently, the campus tree count totals more than 15,000 trees with an estimated total replacement value of more than $11 million. 
Institute Landscape Architect Jason Gregory said, "We're always sad when we have to remove such a large tree on campus, but it is part of the management of our urban forest to maintain a safe environment for everyone."