The Month in Photos: June 2022
Graffiti Robot, Juneteenth, and FASET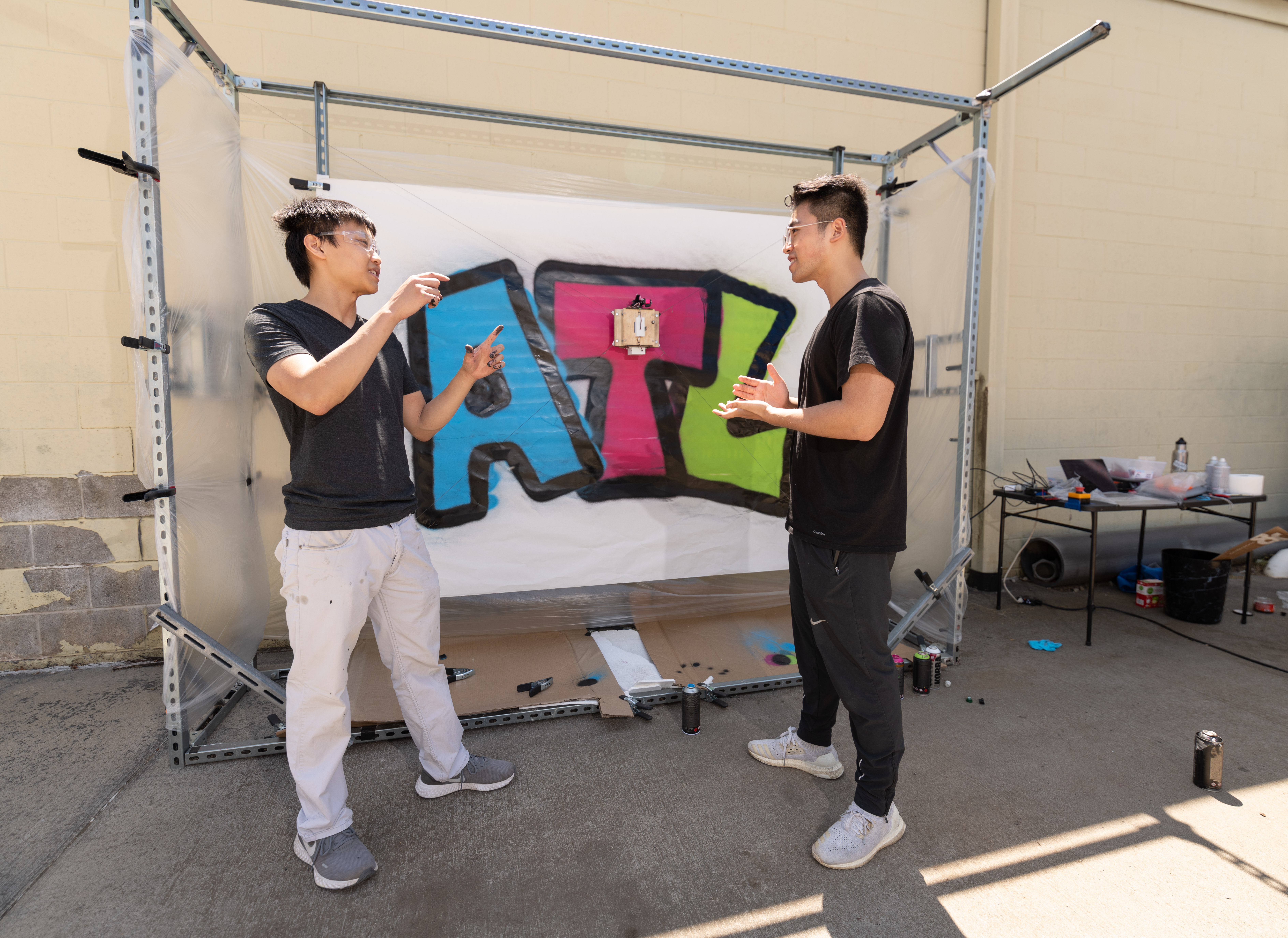 Georgia Tech graduate students have built the first graffiti-painting robot system that mimics the fluidity of human movement. GTGraffiti uses motion capture technology to record human painting motions and then composes and processes the gestures to program a cable-driven robot that spray-paints graffiti artwork. The robot does not generate the art itself but works with the human artists, enabling them to achieve more than they could without the robot. Pictured are Gerry Chen, Ph.D. candidate in robotics, and recent computer science graduate Michael Qian, with artwork painted by the GTGraffiti robot. Photo taken June 1 by Rob Felt.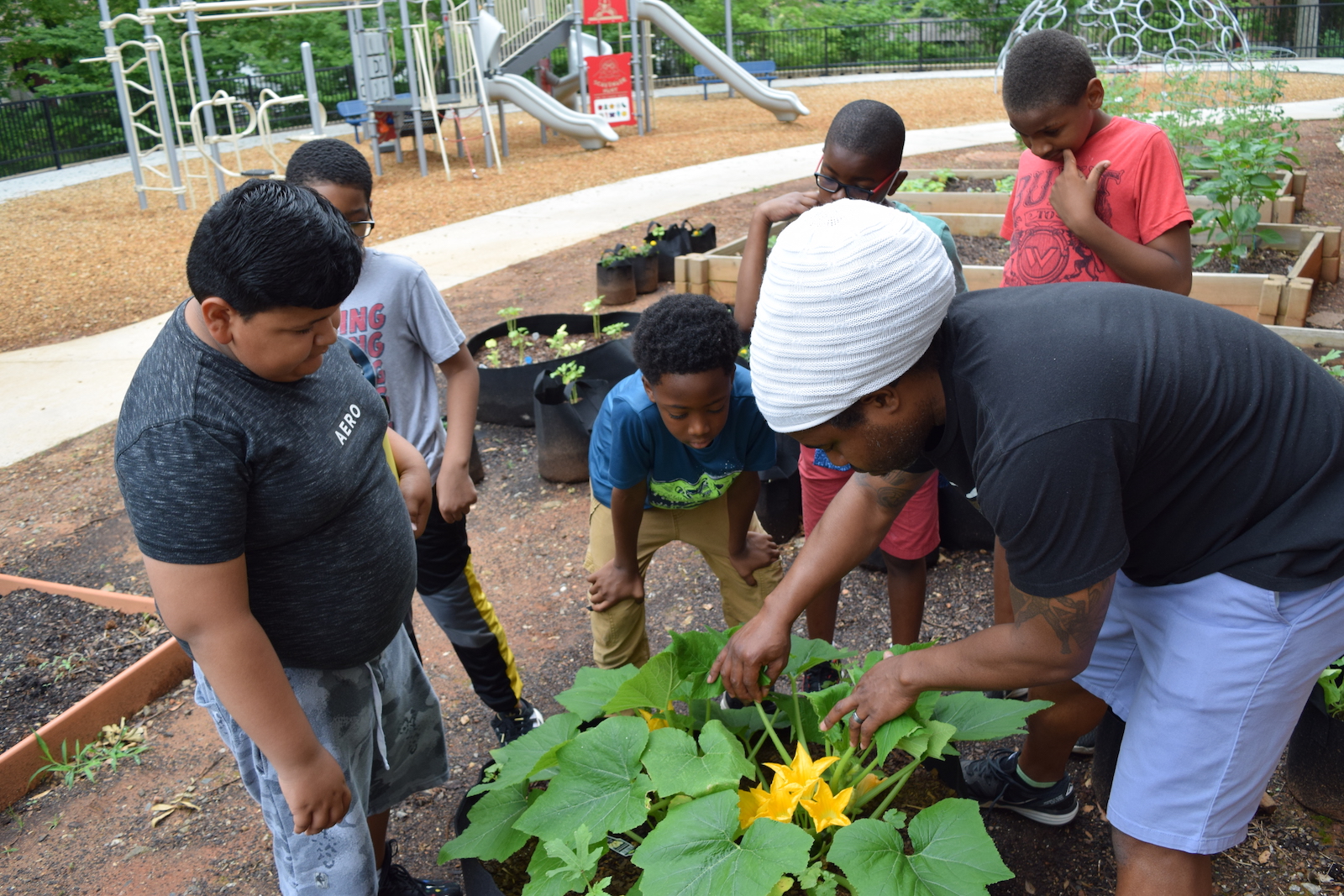 Students from Tuskegee Airmen Global Academy (TAG) observe a squash plant at their school's garden while their teacher gives a lesson on the resources needed for the plant's survival. This activity is part of Georgia Tech CEISMC's Full STEAM Ahead summer programming in partnership with the Washington Cluster within Atlanta Public Schools. Participants gained foundational knowledge that helped them complete their final project of building their own greenhouse. Photo taken June 7 by Keisha Simmons, CEISMC.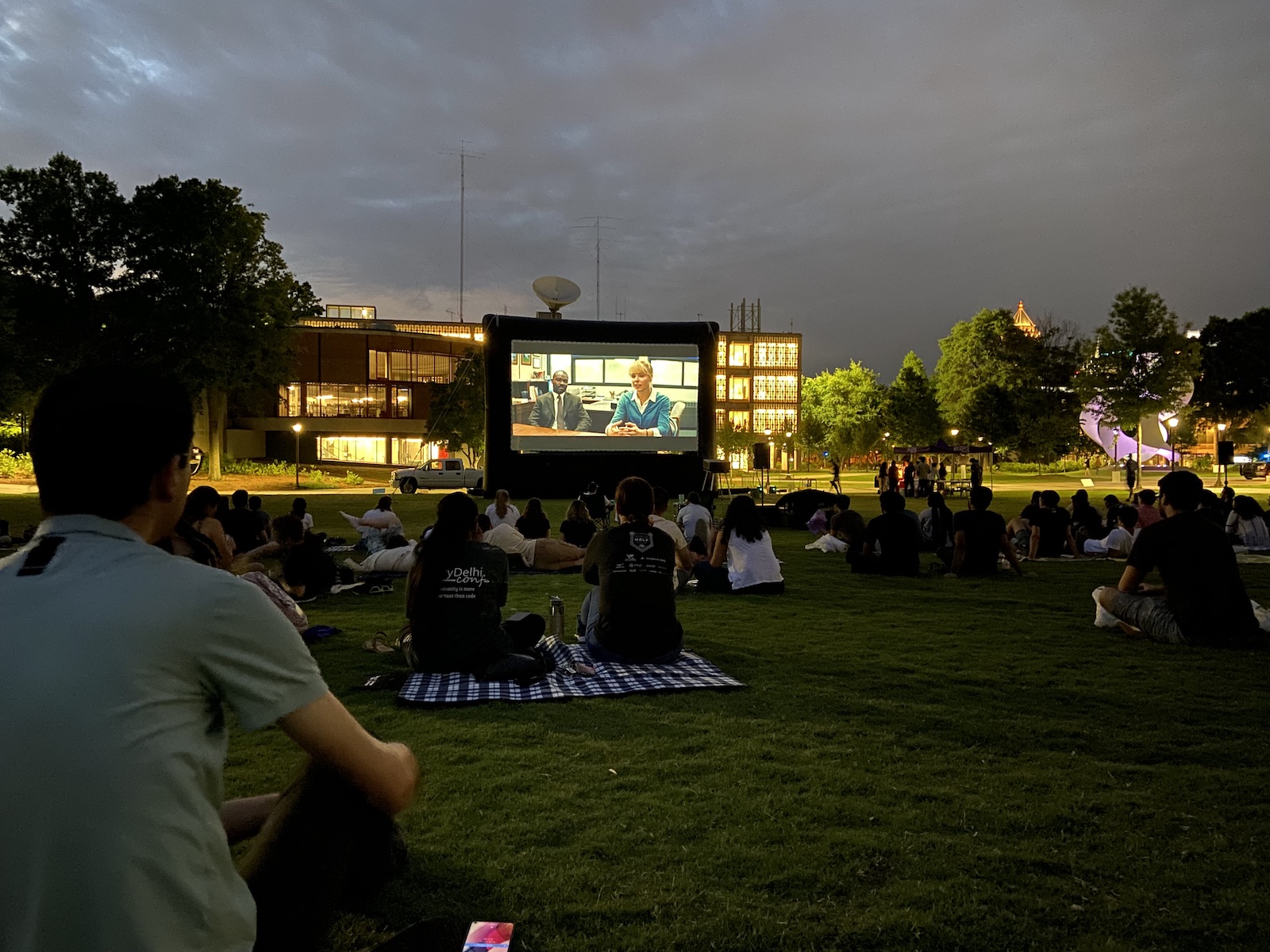 Summer Movie Night: The Student Center Programs Council (SCPC) presented Interstellar on Tech Green. Photo taken June 10 by Samuel Luong, SCPC.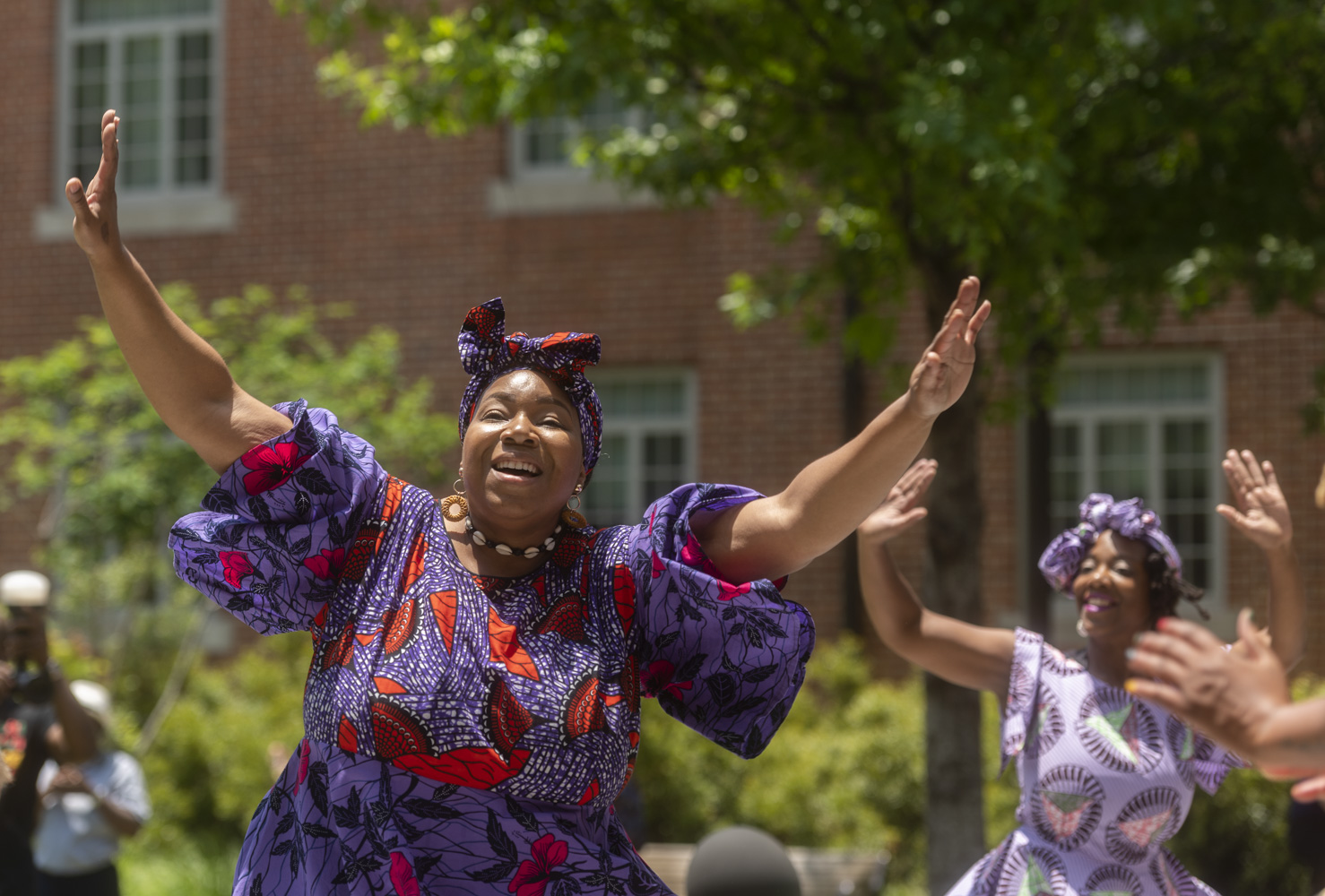 The 2022 Juneteenth Celebration at Georgia Tech, hosted by OMED, included a keynote address followed by a festival with music, dance, food, and games. Pictured are performers with Giwayen Mata, a dance, percussion, and vocal ensemble. Photo taken June 17 by Allison Carter.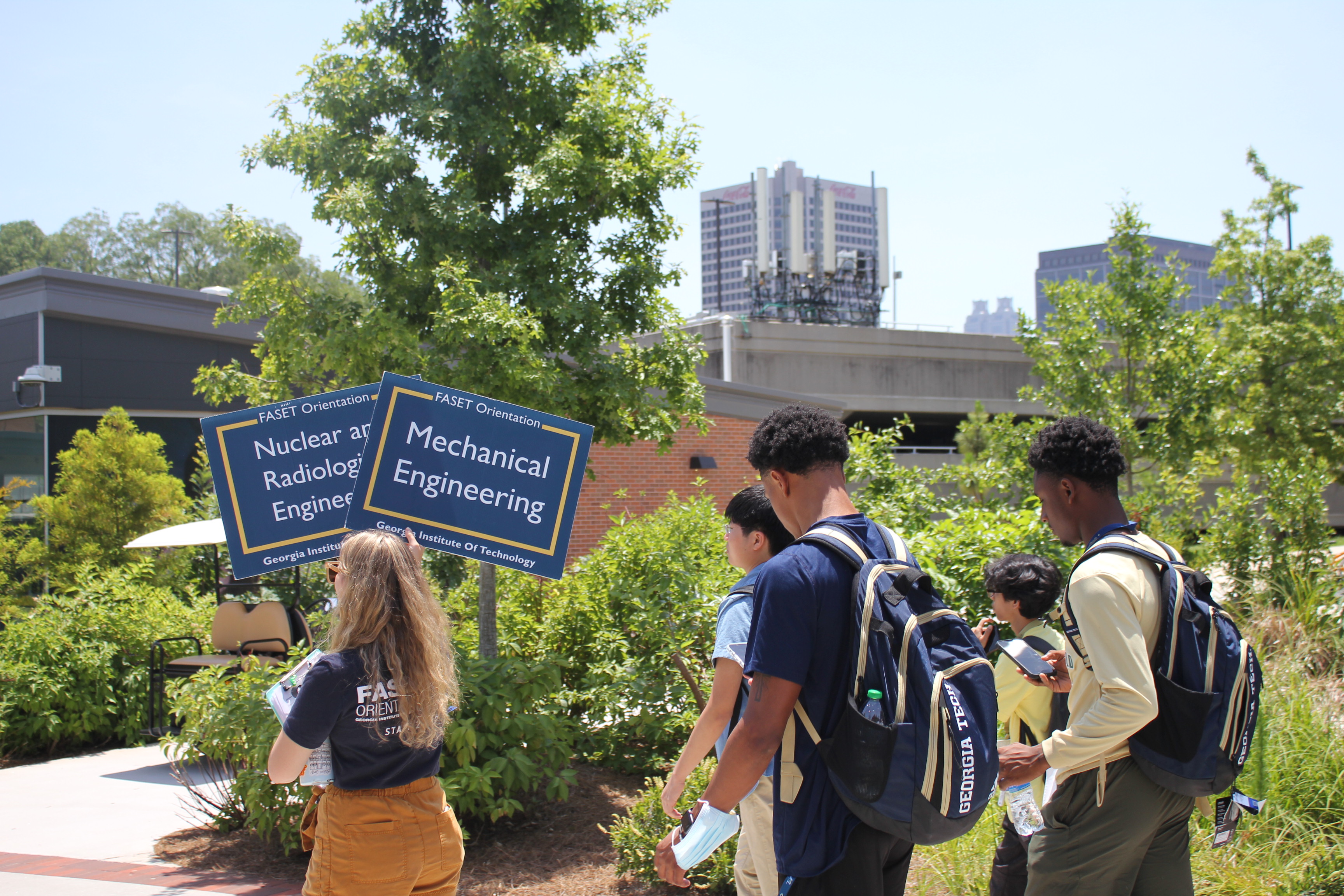 This year, more than 4,700 students and 2,000 guests attended an in-person or virtual session of FASET, Georgia Tech's orientation program for first-year and transfer students. FASET has been a Tech tradition since 1971. Photo taken June 21, courtesy of the FASET New Student Engagement Committee.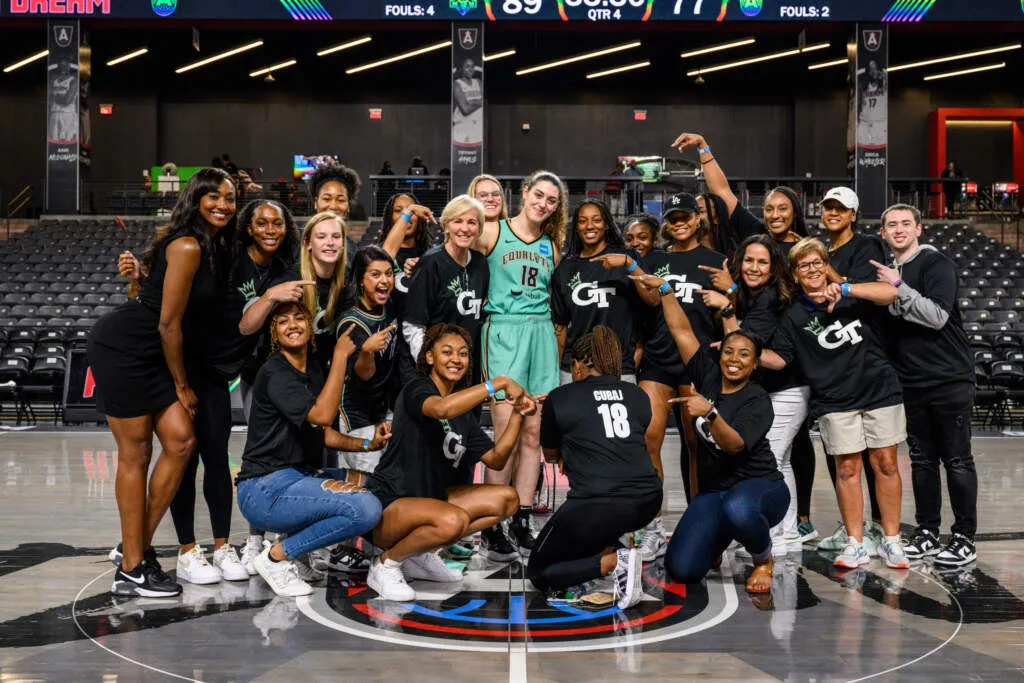 Georgia Tech star Lorela Cubaj returned to Atlanta on June 24 with the New York Liberty to face the Atlanta Dream in a WNBA contest. The Yellow Jackets and Coach Nell Fortner came out to support the program's all-time leading rebounder. Cubaj became the ninth Yellow Jacket in program history to be drafted, when the Terni, Italy, native was selected by the Liberty in the second round (No. 18 overall) in the 2022 WNBA Draft on April 11. Photo taken by Danny Karnik.
Students in the Leadership for Social Good study abroad program gathered in front of the Hungarian State Opera in Budapest before attending a performance. Photo taken June 19 by Karola Pap.
President Ángel Cabrera, first lady Beth Cabrera, and Raheem Beyah, dean and Southern Company Chair in the College of Engineering, toured the Georgia Tech-Lorraine campus this month in Metz, France. It was the first visit for Cabrera and Beyah since assuming their respective leadership roles. Photo taken June 23.
Credits
Photography: Allison Carter, Joya Chapman, Rob Felt
Writing/Editing: Victor Rogers, Stacy Braukman