The Month in Photos: February 2023
Vice President Kamala Harris Visit, Baseball, and Sibs Day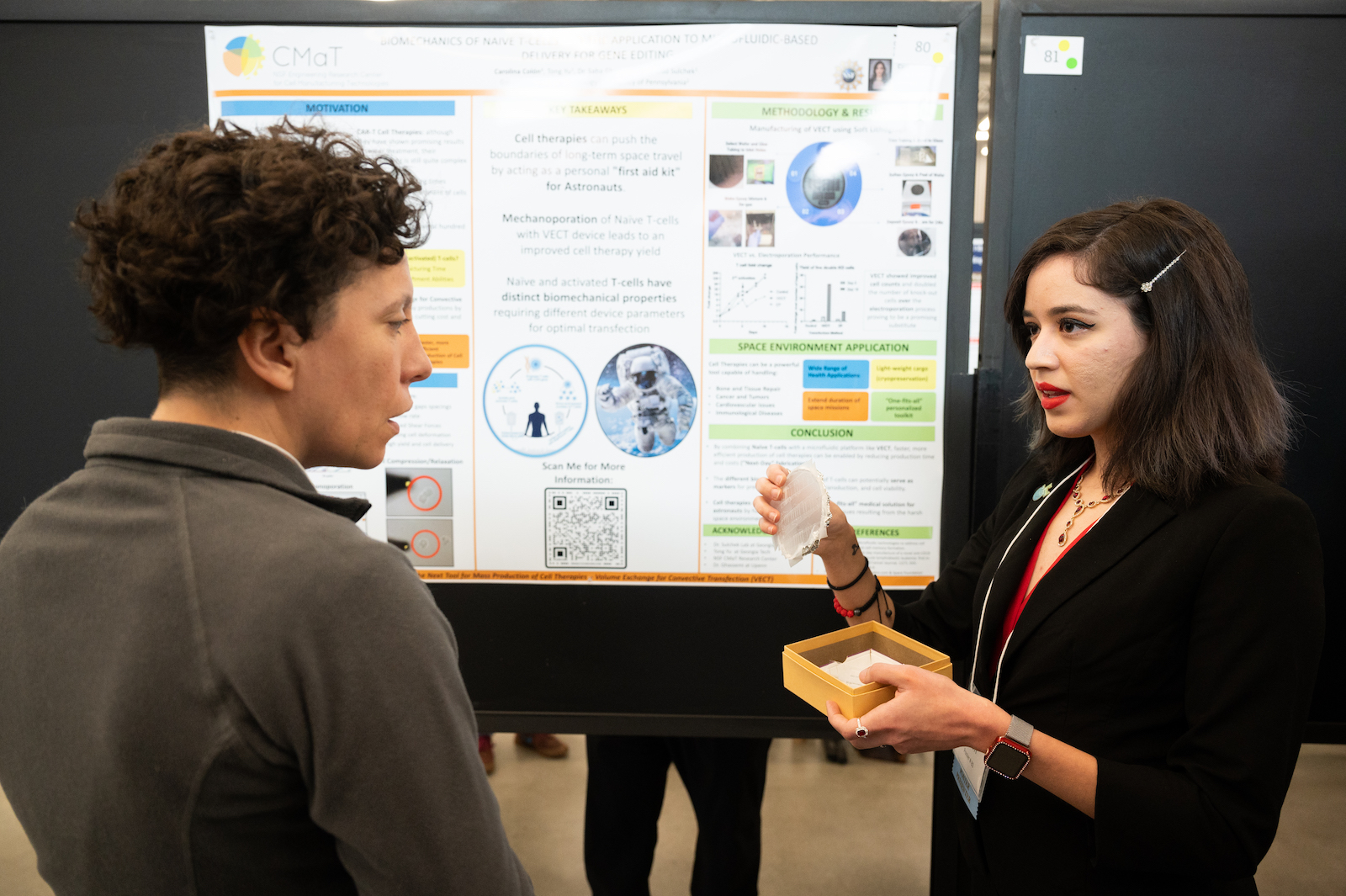 The Office of Graduate Education, in partnership with the Graduate Student Government Association, hosted the annual Career, Research, and Innovation Development Conference on Feb 1. The conference helps prepare graduate students by inspiring discussion and collaboration with industry experts, and connecting them with professionals in research, industry, consulting, government, nonprofits, and entrepreneurship. Photo taken by Allison Carter.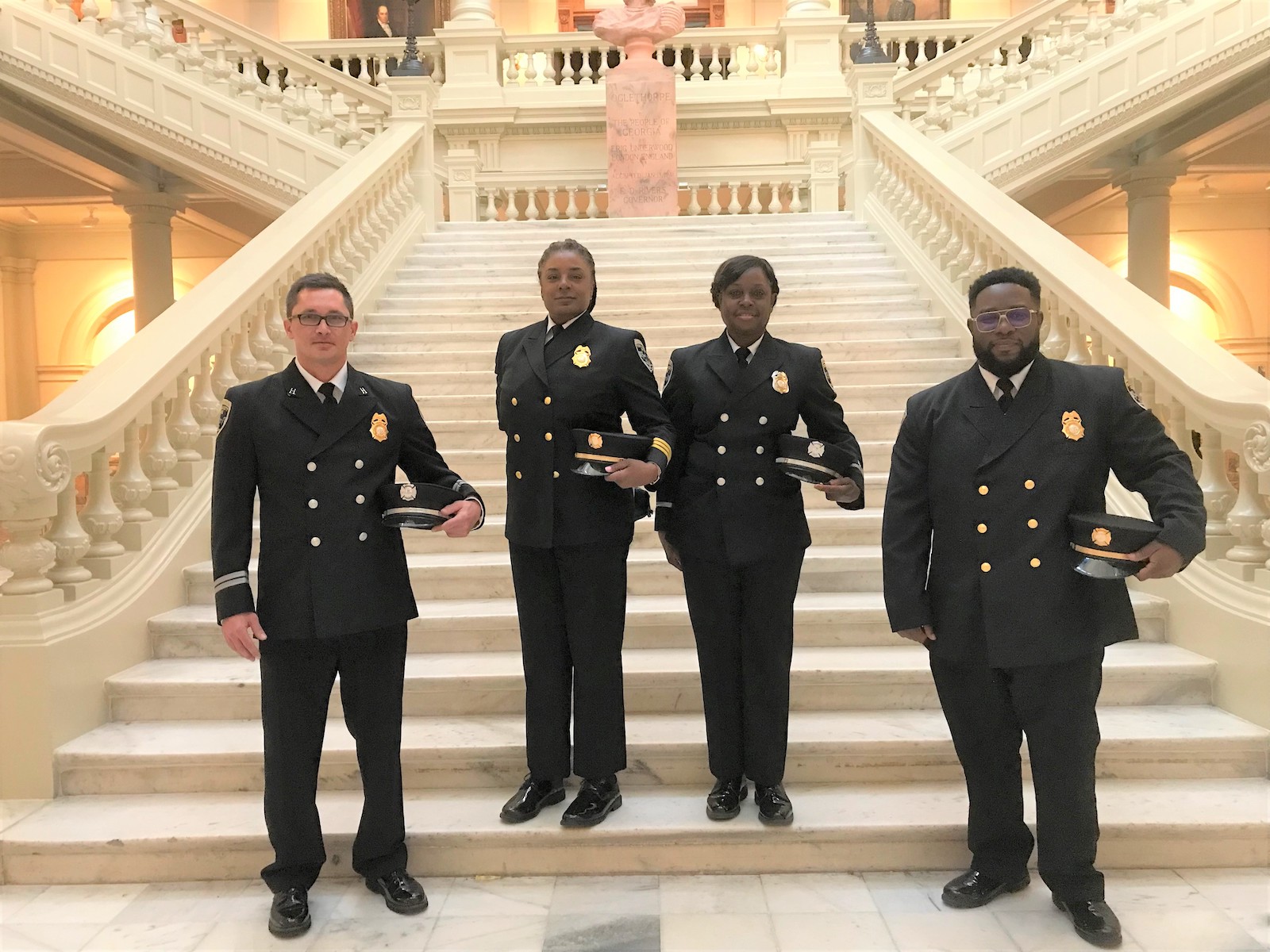 State of Georgia Insurance and Safety Fire Commissioner John F. King swore in fire safety personnel from throughout the state on Feb. 7. Georgia Tech's Fire Safety team is empowered to enforce the national, state, and local fire codes. Pictured (l-r): Fire Safety Coordinator and Deputy Fire Marshal Jake LeJeune, Fire Safety Manager and Campus Fire Marshal Bridget Mourao, Fire Safety Specialist Renee Lee-Starks, and Fire Safety Specialist Jeraim Williams. Photo courtesy of Infrastructure and Sustainability.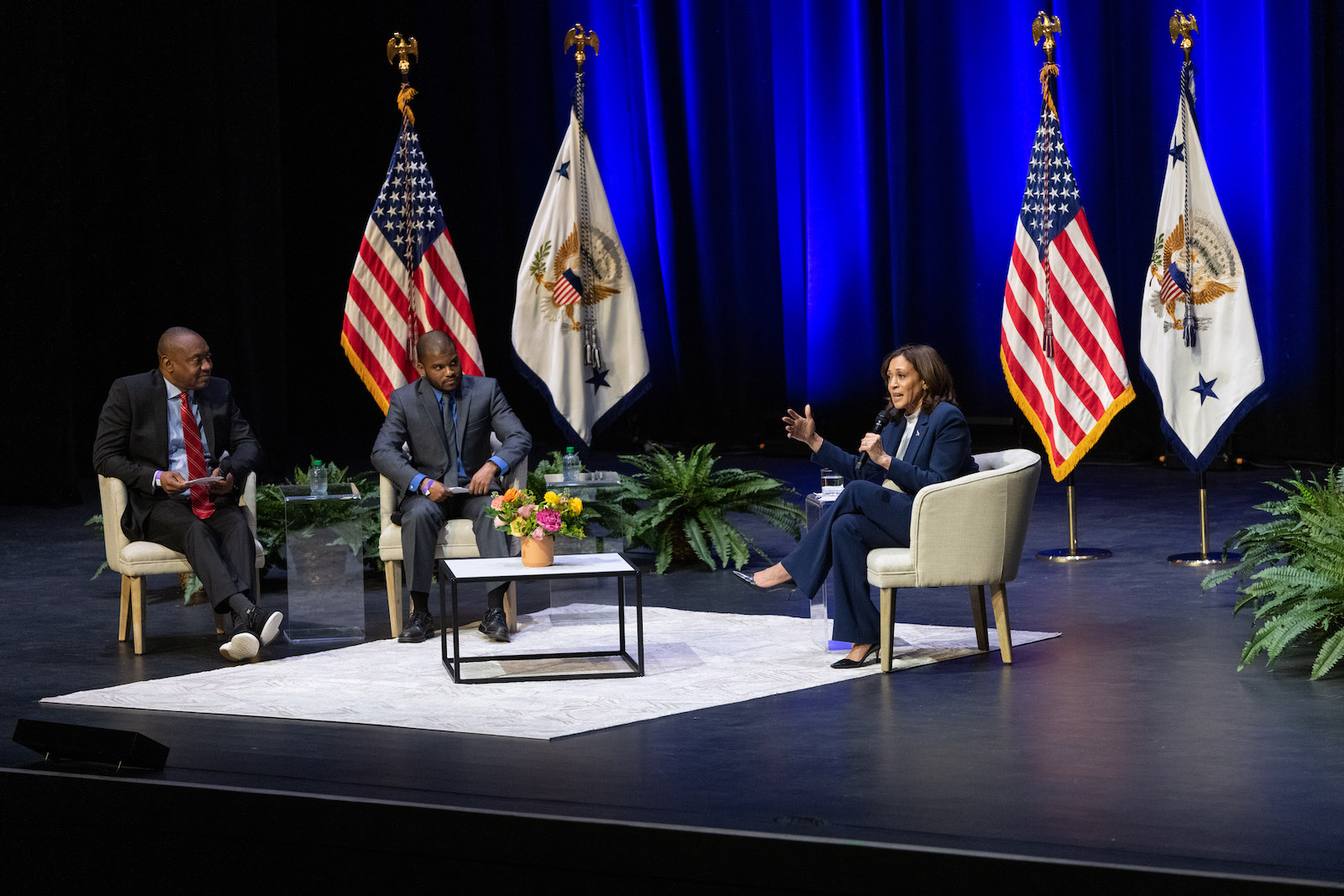 Vice President Kamala Harris discusses climate change with James Marshall Shepherd, director of the Atmospheric Sciences Program at the University of Georgia, and Isaiah Bolden, assistant professor in Tech's School of Atmospheric Sciences, at Georgia Tech's Ferst Center for the Arts. More than 30 years ago the Ferst Center was the site of the 1992 Vice Presidential Debate with Vice President Dan Quayle, Democratic Senator Al Gore, and Independent nominee, retired Vice Admiral James Stockdale. Photo taken Feb. 8 by Rob Felt.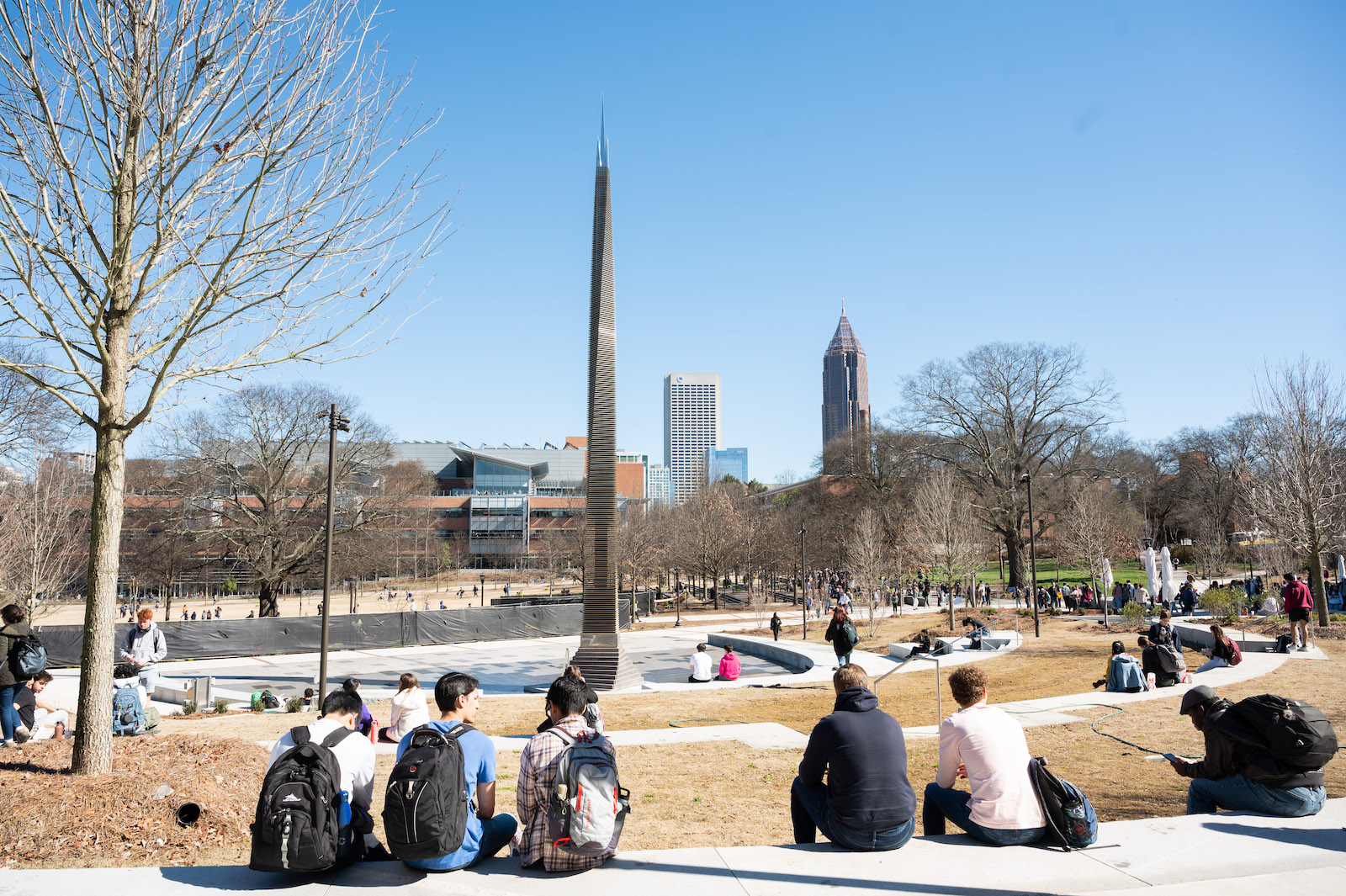 Encouraged by unseasonably warm weather for February, students sat outside the John Lewis Student Center and enjoyed the view of campus and the Midtown skyline. Photo taken Feb. 13 by Joya Chapman.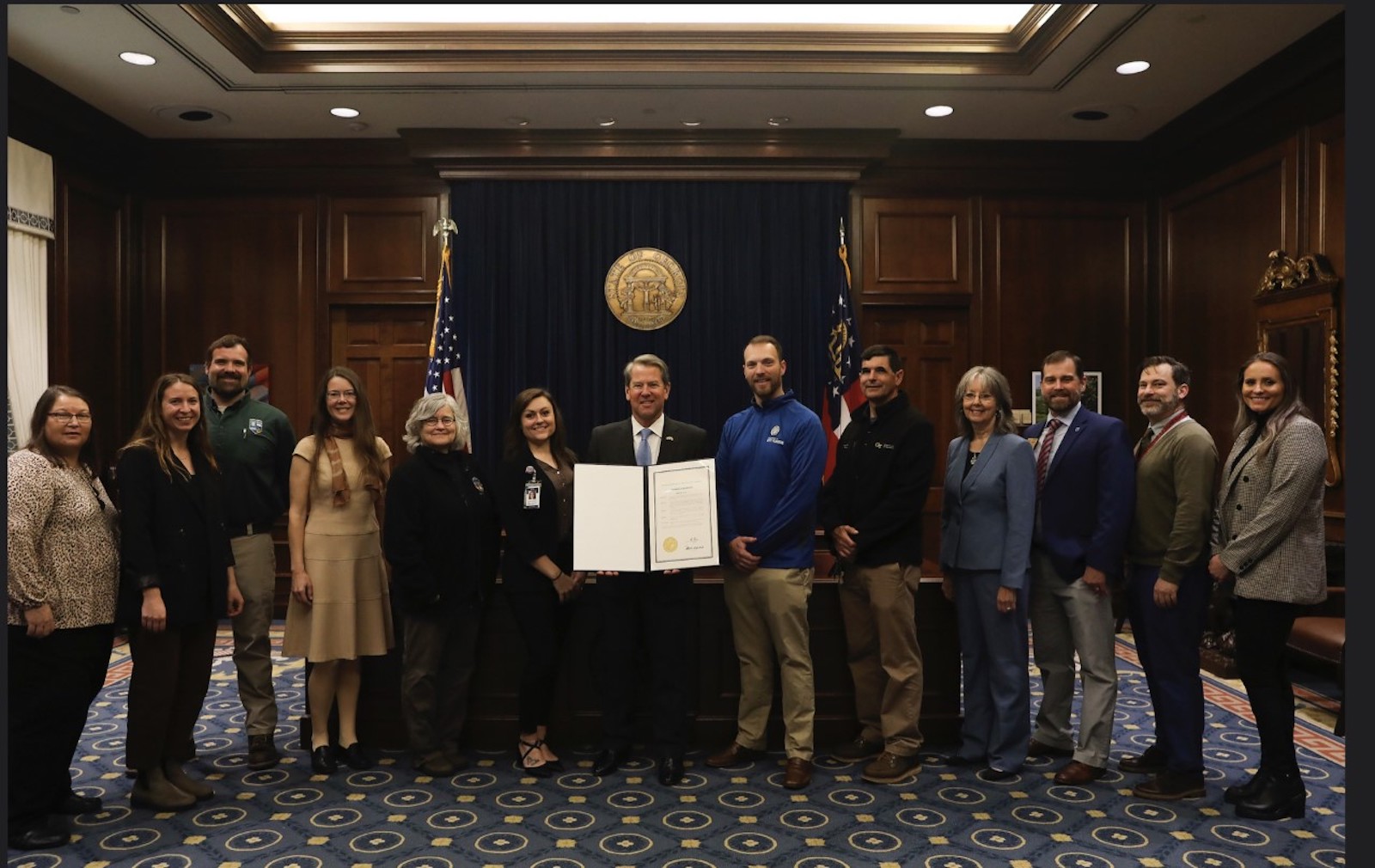 Georgia Tech Tree Surgeon Quentin Holden (fifth from right) attended a ceremony in which Gov. Brian Kemp proclaimed Feb. 28 Arbor Day in Georgia. Photo taken Feb. 15, courtesy of the Governor's Office.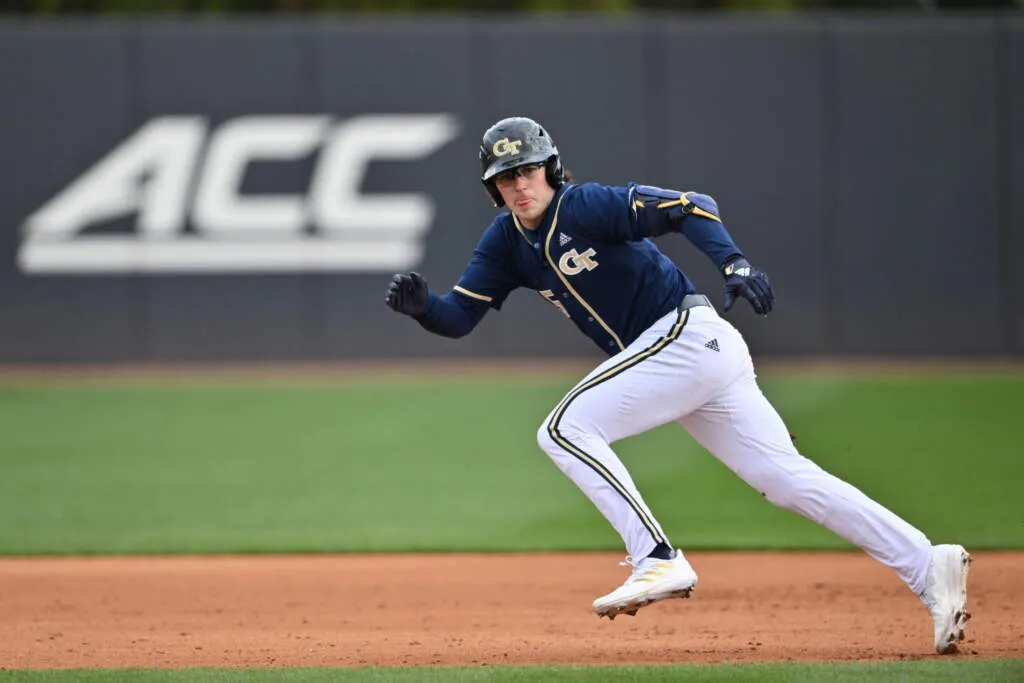 Georgia Tech baseball powered past Miami (Ohio), 15-12, on opening day at Mac Nease Baseball Park. Photo courtesy of Georgia Tech Athletics.
Parent and Family Programs, in the Division of Student Engagement and Well-Being, hosted the 7th annual Sibs Day on Feb. 18, welcoming 720 attendees from 17 states and Washington, D.C. On Sibs Day, Tech students are invited to host brothers, sisters, nieces, nephews, cousins, family friends, parents, and other guests to give them a taste of campus life. Pictured are participants having a meal at Brittain Dining Hall. Photo courtesy of Rafterman.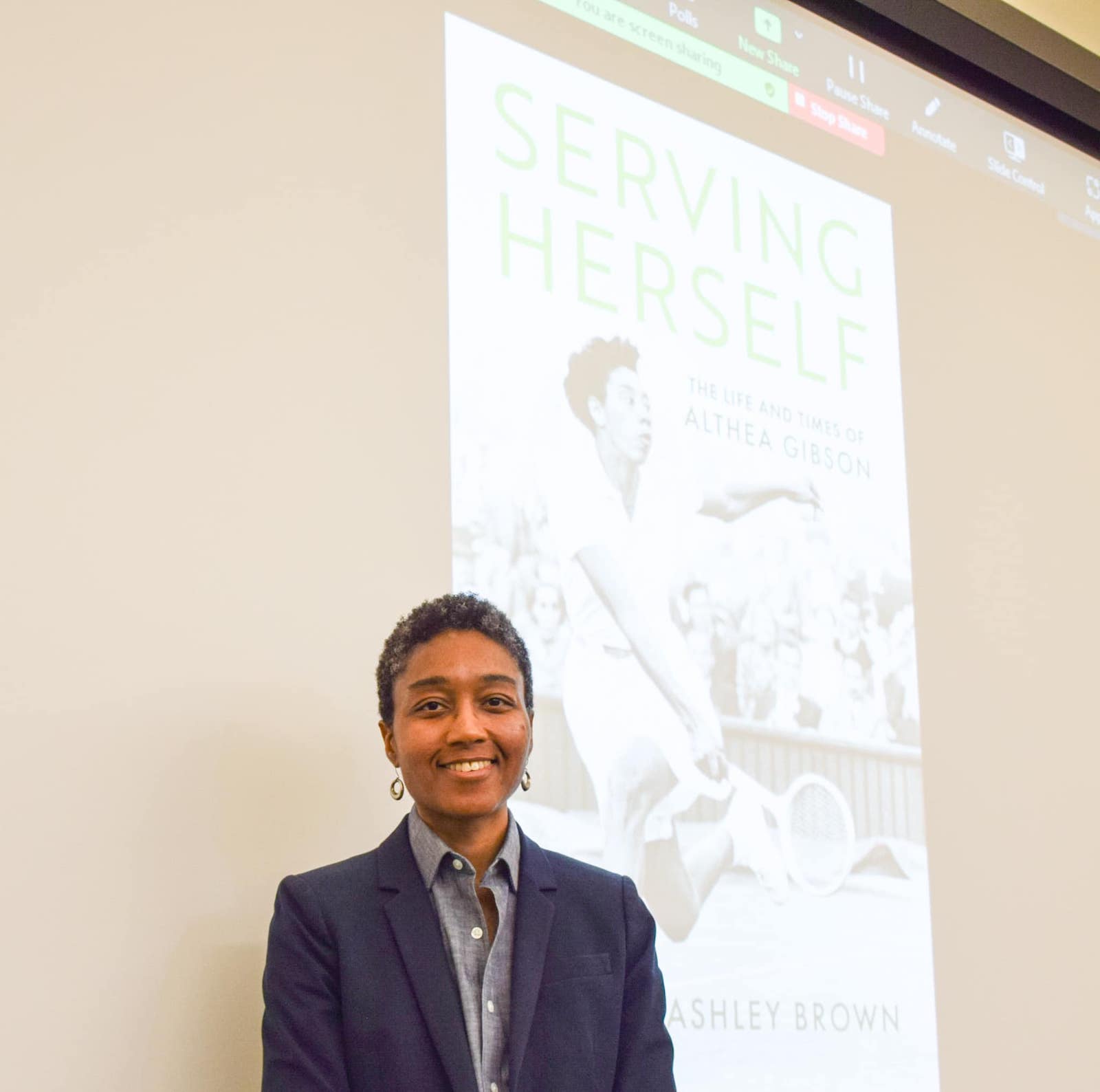 The School of History and Sociology welcomed speaker Ashley Brown, assistant professor of history at the University of Wisconsin-Madison, in observance of Black History Month. Brown's topic was "Out of Bounds but at the Center of It All: Althea Gibson in Sports and American History." Photo taken Feb. 13 by Joshua Smith.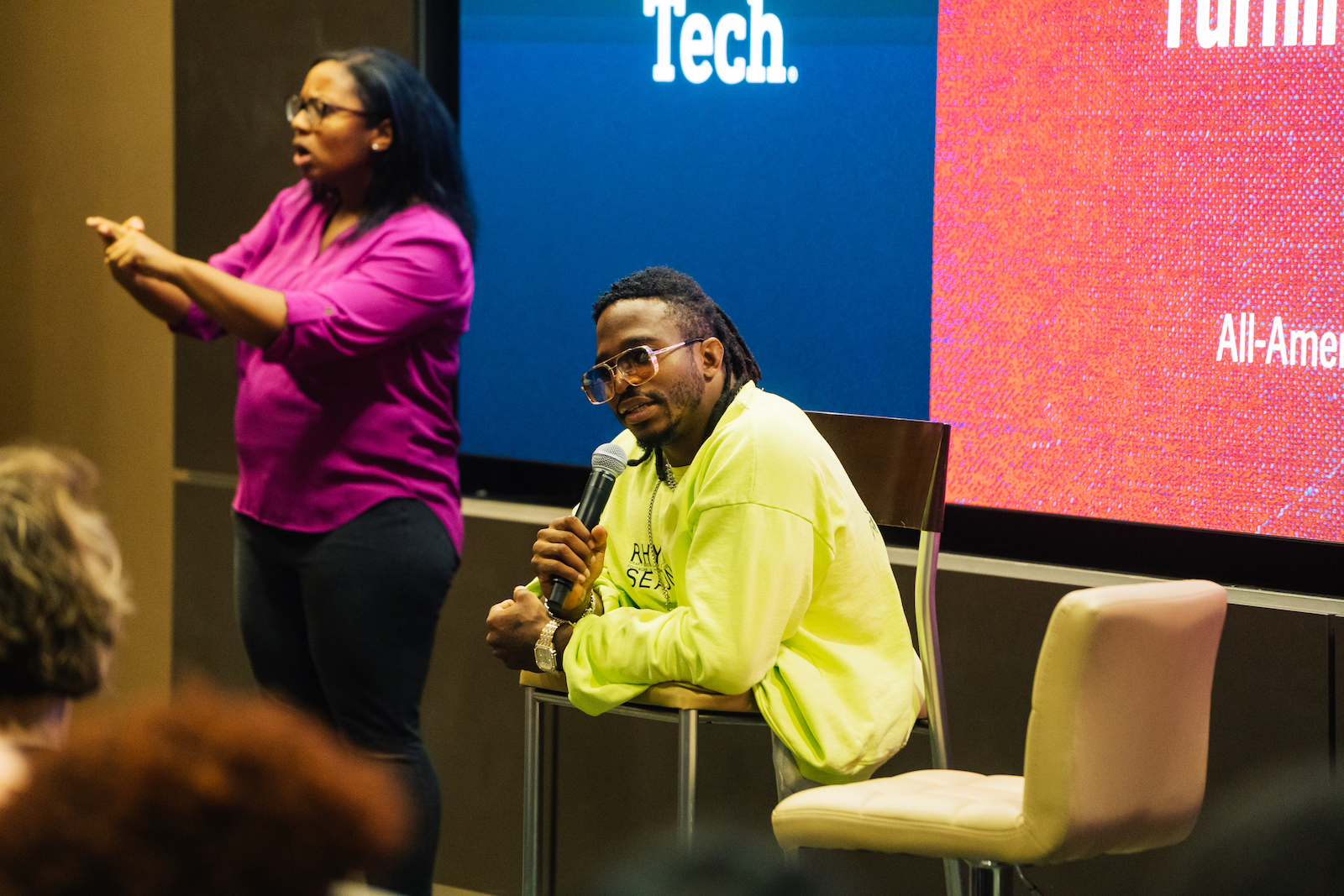 Georgia Tech's 2023 Black History Month Lecture featured keynote speaker Zion Clark, an All-American wrestler and wheelchair racer. A rare birth defect called Caudal Regression Syndrome caused him to be born without legs. Photo taken Feb. 22, courtesy of Institute Diversity, Equity, and Inclusion.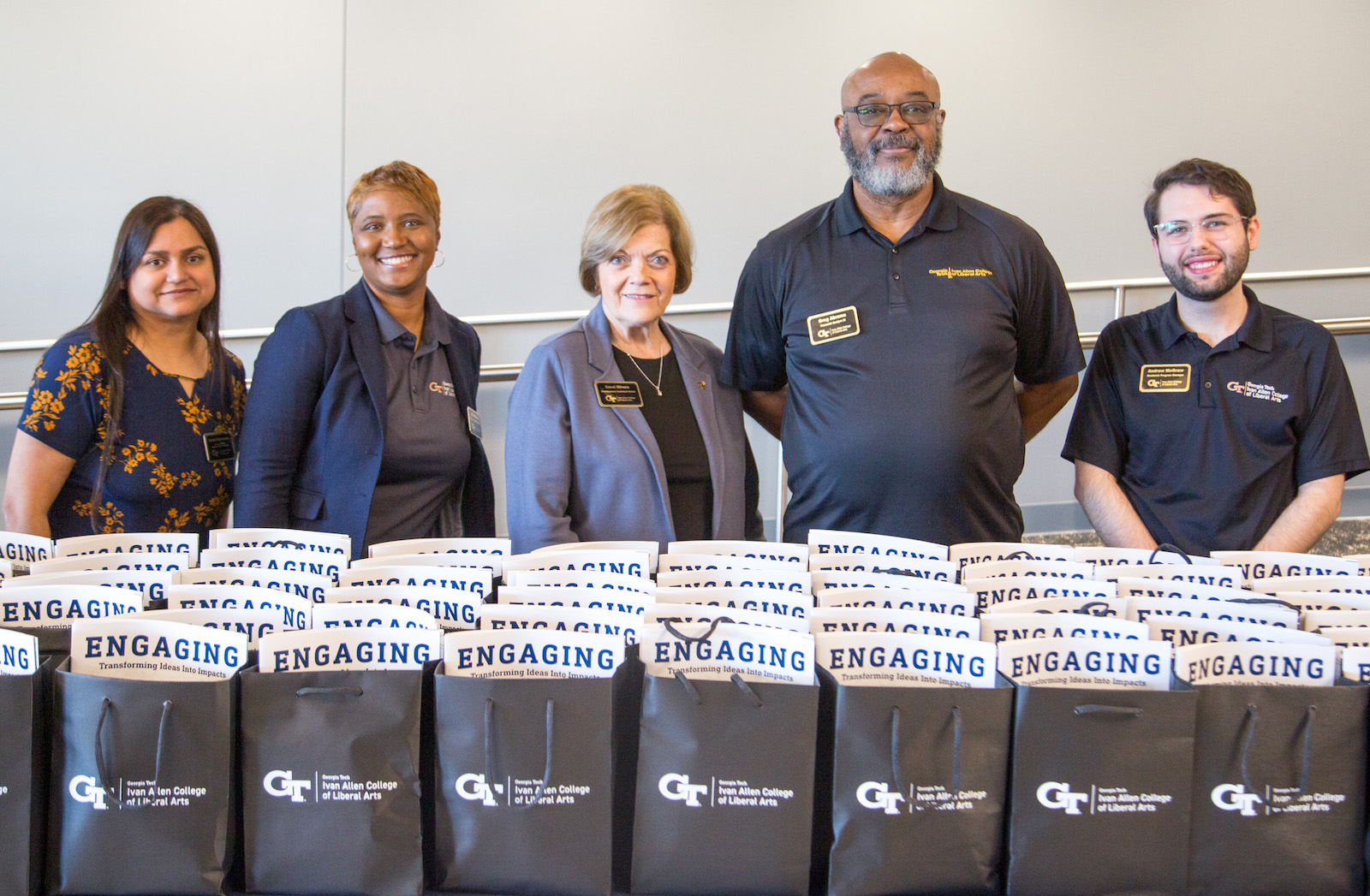 The Ivan Allen College of Liberal Arts welcomed students, faculty, and staff to the 2023 State of the College Address. Dean Kaye Husbands Fealing shared the College's immediate and long-term priorities, while conveying her vision and goals for the College's strategic plan. The College also recognized student, staff, and faculty achievements. The event concluded with a Q&A session and a reception. Photo taken Feb. 28 by Joshua Smith.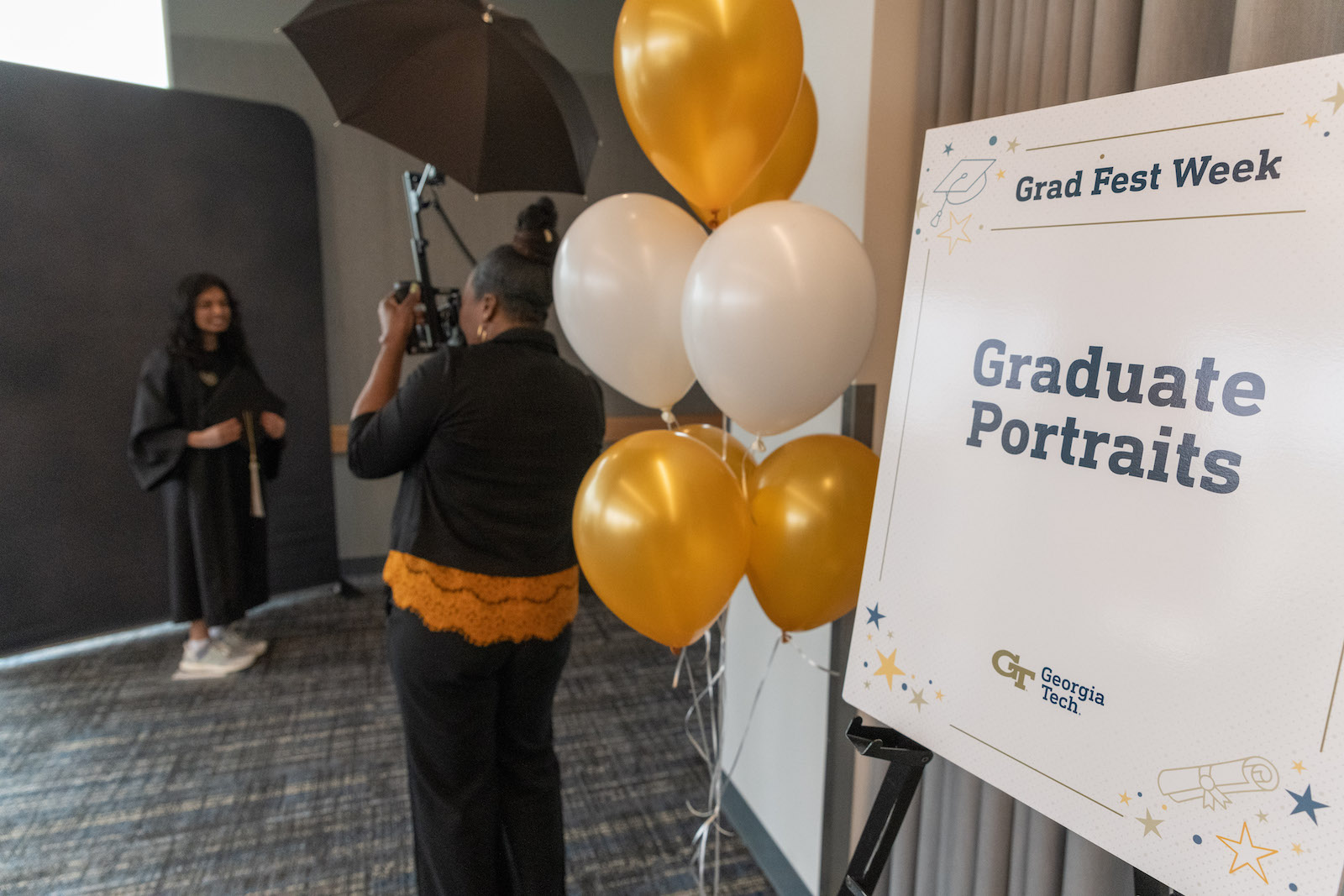 Students took professional cap and gown photos during Grad Fest, a one-stop shop for graduating bachelor's, master's, and Ph.D. students to complete their Commencement requirements. Photo taken Feb. 28 by Rob Felt.
Credits
Photography: Allison Carter, Joya Chapman, Rob Felt
Writing/Editing: Victor Rogers, Stacy Braukman