The Month in Photos: October 2023
Retirement Celebration, Family Weekend, and Homecoming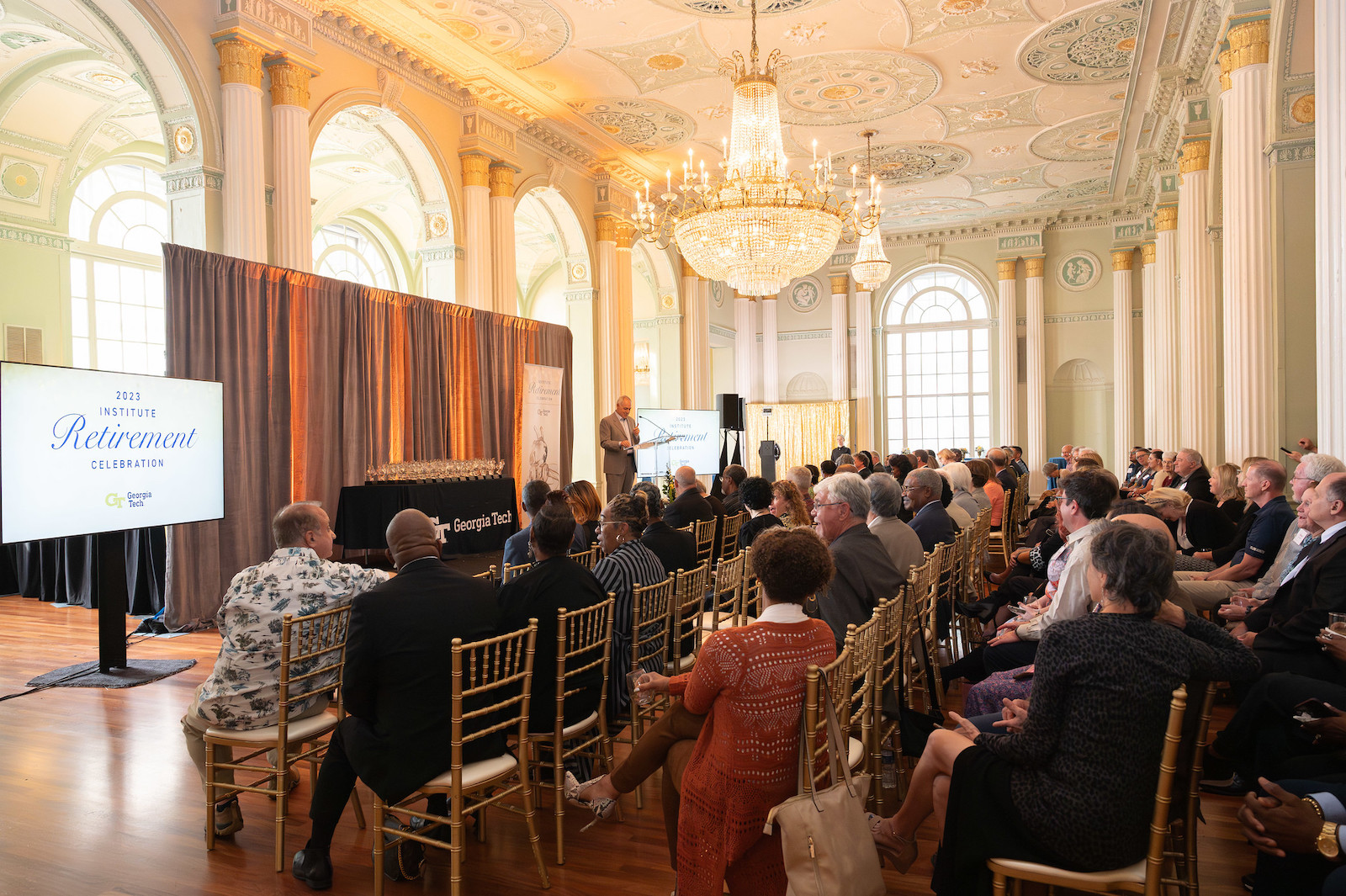 Georgia Tech faculty and staff who retired between March 1, 2022, and June 30, 2023, were honored at this year's Retirement Celebration held Oct. 10 at the Biltmore Ballrooms. Among the honorees was Officer Lawrance Foster, who retired from the Georgia Tech Police Department after 30 years on patrol. More photos from the Retirement Celebration are on flickr. Photo by Joya Chapman.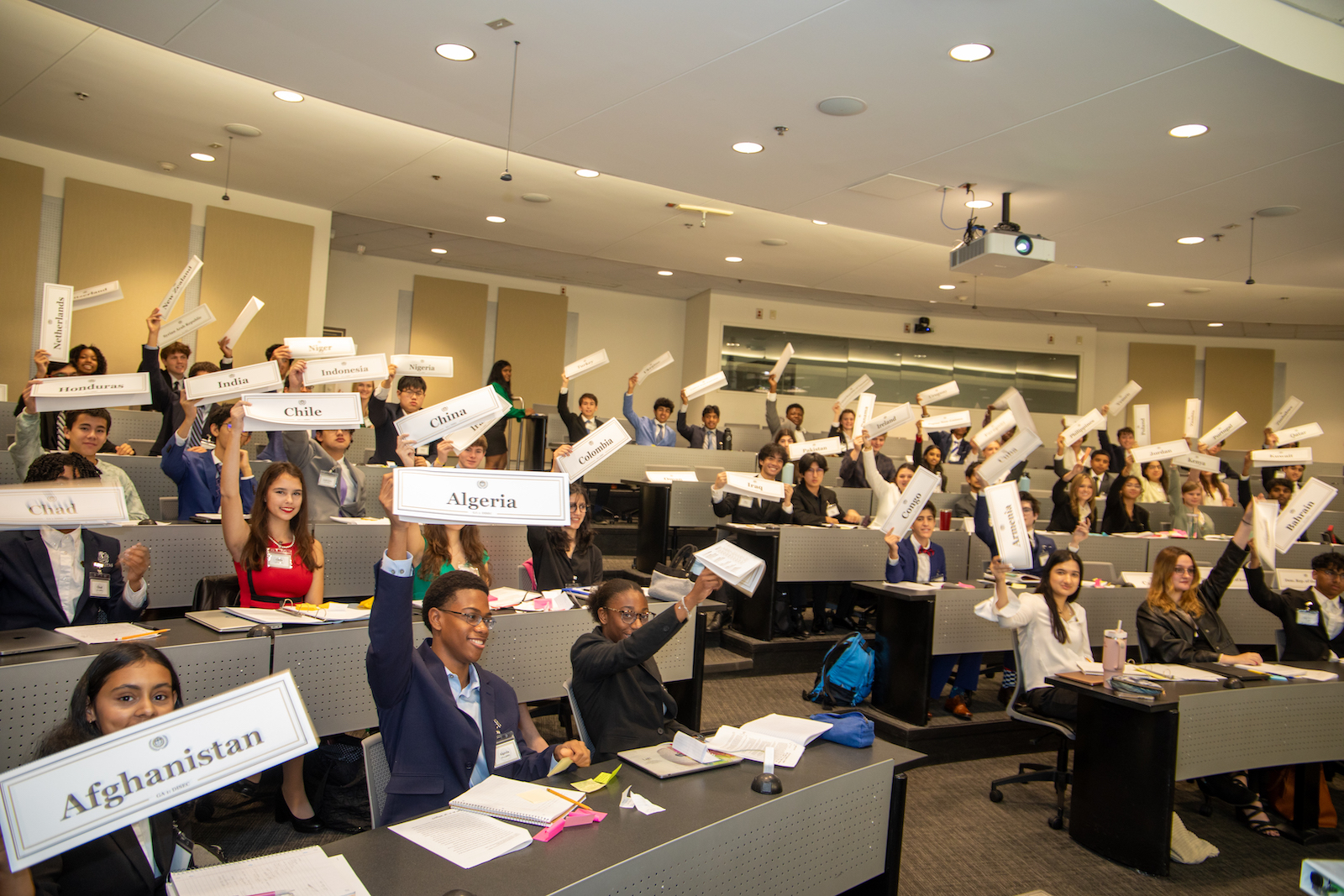 On Oct. 9 – 10, the Georgia Tech Model United Nations Program hosted its annual high school conference at the Scheller College of Business. This year's conference saw a 40% increase in size, with 41 high schools participating, and students representing more than 100 U.N.-recognized countries. Faculty and staff from the Ivan Allen College of Liberal Arts spoke at the conference. Photo courtesy of Joshua Smith.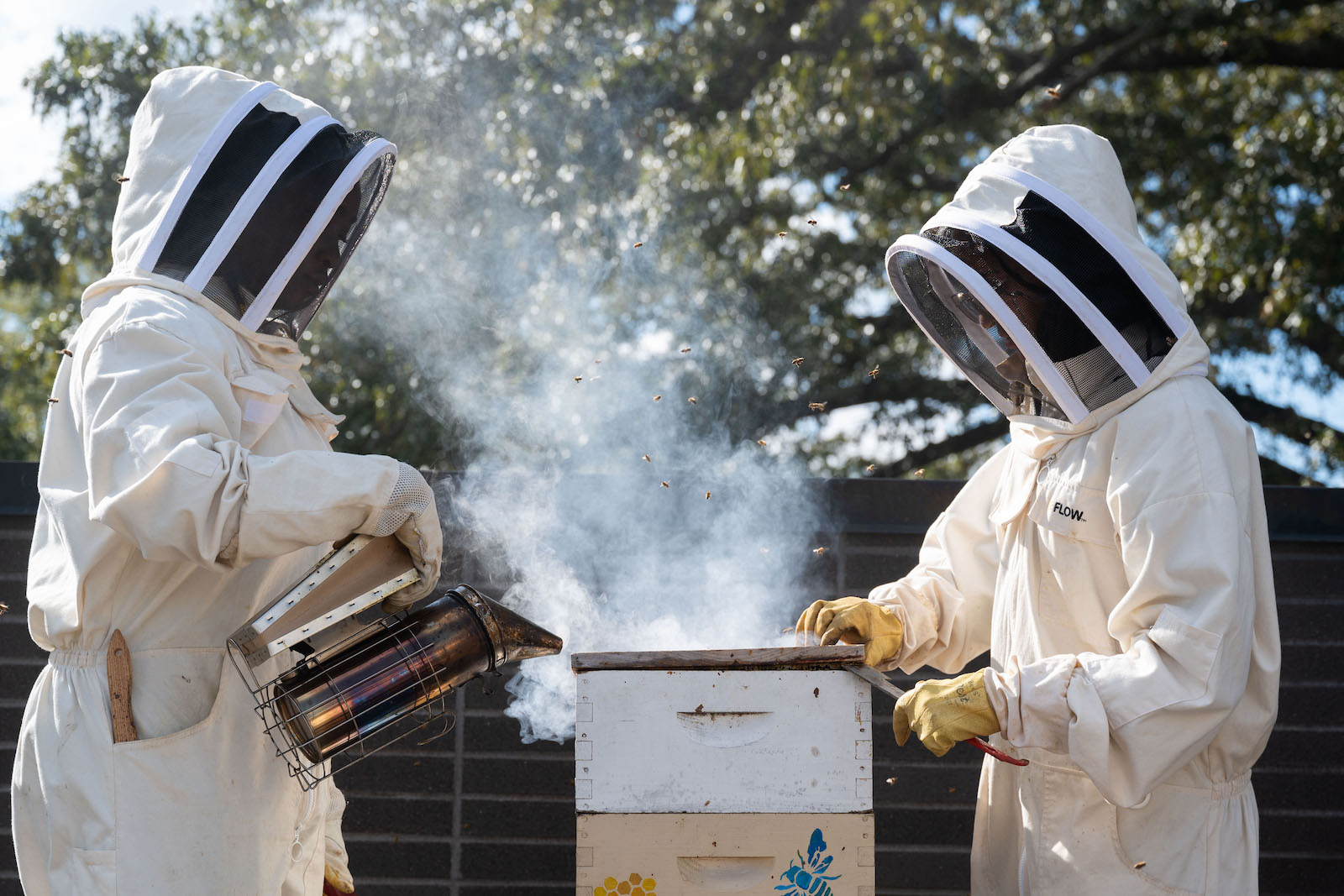 The Urban Honey Bee Project's new beekeeper in residence, Janelle Dunlap, conducts research into the pollinator's place in the ecosystem and how beekeeping may offer relief to veterans dealing with post-traumatic stress disorder. Photo taken Oct. 18 by Allison Carter.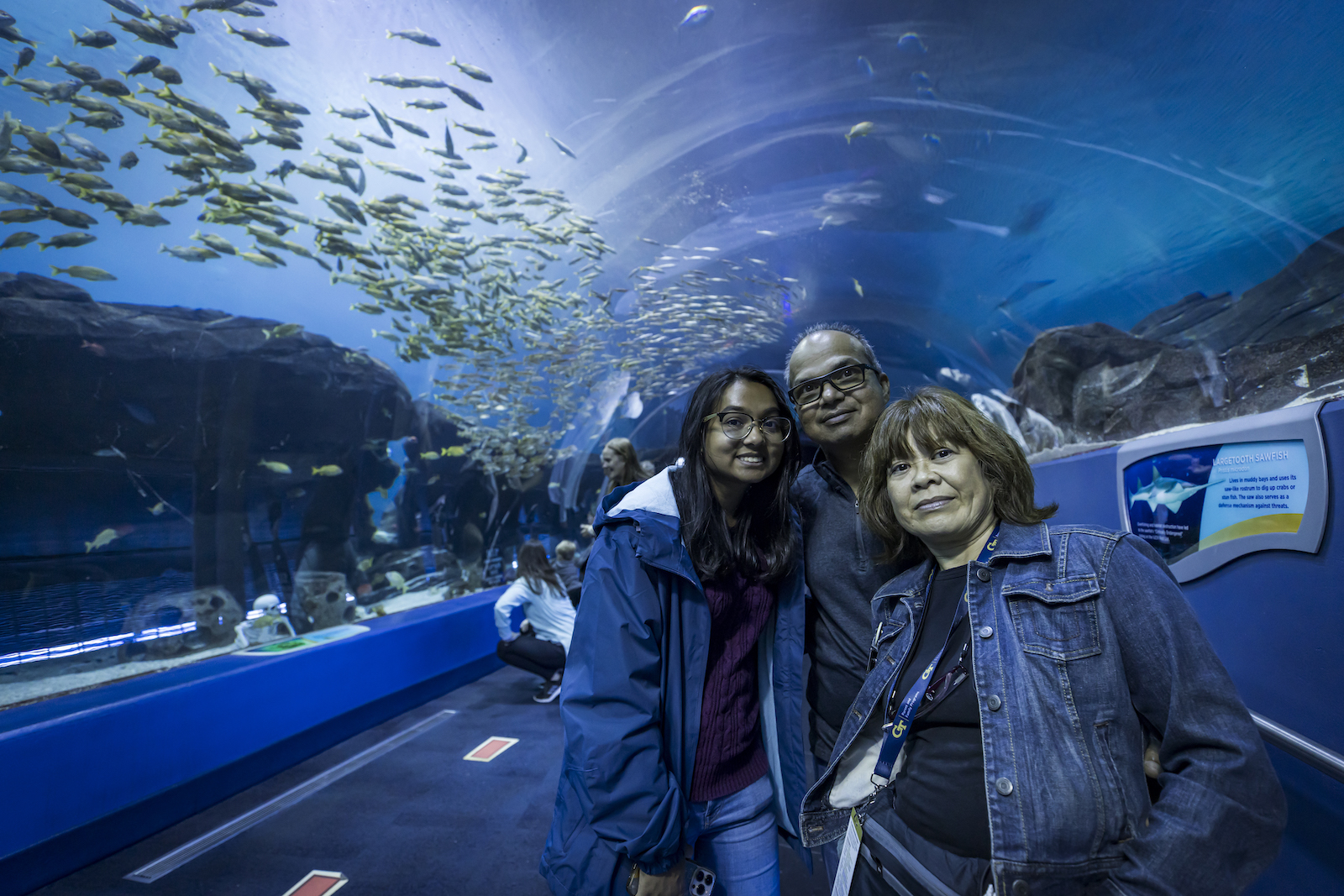 Family Weekend, Oct. 20 – 22, brought more than 3,000 students, parents, siblings, and extended family together while learning about life on campus, visiting the Georgia Aquarium, hanging out with Buzz at the tailgate party, and cheering on the Yellow Jackets at the football game. Photo courtesy of Raftermen.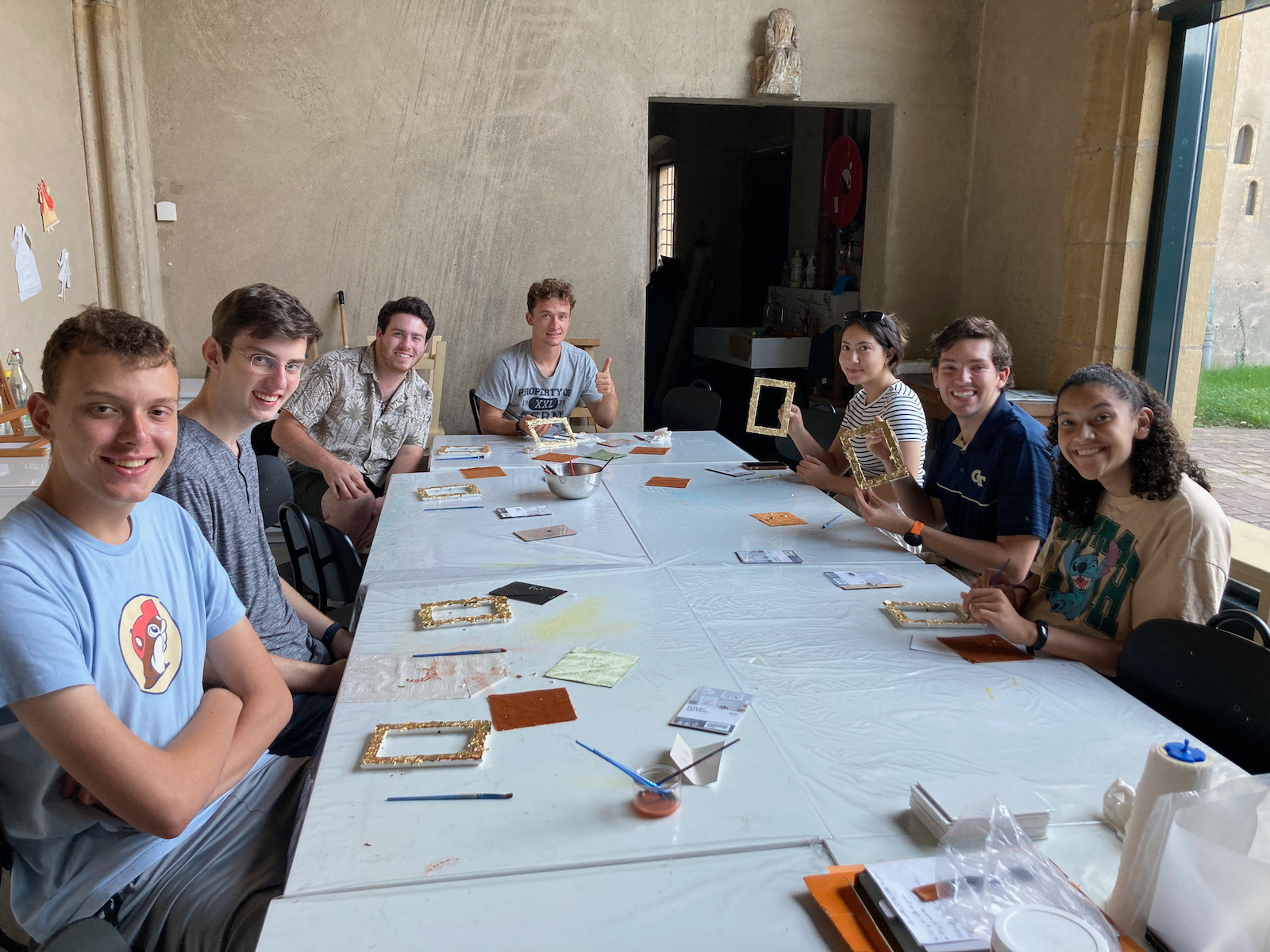 GT-Europe's Leonardo program takes students outside the classroom to introduce them to Europe's rich cultures. Students toured Metz's Musée de la Cour d'Or and its collections of Gallo-Roman treasures, fine art, and gold. They participated in workshops where they constructed their own picture frames, gilding them with gold leaf and filling them with drawings, paintings, and photos. Photo taken Oct. 25, courtesy of Delal Aydogan, GT-Europe.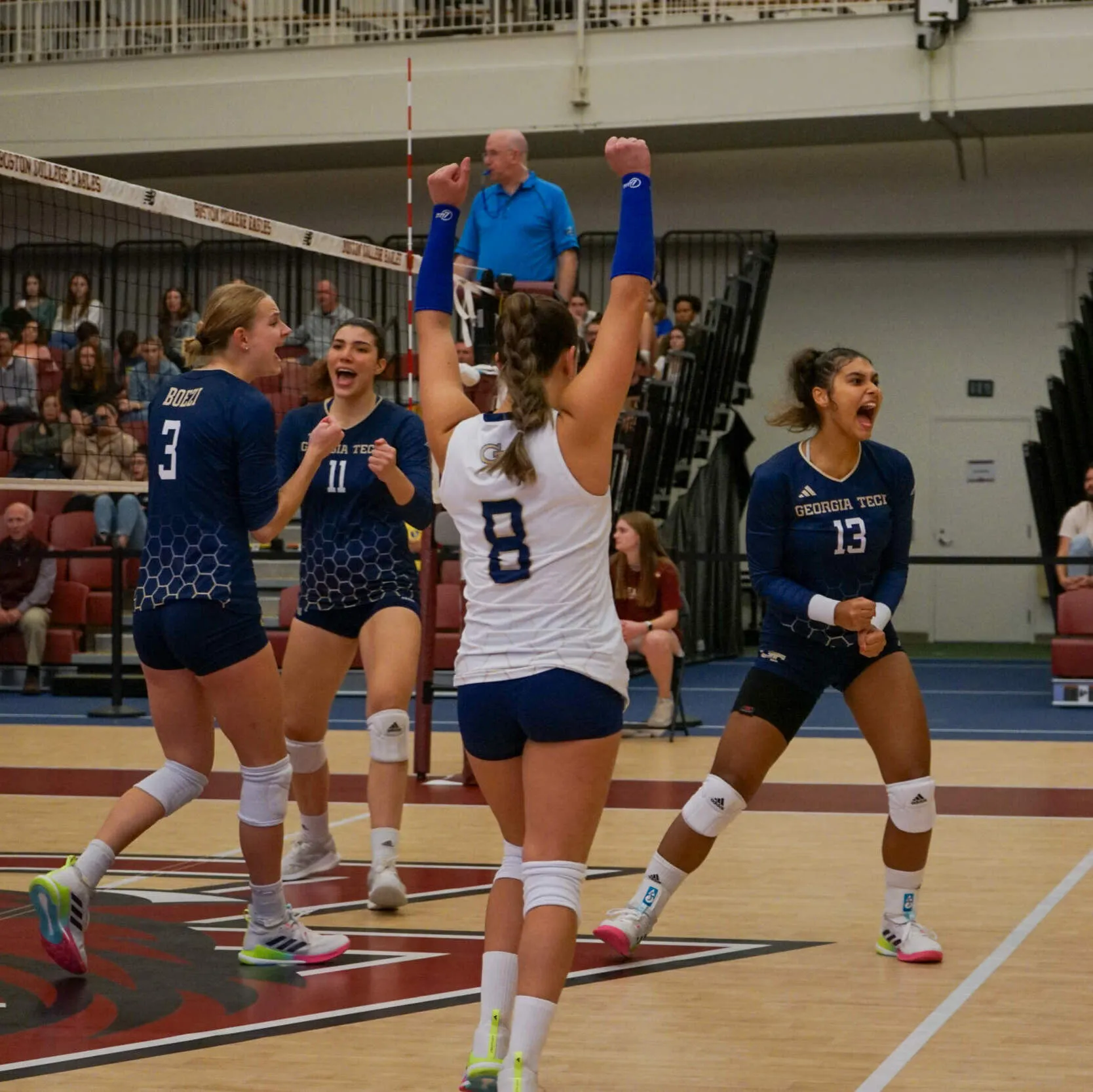 Georgia Tech volleyball (19-3, 10-2 ACC) is ranked No. 10 in the Week 10 AVCA/Taraflex Division I Women's Volleyball Poll. Tech returns to its highest ranking of the season with this latest poll, after initially breaching the Top 10 in week three (Sept. 11). The team defeated Boston College in five sets (20-25, 25-19, 25-18, 18-25, 15-9) on Oct. 27 inside Power Gym. Photo courtesy of Georgia Tech Athletics.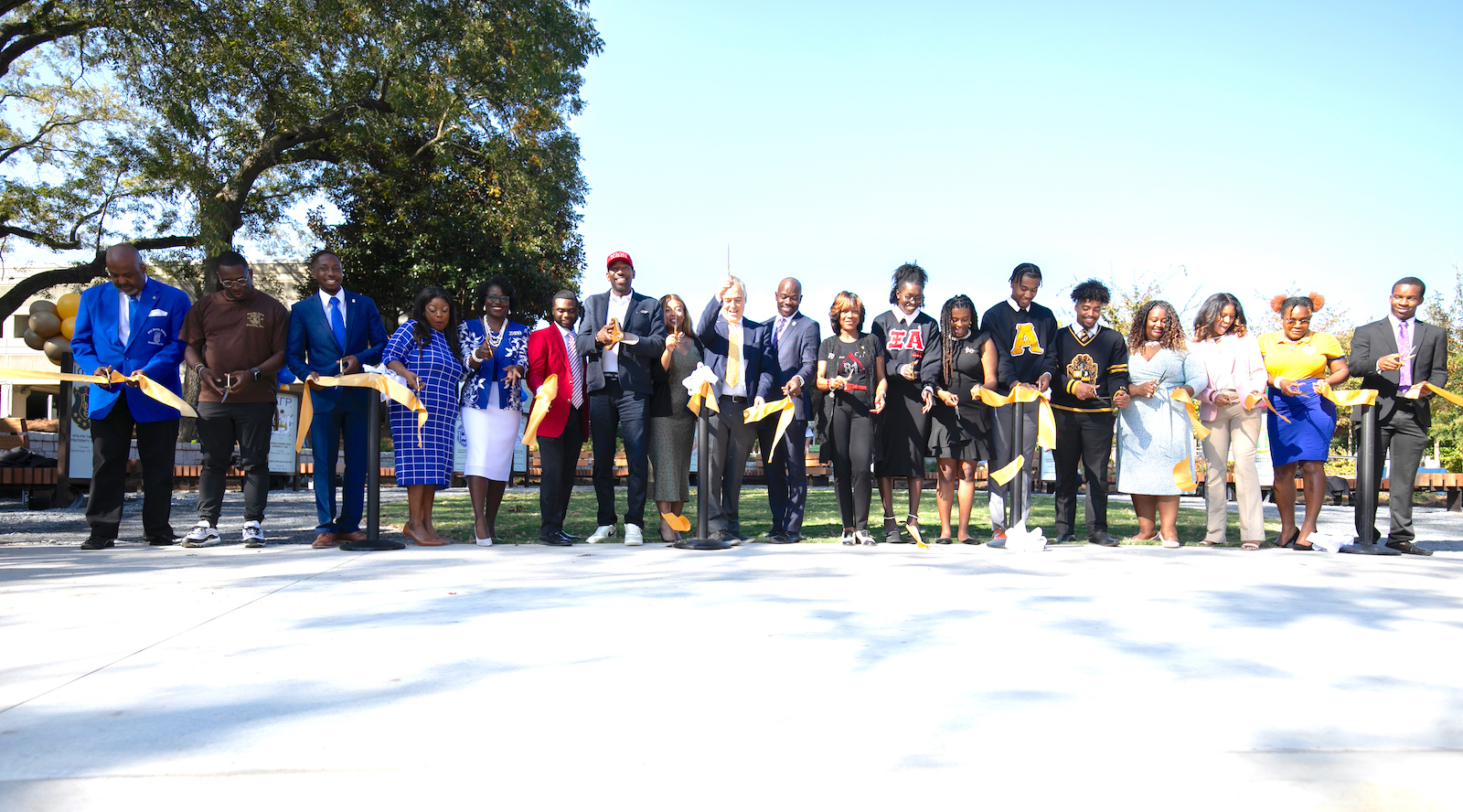 On Oct. 28, students, alumni, faculty, staff, and distinguished guests, including Atlanta Mayor Andre Dickens, celebrated the opening of the Divine Nine Plaza, located on the experiential pathway behind the Smithgall Student Services Building. The ribbon-cutting ceremony, held in honor of historically Black fraternities and sororities, marked a new chapter in Georgia Tech's history and an extraordinary opportunity to foster unity and celebrate the legacy of the National Pan-Hellenic Council, also known as the Divine Nine. Photo courtesy of Student Engagement and Well-Being.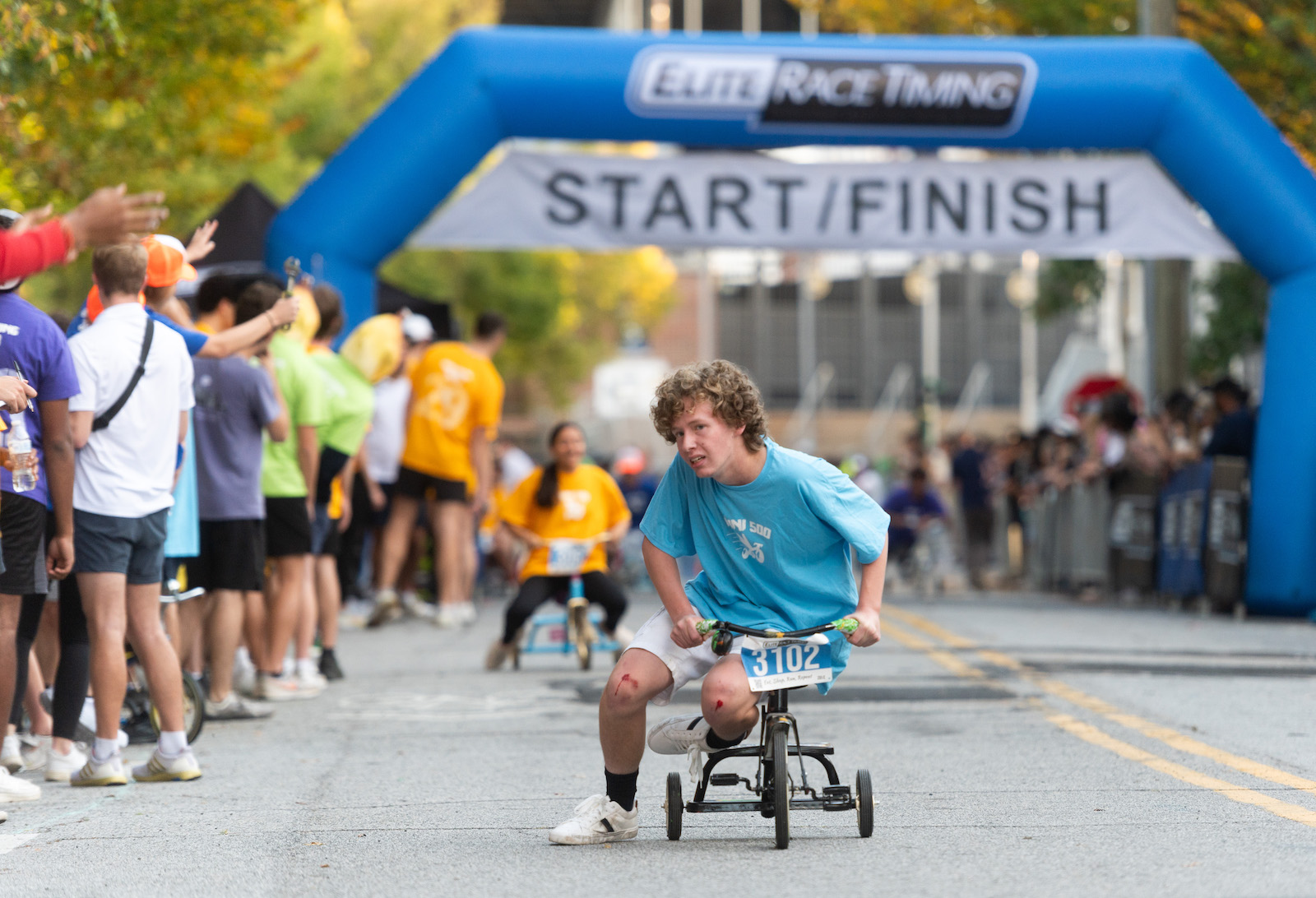 It wouldn't be the Mini 500 without a few scrapes and bruises. One of Georgia Tech's most beloved traditions, the Mini 500 is an eight-lap tricycle race that takes place around Peters Parking Deck on the Friday afternoon before Homecoming. The Ramblin' Reck Club has organized the event since 1969. Photo taken Oct. 27 by Allison Carter.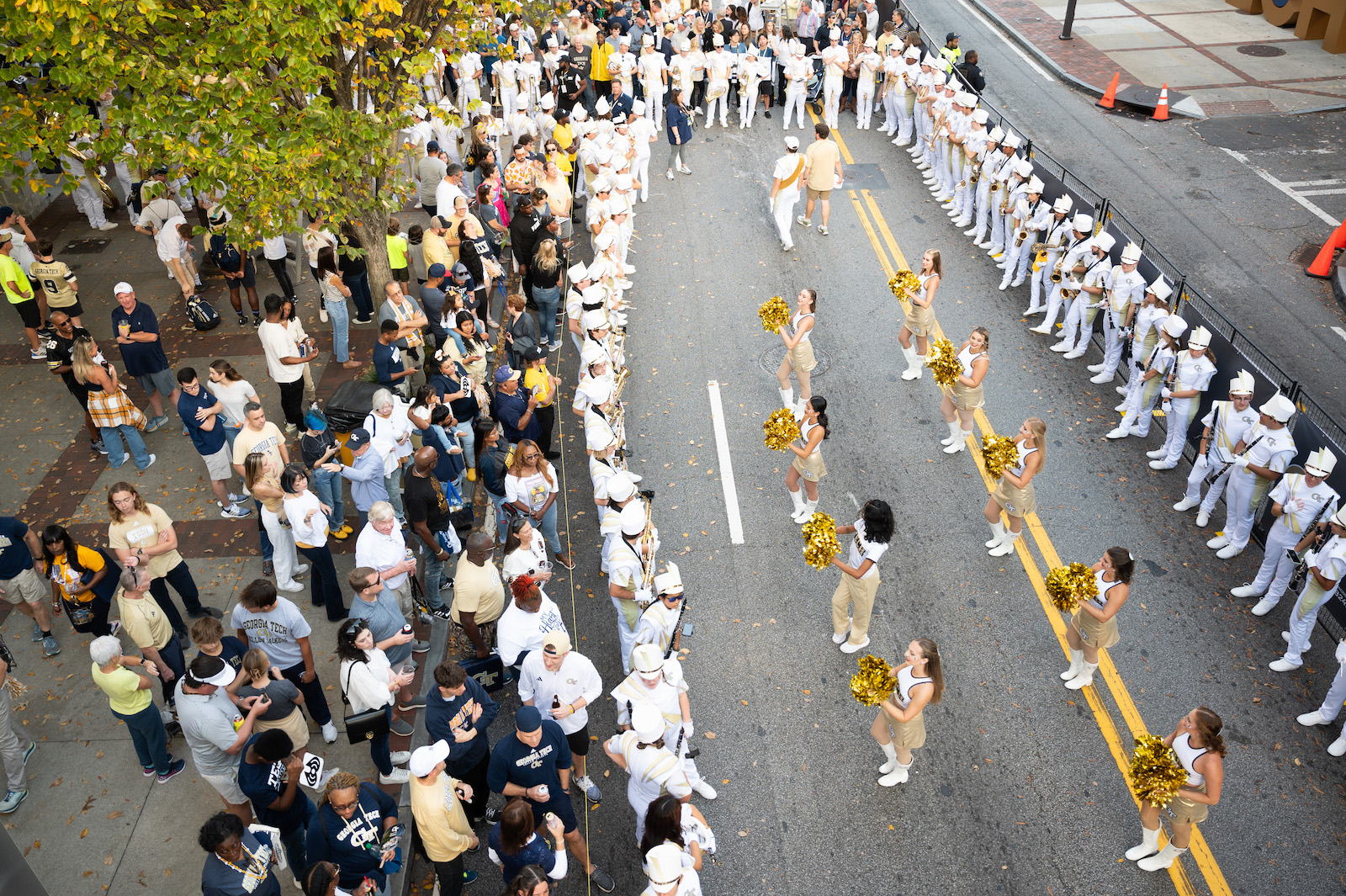 Helluva Block Party! On game days, a three-block stretch of North Avenue — from Techwood Drive/Centennial Olympic Park Drive to Tech Parkway/Luckie Street — is closed to traffic for the pregame festivities. Photo taken Oct. 28 by Allison Carter.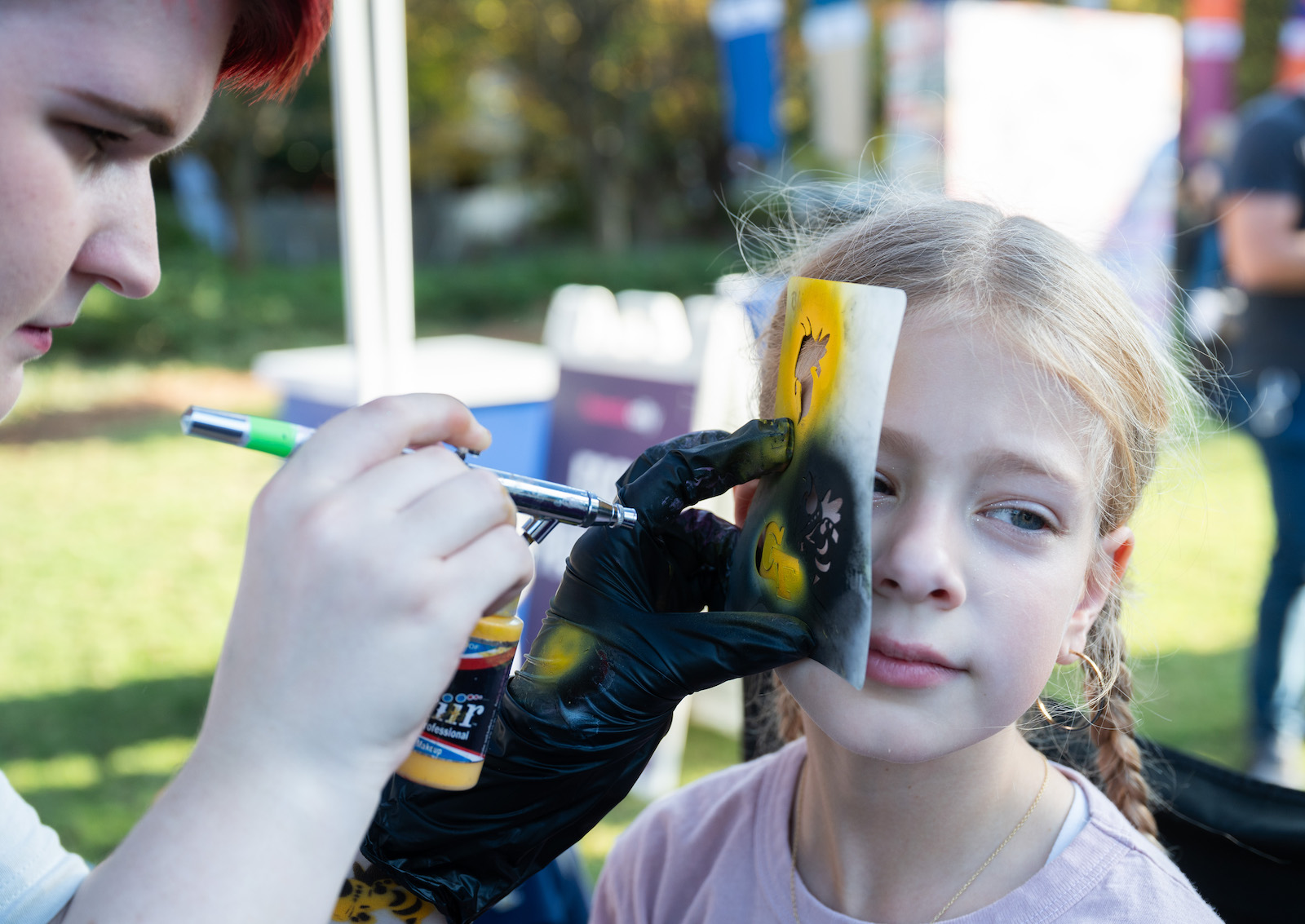 A young Yellow Jacket fan shows her school spirit by having the interlocking GT spray painted on her face before the game. Photo taken Oct. 28 by Allison Carter.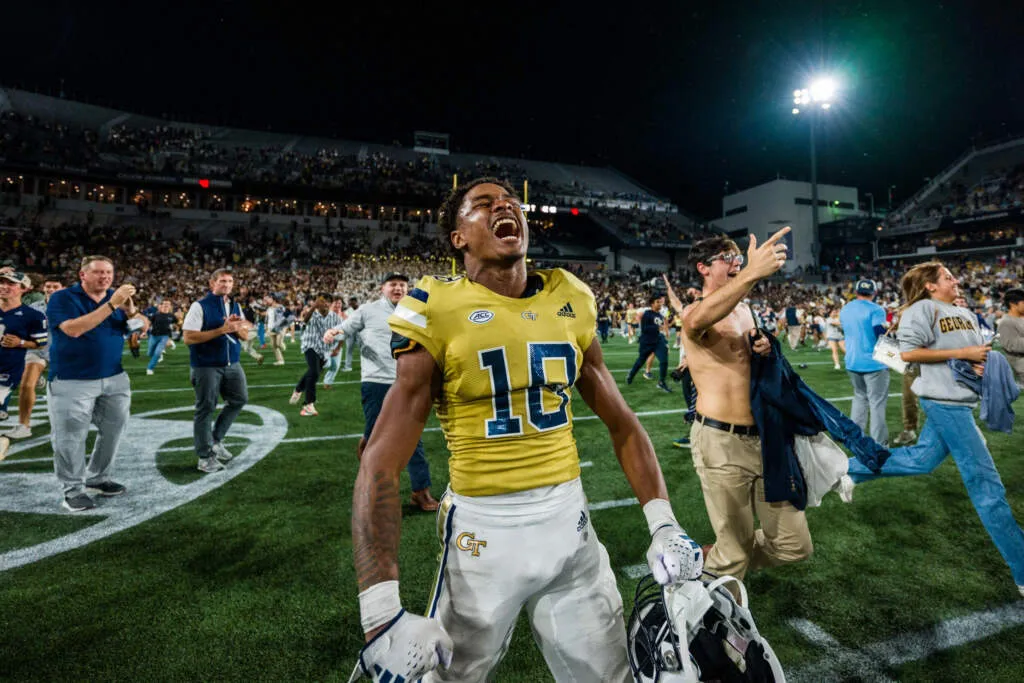 Yellow Jacket fans rushed onto the field after Georgia Tech erased an 11-point deficit with 22 points in the final 13 minutes of its 46-42 win over 17th-ranked North Carolina at Bobby Dodd Stadium at Hyundai Field. Photo taken Oct. 28, courtesy of Georgia Tech Athletics.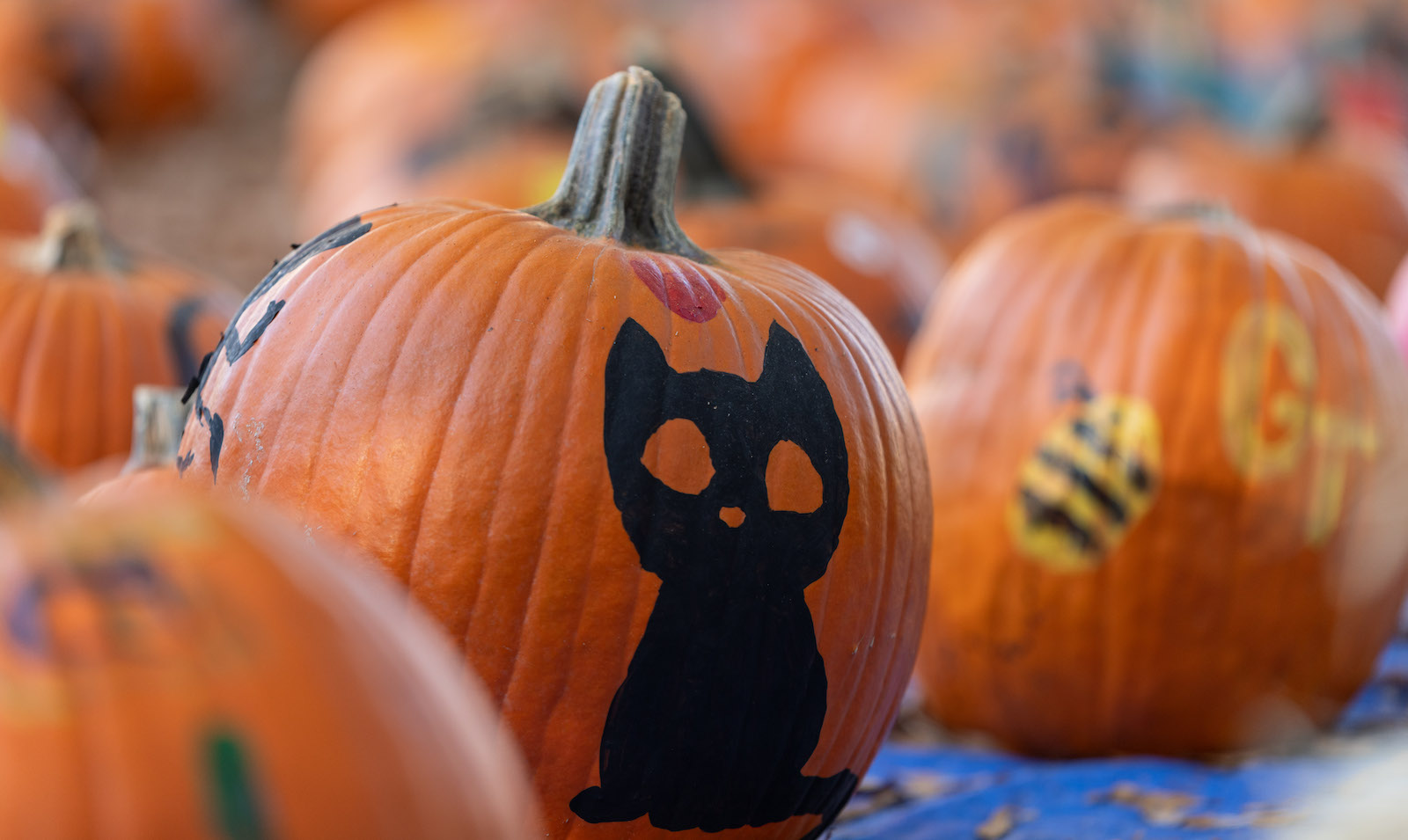 Happy Halloween! Photo taken Oct. 30 by Rob Felt.
Credits
Photography: Allison Carter, Joya Chapman, and Rob Felt
Writing/Editing: Victor Rogers, Stacy Braukman