Meet Yolonda Cameron, Attorney and Renaissance Woman
A senior attorney specialist, Yolonda Cameron spends her days working on trademarks, copyright, and film location agreements.
Oct 04, 2018 — Atlanta, GA
When Yolonda Cameron accepted a job as an attorney in Tech's Office of Legal Affairs, it was an entry-level position, and she thought she would work there three to five years. Today, 19 years later, Cameron is still in Legal Affairs, but the job has changed.
In 1999, her position involved reviewing lots of contracts including nondisclosure agreements, material transfer agreements, software licenses, performing arts agreements, and releases. But, many of these agreements are now handled by Georgia Tech Research Corporation (GTRC) or Georgia Tech Purchasing. Other agreements are now standard Georgia Tech template agreements with standardized Georgia Tech terms that can be used repeatedly without any changes other than updating the administrative details such as the date, company name, address, and such.
A senior attorney specialist, Cameron now spends her time working on trademarks, copyright, and film location agreements.
"My biggest practice area is trademarks," she said. "We work with Institute Communications in enforcing Georgia Tech trademarks. Our beloved Buzz seems to be the trademark that everyone wants to use [without permission]."
Routinely, a notification will come into Institute Communications, often from a Tech alumnus or employee who has spotted a violation of the trademark.
"Businesses in the area have used the Georgia Tech logo on Facebook invitations," Cameron said. "Sometimes the trademark has been used on menus. In response, we send a cease and desist letter. Typically, they will stop using the trademark [without further action being taken]."
Cameron also gets questions regarding copyrights. For such inquiries, her office works with the Georgia Tech Library and refers employees to the Board of Regents' copyright policy webpage.
"Sometimes when a faculty member is doing a presentation, they will have questions regarding the use of an image. They have to perform a fair-use analysis via the Fair Use checklist located on the Board of Regents website," she said.
Copyright questions also come up when faculty are developing online courses that use copyrighted materials.
"Film location agreements for filming on Georgia Tech's campus is another big area," she said. "These requests can be very fast-paced because they have to be turned around quickly."
With Atlanta's film industry booming, Cameron said location scouts often look to Georgia Tech.
"We are centrally located. We have a beautiful campus. We have a lot of cool buildings. Everybody gravitates here," she said.
Some of the buildings that are frequently requested for filming are Clough Commons, Klaus Computing, the Student Center, the Academy of Medicine, and the Campus Recreation Center and its obstacle course.
Several movies or scenes from movies have been filmed on campus, including The Internship, The Accountant, Selma, and an upcoming movie starring Melissa McCarthy called Superintelligence.
"When the film industry first came calling [for The Internship starring Vince Vaughn and Owen Wilson], Georgia Tech had to develop a policy, process, and documents around filming on campus," Cameron said.
Legal Affairs worked with Capital Planning and Space Management (CPSM) to identify the key stakeholders at Georgia Tech. As a result, a film logistics committee was formed, a filming and photography policy and process developed, and a filming application and standard filming location agreements drafted.  
"Now, we have a standard agreement for film requests with a large footprint and another agreement for smaller film requests," Cameron said. "For the larger film projects, the request must be evaluated by the film logistics committee, which includes CPSM, Risk Management, Legal Affairs, Institute Communications, Parking and Transportation, Environmental Health & Safety (EH&S), Georgia Tech Police, and building captains for all buildings involved."
Cameron said she enjoys the variety that her job brings, including working with departments all over campus and putting faces with names.
Giving Voice to Creativity
Cameron was born in Philadelphia, and her family moved to New Jersey when she was about two. They then moved to Atlanta when she was five, and that's where she grew up.
In college, she earned a dual degree: a bachelor of science in mathematics from Jackson State University, and a bachelor of science in electrical engineering from Georgia Tech.
"Then I realized, 'this technical stuff is not for me,'" she said. "It's not my passion. My passion is writing, so I thought about how I could marry the two."
After graduating, she took a year off before going to law school at George Washington University in Washington, DC. She then worked for a solo practitioner in Midtown Atlanta, primarily doing patent litigation, before coming to Georgia Tech.
She still writes. It gives voice to her creative side.  
"Of course, like a lot of writers, I want to write the great American novel one day," she said. "I have a couple of ideas. Whatever I write will be fiction. Poetry also calls to me."
Cameron is also a certified yoga instructor, with 200 hours of training. She is a well-being activator (through Tech's Health Initiatives) for Ethics, Compliance, and Legal Affairs. Once a month, she and a coworker lead a group of colleagues in yoga. And, once a month she volunteers to teach a yoga class for women in the Dekalb County Jail.
Photography and book crafting (making and binding books) are other hobbies. She loves taking photos of landscapes and nature, and she enjoys paper crafting of any kind. Years ago, she took classes on campus at Paper & Clay to learn how to develop black and white film.  
She's also always on the lookout for an art or paper crafts class. She said she feels a need to balance her analytical, logical side with some sort of creative activity or project.
Lastly, Cameron loves to travel. In June, she and her sister enjoyed a one-week vacation in London.
"We did all of the touristy stuff," she said. "We got tickets to see Wicked in the West End, and my sister got us tickets to see Ed Sheeran, her favorite artist."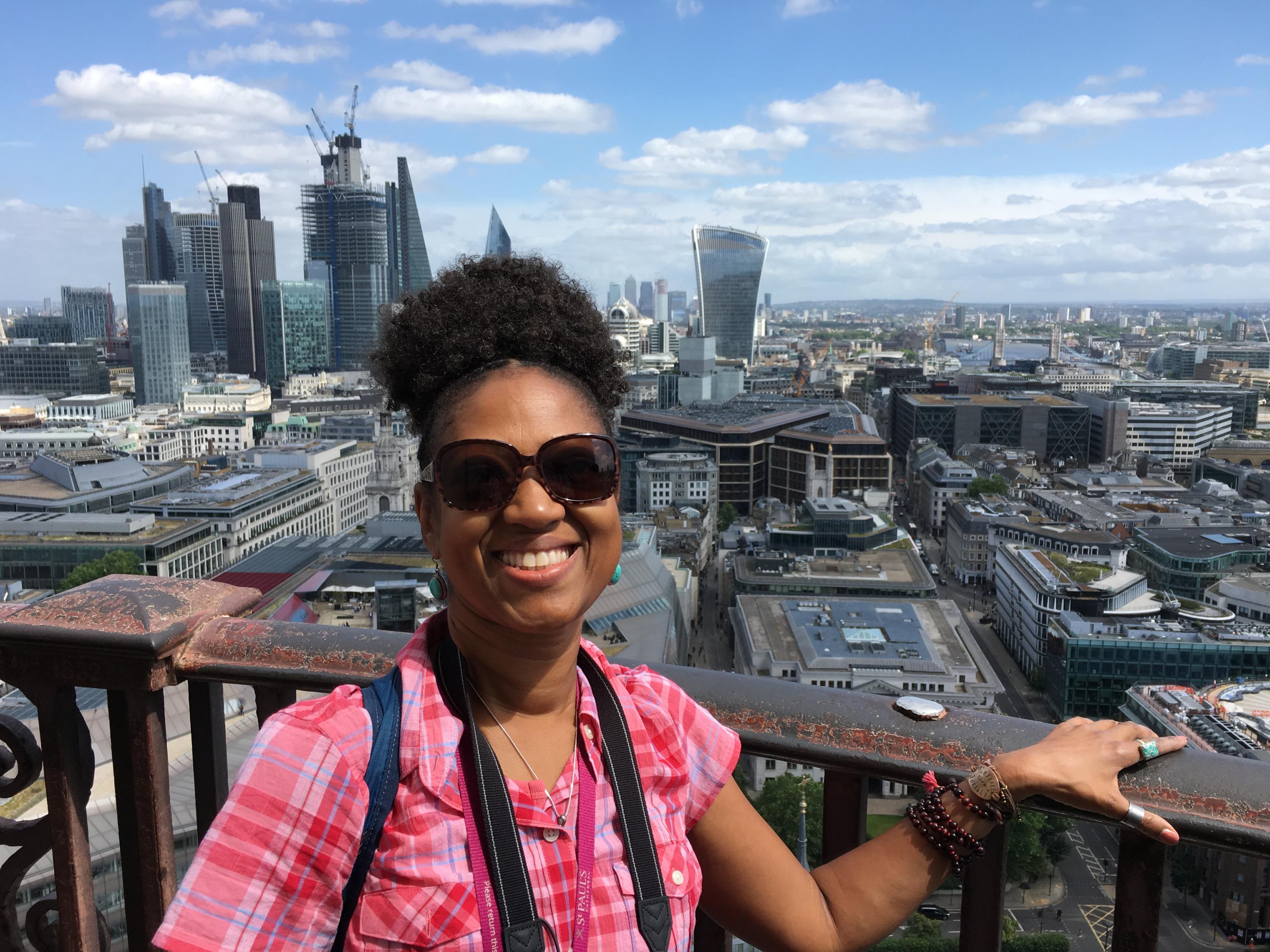 Yolonda Cameron atop St. Paul's Cathedral in London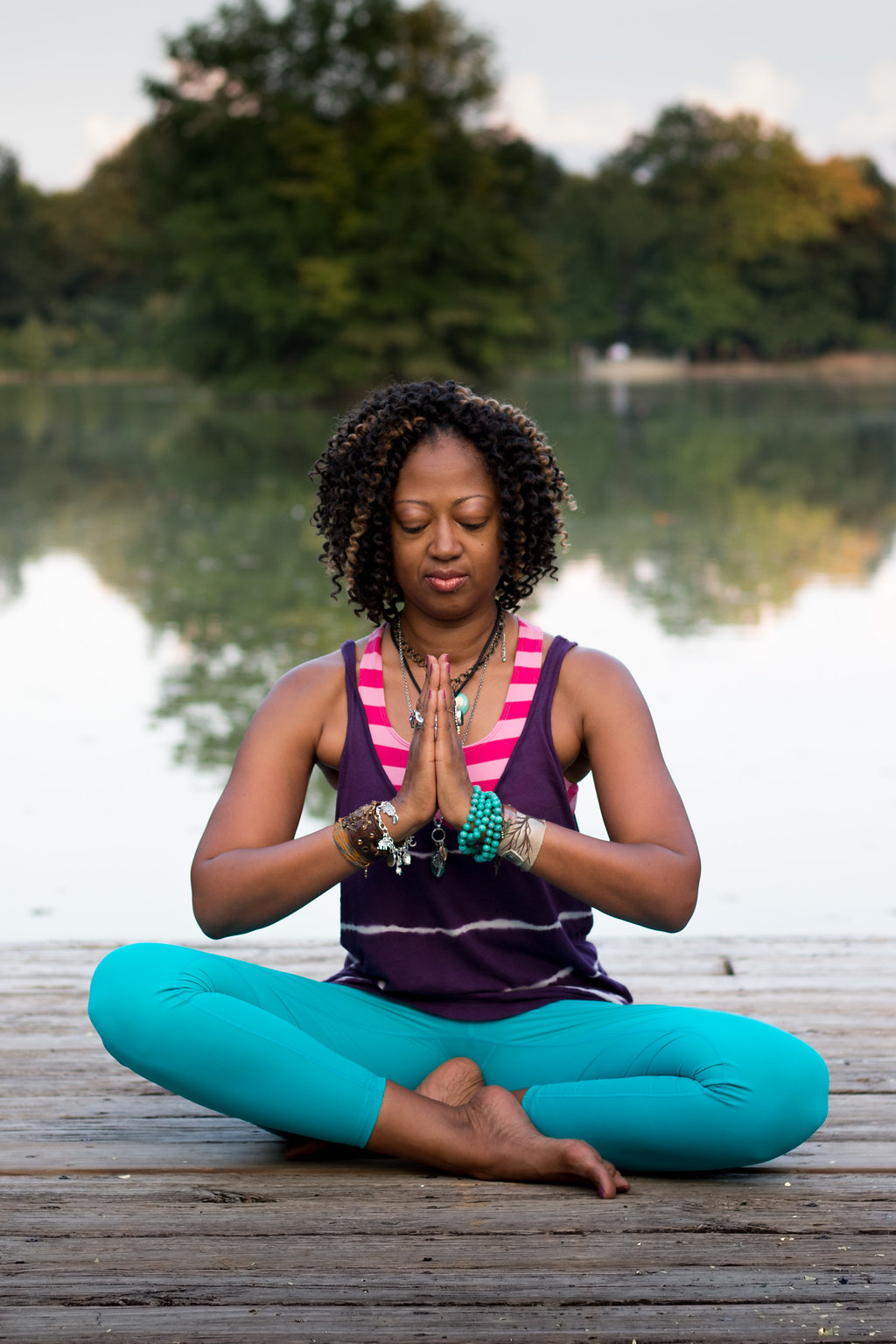 Yolonda Cameron is a certified yoga instructor.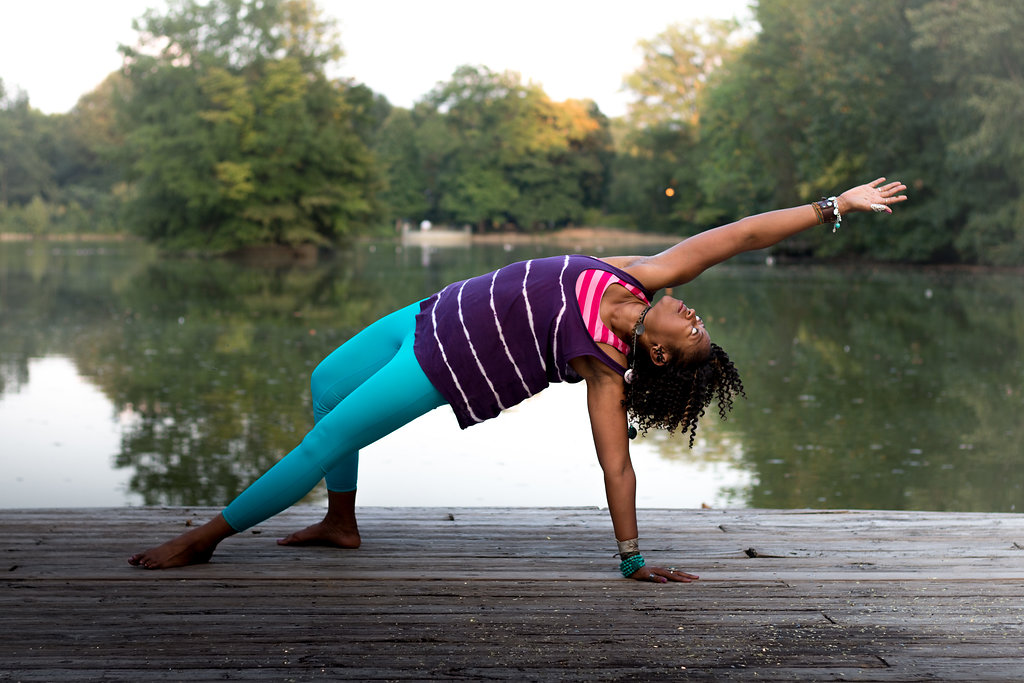 Yolonda Cameron does tripod pose.