Meet Greg Oliver, Building Manager
As building manager for Crosland Tower, Greg Oliver makes sure everything is "on point."
Mar 10, 2020 — Atlanta, GA
Greg Oliver doesn't have a fitness tracker, but he estimates that he walks 2-3 miles each day just doing his job. His trek begins each morning when he leaves his car at Peters Parking Deck and climbs Freshman Hill to Crosland Tower, where he is the building manager for the Library.  
"I start my day by inspecting every floor and making sure all of the equipment and systems (HVAC, lighting, AV, etc.) are in working condition," Oliver said. "If something is not functioning, I try to take corrective measures to have the issues resolved before students and staff arrive."  
He also inspects the furniture, flooring, wall coverings, meeting spaces and collaboration rooms, and the public facilities to make sure everything is "on point" for the day. 
Oliver is part of a team that consists of another building manager who oversees Clough Undergraduate Learning Commons, a project manager, a senior facility manager, an event coordinator, and a director who manages the whole team. He has worked in Price Gilbert Memorial Library as well as Clough Commons from time to time.
"Everybody on our team has been cross-trained to work throughout the three buildings," he said.
Oliver came to Georgia Tech in 2016 after nine years at Georgia Perimeter College.
"When I started at Georgia Tech the building we're in — Crosland Tower — was pretty much a shell," he said. "What you see now is the finished product of a total renovation. There are no books except for our Sci-Fi collection, but there is an increase in the seating capacity. The students seem to like having more study space."
Contractors renovated the facility, with Oliver and his colleagues performing a lot of the inspections throughout the process. The refurbished Crosland Tower opened in January 2019. Price Gilbert's renovation is scheduled for completion in June.
"When the building was completed, I felt like I was in dreamland," he said. "I'm still in awe of how nicely the project turned out."  
His favorite part of Crosland Tower are the terraces on the top floor because they offer a great view of campus. The most rewarding part of his job is knowing that anyone coming into the library will have a positive experience.
"I like students, and I enjoy working with my team. I have never had a day that I didn't want to come to work. I just love coming here," Oliver said. "Every day is different, but every day is a good day."
Away From the Office
Oliver and his wife Shelia have been married 35 years, and they have two adult daughters. The couple met in Atlanta after he moved from Orlando.
Oliver, who is 6' 4" tall, grew up playing basketball in Jacksonville, Florida.
"When I was about 10 years old my mom bought a basketball goal for me. I installed it myself, and I've been playing ever since," he said. 
His favorite team is the Los Angeles Lakers, and he remembers watching Elgin Baylor, Wilt Chamberlain, and Jerry West play ball.
"That's when basketball was basketball," he joked.
Oliver hasn't been to a Tech basketball game yet, but he said he'd like to go.
In addition to basketball, he enjoys renting a boat at Callaway Gardens to fish on the lake. He also likes old movies and  TV shows from the '60s and '70s.
"My favorite is The Andy Griffith Show. I love Barney and Andy. It's just that hometown feeling of Mayberry, with Floyd in the barber shop. There's a camaraderie. It's a good thing," he said.
The Wizard of Oz is his favorite movie.
"When I was a kid I would watch The Wizard of Oz on Sunday night — the one time it showed during the year. It was special because you'd have to wait a whole year to see it again," he said. "I just fell in love with that movie."
Oliver has a B.S. in political science with a minor in history from Florida A&M University. He aspired to attend law school, but he never pursued it.
"I started working after college and have been working ever since," he said. "Once I retire I may do it, just to say I did it."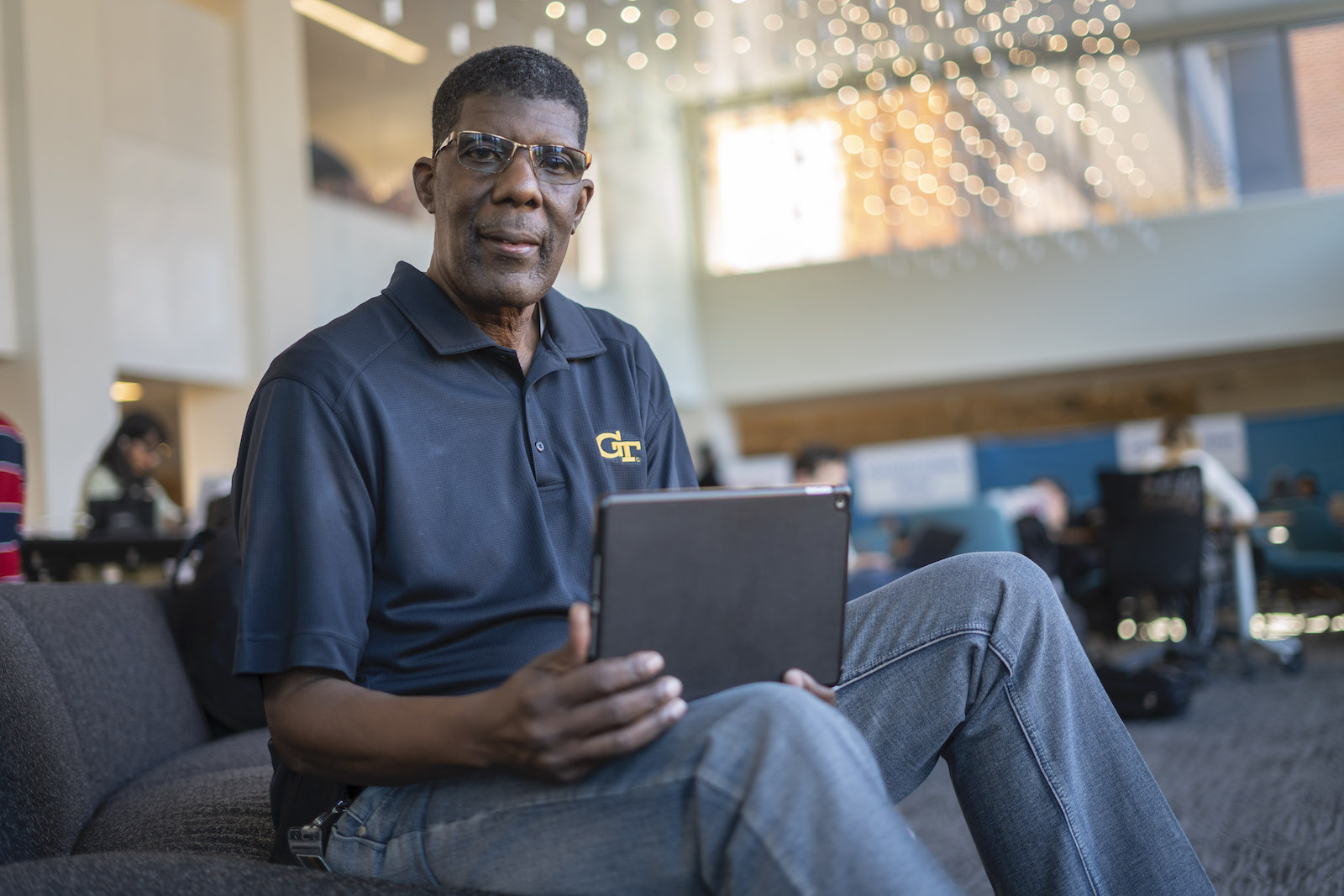 Greg Oliver is the building manager for Crosland Tower. (photo by Christopher Moore, Institute Communications)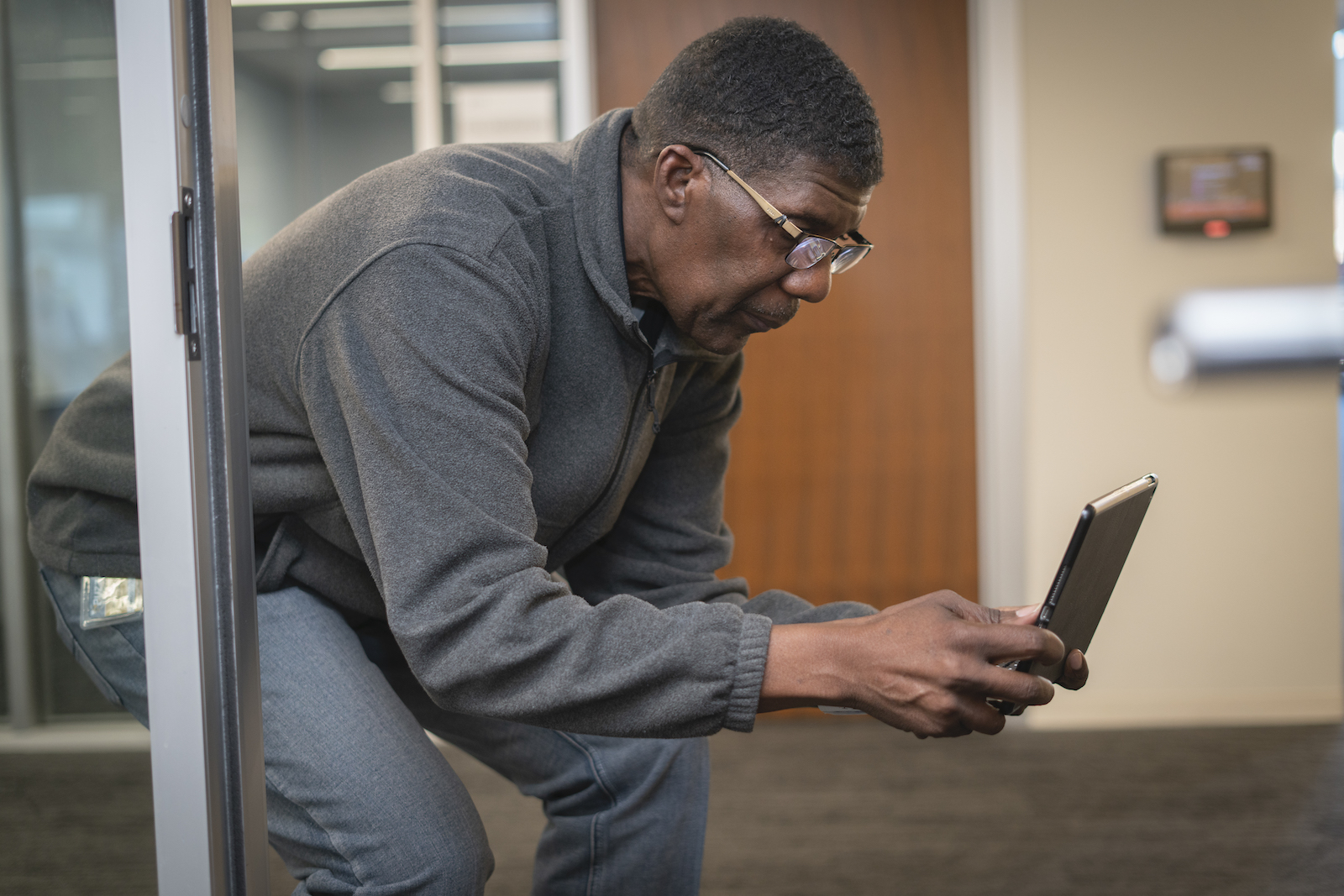 Greg Oliver, building manager, inspects Crosland Tower each morning. He takes a photo of anything needing repair and takes corrective measures to resolve the issues before students and staff arrive. (photo by Christopher Moore, Institute Communications)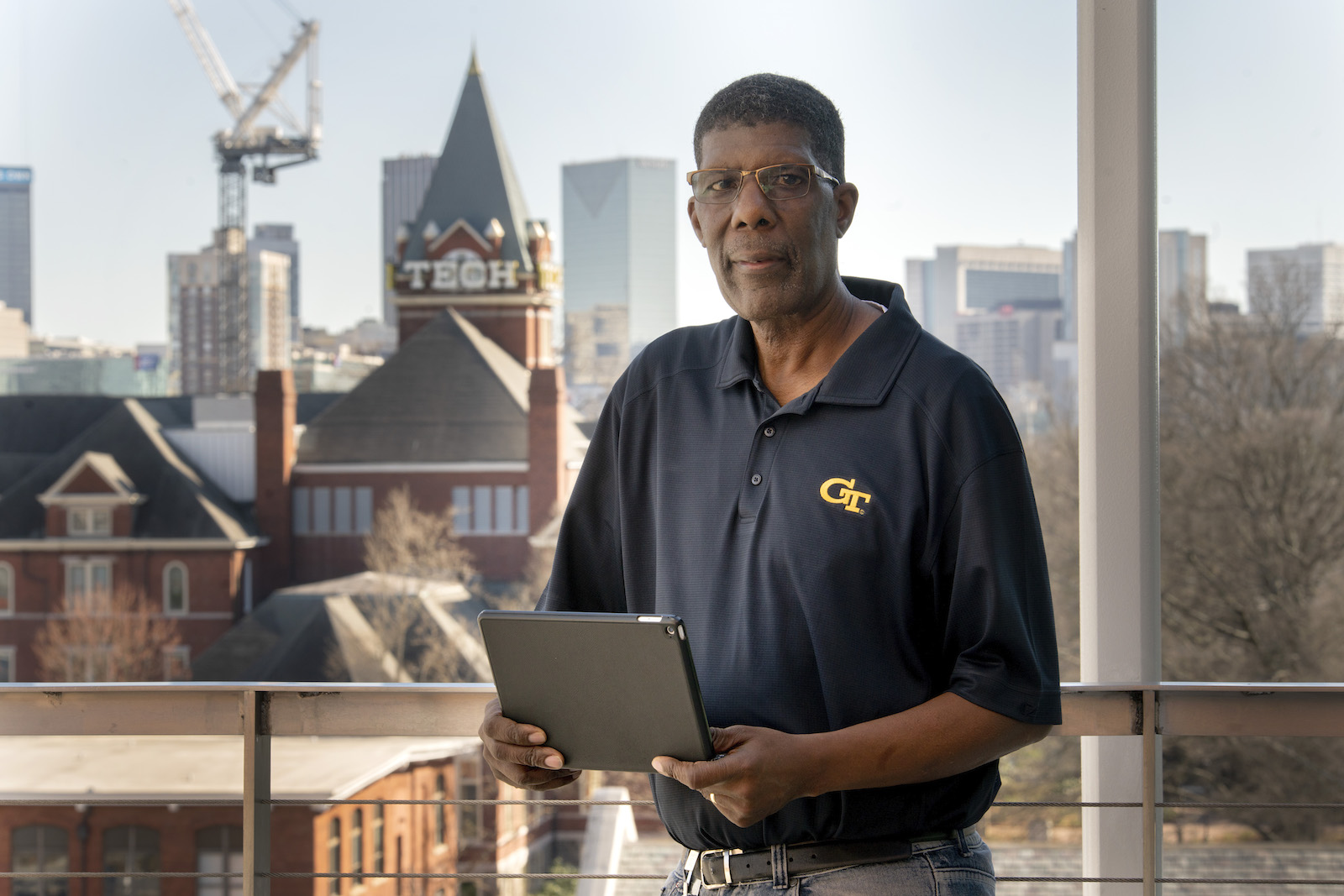 Greg Oliver, building manager, photographed on the terraces of Crosland Tower. (photo by Christopher Moore, Institute Communications) `