Meet Steven Sheffield, Mentor for Students
Steven Sheffield is the machine shop manager for the George W. Woodruff School of Mechanical Engineering and a mentor to students in the makerspace.
Aug 24, 2020 — Atlanta, GA
1997 was a momentous year for Steven Sheffield. He began his career at Georgia Tech, and he was ordained as a minister. More on his ministry later, but let's start with his work at Tech.
Sheffield is the machine shop manager for the George W. Woodruff School of Mechanical Engineering. He was working as an industrial machinist at Atlantic Steel, which is now the site of Atlantic Station, as the company was closing its doors in 1997. He applied for a job as an instrument maker at Georgia Tech Research Institute (GTRI), and he got it.
"It was a great opportunity and an exciting time to come to Tech because technology was starting to change the way we work," he said. His job at GTRI provided research support primarily for Department of Defense projects and occasionally for the Department of Energy. He worked at GTRI for a little more than two years before moving to the academic side of campus.
Today he leads a team at the Woodruff School's Montgomery Machining Mall that includes one shop supervisor, five mechanical specialists, and two Co-op students. They are professional metal workers, skilled in welding, metal cutting, metal joining, fabrication, and CAD. The team supports the research efforts for mechanical engineering, the School of Electrical and Computer Engineering, and the College of Sciences, as well as the undergraduate activities and most of the fabrication manufacturing for those units.
Sheffield describes his role as a "permanent mentor" to students in the makerspace and in workshops.
"Some students come from environments where maybe they learned how to use tools, and other students have never used a tool. So, they come into our space and we train them," he said. "We support their education experience, from classroom projects to the Capstone Design, which is a cumulative project incorporating everything they have learned."
Sheffield and his team do design reviews with students, help them with the materials needed, and walk them through the manufacturing process.
"Hands down, the most rewarding part of my job is that by working with students I have a chance to make a difference in someone's day, someone's career, or someone's life," Sheffield said. "When working with students, it's not always academic or technical help they need. Sometimes they just need a little encouragement that they will make it through the project."
Sheffield keeps in touch with a lot of students long after they have graduated. Some come back to visit years later, bringing their spouse and children to show them where they got their start.
"They remember the things they learned here," he said. "Sometimes they call and say, 'We're looking to hire an employee. Can you recommend someone with similar experience?' So, I have helped place students with companies."
Sheffield said the most challenging part can be some of the technical aspects, but like most technical people he thrives on that. In recent months his team has been part of Georgia Tech's response to the coronavirus pandemic. In late March they began making personal protective equipment (PPE) for hospitals and medical professionals. They also helped develop prototypes of barrier protection devices designed to contain droplet spray and aerosol with a goal of reducing the risk of disease transmission during certain medical procedures.
Away From the Office
Sheffield and his wife Robin have been married 35 years, and they have two adult daughters, Rebekah and Hannah. Rebekah, a public school teacher, has a master's degree in education, teaches piano, and plays and sings for the church. Hannah, a Tech graduate with a degree in industrial and systems engineering, works for Chick-fil-A.
An ordained minister, Sheffield is the pastor of a 225-member Baptist church in Canton, Georgia. He is at the church on Sunday morning, Sunday night, Wednesday night, and he's basically on call "all hours in between."
"I work a lot, but I do have things I enjoy when I'm not working," he said. "I love anything outdoors. I like to hike, fish, and hunt. During the shelter-at-home period I planted a garden, so we have fresh tomatoes, cucumbers, veggies. Gardening is something I normally wouldn't have time to do, but since my hour and a half commute was gone I had time to do new things."
When reflecting on blending his 23 years at Tech with 23 years in the ministry, Sheffield said, "I'm where I'm supposed to be. Things work organically sometimes."
Steven Sheffield and his team have been part of Georgia Tech's response to the coronavirus pandemic. He is pictured behind a protective barrier manufactured at Tech. (Photo by Allison Carter.)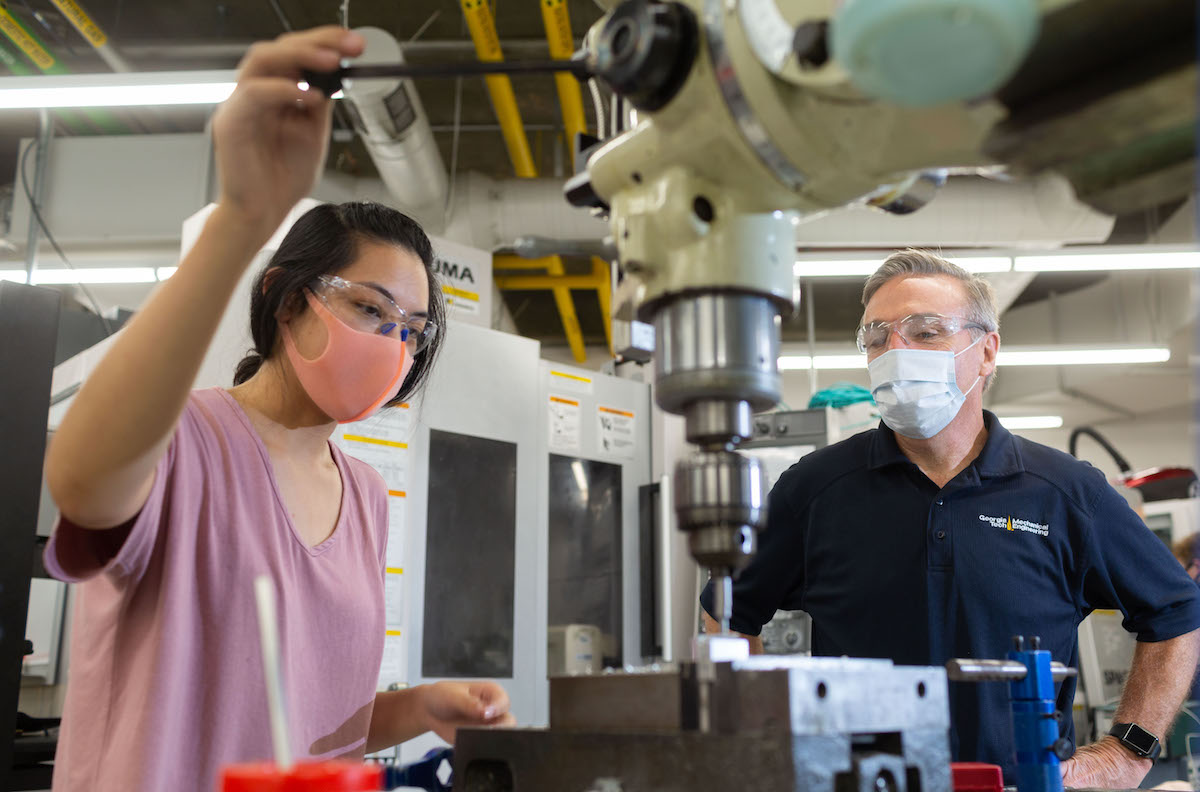 Steven Sheffield, machine shop manager, works with Gwen Wang, mechanical engineering doctoral student, in the Montgomery Machining Mall. (Photo by Allison Carter.)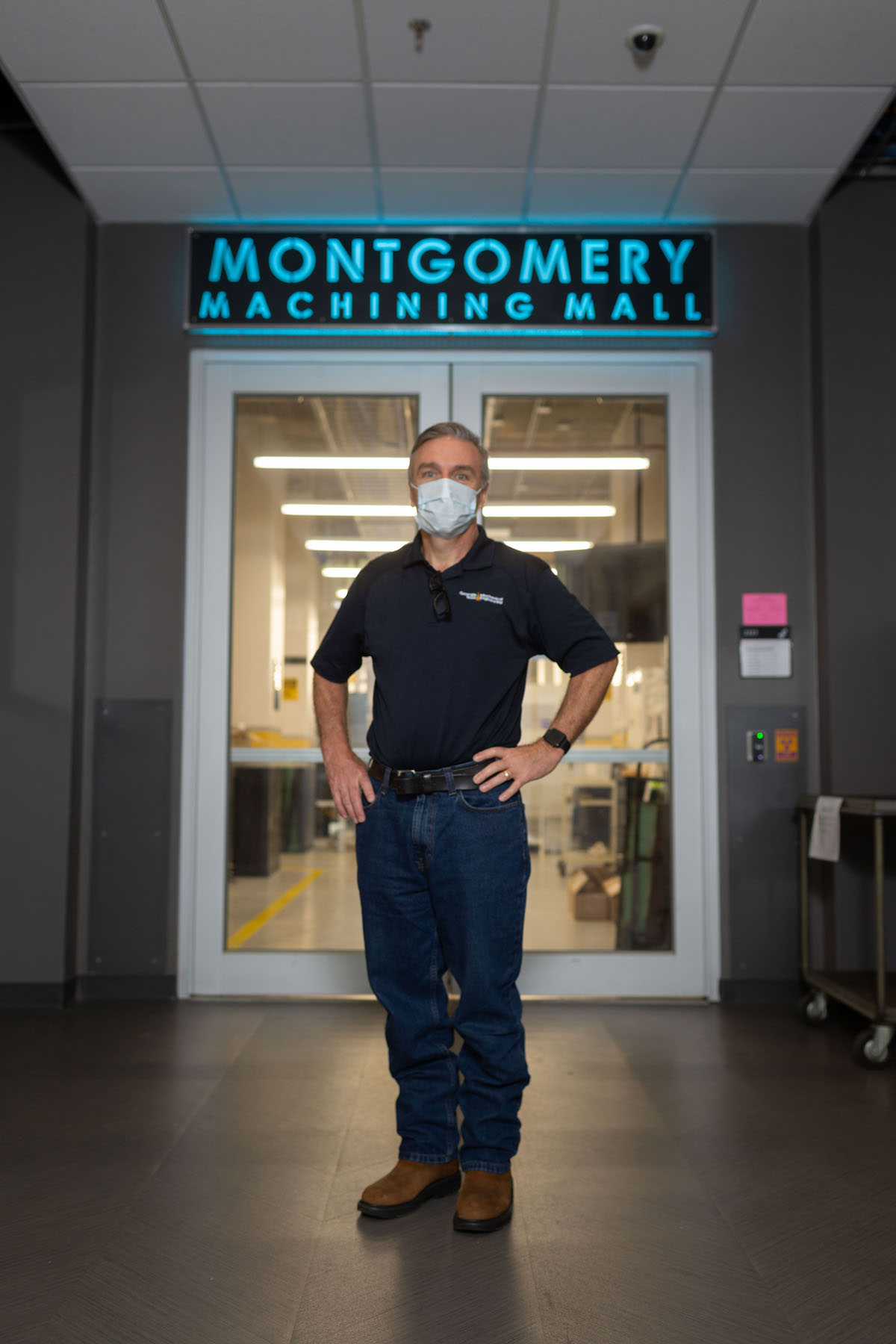 Steven Sheffield at the Woodruff School of Mechanical Engineering's Montgomery Machining Mall. (Photo by Allison Carter.)