Keeping Campus Connected: Meet Alana DeAngelis
Alana DeAngelis and her team make sure employees have the tools they need to do their jobs.
May 19, 2021 — Atlanta, GA
Alana DeAngelis is the collaboration and productivity solutions manager for OIT Digital Business, a six-person team that is the service owner for all of the collaboration tools on campus.
"My team and I are responsible for making sure your email works," she said. "We also make sure other tools such as Microsoft Teams, BlueJeans, and Webex work so you can have your online calls and conversations. We make sure you have the tools that you need to do your job."
The team works directly with customers across campus as well as with IT support professionals in the units so they can support their customers.
DeAngelis' entire career has been in higher education, beginning as a student at Georgia Southern University in 2003, where she also worked for many years before coming to Georgia Tech in 2015 as an IT service delivery manager.
"I was looking for other opportunities, and Georgia Tech had a position that intrigued me," she said. "It was such a great opportunity to come up here, work on totally new software with new people, and just get a chance to grow my career in the IT profession."
Her first project was helping to change the campus email system from Zimbra to Office 365. She moved into her current position after filling in when her manager left.
"I went from being part of the team to leading the team, and I couldn't have been happier," she said. "It was such a great move for me."
Because of the increase in online instruction during the pandemic, the work of DeAngelis and her team has become even more critical.
"We have to make sure that these services are up and running and stable for the learning environment. It was long hours in the beginning, but now we have helped our vendors make so much progress in the features that they offer and the services that we can support and provide to campus," she said.
DeAngelis enjoys working in higher education. The most rewarding part of her job is getting to interact with many different people.
"I will have a conversation with a literal rocket scientist one minute, and the next minute I'm talking to the facilities manager of our building making sure they have what they need," she said.
"I love hearing people's stories. So, being able to sit down with them, hear their stories, hear their problems, and be able to work for resolution is what I want to do in life. I want to be that helper person."
Away From Work
"When I'm not working, I usually spend my time being a nerd about everything," DeAngelis said. She participates in a live action role-playing game, LARPing, where the players physically portray their characters. 
"Don't believe the movies that you see," she said, laughing. "I would recommend everyone give it a try. You get to dress up as your favorite person, and go pretend. Why would you not want to do that for a little while?"
DeAngelis also knits, crochets, and sews. She practices handwriting, loves baking cupcakes, and enjoys playing video games.
"I usually play farming simulator games like Animal Crossing," she said. "Super Mario Brothers 3 is my favorite game. I still play on my original Nintendo." Sometimes she likes to watch others play. "If I'm watching somebody else play I don't have to make decisions, and they can progress the story."
Her sewing skills come in handy when creating costumes for herself and for friends.
"We go to Dragon Con every year, so I make costumes for that. I've also sewn pillows," she said. And she has knitted and crocheted blankets, shawls, and little stuffed animals.  
DeAngelis believes handwriting is a lost art, and she describes her handwriting as "atrocious."
"I love pens and I'm a huge fan of all writing utensils," she said. "Since the pandemic started I have expanded my pen collection, and I just practice handwriting. It's a form of faux calligraphy. You have pretty words on the page, but it's not cursive."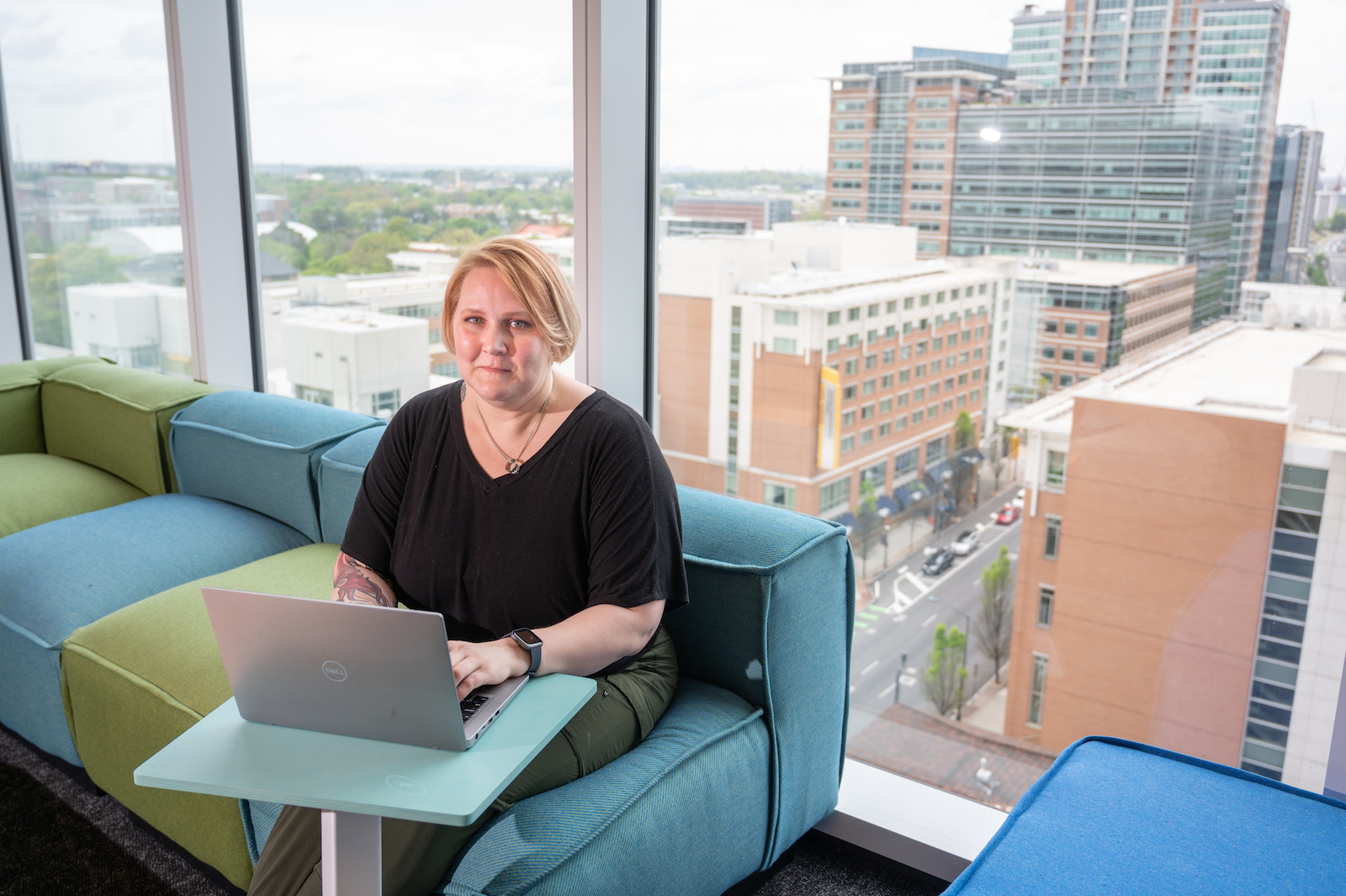 Alana DeAngelis is the collaboration and productivity solutions manager for OIT Digital Business. (Photo by Allison Carter)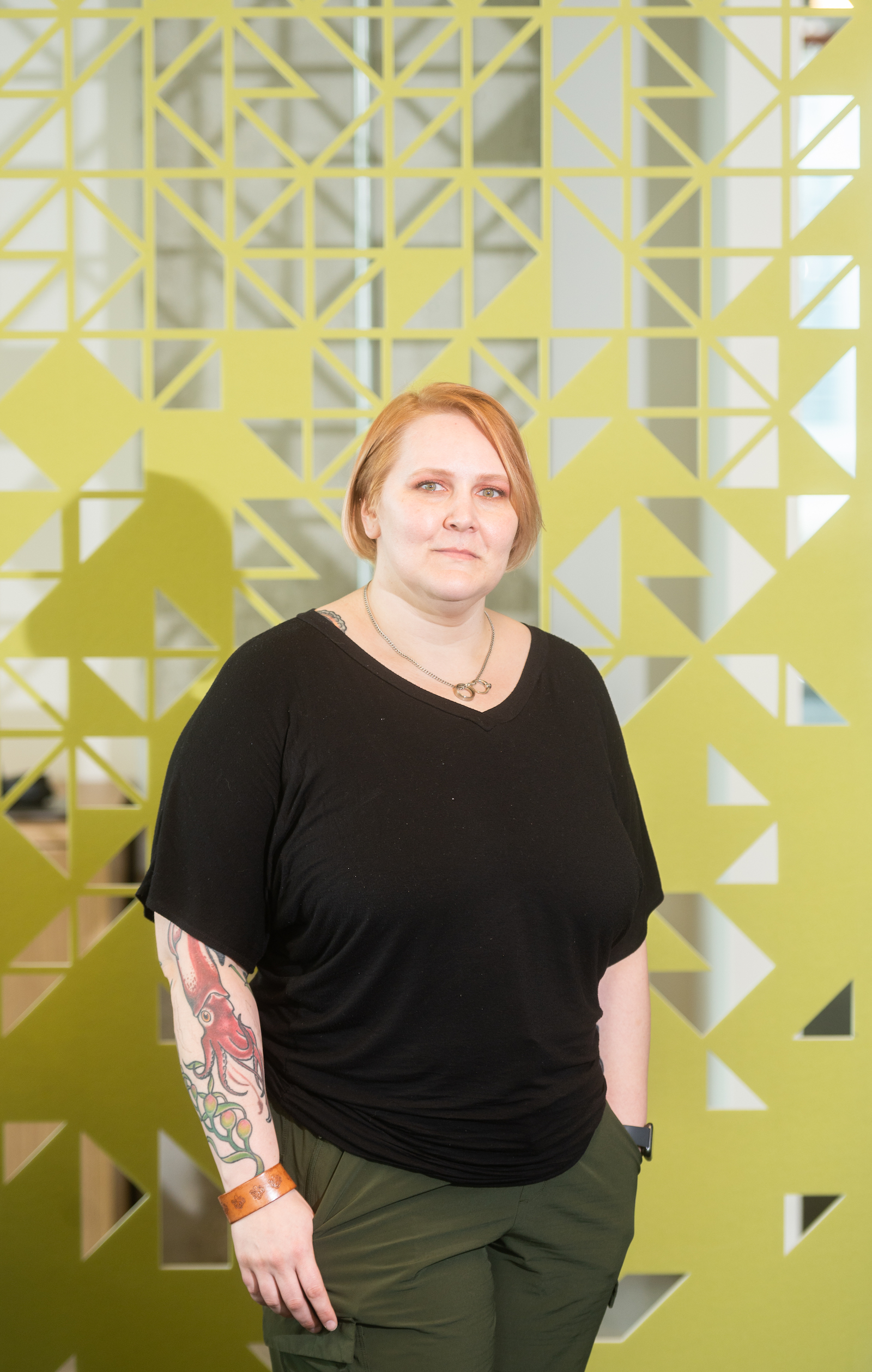 Alana DeAngelis has worked at Georgia Tech since 2015. (Photo by Allison Carter)