Admission Delivers Early Action 2 Decisions
The Institute receives record number of applicants.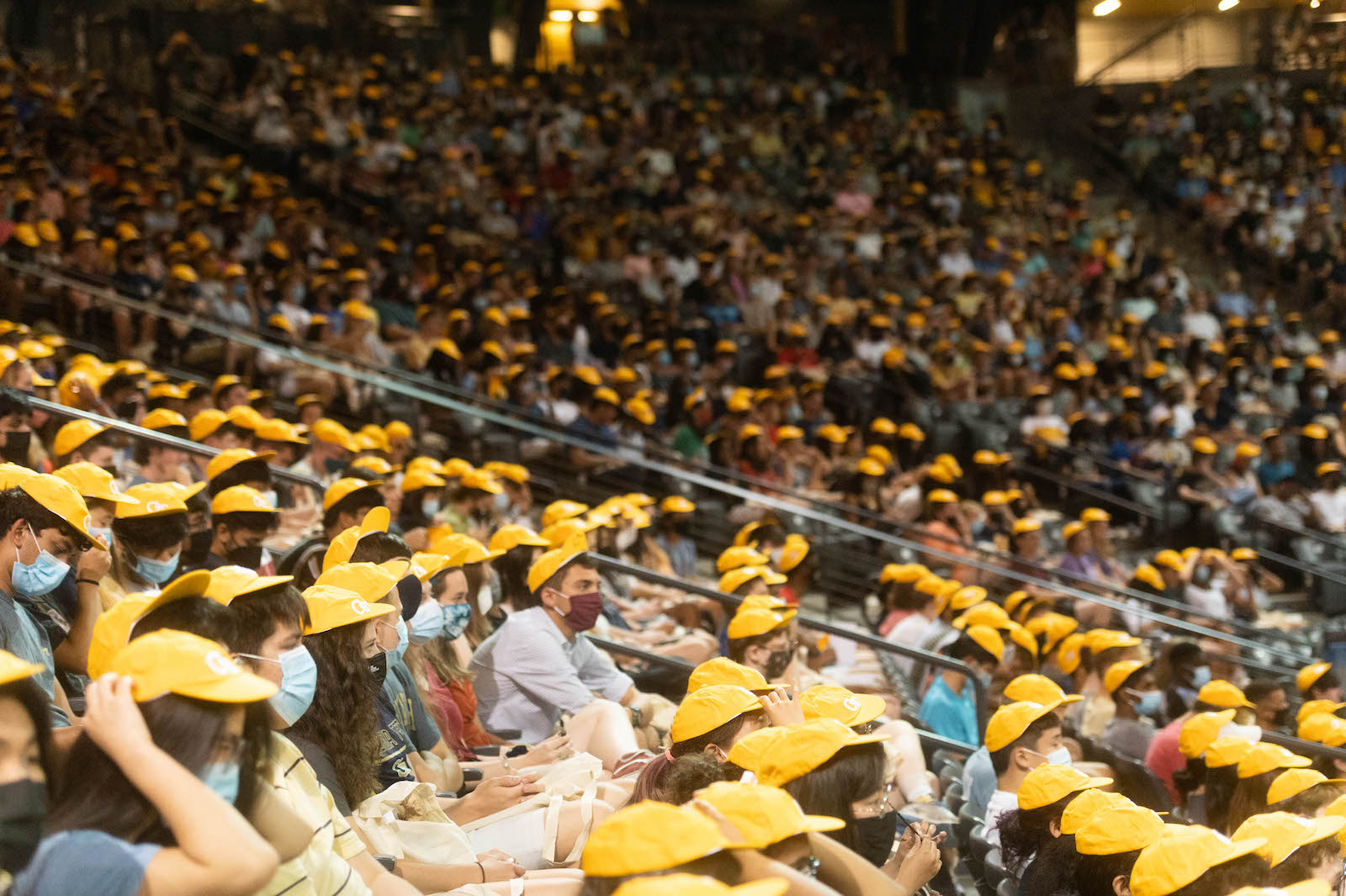 Georgia Tech welcomes students at New Student Convocation in McCamish Pavilion. (Photo by Allison Carter)
Jan 31, 2022
— Atlanta, GA
More than 25,000 students from outside Georgia who applied to Georgia Tech in Early Action 2 received their admission decisions on Saturday afternoon. Beginning with last year's admission cycle, first-year applicants could select from one of three admission plans: Early Action 1, Early Action 2, and Regular Decision.
The overall admit rate for Early Action 2, which included both international and out-of-state students, was 12%. Admitted students hail from 49 states (plus the District of Columbia and Puerto Rico), 63 countries, and 1,844 high schools from around the globe. These students join 2,399 Early Action 1 applicants from Georgia who were admitted in December.
This year saw a record number of applicants, topping 50,600 for all three rounds (Early Action 1, Early Action 2, and Regular Decision). Notably, the Scheller College of Business, the College of Computing, the College of Design, and the Ivan Allen College of Liberal Arts all received double digit increases over the last year. Applications have grown steadily over the past decade, with the Institute receiving 10,000 more applications this year than two years ago, 20,000 more than five years ago, and 36,000 more than a decade ago.
"While Georgia Tech continues to become more selective in our admission process, I am thankful we are also deeply committed to expanding access and enrolling students from all backgrounds and communities," said Rick Clark, director of Undergraduate Admission. "Many schools around the country that are considered prestigious or competitive in admission are not increasing enrollment. In contrast, this year's first-year class will have 550 more students than three years ago, and we will enroll nearly 1,400 transfer students. Fundamentally, Tech is a public good to our city, state, and our country — and that all starts with providing opportunity to diverse talent through admission."
Of the Early Action 2 admit pool, 6% are first-generation college students (neither parent graduated from college); 24% identify as Black, Hispanic, or multiracial; and 13% received formalized transfer Pathway Offers.
Regular Decision admission announcements will go out in late March. In the meantime, the admission team will not only continue to review Regular Decision and deferred applicants, but will also begin hosting admitted students in hopes of convincing them to choose Tech over their other college options.
"I could not be prouder of our admission team," Clark said. "Their consistent daily effort reviewing applications to help Tech fulfill its mission is incredible — but it is also exhausting, particularly with this volume of candidates to consider in a compressed timeframe. They truly exemplify our motto of Progress and Service through the care, curiosity, commitment, and professionalism they bring to this work."
He noted, "Ultimately, recruiting and enrolling each new class of Yellow Jackets is a campuswide mandate. And as Tech competes with the very best schools in the nation for talent, often with far less financial aid, it is imperative for students, staff, faculty, and alumni to invest in that effort."