How to Manage Stress During Finals
The stress of midterms may be unavoidable at times, but it can be managed. Here are a few tips and resources that can help.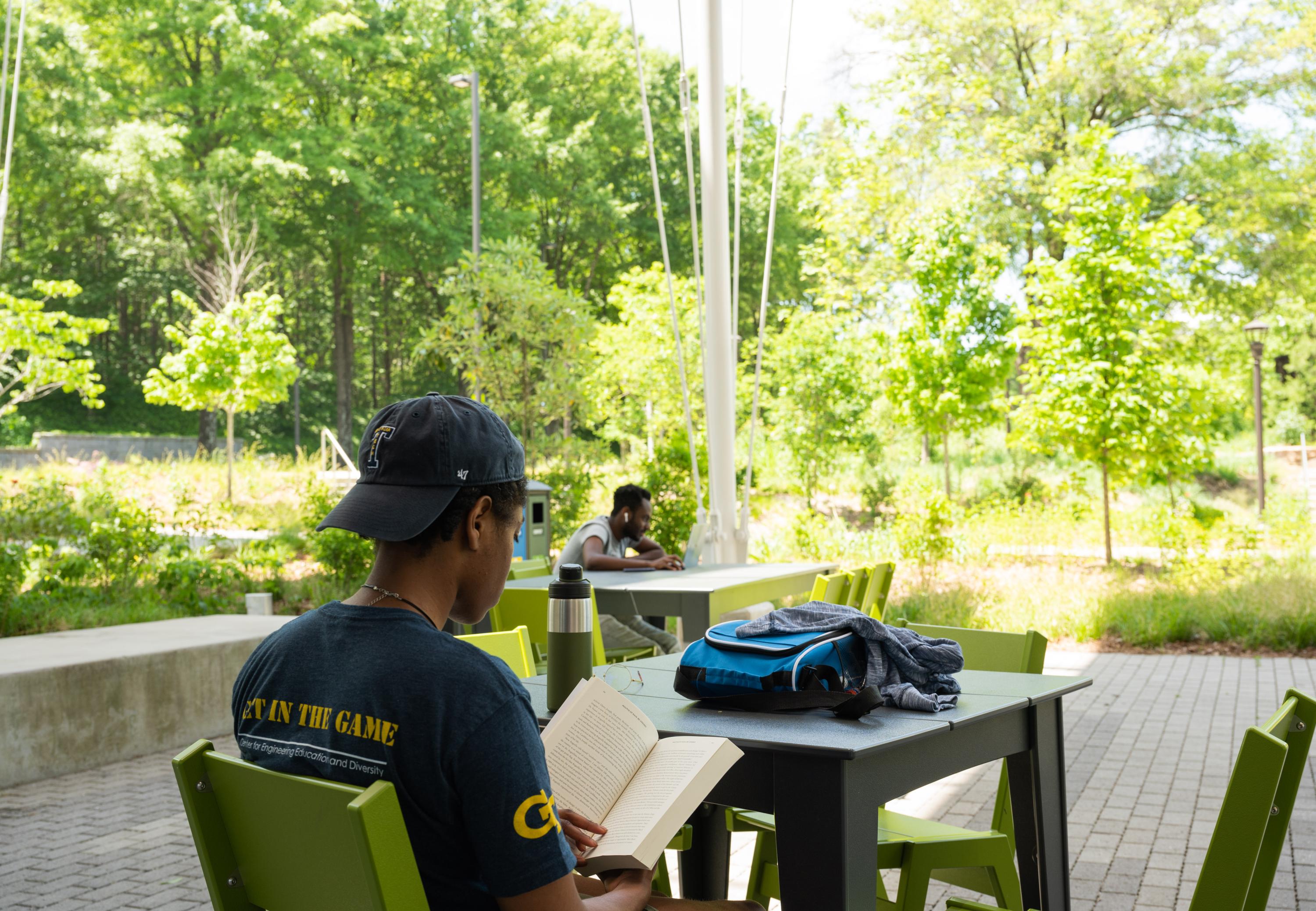 Mar 10, 2023
— Atlanta, GA
Whether this is your first or final semester at Georgia Tech, final exams can bring about a familiar feeling of stress and anxiety, but there are several things you can do to boost your mood and help you power through your exams.   
Eat Right
Eating a variety of foods consistently can go a long way in reducing stress. The Cleveland Clinic explains that eating right can reduce the body's cortisol levels — the hormone responsible for regulating stress response. The clinic advises that in addition to the usual fruits, vegetables, and lean proteins associated with a healthy diet, foods rich in magnesium can be "hugely beneficial in metabolizing cortisol and relaxing the body and mind." These include pumpkin seeds, almonds, spinach, cashews, dark chocolate, peanut butter, and other greens, nuts, dry beans, and whole grains. 
Dietitians in the Wellness Empowerment Center at Georgia Tech recommend aiming for three or more food groups for meals and two or more food groups for snacks, remembering to plan ahead and eat before you're hungry — especially on test and study days — and to stay hydrated. 
Conversely, foods high in sugar, along with alcohol and caffeine, can be detrimental to your mental health.
Equally as important as the foods you eat are the times you eat them. Staying on a regular eating schedule is important, as skipping meals or overeating can negatively affect your ability to cope with stress. If you're looking for more information or guidance on maintaining a healthy diet, the Wellness Empowerment Center can provide assistance.  
Exercise 
Taking a study break to exercise can benefit your physical and mental health. Whether you're lifting weights or taking a stroll through campus or around Piedmont Park, just 30 minutes of exercise can relieve stress. Finding an activity you enjoy — basketball, yoga, cycling, or any other activity — can help take your mind off of exam prep for a short time. Among many other health benefits, regular exercise can also help improve your sleep quality, which is another important factor in managing stress. Georgia Tech's Campus Recreation Center provides an environment that promotes fitness, exercise, and a culture of fun, relaxation, and a positive experience for students.
Sleep 
Cramming for an exam and studying through the night may feel like the best way to prepare, but the Centers for Disease Control and Prevention (CDC) says otherwise. In fact, showing up to take your midterm after being awake for 17 hours straight, according to the agency, is similar to having a blood alcohol concentration (BAC) of 0.05%. Add seven hours, and the effects are similar to a BAC of .10% — exceeding the DUI threshold in the U.S. 
Additionally, the longer you go without sleeping, the more susceptible you become to confusion and mistakes. The CDC warns that no amount of motivation or professionalism can pay back the "sleep debt" incurred by staying up all night. 
Unplug During Breaks
While you're studying, you may be in front of a screen for long periods of time. So, when it's time for a break, step away and get some fresh air. 
"It is a simple way to improve your mood," Joi Alexander, director of the Wellness Empowerment Center in the Division of Student Engagement and Well-Being, said. "The fresh air can help raise oxygen levels in your brain, which increases serotonin levels." Serotonin is the neurotransmitter that alters your mood.
Alexander added that 20-30 minutes in the sun, while also giving your body the vitamin D it needs, can reduce cortisol levels and help regulate your sleep cycle. 
Indoors or outdoors, taking productive breaks can reignite your ability to focus and give you a much-needed energy boost. 
Ask for Help
Many resources are available to help students year-round through the Center for Mental Health Care and Resources. Counseling sessions provide short-term therapy solutions and are free of charge for all Georgia Tech students. Additionally, the center has a variety of self-help resources on its website that offer on-demand advice to assist with stress, anxiety, and more. Togetherall is a free, 24/7 online community for sharing feelings anonymously and getting support for mental health and well-being. Headspace, a free mindfulness and meditation app, helps students learn to stress less, reduce strain and burnout, and prepare for exams, presentations, etc. Thrive@GT provides students with immediate support, connecting them with a counselor at any time. 
On the academic side, Tutoring and Academic Support offers 1-to-1 sessions that can assist you in exam prep, so don't hesitate to make an appointment. 
Quick Tips From the Center for Mental Health Care and Resources
Practice relaxation activities, such as progressive muscle relaxation and deep breathing, hot baths, massages, and yoga.
Talk to friends and family who are supportive and positive influences. Isolating yourself can make things feel even worse.
Attend to your spirituality. Go to church/synagogue/mosque, pray, read religious works.
Self-soothe using one or more of your senses. Watch the beauty of nature, listen to your favorite relaxing music, wear your favorite perfume, give someone a hug. 
Challenge negative self-talk. Pay attention to negative messages you may be giving yourself and challenge their validity.
Visualize a pleasant memory, a relaxing place, an image of yourself feeling better. These can be real memories or imagined events and places. Visualize with lots of detail, using each of your senses to create as vivid an image as possible.