What to Read During Spring Break
Members of Book Jackets suggest books to read during spring break.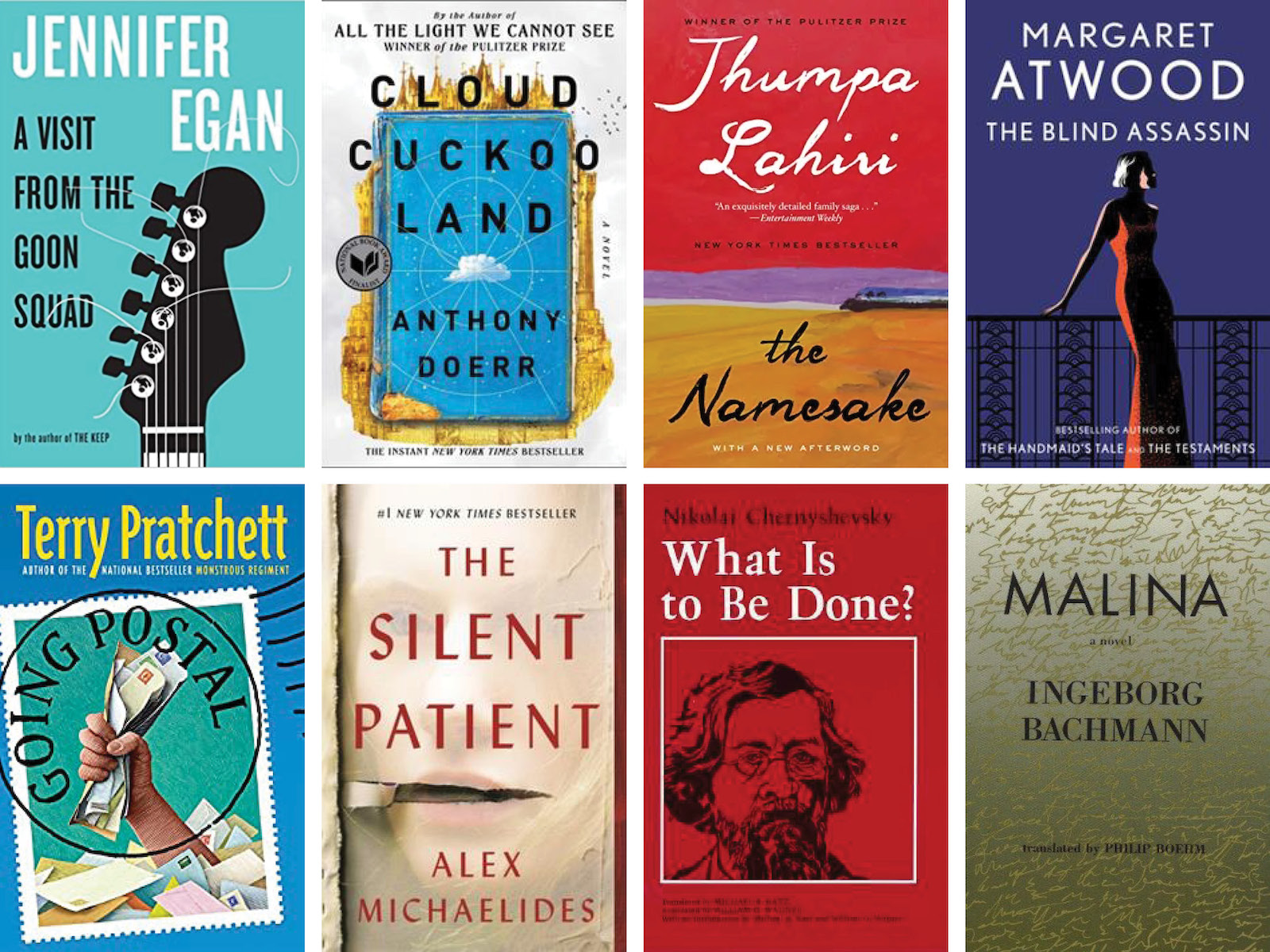 Book jackets for What to Read, Spring Break 2023
Mar 10, 2023 — Atlanta, GA
Spring break is a good time to delve into a new book or catch up on one that has been on your list for a while. We asked members of Book Jackets, a student club that encourages students to find joy in reading for fun and to connect with other readers, for recommendations. The books range from a thriller about a therapist uncovering the truth about a patient who will not speak, to the story of a captured con artist given a chance to redeem himself by working at the post office.
By Jennifer Egan, Knopf (2010)
"A Visit From the Goon Squad is an expansive and enthralling novel about relationships, time, and change. The two central characters are the president of a record company, Bennie Salazar, and his assistant, Sasha. However, the book is mainly told from the perspective of other characters whose lives are connected to theirs. Don't be discouraged if the jumps in time and point of view confuse you in the beginning. I ended up loving the unique format of this book, like the chapter in which a young girl uses a slideshow journal to confront her thoughts. This book may inspire the feeling of sonder!"
—Beau Martin, second-year history, technology, and society student
By Anthony Doerr, Scribner's (2021)
"Cloud Cuckoo Land follows the preservation and translation of a lost, ancient epic through the points of view of three different characters across time. One is a young orphan growing up in Constantinople in the early 1400s, another a librarian in the modern-day United States, and the third a young girl on a ship flying through outer space. While taking place centuries apart, each story is intricately connected to weave a beautiful tale of love, loss, and perseverance as the story of Cloud Cuckoo Land is passed down generation after generation."
—Brock Spence, third-year industrial engineering student
By Jhumpa Lahiri, Mariner Books (2003)
"The Namesake is a novel about learning to accept yourself and your identity. It follows a first-generation Bengali man named Gogol throughout his life as he struggles to accept his name and, with it, his culture. Named after the Russian author Nikolai Gogol, he feels disconnected from his namesake; similarly, he also encounters difficulty with balancing growing up in America and experiencing Bengali culture through his family. The writing of is incredible and keeps you connected to the story throughout, and Gogol's journey imparts an important message about the value of identity and self-acceptance."
—Jordan Kopcha, second-year double major in literature, media, and communications, and psychology
By Margaret Atwood, Anchor (2000)
"The Blind Assassin is a beautiful piece of historical fiction that takes place in a fictional town in Canada during the 1900s. It follows three storylines. The first is about a woman named Iris and her deceased sister, Laura, who published a book called The Blind Assassin posthumously. Iris details their lives during the Great Depression. The second story is that of Laura's book, which describes meetings between an unnamed man and woman. In these meetings, the man spins the woman a tale about a blind assassin from another planet. This is the third story, which is a science fiction tale that reflects the life of its teller. The novel is intriguing from start to finish, and the switch between stories makes every new piece of information feel fresh as you put together the pieces of Laura's story."
—Jordan Kopcha, second-year double major in literature, media, and communications and psychology
By Terry Pratchett, Doubleday (2004)
"The story is about a con artist and professional scammer named Moist von Lipwig. Just as he's about to be hanged for his numerous crimes, the ruler of the city decides to offer him a chance to run the local post office, which has been declining for decades, to redeem himself. He is accompanied by his parole officer, a golem named Mr. Pump, and the two remaining post office employees: the elderly Junior Postman Tolliver Groat and his assistant Stanley Howler. The post office is physically wretched, covered in pigeon dung, with mail dating back years, piled and literally flooding rooms. Lipwig must make the office run smoothly while growing beyond the selfish and unscrupulous person he once was and avoiding the many perilous fates that may befall anyone trying to bring about positive change."
—Daniel Lin, third-year civil engineering student
By Alex Michaelides, Celadon Books (2019)
"This book is a psychological thriller about a therapist who wants to uncover the truth about a patient who will not speak. It follows him uncovering the truth about what happened between her and her deceased husband and her motive for killing him. The mystery-thriller aspect of this book was great! I literally couldn't put it down and read the entire thing in one night. I definitely recommend it for anyone who likes a good murder mystery to solve."
—Madhu Mocharla, second-year computer science student
By Nikolai Chernyshevsky, translation by Michael Katz, Cornell University Press (1989)
"Forget the Communist Manifesto — this was the book at the heart of the Russian Revolution, and other revolutions of the time. Lenin named a pamphlet for it. Nabokov and Dostoevsky savaged it. Yet it holds up marvelously, 150 years later: the narrative of Vera Pavlovna's rise to class consciousness and the founding of a successful sewing cooperative; the interwoven essayistic passages of materialist philosophy and utopian socialist theory; and the many, many divagations. Keep an eye out for Rakhmetov, especially. It's even written in that affected, impossible-to-explain, quintessentially Russian style that some find quite difficult not to love. Among the most influential novels, and loads of fun, too."
—Arya Kathik, first-year mathematics student
By Ingeborg Bachmann, translation by Philip Boehm, New Directions (2019)
"I have a soft spot for prose by poets. Barnes' Nightwood, the prose-poetry of Jacob, Mallarme, and Baudelaire — this is the best of those. Like every postwar Austrian novel, it's about fascism — its direct effects on body and psyche; its infiltration into even innocent social relations; the collective guilt those from collaborating countries assumed — but in a hitherto-unexplored, all-encompassing sense. This is an uncomfortably intimate portrait of a woman trapped in an aestheticized, insincere, violent world; her foundering, her mental-physical-intellectual collapse, her, well, erasure. Be warned: It's incredibly dark. And while no actual sexual assault occurs (probably), its narrator does relive past trauma in that realm."
—Arya Kathik, first-year mathematics student