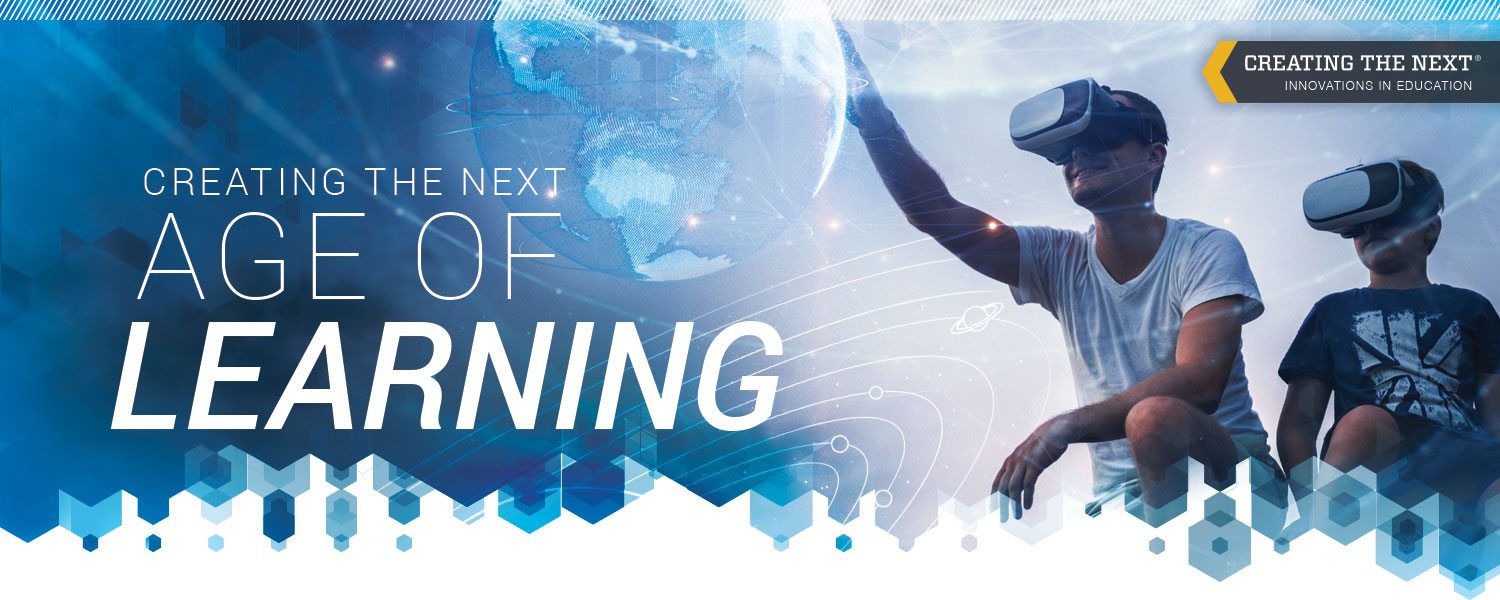 Creating the Next Age of Learning
Creating a Culture of Innovative Education

Today, higher education in the U.S. faces enormous challenges, from affordability and state funding to campus safety and free speech. The demand for new skills in a global economy continues to evolve, even as access to a college degree becomes more difficult for many. There is a pressing need for both immediate and long-term solutions that address the effectiveness, accessibility, and costs of higher education.
At Georgia Tech, we are taking on these challenges through innovations that link teaching, students, and research in ways that are making a difference in people's lives. We are exploring new methods of content delivery and nurturing a culture of lifelong learning — for undergraduates, graduate students, and professionals.
This series will showcase some of Tech's bold new approaches to education and research through our culture of innovation.
Creating a Culture of Innovative Teaching

At Georgia Tech we feel it is imperative that we continue to explore and evaluate new, innovative approaches to higher education that reduce costs, improve processes and approaches, and increase accessibility for lifelong learning. Georgia Tech is well positioned to address these challenges, and we are pursuing several key initiatives so that we can better serve people from across the state, the nation, and the world.
Commission on Creating the Next in Education

MOOCS

Artificial Intelligence

Globalization
---
Read more about how we're making innovations in teaching
---
Creating a Culture of Innovative Students

It is estimated that 65 percent of students entering primary school today will ultimately work in job types that don't currently exist and will hold 15 different jobs during their career. Georgia Tech is preparing students for the future through curricula and student competitions designed to instill entrepreneurial confidence. We prepare students not only to be critical thinkers, but also hands-on doers.
K-12 STEM

CREATE-X

Innovation Competition
---
Read more about how we're inspiring innovative students
---
Creating a Culture of Innovative Research

At a time when national priorities in research funding are in flux, Georgia Tech continues to be seen as a leader in a variety of areas, from biomedicine to space exploration. For the first time in its history, last year the Institute attracted more than $100 million (out of a total of $786 million) in sponsored research from industry. Our ability to form strong and lasting partnerships with government and industry, and our commitment to making Atlanta a national innovation hub, position Georgia Tech as a leader in research for the 21st century.
Tech Square

Partnering with Government

Partnering with Industry

Economic Impact
---
Read more about how we're creating an innovative research culture
---
Our Future: Continued Collaboration

Scientists have sent people into space, eradicated disease, sequenced the human genome, connected the world through the internet and then placed it in the palm of your hand, and allowed us to diagnose countless medical conditions with the aid of an MRI. At Georgia Tech, we're working on the leading edge of science and technology, including new cybersecurity solutions, driverless cars, smart cities, cell-based manufacturing, and customized medicine, to name a few.
The partnership between America's research universities, the federal government, DARPA, the Department of Defense, and entities such as the National Science Foundation and the National Institutes of Health has advanced medical breakthroughs, strengthened national security, and generated new jobs in emerging fields.
Our economy depends on our ability to create the technologies, cures, and jobs of the future. Georgia Tech is committed to creating innovative approaches to education and to meeting the grand challenges of this century. Through our shared commitment and support, our nation's research agencies can continue to sustain the promise of America's leadership in scientific, technological, and economic advancement.
---
Creating the Next Age of Learning is part of a 4-part series exploring the ways that Georgia Tech supports innovation in education. Check back to find out how two Georgia Tech professors are using music to get students interested in Computer Science.