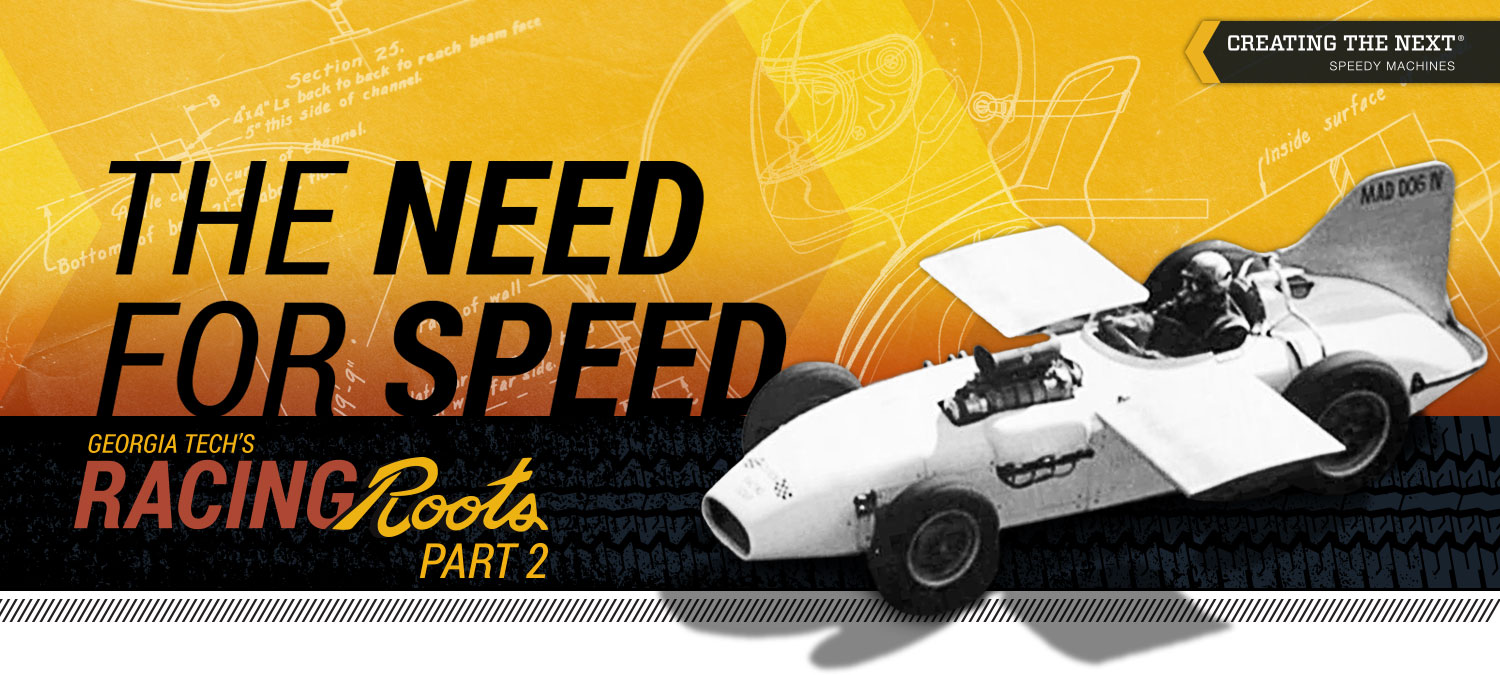 The Need for Speed: Georgia Tech's Racing Roots, part 2
By Stacy Braukman and Doug Goodwin | Published October, 2017
In the decades following World War II, as cars became an American obsession and racing grew ever more popular, countless Tech students, alumni, and faculty continued to gravitate to all things automotive. Drivers, builders, designers, engineers, executives, and even academics with ties to Georgia Tech made their mark on the worlds of stock car and drag racing.
For the uninitiated, stock car racing involves customized race cars styled after passenger vehicles, with drivers pursuing the top finishing position in endurance races on closed-circuit tracks. NASCAR, the sport's sanctioning body founded in 1948, operates three major national series — the premier-level Monster Energy Cup Series, the second-tier Xfinity Series, and the developmental Camping World Truck Series. While the series names have changed frequently over the years as corporate sponsorships evolved, the family-run governing body has sanctioned the sport for seven decades.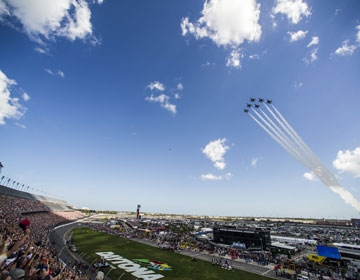 Daytona International Speedway
Source: Source: DVIDS, author: Senior Airman
Jason Couillard, Feb. 22, 2015. Public Domain.
The shift from dirt to asphalt tracks such as Darlington Raceway in South Carolina helped the sport grow wildly in the 1950s. The Daytona International Speedway, a 2.5-mile track with high banks that made for high speeds, opened at the end of the decade, and in 1961, the Firecracker 250 from Daytona Beach was the first major race to be televised, on ABC's Wide World of Sports, bringing stock car racing to a truly national audience.
Drag racing experienced similar growth during the same era. An evolution of early automotive time trials on beaches and desert flats, drag racing pushes drivers to compete for the fastest straight-line speed on long, asphalt or concrete strips. The National Hot Rod Association (NHRA) was founded in 1951 to provide structure and safety rules, and now governs five professional classes of top-level drag racing.
As both forms of American motorsports evolved, three Georgia Tech men were instrumental in advancing technological innovations that enhanced not only speed, but also its all-too-necessary counterpart, safety.
The Aeronautics Professor and the Speed Record
"The whole secret is in the wings," engineer Bob Osiecki told Sports Illustrated. On August 28, 1961, Osiecki's winged race car, "Mad Dog IV," set a world speed record at Daytona International Speedway. A 25-year-old daredevil drag racer named Art Malone piloted the custom-built Kurtis Kraft roadster with a Chrysler V8 engine to a blistering 181.561 mph — a feat made possible by input from a Georgia Tech aeronautics professor.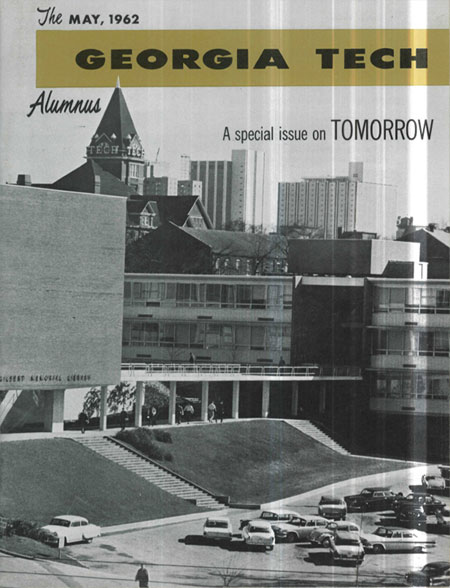 The Georgia Tech Alumni Magazine called the achievement "something like scaling Mount Everest for the first time," noting that "many of the world's mightiest racing cars had tried and failed. Some of these powerful machines spun out and crashed on Daytona's straightaways and steeply graded turns, carrying drivers to death." (Georgia Tech Alumni Magazine, Vol. 40, no. 7, May 1962, p. 8)
Born in New York and raised in southwest Atlanta, Bob Osiecki briefly studied mechanical engineering at Tech before leaving in 1940 to serve in the Army Air Force during World War II, as did his older brother Thomas A. Osiecki, ME 1939, a Georgia Tech Gold Star alumnus killed in 1944 while stationed with the Navy in the Pacific. The elder Osiecki is memorialized at the entrance to the William C. Wardlaw Center on North Avenue.
After the war, Bob's return to civilian life in Atlanta did not mean a return to college life, however, and he instead focused his efforts on designing and building race cars and custom equipment from his namesake garage, located southwest of the Tech campus on Sells Avenue. In the late 1940s, he became an influential figure in the early years of stock car racing, crafting and sponsoring winning race cars at Atlanta's Lakewood Speedway, Daytona's beach and road courses, and at dirt tracks throughout the Carolinas. Osiecki was among the 35 men who helped promoter Bill France Sr. formally organize NASCAR during a series of meetings in 1947 and 1948, alongside his racing rivals: Atlanta mechanic Red Vogt and pioneer team owner and financier Raymond Parks. France named Osiecki a charter member of NASCAR and car owner representative to the first Board of Governors.
By the mid-1950s, Osiecki was a name familiar to hardcore gearheads. Popular Science magazine prominently featured his techniques on dynamic engine balancing in February 1952, and he successfully marketed self-branded engine equipment to speed shops. Having founded the International Timing Association, an early, Southeast-based competitor to the NHRA, he also promoted and sanctioned major international drag races along the east coast. Chrysler Corporation hired Osiecki to manage its NASCAR program in 1957 and the owner-mechanic fielded numerous race entries over the following six seasons, piloted by notable drivers including Jim Delaney, Marvin Panch, and Ralph Earnhardt (father of Dale Earnhardt Sr.).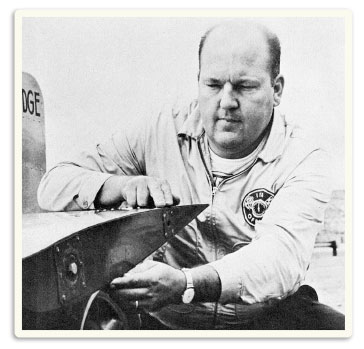 Bob Osiecki
At the time of the record-breaking run, the track in Daytona had only been open for two years, and it boasted the highest banking (and therefore elicited the highest speeds) of any speedway. Before the track opened in 1959, France (who was also the man behind the Daytona Speedway) took Osiecki on a 125 mph ride around the 31-degree banked turns in his personal car. "After about two laps around, I was ready to call it quits," said Osiecki to the Greensboro Daily News. "Bill wanted to make sure I saw all the safety points of the track. Why, he demonstrated things you could do on this track that you would never do on another one."
A fatal crash just prior to the inaugural Daytona 500 led many to fear that its extreme features made it inherently unsafe. In 1960, in an effort to silence the critics and prove the speedway's soundness, France offered a $10,000 cash prize to the first person who could surpass the 180-mph mark. The world speed record was 177.38 mph, set three years earlier in Monza, Italy.
When Osiecki decided to take on France's challenge, he knew he needed to make adjustments to his car to counter the centrifugal force from the track's high-banked curves, which tore away tire rubber at high speeds and made steering almost impossible.
After failed attempts at Daytona with three different cars and multiple drivers, Osiecki consulted with Georgia Tech Professor John J. Harper, MS AE 1942, in the Institute's then School of Aeronautics (forerunner to today's Daniel Guggenheim School of Aerospace Engineering), whose teaching and research focused on aircraft aerodynamics, performance, and design. Now, he would be applying his expertise to a race car.
Osiecki shipped the Mad Dog IV from Charlotte, North Carolina to the Guggenheim Building, where Harper also oversaw the daily operations of the 9-foot diameter wind tunnel located on the ground floor. The professor and his students designed and tested a pair of inverted airfoils — wings, in effect — each one measuring 3 square feet. Harper also created a vertical stationary tail fin, similar to an airplane rudder, for increased stability.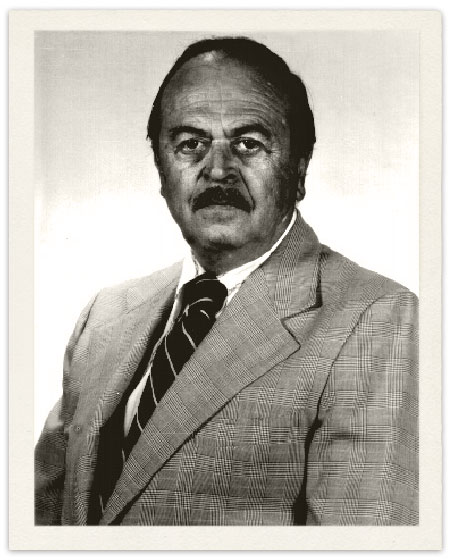 John Harper
On that balmy August afternoon in Daytona, as Tech's alumni magazine reported, the Mad Dog IV's "wings and tail held the car steady though the tortuous turns and down the breathless straightaways," setting a new standard for speed. It was "obvious that the soft-spoken Harper is pleased at having helped wed science and racing to give the fans more thrills." (p. 9)
John Harper retired from Georgia Tech in 1986, after a 44-year career. A private pilot who built his own airplane and had a lifelong love of model planes, ships, and radio-controlled vehicles, he died in 1998 at the age of 78. His family requested that gifts be made in his memory to support a scholarship fund at Tech. Today, the wind tunnel in the Guggenheim School bears his name.
The Daytona speed record proved to be Osiecki's signature accomplishment. He leveraged his celebrity status to promote auto shows throughout the southeast and opened his own Dodge dealership in Florence, South Carolina in 1964. The dealership also housed the Osiecki Automotive Mechanic School, which Bob created to share his skills and knowledge with a full class of 60 aspiring mechanics. As a contribution to his community, he offered the training at no cost to his students.
Bob Osiecki died suddenly of a heart attack at age 43, just three years after his marvelous machine broke the world record at Daytona.
Their record-setting Mad Dog IV race car remains in public view at the Don Garlits Museum of Drag Racing in Ocala, Florida.
Engineering Safety, Saving Lives
Atlanta native Jim Downing, IM 1966, whose father was a car dealer, had an early and abiding passion for automobiles and racing. He raced in soapbox derbies in his youth, restored and built race cars as an adult, and spent several years as a Mazda-sponsored driver in International Motor Sports Association (IMSA) races. Downing enjoyed success at every level — winning five IMSA championships; designing and building his own race car, the Kudzu DG-1, which he drove in the American Le Mans Series from the 1980s through 2000; and owning and operating a machine shop and carbon composite shop in Chamblee, Georgia.
But he is best known as one of the people behind an innovation that revolutionized racing. It had nothing to do with enhancing speed and everything to do with saving drivers' lives.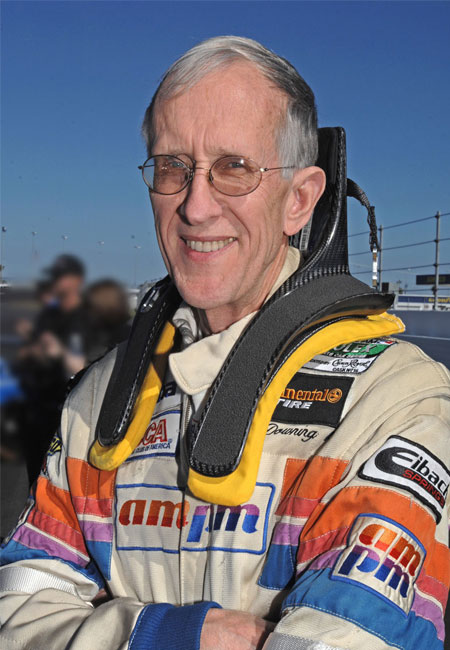 Jim Downing
From helmets and seatbelts in the early days to roll cages, window netting, and softwall technology for outer wall barriers on tracks, engineers have long worked to make racing safer as the cars got faster.
In the 1980s, Downing helped design the Head and Neck Support (HANS) device with his brother-in-law, Bob Hubbard, a crash engineer at General Motors with a Ph.D. in biomechanics. They were looking for a way to mitigate the often catastrophic effects on a driver upon impact when the body is restrained but the head isn't. Hubbard came up with the idea, and they obtained a patent and built the first prototypes in Downing's composite shop. By the end of the decade, Downing was wearing one himself whenever he got behind the wheel of a race car.
The device is a restraint that uses a raised collar behind the neck, and two tethers that link both sides of the helmet to the collar. The shoulder belts hold the collar in place, keeping the head and neck securely aligned with the torso so that in a forward impact, they are moving in synch and the driver is significantly less likely to suffer a fatal basilar skull fracture or other severe head and neck injuries.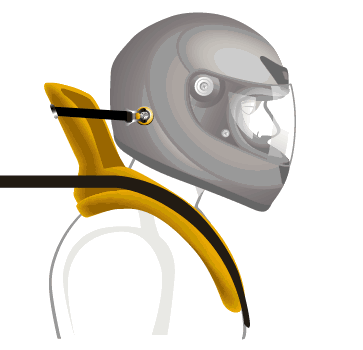 The HANS device keeps the head and neck in alignment with the torso.
The HANS device went on the market in the early 1990s, but most drivers weren't thrilled at the thought of strapping on more potentially cumbersome or otherwise inconvenient safety equipment. It wasn't until four fatal NASCAR crashes occurred in an eight-month period — the last one involving legendary driver Dale Earnhardt Sr. on February 18, 2001, in the final lap of the Daytona 500 — that the sport got serious about this specific type of injury. As Downing recalled in a 2011 interview, "I took orders for 250 in the first week after Earnhardt was killed." NASCAR amended its rules to mandate head and neck restraints.
Over the years, Downing has continued to test, modify, and improve the performance and design of the HANS device — based in part on what drivers have to say about how it actually functions in the field, and how it affects their mobility and comfort in addition to safety. Today, the Downing/Atlanta shop continues to thrive as a place where race car parts are made and sold, race cars are repaired and restored, and HANS devices and accessories are sold.
In 2011, reflecting on his career that has touched so many aspects of the sport he loves, Downing said that he was "thrilled that I'm known now as the HANS guy. This is important for everybody in racing. It's far more important than being a racer."
Here's a look at other notable Georgia Tech-connected gearheads who contributed to this period of racing's profound transformation from regional sport to global phenomenon: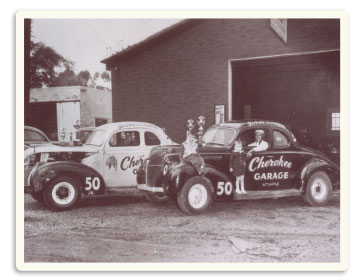 The Hester brothers were pictured as children
on the fender of Gober Sosebee's No. 50 Fords.
The Hester Family and the Cherokee Garage
As children, Gene Hester, IM 1966, MS IMGT 1972, and John Hester, ARCH 1970, marveled at the self-taught skills of their father Billie "Sunday" Hester, ace mechanic and owner of the Cherokee Garage at West Peachtree Place and Techwood Drive (what is today Centennial Olympic Park Drive).
The senior Hester built and sponsored stock cars for notable drivers Gober Sosebee, Charlie Mincey, Jerry Wimbish, and other pioneer racers. Dawsonville native Sosebee drove his Hester-tuned machines to three wins on the Daytona Beach course and captured two official NASCAR victories in the early 1950s.
Billie Hester's reputation for honest, quality automotive service became well known around the Georgia Tech campus, and faculty and students alike brought their vehicles to the Cherokee Garage for repairs over its four decades of operation. After leaving the racing world in the mid-1950s, Hester focused his time and energy on his family and on his shop.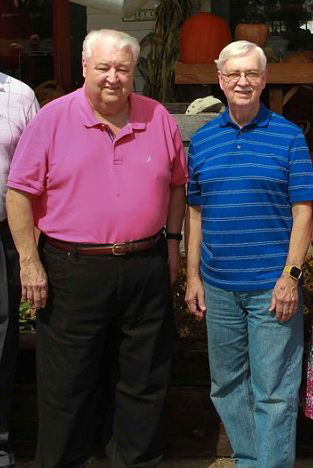 Gene and John Hester
Sons Gene and John Hester, who recalled watching stock car races at the nearby Peach Bowl and Lakewood Speedway, also have many fond memories of Georgia Tech — especially watching the Ramblin' Wreck parades and working as ushers during football games at Grant Field in the Bobby Dodd era (1945-67). Both chose to attend Tech, and the family legacy continued with Gene's son Kevin Hester, MGMT 1989, and John's son Matthew Hester, ME 2000.
Billie Hester was elected to the Georgia Racing Hall of Fame in 2004, just the second mechanic to receive the honor.
The former site of the Cherokee Garage is now part of Centennial Olympic Park.
---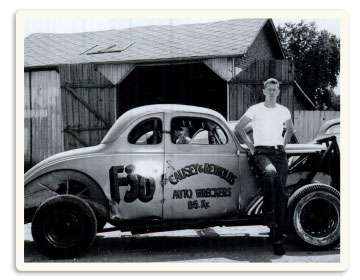 Tommy Smith and the Causey 1936 Oldsmobile
Tommy Smith
As a senior at Georgia Tech, Bowling Green, Kentucky native Tommy Smith, IM 1952, was hired by stock car builder Hugh Porter Causey to race his 1936 Oldsmobile No. F-38. After graduation, Smith began drag racing while also serving in the U.S. Air Force. He set a speed record in April 1954 at Pomona, California, behind the wheel of his own 1952 Olds 88 — a feat noted by Hot Rod magazine. He returned to Kentucky to join his father Gordon Smith's successful compressor business and later became vice president of the company, receiving several patents before the age of 30. Smith inspired and supported the creation of a dragway at the same Beech Bend Raceway Park where he had raced stock cars while a Tech student. Beech Bend remains one of the nation's oldest continuously operating drag strips, conducting NHRA-sanctioned events.
---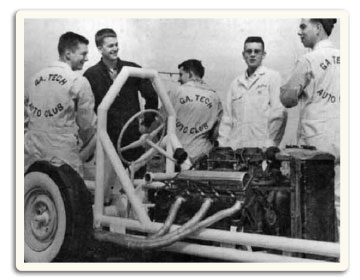 Above: The Georgia Tech Auto Club built one
of the earliest dragsters in the state.
Below: Julius Hughes Jr. accepting his trophy at
the 1964 NHRA Nationals.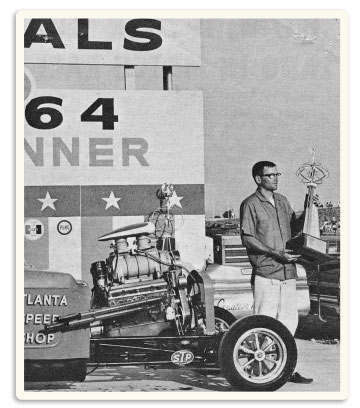 Jack Lane, Julius Hughes Jr., and the Georgia Tech Auto Club
In 1954, Jack Lane, ME 1957, and several fellow auto enthusiasts formed the Georgia Tech Auto Club, the precursor to today's GT Motorsports programs. The group's first project was to build a rail dragster from salvaged parts. Lacking an engine for the car, the Auto Club reached an agreement with local drag racer Hoyt Grimes to install his modified Cadillac engine. Considered the first real dragster in Georgia, the student-engineered machine was piloted by Grimes to speeds above 90 mph.
Another charter member of the Georgia Tech Auto Club, Julius Hughes Jr., IE 1960, took his drag racing interests to the national stage, winning top-tier events in Kansas City, Daytona Beach, and Oklahoma City. Hughes opened the Atlanta Speed Shop in 1960 and took over management of the Newton County Drag Strip, the first venue in Georgia sanctioned by the NHRA.
Hughes later became a stock car owner and operator, competing in the NASCAR and Automobile Racing Club of America (ARCA) series. In the 1970s, he raced speedboats with his son Julius Hughes III, IE 1993, who apprenticed under his father's expertise. He remains an active Nostalgia Top Fuel drag racer and still operates the Atlanta Speed Shop in Gainesville, Georgia, making cars and boats go as fast as possible.
---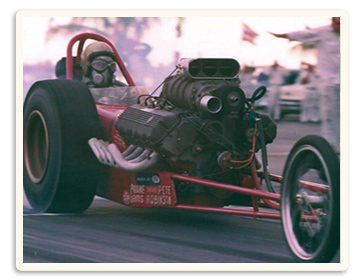 "Sneaky Pete" Robinson
L.R. "Sneaky Pete" Robinson
Atlanta native Lew Russell Robinson began drag racing at metro area strips while attending classes at the Georgia Tech school of aeronautics. Shortly after his graduation, Robinson towed his 1940 Ford to Detroit to compete in the 1959 NHRA Nationals. His lack of success in the 1959 and 1960 races spurred him to push for more speed, selling his Ford for resources to buy and build a new custom dragster. A virtual unknown, Robinson captured the 1961 NHRA southeast regional event in Covington, Georgia and won the Top Eliminator championship at the 1961 NHRA Nationals in Indianapolis.
Earning the nickname "Sneaky Pete" for his near-obsessive attention to weight reduction, performance, and safety, Robinson continued to find innovative, rule-bending ways to make his hot rods faster and lighter. His compressed air-based self-starting system was later mandated by the NHRA for its major series.
Robinson was tragically killed during a qualifying run for the 1971 Winternationals in Pomona, California. In 2001, he was cited 22nd among the NHRA's 50 greatest drivers.
---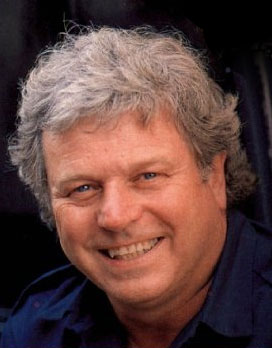 Richard Jackson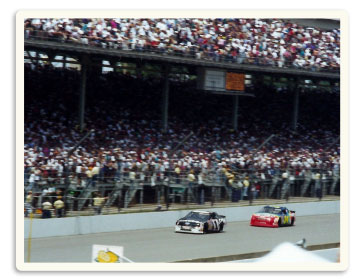 Driver Rick Mast captured the pole for 
the 1994 Brickyard 400 at Indianapolis.
Source: Wikimedia, Doctorindy, 6 Aug 1994. CC BY-SA 3.0
Richard Jackson
Born in 1937, former NASCAR team owner Richard Jackson, ME 1960, built his first race car when he was 18 with his brother Leo Jr. In the mid-1950s, they raced it at the McCormick Field baseball stadium in Asheville, North Carolina, as Jackson began his engineering studies at Georgia Tech. Following graduation, Jackson joined his father and brother to open the Precision Performance Products Center, which creates specialized, high-performance parts for racing engines.
The Jackson brothers formed Precision Products Racing in 1974, fielding cars in the top NASCAR national series over 16 seasons for wheelmen such as Benny Parsons, Harry Gant, and Dave Marcis. In 1988, Phil Parsons drove the No. 55 Oldsmobile to victory at Talladega, the sole premier series win for the team and driver.
Richard Jackson branched off with his own racing operation in 1990, with veteran driver and eventual two-time NASCAR champion Terry Labonte behind the wheel. Driver Rick Mast piloted Jackson's No. 1 Ford from the pole position at the inaugural stock car race at Indianapolis Motor Speedway in 1994.
Jackson sold his team and retired from racing in 2001. He passed away in 2010.
---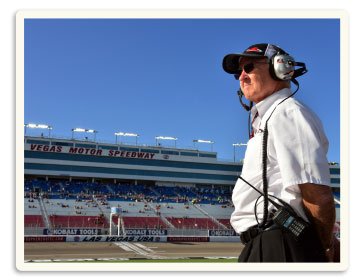 Tom DeLoach at the Las Vegas Motor Speedway
Source: Red Horse Racing
Tom DeLoach
Chemical engineer Tom DeLoach Jr., ChE 1969, joined Mobil Oil Corporation shortly after graduating. Working his way up the ladder at Mobil, DeLoach became chief financial officer in 1994 and worldwide coordinator of the motor sports program until his retirement in 2000. Later, he formed Pit Instruction and Training to help train racing pit crews, and was a consultant for Penske Racing's NASCAR Cup teams. DeLoach saw an opportunity to become more directly involved with stock car racing in 2005, buying out an existing team in the NASCAR Truck Series that he renamed Red Horse Racing. Over 12 seasons in the series, he celebrated 16 wins with seven different racers.
---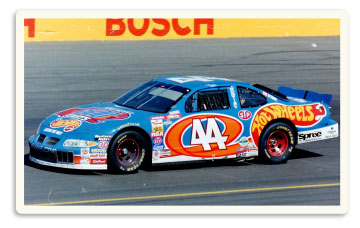 Jack Folden's design work for Pontiac was
translated to the NASCAR Grand Prix race car.
Source: Flickr, author: Darryl Moran, 2 Nov 1997. CC-BY-SA 2.0
Jack Folden
General Motors recognized the talents of John R. "Jack" Folden, ID 1973, while he was a student at Georgia Tech. Hired by GM Design in 1974, Folden helped create iconic styling for the GM, Pontiac, and Buick brands, including the Grand Am, Firebird, Bonneville, Riviera, and Enclave. Beyond consumer vehicles, Folden's influence extended to the racetrack, as he worked on the Pontiac Grand Prix model for the NASCAR Cup Series and the Fiero Grand Touring Prototype. Jack Folden retired in 2008 as director of design for GM and moved back to the Atlanta area. Most recently, he shared his design expertise with auto enthusiasts on campus as a guest speaker at the 2017 Georgia Tech Auto Show.
---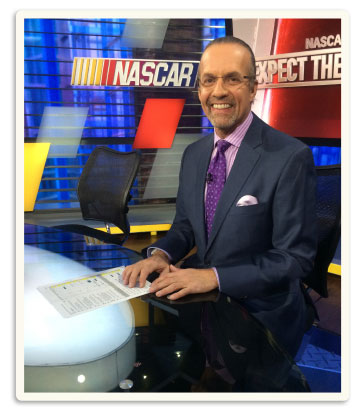 Kyle Petty
Source: Largemouth Communications
Kyle Petty
A member of one of racing's most famous families, Kyle Petty followed his father, the legendary Richard Petty, and grandfather Lee Petty into his own NASCAR career at age 18. Over the course of 31 seasons and 829 starts, Kyle won eight premier series races. Today, he is a television analyst for NBC Sports.
But at one point his racing future had hung briefly in the balance, when Georgia Tech head coach Pepper Rodgers (1974-79) offered him a football scholarship. A three-sport athlete at Randleman High School in North Carolina, Petty received multiple offers to play Division I football. After visiting campus and watching practice, he opted to forgo the gridiron. Years later, he told the Los Angeles Times, "I liked Georgia Tech, but when I went out there and I looked at all these guys in neck braces and knee braces and casts on their arms, I thought, 'Wait a minute! There's more injuries here in one game than there are in a season of racing.'" In a tragic irony, his son Adam died in 2000 in an on-track crash. His was among the flurry of racing deaths that prompted NASCAR to mandate use of the HANS device the following year.
---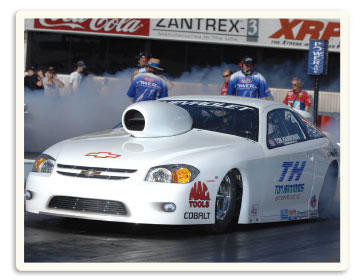 Tom Hammonds' 2008 Pro Stock Chevrolet
Source: Tom Hammonds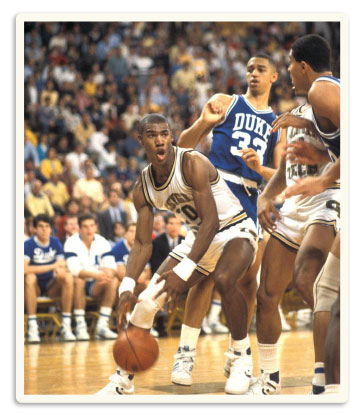 Former Yellow Jacket standout Tom Hammonds 
Tom Hammonds
A power forward for 12 seasons in the NBA, Georgia Tech Hall of Fame inductee and 1986 NCAA Rookie of the Year Tom Hammonds, MGMT 1990, is also a lifelong car enthusiast with a second career as a NHRA drag racer. While playing for Coach Bobby Cremins in 1986, Hammonds often snuck away from campus to tractor pulls and a dragstrip in Paulding County, where he raced his 1955 Chevrolet hot rod. "I think I gave Bobby some of those white hairs on top of his head, because whenever we did not have practice or a game, I was always trying to find a track and race," he recalled in 2005.
During his NBA rookie season, Hammonds bought a 1969 Camaro and started his own drag racing team, becoming the sole African-American driver and owner in the NHRA Pro Stock series. He entered the General Motors Minority Dealer Development program in 1997 and realized his dream of owning his own car dealership in Darlington, South Carolina, also home to the oldest asphalt track in NASCAR racing.
Tom Hammonds has since sold the Chevrolet dealership and relocated to his hometown of Crestview, Florida.
---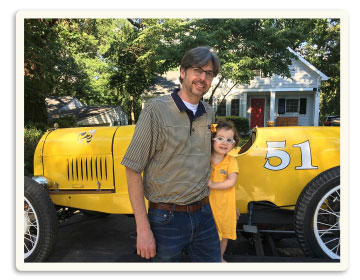 Sterling Skinner
Sterling Skinner Jr.
The first time that Sterling Skinner Jr., ME 1991, MS ME 1995, watched the Ramblin' Wreck parade, he was a young child sitting on the shoulders of his father, Sterling Skinner, EE 1966. From that moment, he knew Georgia Tech was where he wanted to be. During his freshman year, Skinner was a founding member of the GT Motorsports Formula SAE team, reigniting the student-powered racing tradition begun in 1954 by the Georgia Tech Auto Club.
Selected as a GM Scholar in 1988, Skinner spent three summers working for General Motors' transmission program before earning a master's degree in 1995. For the past two decades, he has managed the instructional labs in the George W. Woodruff School of Mechanical Engineering, designing experiments and maintaining equipment for undergraduate engineers.
Inspired to better connect the racing and gearhead communities on campus, in 2003 he founded the Georgia Tech Auto Show, an annual celebration and showcase of auto engineering and design. In 2009, Skinner met NASCAR Hall of Fame car owner Raymond Parks and his wife Violet, and had the rare opportunity to work on his Cadillac while listening to stories of stock car racing's early years.
---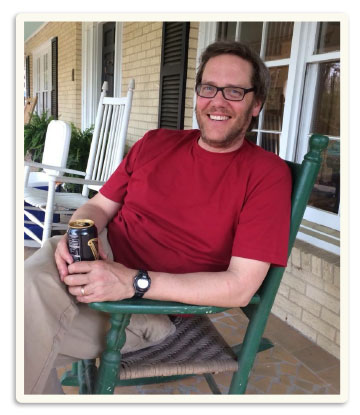 Ben Shackleford
Ben A. Shackleford
Nearly 60 years after the founding of NASCAR, third-generation Georgia Tech alumnus Ben A. Shackleford, Ph.D. HSTS 2004, wrote his dissertation on the history and culture of stock car racing. His research included access to minutes from NASCAR's 1947 organizational meeting, which have never been released to the public. Shackleford also edited the memoirs of NASCAR legend Smokey Yunick, helping the trailblazing mechanic tell his own story, which originated in Red Vogt's Atlanta garage just blocks from the Tech campus. Today, Shackleford works as a sociologist for the U.S. Treasury in Atlanta, and graciously helped his alma mater tell this story of its racing roots.

Did we miss a story? Email Georgia Tech Living History with details about any Tech ties to auto racing — past, present, or future.
Learn more about the historical connections between Georgia Tech and some of racing's most notable pioneers in the first installment of Georgia Tech's Racing Roots.