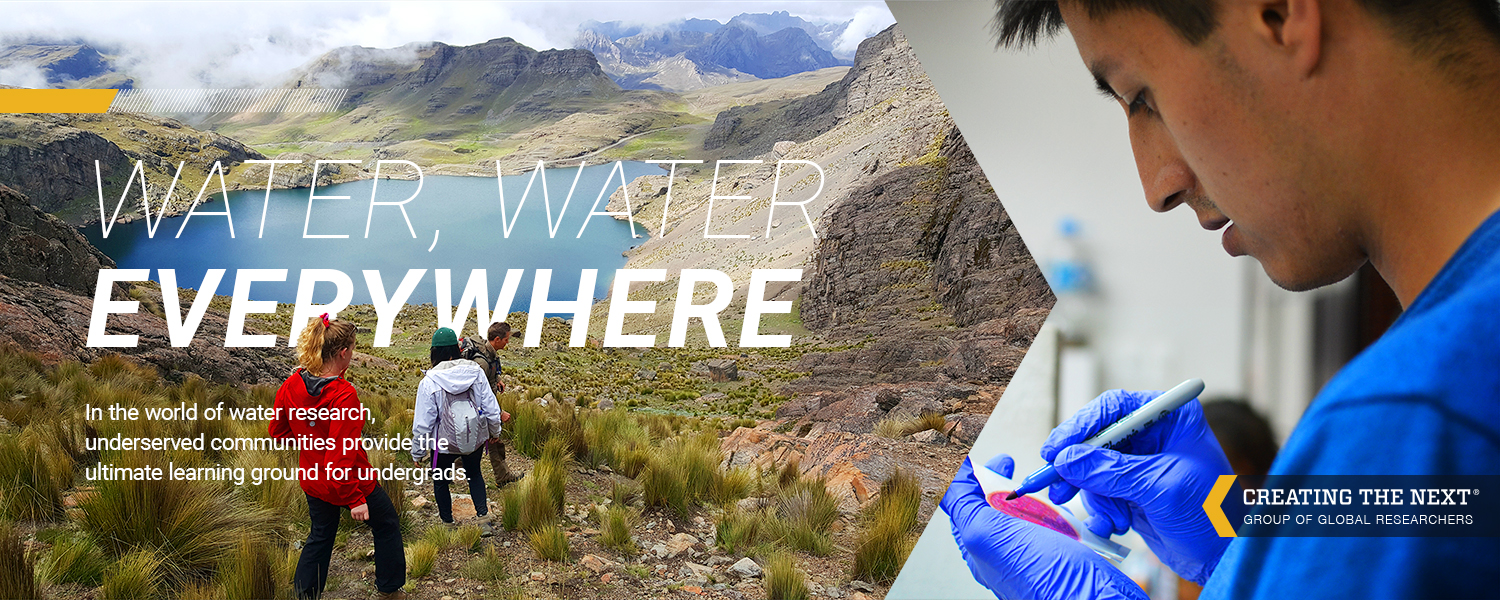 By Brigitte Espinet | Published April 27, 2017
It's one of the defining problems of the 21st century. And Georgia Tech is on it.
Whether it's the question of access, supply constraints, or quality and safety, Tech's faculty, students, and alumni are tackling the deluge of threats surrounding the world's most precious resource, flushing out solutions that will ultimately impact quality-of-life issues — such as public health — affected by this common denominator of water.
This article — the first in a series of water-focused Creating the Next features — spotlights Joe Brown, an assistant professor in the School of Civil and Environmental Engineering, and his undergraduate students who carry out water quality fieldwork.
Video: 2017 Bolivian Water Research Trip
The Fearless Leader
As if singlehandedly leading a dozen undergraduates at a time in the realm of real-world research isn't enough of a challenge, Brown ups the ante, carrying his undergrads to conduct fieldwork overseas — in a foreign-language country.
Essentially providing a platform for undergraduates in the College of Engineering to work on a research project in an underserved community, Bolivia has been the Spring Break destination for students of his Environmental Technology in the Developing World class for the past three years.
"The reason we want to work with undergrads to do this kind of global experiential research and learning in the developing world is that students come to us with a passion for changing the world, and this is an incredible opportunity to have students work on some of those intractable problems in the field," said Brown, who the students affectionately describe as their "fearless leader."
The Best Trip Ever
His most recent group — which also included a student who actually designed one of the water testing devices used on the trip — traveled to Cochabamba from March 17 to 26 to conduct that city's very first comprehensive drinking water quality survey.
During the 10-day trip, the Tech students, alongside chemical and environmental engineering students from a key project partner, the Catholic University of Bolivia, collected and analyzed data from 80 pre-selected sites. Their days would usually begin at about 7:30 a.m. and would end with lab work that ran into the night — sometimes 12 hours later.
Though the hours and demands were not for the faint of heart, the students would not have had it any other way, categorizing this learning experience as among the best they've had at Tech.
From stretching them beyond their comfort zones academically to enlightening them culturally, the students' experiences in Bolivia left them with substantially changed perspectives.
Field Notes Ep. 3: Impact, From Bolivia to Atlanta
Listen to students recall their research trip experience on the School of Civil and Environmental Engineering's
Field Notes podcast.
"This trip made me a better engineering student because I was able to learn more about the social side of engineering," said civil engineering student Riley Poynter, explaining that Cochabamba has its fair share of social complexities that play into what may or may not be a viable water quality fix. "In class, we learn a lot about the technical complexities of problems, but if we ignore the social complexities of a problem, we're not going to create the most effective solution. This trip really made me aware of the social issues that might come up as we implement technical solutions."
Beyond Borders
Her classmate and partner in the field, civil engineering student Donald Smith, alluded to another reason that there is distinct value in having the chance not just to leave campus to conduct research, but to do so in a foreign country.
"Working in South America reminded us that there are opportunities for us [as engineers] to help improve situations beyond the borders of the U.S."
And that is exactly what Brown hopes every participant in this Bolivian research trip gets out of it.
"We want them to come away with an open mind about how they can apply their engineering skills to real-world problems in a place that may be very different from what they're used to," said Brown. "The problems are not just around the technology, the science, and the engineering; the human context is a really important insight that students take away from this experience."
The Experience
The consensus from the students is that the experience was made all the richer because of Brown's Bolivian connections. With Bolivian cities being among those that Brown has frequented in his time studying water problems in underserved communities, he was able to perfectly set the stage for an especially productive learning ground for his student researchers.
"Dr. Brown coordinated so much for us that we just wouldn't have been able to on our own," said Cliff Rowe, who is set to graduate on May 6 with a bachelor's degree in chemical engineering. "He just had those connections and resources that helped me to learn in those few days what I never would've been able to learn in another scenario."
Brown's connections resulted in successful collaboration among several groups, which, apart from the Catholic University of Bolivia, included the global research organization, World Resources Institute, and Fundación Abríl, a local water conservation foundation. New York University, Duke University, and MIT were the other academic entities that partnered with Brown's team on survey and water sampling methods.
 "I consider this a once-in-a-lifetime experience because of the multitude of partners we had. It was such a complex structure, and I don't know how it came together so perfectly, but we all worked together so well," said environmental engineering student Diana Chumak.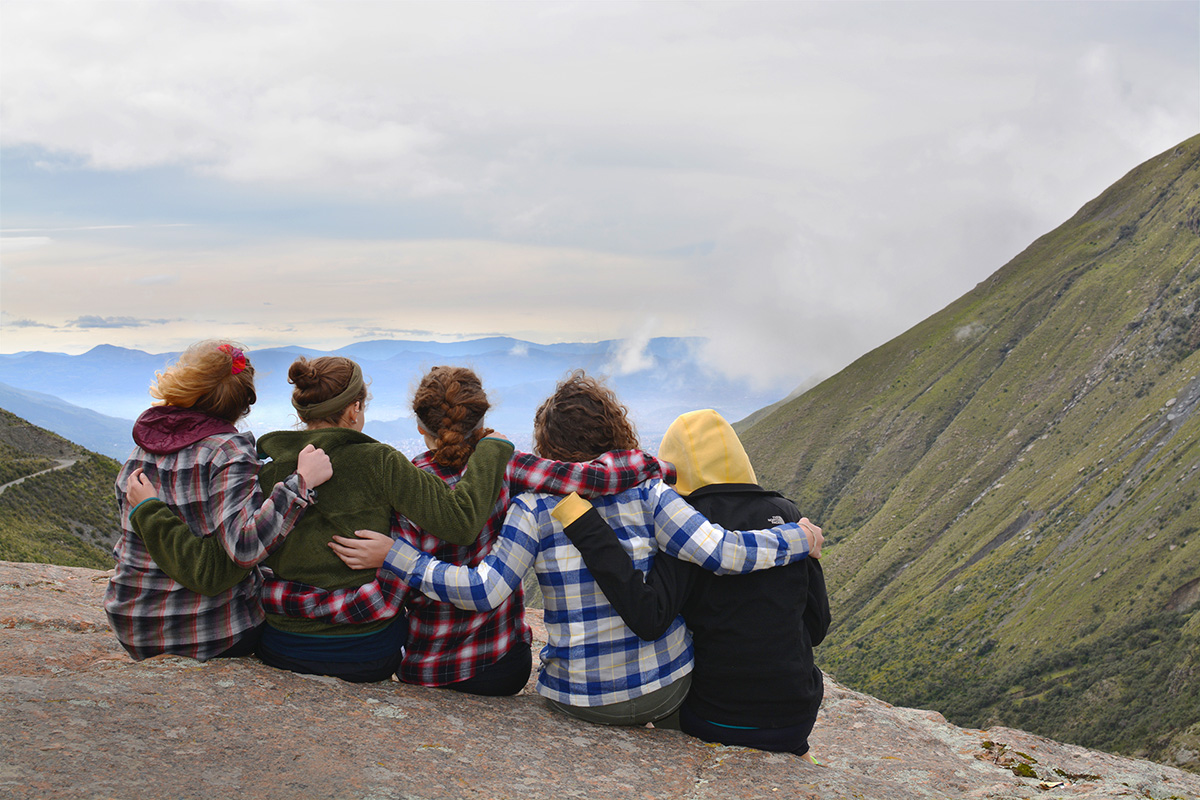 Bonding on the way to the top of Mount Tunari. Photo by Rachel Brashear.
Civil Engineering student Rachel Brashear elaborated on the team spirit aspect that so powerfully manifested during the trip, but brought it back to what it meant specifically for the class of Tech students.
"We're so much more than classmates. We spent 16-plus hours a day together and learned how to rely on each other, and we were all such a team," said Brashear. "I feel like I speak for the whole class when I say we all genuinely care for each other and are all invested in each other's lives now. We have some lifelong friendships out of this. That's something I'll never forget."