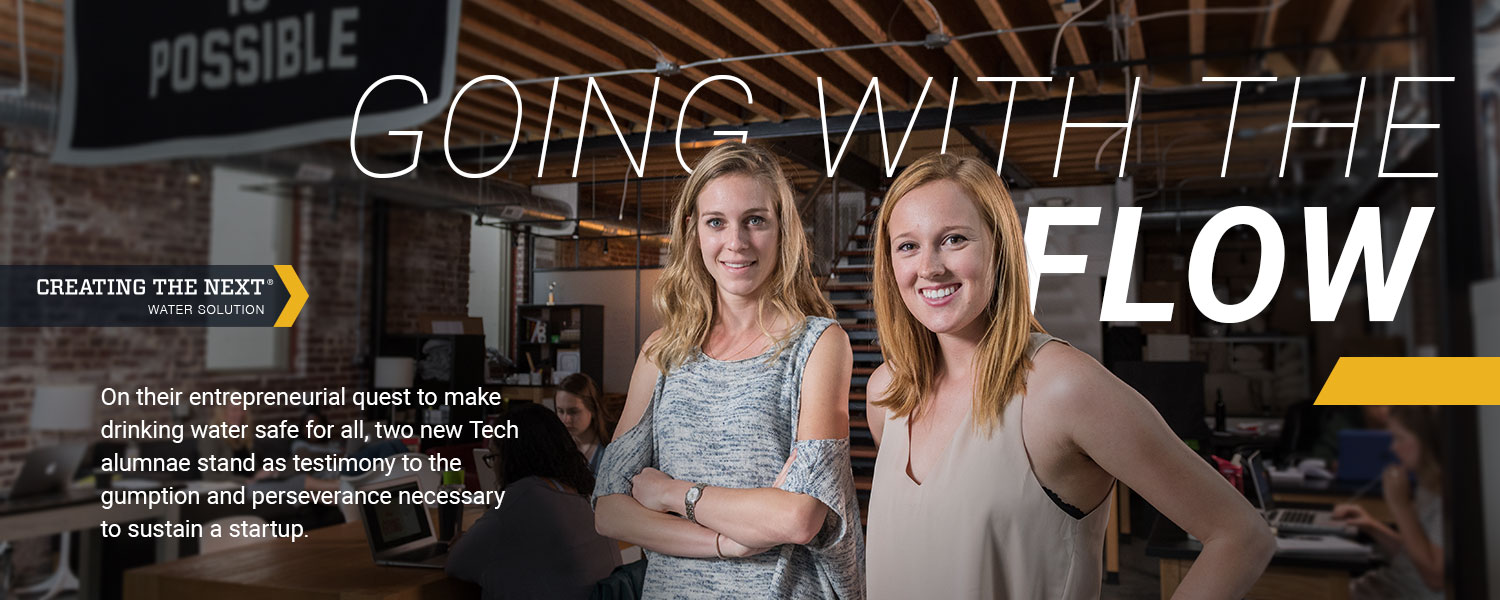 By Brigitte Espinet | Published July 28, 2017
From conversations revolving around parts per billion and EPA standards, to meetings about investment funds, to deliberations on branding and marketing strategy, recently graduated Yellow Jackets Shannon Evanchec (EnvE 2016) and Samantha Becker (CE 2016) agree that there's no such thing as a typical workday when you've founded a startup.
But, they are figuring it all out and going with the flow.
In fact, their company TruePani, which they incorporated just over a year ago to help ensure that families in rural India consume potable water, has morphed into a slightly — yet completely — different water world adventure.
What began as an undertaking to treat water in remote households thousands of miles away is now an enterprise focused on water testing here at home for the American consumer.
So, while the mission of keeping water safe remains the same, there's been a pivot in the approach and the market.
"Before, we were addressing the problem of household contamination [in India] in which there's relatively clean source water being piped into the home, but then the water people are actually drinking is contaminated [as a result of animals in the home or just unhygienic conditions in general]," said Becker.
She explained that there's a parallel situation in the United States wherein clean water is being sent from the treatment plant but is getting contaminated on its way to the home.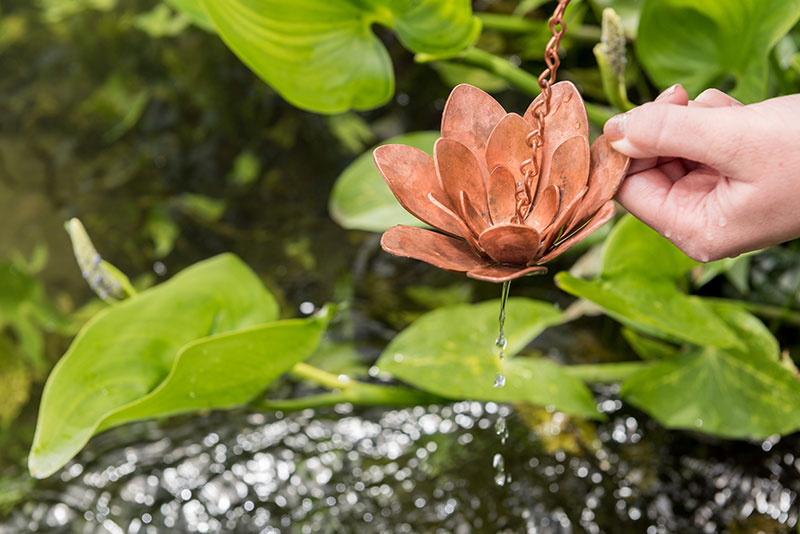 Keenly aware of the importance of connecting with their original target market, Evanchec and Becker designed their initial water safety device with the Indian culture in mind. The lotus, which grows in water, symbolizes purity in Hinduism and Buddhism.
The bottom line?
As in the case of underserved communities in India, some of the water consumed in the U.S. could potentially make you sick.
While the approach to the problem in India was to provide remote households with a microbe-killing copper device, The Lotus, to place in drinking water vessels, the approach to the problem in the States is to equip households with water-testing kits via a subscription service.
This way, on an ongoing basis, families can determine the quality of the water they're ingesting — and either have assurance that their water is safe or connect with the appropriate resources to make it safe.
The Safety Switch
So, why the switch?
Evanchec says following their second trip to India in which they distributed their devices, they realized that even though their equipment worked as planned, there was a human component that they hadn't considered: the behavior change needed from the users to adopt the new technology.
Thinking ethically and not wanting to be that company doling out water safety devices without a care as to whether they were actually being used, Evanchec and Becker began rethinking their vision to address the pervasive water quality issue.
At first, they thought of doing it on a small scale by staying in one Indian community for 10 years and implementing just one small batch, but that wouldn't further their greater objective of contributing to water safety efforts on a large scale.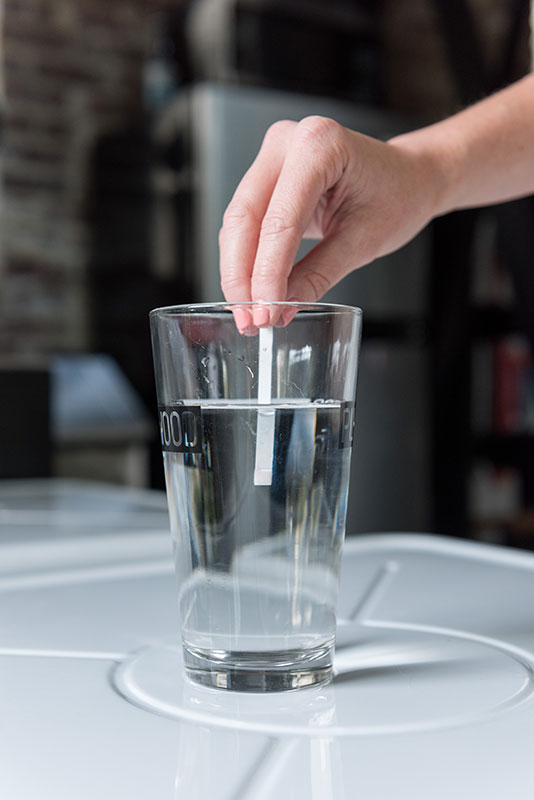 The Drinkably water-testing solution utilizes indicator tests, as well as lab-based testing.
Then, it hit them.
"We started realizing there was a problem in our own backyard with drinking water quality here in the United States and that would be a way that we could scale what we were working on a lot more efficiently," said Evanchec.
And that's how they got to the second iteration of their startup adventure: Drinkably.
Evanchec says that because water quality does change from the source where it's tested to when it's drunk — because of exposure to lead pipes and other types of contamination — "we really want to empower people to test what they're drinking in their home."
In conducting their customer discovery exercise and background research into the problem in the States to determine the viability of their new idea, they found that the problem is with aging infrastructure for those who rely on city water, and a lack of government regulation and monitoring for those relying on well water.
Evanchec spoke of her own close-to-home example involving an elementary school in rural Pennsylvania "down the road from my parents' house" where both E.coli and lead were found in the water.
"Everybody thinks of Flint, Michigan, when they think of water problems in the U.S., but an estimated 100 million Americans are drinking water with lead in it, so it's a problem that's massive and scales far beyond Flint," said Evanchec.
Their Simple Edge
That would explain why their water-testing kit will have to compete against several established products. They're entering waters that are by no means uncharted to address a problem that's long been identified.
But, they say their solution's advantage is simple: simplicity.
"There are already people making water-test kits. But what we want to do differently is simplify the process," said Evanchec.
"The tests that are currently on the market are so convoluted that even I don't want to read that as an engineer. We want to do all the hard work for people so all they have to do is take a sample.
And they're not just providing test results. If a problem is detected with a customer's water, Evanchec and Becker will provide the customer with multiple resources that can help fix the problem.
Where They Are in the Process
Now that they've refined their model, the team is working to build a tech platform focused on user experience and plans to grow their following by focusing on parents of young children — who are typically susceptible to drinking water contamination. They're also working to partner with local Atlanta businesses to certify drinking water quality. 
As they move forward, they're making sure to stay flexible with their plans. 
"If you are too rigid about your business plan, you're going to miss out on opportunities that present themselves along the way," said Evanchec.
In the meantime, they have secured the financial support needed to help them in seizing those opportunities.
In fact, technology entrepreneur, Tech alumnus, and serial donor Chris Klaus was their first investor. He was followed by another Tech alumnus, Jeff Lane, who has not only invested but been a consistent mentor to Evanchec and Becker.
A retiree with experience guiding both large corporations and startups (in technology, health care, and industrial settings) through major transitions such as marketing and operational change, Lane says he's committed to help them in any way he can — whenever and wherever.
"My involvement has varied over time, depending on what their needs are. Sometimes, it has been a two-to-three-hour working session, and sometimes, it is a shorter discussion over coffee at Starbucks or on the phone," said Lane.
"I have also helped them connect with key people at the appropriate time — for example, NGOs with a lot of experience in water purification, manufacturing experts, and digital marketing experts."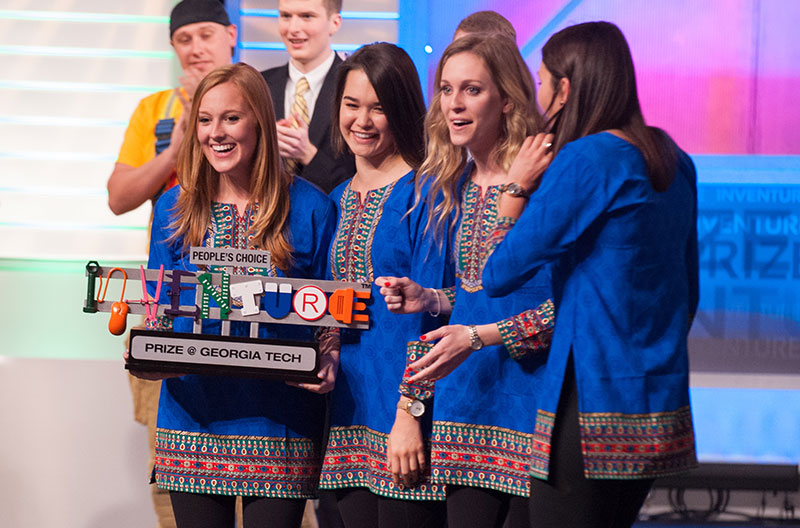 The TruePani team received $5,000 toward developing their invention when they won the People's Choice Award during Georgia Tech's 2016 InVenture Prize competition.
And Lane connected with Becker and Evanchec through Tech's CREATE-X program (established with a major gift from Klaus).
CREATE-X helps student entrepreneurs get their enterprises off the ground through StartUp Launch, a resource for coaching and capital.
Becker and Evanchec applied to participate in StartUp Launch following their 2016 win (with their initial Lotus invention) of the People's Choice Award in Tech's invention competition, InVenture Prize.
"Georgia Tech has such an awesome entrepreneurial community that I never knew existed till I did the InVenture Prize," said Becker.
CREATE-X Director Raghupathy Sivakumar and his colleagues first came to know of the Becker-Evanchec duo when they presented to CREATE-X as part of their final pitch practice for the InVenture Prize.
So, even before Becker and Evanchec applied for StartUp Launch incubation support, Sivakumar already knew what this team was made of.
"They had an incredibly good team dynamic. They were both willing to be very collaborative — but at the same time were very willing to challenge each other," said Sivakumar.
"To me, this combination of them being an incredible team and being very passionate about a domain [water] that's very important for mankind, I think they're going to have great futures.
These are entrepreneurs who think they can change the world — and rightly so because they have a Georgia Tech education behind them, they're incredibly skilled, and now they've married that skill set to a passion, which is going to really change the world and cause significant impact."
Lane's wishes for the team echo Sivakumar's predictions:
"I hope Shannon and Sam can learn, have fun, make a difference in the world, build their credibility and network, and make some money from this venture — then do it again several more times in their lifetimes — bigger and better each time — then share their time, expertise, and resources with the generations that follow."